The global space robotics market size was valued at $4.3 billion in 2021, and is projected to reach $8 billion by 2031, growing at a CAGR of 6.9% from 2022 to 2031. 
Space robots are self-controlled devices consisting of mechanical, electrical, and electronic components which can function in place of a living agent. Space robots can survive the harsh environment of space and can perform functions such as construction, maintenance, exploration, servicing of spatial satellites, etc. The space robotics industry is achieving high growth due to its benefits such as better productivity, cost effectiveness, and the ability to perform in harsh situations as a human substitute. Space robots are expected to carry out the future of deep space exploration.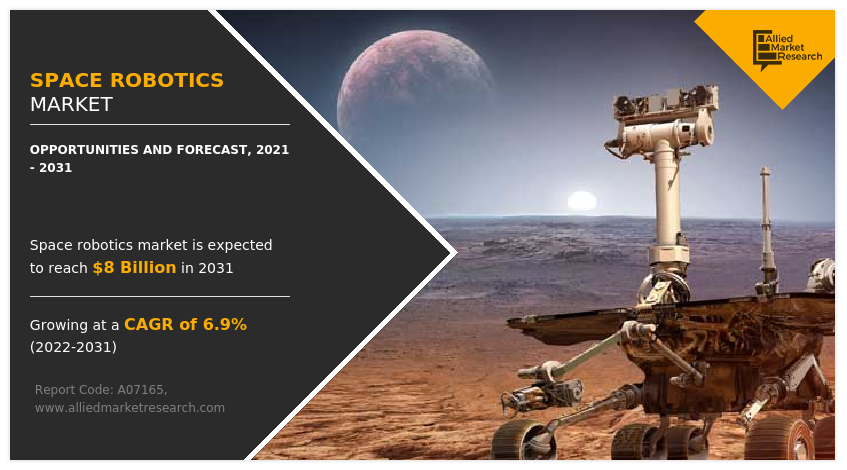 The space robotics market is segmented into Solution, Application and End User.
In the recent past, the German Aerospace Center (DLR) had launched CIMON, an AI assistance robot whose function is to work with space pilot in their daily tasks at ISS. Emerging technologies, such as Deep Learning (DL) and Artificial Intelligence (AI) are extensively being used in the robotics industry. May of the companies are developing AI-based space robots that offer better discovery benefits and greater mobility in space. These robots can work with the least human aid and execute highly complex tasks for a longer period of time.
The joint ventures, partnerships, and contracts are the strategies used by prominent companies to stay competitive in the market. For example, SpaceX was given an agreement to launch two Kazakhstan satellites as a part of agreement with several other satellites using the Falcon 9 launch rocket. Additionally, the United Launch Services, LLC was developed by a joint venture between The Boeing Company and Lockheed Martin Corporation.
The leading companies' actions improve the global space robotics market share to new peaks. For instance, in 2022, NASA nominated 12 companies for the VADR (Venture-Class Acquisition of Dedicated and Rideshare) missions. The list of companies includes Northrop Grumman Systems, Astra Space, L2 Solutions, Phantom Space, Blue Origin, ABL Space Systems, Virgin Orbit, United Launch Services, Rocket Lab USA, SpaceX, Spaceflight, and Relativity Space. These companies will be able to get task orders as firm-fixed-price to make launch services for NASA-sponsored missions. All these agreements have a five-year buying period and a maximum growing value of $300 million. Such partnerships in the market are expected to increase the sales in the forecast period.
Factors such as increase in investments for space robotics across the globe, rise in demand for satellite launches, and rise in joint ventures by key players to expand business and geographic reach are the major drivers for space robotics market. Moreover, the factors such as excessive costs involved in space robotics and space exploration missions and increase in space debris, are expected to hamper space robotics in the coming years. Furthermore, factors such as technological upgrades in space industry, and use of software defined technology in space robots for flexibility to alter space missions create lucrative opportunities for leading players of space robotics products operating in the market.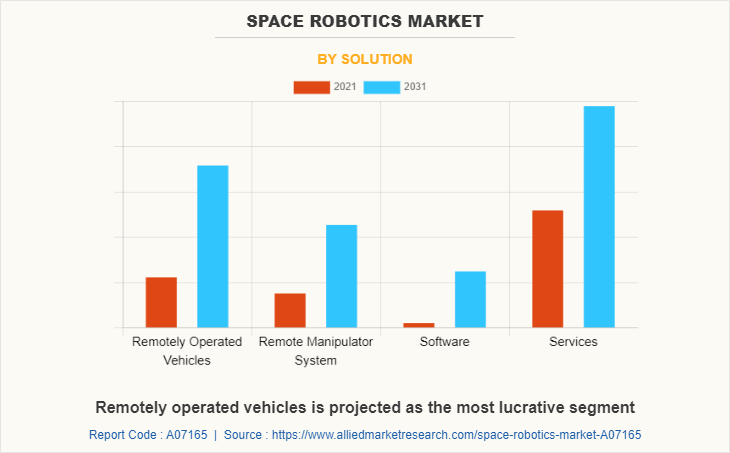 The space robotics market is segmented on the basis of solution, application, end user, and region. On the basis of solution, it is divided into remotely operated vehicles, remote manipulator system, software, and services. On the basis of application, it is classified into deep space, near space, and ground. On the basis of end user, it is classified into commercial and government. On the basis of region, the market is analyzed across North America, Europe, Asia-Pacific, and LAMEA.
Growth drivers, restraints, and opportunities are explained in the study to better understand the market dynamics. This study further highlights key areas of investment. In addition, it includes Porter's five forces analysis to understand the competitive scenario of the industry and the role of each stakeholder. The study features strategies adopted by key market players to maintain their foothold in the market.
The leading players operating in the space robotics market are Altius Space Machines, Astrobotic Technology, Honeybee Robotics, ispace Inc., Maxar Technologies, Motiv Space Systems Inc., Northrop Grumman Corporation, Oceaneering International, Inc., Olis Robotics, and Space Applications Services.
Increase in investments for space robotics across the globe
Space robots are important tools for space explorations. These are fully or semi-autonomous devices that are created to move around the surfaces of planets or other planetary bodies to gather information regarding the terrain or to collect samples such as liquids, dust, rocks, and soil. Many regions across the world have invested in space exploration programs to detect the presence of valuable elements, water, and similar materials on planets.
The governments in big nations such as the U.S., Russia, China, Japan, and France have financed their space projects worth millions in the recent past. For instance, NASA launched its Mars 2020 mission on July 30, 2020, which included the use of Perseverance rover and several robotic arms. Moreover, China also launched their Tianwen-1 on July 23, 2020, which consists of a rover, a lander, and an orbiter. Both these projects are worth millions of dollars. These space robots would help in identification of minerals and detecting life on Mars, possibilities for preservation of biosignatures within available geological resources, and different kinds of rocks on the surface of Mars.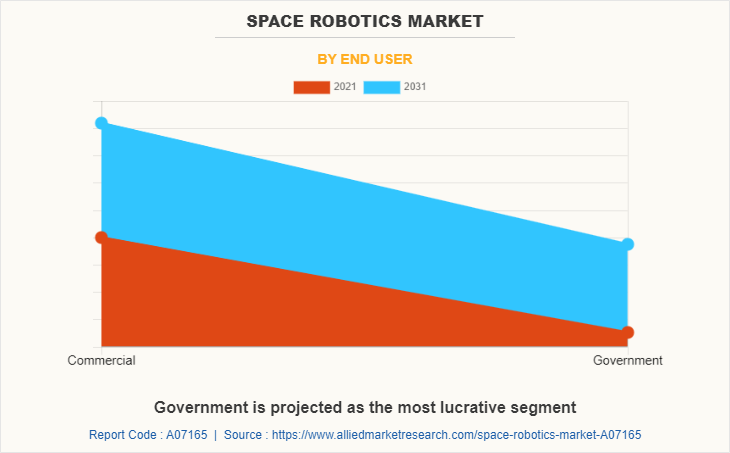 Additionally, various regions across the world intend to implement space missions involving rovers in the coming years. For instance, Japan Aerospace Exploration Agency (JAXA) is planning to launch the Martian Moons Exploration mission to explore two moons of Mars by 2024. It would include a space robot that is being developed by JAXA in partnership with teams at French space agency CNES and German space agency DLR. Moreover, the Indian Space Research Organization (ISRO) is expected to launch Chandrayaan-3, Lunar Polar Exploration Mission, and Mangalyaan 2 mission in the future. The growth in investments in space missions involving launch of rovers and new space robots to analyze terrain and study characteristics of rocks and soil is expected to propel the growth of global space robotics market during the forecast period.
Rise in demand for satellite launches
The astronomers and other observers around the world are observing more active satellites every month, with over 2,500 circling the Earth currently. Previously, the satellite communication involved GEO spacecraft, but now NGSO (Non-Geostationary Satellite Orbit) communications constellations, including Low Earth Orbit (LEO)and Medium Earth Orbit (MEO) satellites, are also included. Roughly 50,000 active satellites are likely to revolve overhead within a span of ten years if the current plan proposals are considered and approved. A large number of satellites are expected to develop, be manufactured, and launched on an exceptional scale even if the most impressive plans do not come to pass.
The rise in launching satellites is encouraging the demand for space robots and its assembling. Moreover, because of the high number of satellites that are carried into orbit in the recent past, the space environment encircling the Earth has been muddled with fragments that are turning into an improving risk for future and current space missions. Such situations boost the demand for space robotics for servicing and active debris removal in orbit. In addition to Extra-Vehicular Activity (EVA) and In-Space Robotic Assembly (ISRA), skillful space robotics manipulators are being exploited to de-orbit, maintain, and capture operational & defective satellites. With the rise in such operations, the demand for space robotics is expected to improve in the near future.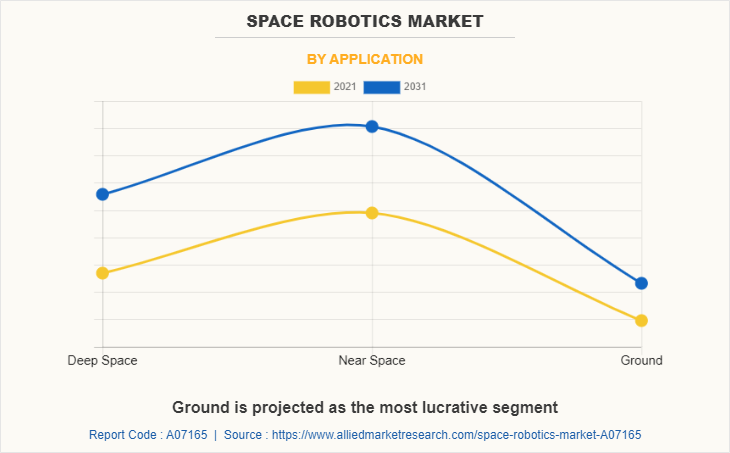 Furthermore, with the rising programs in the number of space exploration, the data created by satellites is growing. It is making it complicated to cope with such huge data, which needs extra technologies such as machine learning and artificial intelligence. The space robots used in exploration of planets are not able to cover topologically or wider areas to get all the required information. Such disputes are expected to lead to multi-type of space robotic systems. The management of multiple space robots will allow growing locomotion by combining several focused vehicles to explore missions on different planets. The adoption and usage of such a multi-space robotic system is expected to drive the market over the forecast period.
With the recent innovations in technology, the excursion to space and associated activities has become more exciting. Though, seeing space is quite hard and risky. For instance, having a complete understanding about the soil composition, temperature, surface conditions, atmosphere, space agencies, astronauts, excites engineers, and scientists to explore more, but not at the cost of humans. This is where space robotics solutions are employed. Autonomous space robots and systems play an active role in the future and current space exploration missions. The national space agencies, such as China National Space Administration, the NASA in the U.S., Ros cosmos State Corporation for Space Activities (Russia), the ESA, the ISRO, and the Japan Aerospace Exploration Agency are engaging in several space robotics projects for servicing and maintaining, along with grading the activities in space exploration. These space robotic solutions increase the capability of astronauts to explore and operate more in space by offering them better handling facilities.
Increase in space debris to hamper space robotics in the coming years
The artificial (human-made) orbital debris and natural meteoroids are integrated in space debris. The meteoroids orbit the sun, while most human-made debris orbit the Earth. Any artificial type of item in orbit around the Earth that no spongy implements a valuable role is called orbital trash. The fragmentation debris, abandoned launch vehicle stages, mission-related junk, and nonfunctional spacecraft is a type of debris. As per the NASA report, there are more than 27,000 pieces of space debris. This debris is much bigger in size than softball orbiting the Earth. They usually move at speeds up to 17,500 mph. The speed is fast enough for a small piece of orbital debris to damage a space robot or a spacecraft or satellite. The increasing population of space debris enhances the possible danger to all space vehicles, including the International Space Station and other spacecraft.
Space Robotics Market

---
By Region
LAMEA would exhibit the highest CAGR of 12.1% during the forecast period
Get more information on this report :
Request Sample Pages
The key space agencies, such as Centre National d'Etudes Spatiales (CNES) (France), German Aerospace Center (DLR), European Space Agency (ESA), China National Space Administration (CNSA), National Aeronautics and Space Administration (NASA), Russian Federal Space Agency (Roscosmos), and other space agencies, have demarcated a set of governing norms to control space debris by removal and monitoring process. However, most of the norms are limited to the monitoring portion of space debris.
The debris removal norms are not drafted or specified by the governing bodies and key agencies. This has stemmed in the global market growth of the space robotics industry. To overcome issues like space debris, scientists around the world have anticipated the orbital-use fees agreement to reduce space debris in future. The universal agreement needs to be made to charge the space workers on an orbital-use fees basis. Under such contract, the space robotics collision risk can be decreased to a certain level.
Technological upgrades in space industry
The excessive cost in developing space robots and other space products has always been a main obstacle to the development of the space industry. Due to advancement in technologies like the miniaturization of payloads and satellites, space robot manufacturers seek to leverage cost reduction while executing key functions in the value chain. Companies around the world are also producing high-quality and low-cost space robots due to growth in competition. Developments in technology enable companies to design new types of space robots while maintaining the affordability of the product.
Newly developed space robots are energy-effective and are intended to provide specific applications. Furthermore, manufacturing companies around the world are implementing energy-efficient space robots to assist in playing critical tasks in space without any interruption. The defense companies around the world are also looking for less expensive multifunctional space robots. Force sensing is another technology that is having a major opportunity for the space industry. Such technologies have made pick-and-place activities much cheaper and easier, hence driving the growth of the space robotics market.
The COVID-19 had an impact on the space robotics industry, even though the demand for downstream space applications increased during the pandemic, helping many endeavors to stay buoyant and open new possibilities for the utilization of space robotics. Governments across the world also leaped to the rescue, offering much needed assistance to the space industry. Because of government restrictions to control the spread of the COVID-19, the space robotics companies across the globe were halted or hindered in 2020. Research and innovation activities were often the first to be hampered during such economic crisis. The industry which is being extra reliant on research and innovation, which means that many SMEs and start-ups are more susceptible than bigger industries, especially in space domains. The COVID-19 pandemic has allowed the government to support their regional space firms, mostly whose satellites are in near space that rely largely on their private and government companies as investors in new ventures and monitors their operations.
Key Benefits For Stakeholders
This report provides a quantitative analysis of the market segments, current trends, estimations, and dynamics of the space robotics market analysis from 2021 to 2031 to identify the prevailing space robotics market opportunities.
The market research is offered along with information related to key drivers, restraints, and opportunities.
Porter's five forces analysis highlights the potency of buyers and suppliers to enable stakeholders make profit-oriented business decisions and strengthen their supplier-buyer network.
In-depth analysis of the space robotics market segmentation assists to determine the prevailing market opportunities.
Major countries in each region are mapped according to their revenue contribution to the global market.
Market player positioning facilitates benchmarking and provides a clear understanding of the present position of the market players.
The report includes the analysis of the regional as well as global space robotics market trends, key players, market segments, application areas, and market growth strategies.
 Space Robotics Market Report Highlights
Aspects
Details
Market Size By 2031
USD 8 billion
Growth Rate
CAGR of 6.9%
Forecast period
2021 - 2031
Report Pages
324
By Solution

Remotely Operated Vehicles
Remote Manipulator System
Software
Services

By Application

Deep Space
Near Space
Ground

By End User
By Region

North America (U.S., Canada, Mexico)
Europe (UK, Germany, France, Italy, Russia, Rest of Europe)
Asia-Pacific (China, Japan, India, Australia, South Korea, Rest of Asia-Pacific)
LAMEA (Latin America, Middle East, Africa)

Key Market Players
motiv space systems, inc., Altius Space Machines, Oceaneering International, Inc., Northrop Grumman Corporation, Olis Robotics, Astrobotic Technology, space applications services nv/sa, Maxar Technologies, honeybee robotics, ispace inc.