Space Rovers Market Statistics – 2030
Mars surface exploration the global space rovers market valued $ 431.30 million in 2019, and is projected to reach $ 998.29 million by 2030, registering a CAGR of 9.2%.
The COVID-19 outbreak led to adverse economic situations across the world and especially impacted the high investment industries such as the Space industry. Several space programs across the world had to be delayed owing to the reduction in allotted budgets for the space sector and the disruption in the supply chain of key components. Only a few nations such as China with the launch of Tianwen-1 and the U.S. with the launch of the Mars Exploration Program were able to lift off their space missions amid the pandemic.
Space rover robotic vehicles that are capable to function at the surface of celestial bodies under very high and low temperatures, cosmic rays, and several other distinct conditions from the Earth's atmosphere.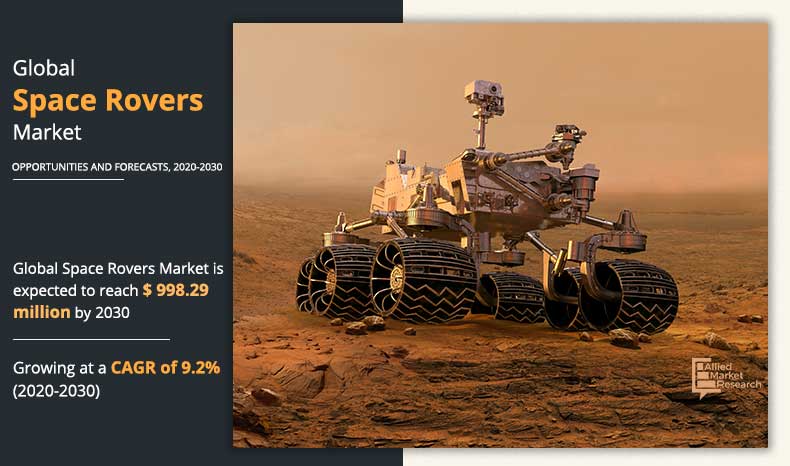 Get more information on this report : Request Sample Pages
These vehicles are generally divided into two categories, namely, fully autonomous rovers, which are capable to operate without real-time assistance from ground control throughout their operations; and non-wheeled rovers, which are capable to utilize rolling, hopping, robotic legs, and other mechanisms instead of wheeled approaches to move. Technological advancements in space rovers, for instance, lightweight robotic arm, improved mobility system, and inertial measurement unit (IMU) have led to enhancement of exploration capability of rovers on the surface of extra-terrestrial objects, consequently increasing opportunities for the space rover market. On February 21, 2021, ISRO announced that it will launch Chandrayaan-3 lunar mission including a lander and a rover in 2022. NASA's Volatiles Investigating Polar Exploration Rover or VIPER- part of its Commercial Lunar Payload Services (CLPS) program will land at the South Pole of the Moon in late 2023. In January 2020, NASA signed an agreement with Maxar Technologies to build, a cutting-edge robotic arm to be equipped on Restore-L (robotic spacecraft). Maxar Technologies will perform an in-space assembly demo using a light-weighted robotic mechanism. The robotic arm, known as Space Infrastructure Dexterous Robot or SPIDER, is to be fitted with the spacecraft bus the company is manufacturing for NASA's Restore-L mission that will be used to supply a satellite with fuel orbiting in low Earth orbit (LEO). Such technologies are expected to strengthen the space capabilities for future missions. The program is currently working toward a launch in December 2023. Several other agencies have their space programs lined up in the coming years involving space rovers. Such developments are anticipated to propel the growth of the global space rovers market over the forecast period.
Rise in investments for space explorations across the globe, surge in in investments in space mining, supportive government regulations, and technological advancements in 3D printing technology are anticipated to boost growth of the space rovers market during the forecast period. However, high costs involved in space exploration missions are expected to hinder growth of the market. 
The market segmentation is based on type, application, and region. The type segment is divided into lunar surface exploration, mars surface exploration, and asteroids surface exploration. Depending on application, the market is segmented into commercial/mining, and research. Region wise, it is analyzed across North America, Europe, Asia-Pacific, and LAMEA. Infographic for Space Rovers Market
Key players operating in the global space rovers market include Space Applications Services NV/SA, Astrobotic Technology, Inc., Planetary Transportation Systems GmbH, ispace, inc., Maxar Technologies, Motiv Space Systems, Inc., Honeybee Robotics, Northrop Grumman, Toyota Motor Corporation, and Airbus S.A.S.
The report also includes space agencies such as National Aeronautics and Space Administration (NASA), Japan Aerospace Exploration Agency (JAXA), Indian Space Research Organisation (ISRO), Canadian Space Agency (CSA), UAE Space Agency, State Space Corporation ROSCOSMOS (ROSCOSMOS), European Space Agency (ESA), and China National Space Administration (CNSA).
Increase in investments for space explorations across the globe
Space rovers are essential tools for space explorations. These are semi or fully-autonomous devices that are designed to move across the surfaces of planets or other celestial bodies to gather information regarding the terrain to collect samples such as soil, rocks, dust, and liquids. Various countries across the globe have invested in space exploration programs to detect presence of water, valuable elements, and similar materials on planets. Governments in big nations such as the U.S., China, Russia, France, and Japan have funded space projects worth thousands of millions in recent years. For instance, NASA launched its Mars 2020 mission on 30 July 2020, which included the use of Perseverance rover. In addition, China launched their Tianwen-1 on 23 July 2020, which consists of an orbiter, a lander, and a rover. Both these projects are worth millions of dollars. These rovers would help in detecting life on Mars, prospects for preservation of biosignatures within available geological resources, and identification of minerals and different kinds of rocks on the surface of Mars. Moreover, several nations across the globe have planned to deploy space missions involving rovers in the coming years. For instance, Japan Aerospace Exploration Agency (JAXA) is planning to launch the Martian Moons Exploration mission to explore two moons of Mars by 2024. It would include a rover that is being developed by JAXA in partnership with teams at French space agency CNES and German space agency DLR. Moreover, the Indian Space Research Organization (ISRO) is expected to launch Chandrayaan-3, Lunar Polar Exploration Mission, and Mangalyaan 2 mission in the future. 
Growth in investments in space missions involving launch of rovers to analyze terrain and study characteristics of soil and rocks are anticipated to propel growth of the global space rovers market during the forecast period.  
Growth in investments in space mining 
Space offers several opportunities for both public and private sector companies, which are involved in space mining and research. According to Space Foundation, a non-profit organization, the global space economy grew to $423.8 billion in 2019, which verifies increase in developments in the space industry. Mining asteroids for resources such as minerals, fuels, or water is expected to be a reality in the future.
There are many companies such as Planetoid Mines Corporation, NEO Resource Atlas, and Asteroid Mining Corporation Ltd are working on this technology, which could be beneficial for various researches in the future. In line with efforts of Japan's space agency JAXA to mine valuable elements present in space, the Japanese spacecraft Hayabusa-2 effectively picked up samples from the asteroid Ryugu in 2019, which is around 300 million km from Earth. Moreover, countries such as China and India are planning to mine moon for digging out Helium-3. This isotope has the capability to deliver safer nuclear energy. Moreover, water present in the outer space can be used to make rocket propellants.
Space rovers collect samples of rocks and soil to examine their composition. Information that rovers collect from planets, asteroids, and other celestial bodies forms basis of full-scale mining for future analysis. Rise in initiatives by state-owned and private firms aimed at space mining are anticipated to drive growth of the space rovers market during the forecast period.   
Space Rovers Market

---
By Type
Lunar Surface Exploration is projected as the most lucrative segment
Get more information on this report : Request Sample Pages
High costs involved in space exploration missions    
Space exploration missions involve huge investments for design, testing, and launch of space equipment. Space vehicles are designed to operate in high temperatures, high pressure regions in space, and have to be equipped with state-of-the-art communication technologies to maintain seamless communication between ground station and space probe. Furthermore, as tools such as robotic arms, sensors, cameras, and solar panels necessitates error-less and robust design to collect physical characteristics and samples on extra-terrestrial bodies, space rovers incur huge costs in their design. In addition, launch vehicles that deploy space rovers in the intended orbits add up to the overall costs involved in a space exploration mission.
Several nations across the world have launched space exploration missions to study composition of surfaces of planets or other extra-terrestrial bodies. Although the explorations helped in understanding the outer space, they incurred huge costs. For instance, NASA's Mars Curiosity mission, which was launched in 2011, amounted to $2.5 billion. Furthermore, NASA launched Mars 2020 mission on 30 July 2020 that carried a perseverance rover and ingenuity helicopter drone. It involved an investment of about 2.7 billion dollars for spacecraft development, launch services, and operations and scientific analysis. Moreover, nations such as the U.S., China, and Japan have backed various space exploration missions in past years, however, owing to large costs associated with these projects, a large number of nations do not invest in space missions, which limits growth of space technologies in under-developed countries globally. The high-cost factor associated with space exploration missions is anticipated to hinder growth of the space rovers market during the forecast period.
Space Rovers Market

---
By Application
Commercial/Mining is projected as the most lucrative segment
Get more information on this report : Request Sample Pages
Technological advancements in 3D printing technology
The aerospace industry is involved in development, research, and production of aerial vehicles, which include rockets, space crafts, rovers, and landers. Growth in applications of 3D technology in manufacturing spacecraft components could bring down expenses and lead to manufacturing of huge, intricate engine constituents such as combustion chambers. Recent developments in 3D printing technology have made it a potential tool for manufacturing of high endurance and low-weight parts of space-crafts and rovers. For instance, NASA used 3D-printed metal parts for Perseverance Rover for its Mars 2020 mission. The Perseverance rover carries 11 metal components that were 3D printed, five of those 3D printed parts are on its PIXL device, which will be used to assist the rover to search for traces of fossilized microbial life by using X-ray beams. Scientists at Planetary Transportation Systems GmbH, with the support of Audi and a number of scientists and firms from several nations, launched Audi lunar Quattro rover in 2015. It weighs just 30 kg and has the ability to carry 5 kg of extra payload. The low mass of the rover has been accomplished by making use of cutting-edge metal 3D printing techniques. 
All such advancements in 3D printing technology opens up gates for more economical space exploration missions and act as a major factor for growth of the global space rover market. 
Space Rovers Market

---
By Region
Asia Pacific would exhibit the highest CAGR of 10.5% during 2020-2030.
Get more information on this report : Request Sample Pages
COVID-19 Impact Analysis 
The COVID impact on the space rovers market is unpredictable and it is expected to remain in force till the second quarter of 2021. 
The COVID-19 outbreak forced governments across the globe to divert their investments from space programs to strengthen healthcare services to manage spread of the virus. This led to significant delays in space missions in several nations. 
Moreover, nationwide lockdowns disrupted supply-chain as several space technology part manufacturers had to partially or fully shut down their operations.
The adverse impacts of the COVID-19 pandemic have resulted in delays in activities and initiatives regarding development of innovative space rovers technologies. 
Key Benefits For Stakeholders
This study presents the analytical depiction of the global space rovers market analysis along with the current trends and future estimations to depict imminent investment pockets.
The overall space rovers market opportunity is determined by understanding profitable trends to gain a stronger foothold.
The report presents information related to the key drivers, restraints, and opportunities of the global space rovers market with a detailed impact analysis.
The current space rovers market is quantitatively analyzed from 2020 to 2030 to benchmark the financial competency.
Porter's five forces analysis illustrates the potency of the buyers and suppliers in the industry.
 Key Market Segments
By Type

Lunar Surface Exploration
Mars Surface Exploration
Asteroids Surface Exploration

By Application

Commercial/Mining
Research

By Region

North America
Europe

UK
Germany
Russia
Luxembourg
Rest of Europe

Asia-Pacific

China
Japan
India
Rest of Asia-Pacific

LAMEA

Latin America
Middle East
Africa
 
Key Market Players
SPACE APPLICATIONS SERVICES NV/SA
PLANETARY TRANSPORTATION SYSTEMS GMBH
ISPACE, INC.
MAXAR TECHNOLOGIES
MOTIV SPACE SYSTEMS, INC.
HONEYBEE ROBOTICS
NORTHROP GRUMMAN
TOYOTA MOTOR CORPORATION
AIRBUS S.A.S.
NATIONAL AERONAUTICS AND SPACE ADMINISTRATION (NASA)
JAPAN AEROSPACE EXPLORATION AGENCY (JAXA)
INDIAN SPACE RESEARCH ORGANISATION (ISRO)
CANADIAN SPACE AGENCY (CSA)
UAE SPACE AGENCY
STATE SPACE CORPORATION ROSCOSMOS (ROSCOSMOS)
EUROPEAN SPACE AGENCY (ESA)
CHINA NATIONAL SPACE ADMINISTRATION (CNSA)