The global space traffic management market was valued at $11.9 billion in 2020, and is projected to reach $22.4 billion by 2030, growing at a CAGR of 7.1% from 2021 to 2030.
The space traffic management can be identified as methodologies, systems, and rules to perform operations in outer space with utmost safety, security, and sustainability. Since the inception of space era in 1958, approximately 6,000 launched have been made placing nearly 12,000 satellites in orbit. Among those 12,000 satellites, 4852 satellites are active as of 2022. The rest serve as space debris and continue to serve in orbit around earth. More than 20,000 satellites are accounted to be launched from 2021 to 2030, making space a highly congested area. Apart from the dead satellites, rise in number of small and micro-level particles serving as space debris is also threating space operations. More than 1 million space debris between 1cm and 10cm are identified orbiting around earth, and the count is constantly increasing. Increasing congestion in space due to rising number of operational satellites and launch forecast, threat of collision course, overlapping orbits, and debris collision has generated demand for effective space traffic management systems.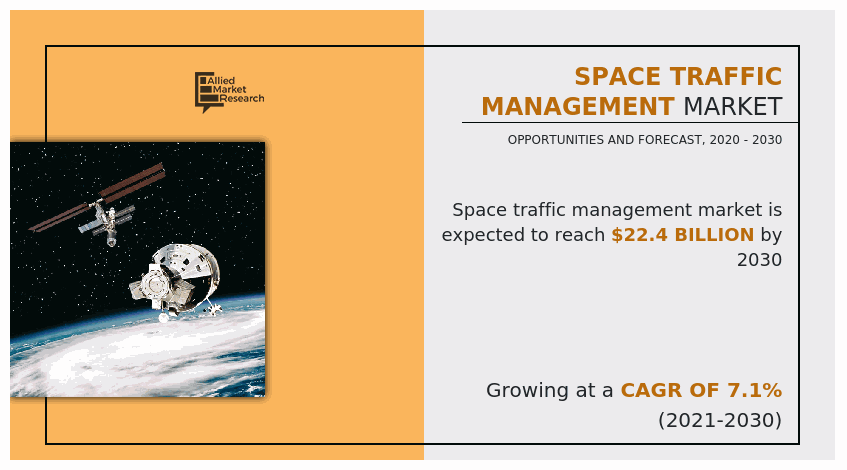 The COVID-19 pandemic has had an adverse effect on the overall space industry and thereby on the space traffic management industry as well. Limited trade of raw materials and finished goods along with imposition of lockdown and curfews across the globe resulted in shortage of material as well as raw materials, forcing companies to delay their launch schedule. Reallocation of budgets towards catering medical emergency from other domains such as space, defense, and aviation generated a liquidity crunch across the market. However, the COVID-19 pandemic created an opportunity for existing satellite operators. The demand for earth observation and satellite communication has increased significantly during the pandemic. The operators are using the data gathered from their satellites to study the impact of COVID-19 on the earth's environment. For instance, NASA, Japan Aerospace Exploration Agency (JAXA), and the European Space Agency (ESA) are keeping track of how COVID-19 has changed the global economy and environment. Moreover, images collected from satellites were used for tracking the coronavirus spread and to control the pandemic.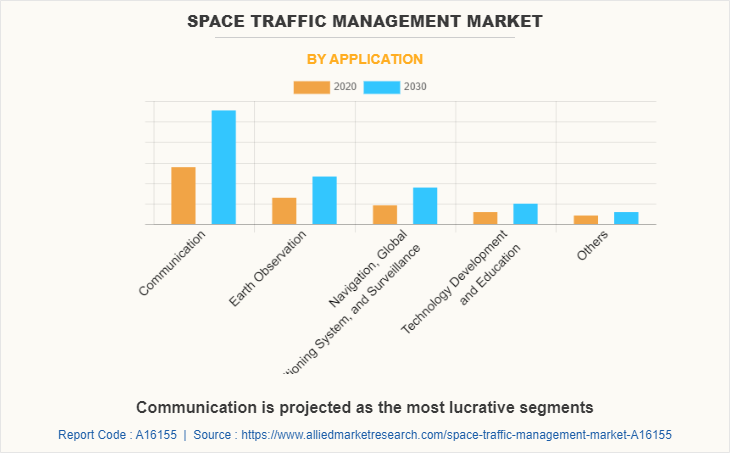 Factors such as space-based connectivity for communication industry, satellite life vehicle extension programs, and internal co-operation between nations to agree on data sharing polices are some of the primary drivers supporting the business opportunities over coming years. Initiatives taken by several regulatory bodies such as European Commission, United Nations Office for Outer Space Affairs (UNOOSA), and other U.S. federal departments to increase transparency about space operations across nations considering outer space a limited resource will promote orientation of space traffic management system. The companies such as Lockheed Martin, L3Harris, and Airbus have started offering innovative solution to address the rising threat of space debris and cater the consumer demand for effective space operations. Reduced launch cost due to introduction of re-usable rockets, adoption of smallsats and cubesats, and increase in R&D activities such as geo mapping or establishing a temporary communication network on personal and educational level has generated the demand for end to end space operations service that provide supporting business opportunities.
The global space traffic management market is segmented into application, end use, orbit, activity, and region. By application, the market is categorized into communication, earth observation, navigation, global positioning system (GPS) & surveillance, technology development & education, and others. The other segment encompass several applications such as space science, maritime tracking, and other personal space-based operations. Depending on end use, the space traffic management market is fragmented into civil & government, commercial and military. The orbit segment will include low earth orbit (LEO), medium earth orbit (MEO) & elliptical orbit, and geostationary orbit (GEO). The activity segment is segregated into space situational awareness, space debris remediation, space orbit management, and launch vehicle operations. By region, the market is analyzed across North, Europe, Asia-Pacific, and LAMEA.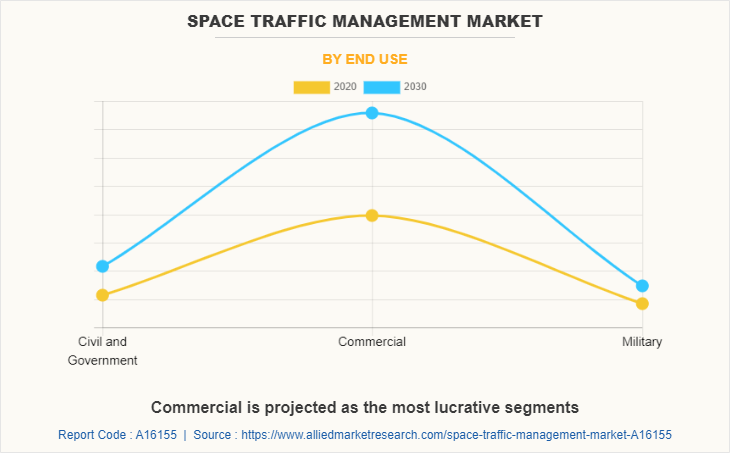 Companies have adopted product development and product launch as their key development strategies in the space traffic management industry. Moreover, collaborations, and acquisitions are expected to enable the leading players to enhance their product portfolios and expand into different geographical regions. The key players operating in the space traffic management market are Lockheed Martin, Thales Group, L3Harris Technologies, Boeing, Airbus, BAE Systems, Northrop Grumman, Raytheon Technologies, Saab AB, and Kayhan Space.
Introduction of satellite life extension vehicles
The average operational life of a satellite in space is around 15 years. Several situations such as damaged components, exhaustion of onboard propellants, minor issues with the propellant system or computer system, and misalignment from the designated orbit can cause the satellite to stop its operations. Exhaustion onboard propellants is one of the primary reasons, satellites are considered to have a limited lifespan of 15 years. The number of satellites currently orbiting earth (dead and operational) is significantly high. Launching new satellites every 15 years adds up to the operational cost of companies and increases the number of dead satellites orbiting the earth, creating more space debris and reducing the chances of safe operations.
To meet these challenges, companies operating within the space traffic management market introduced satellite life extension vehicles, where instead of launching new satellites, an extension will be launched from earth, which will be integrated with existing satellite and replace nonfunctioning components. This practice will reduce space debris generated in space over time while adding 5 to 10 years to satellite operations. As of April 2022, Northrop Grumman leads the satellite life extension vehicle market space followed by several private players. In April 2021, Northrop Grumman along with a subsidiary of SpaceLogistics LLC successfully concluded the docking of Mission Extension Vehicle-2 (MEV-2) with Intelsat 10-02 (IS-10-02). This was the second successful docking mission of a life extension vehicle by the company with a commercial satellite.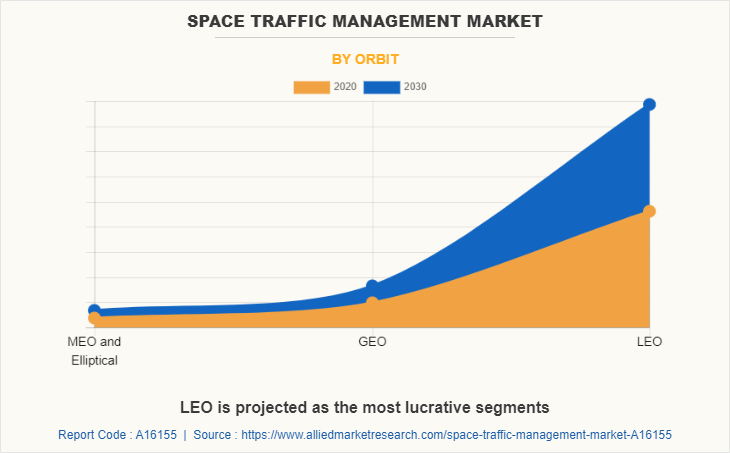 Space-based connectivity initiative
Access to high-speed internet connectivity has become a basic need of societies across the globe. To cater to the rising demand of individuals to have better internet and communication connectivity, private companies and corporate players engaged in exploring business opportunities in the communication vertical through exploring the final frontier of space. The companies such as Amazon and SpaceX have already announced their plans to establish a constellation of lightweight communication satellites in low earth orbit to enhance their communications network. The market for satellite connectivity within North America is dominated by private players, whereas the market in Europe is governed by public consortiums such as the European Union. Furthermore, active efforts are being taken by the European Union to establish a space-based connectivity network, offering high-speed connectivity to rural areas of the European Union. In August 2021, the European Union declared that the inception impact assessment for secure space-based connectivity is open for consultation.
Such initiatives notably increase the demand for placing communication satellites in low earth orbit. Thus, increase in launch of satellites and limited orbits in lower earth escalate the need for space traffic management, which is crucial in supporting business opportunities.
Increase in number of space debris and overlapping space orbits
Rise in space debris and the possibility of satellite collision or near miss due to overlapping orbits are among the key concerns of new space. Since the inception of the space age in 1958, there were approximately 630 explosions, breakups, collisions, or anomalous events generating several small fragments. Apart from 1million small fragments that are between 1cm and 10cm, there is 36,500 space debris that is greater than 10cm, whereas 130 million space debris that is between 1mm and 1cm. More than 90% of space debris is in lower earth orbit. The average speed of this debris is calculated to be 6 miles per second, capable of punching a hole in satellites if their orbits overlap. In May 2021, a tiny piece of space junk collided with the International Space Station (ISS), resulting in a 5mm hole in the Canadian-built robot arm.
To cater to the increasing concern of interception with space debris in LEO, satellite operators are expected to take protective and mitigation measures such as using more robust rad-hardened components or reconfiguring the orbit as and when needed. Such upgrades on components and maneuvers of satellites are expected to add 5–10% to the overall operational cost of satellites, thus restraining the space traffic management market growth.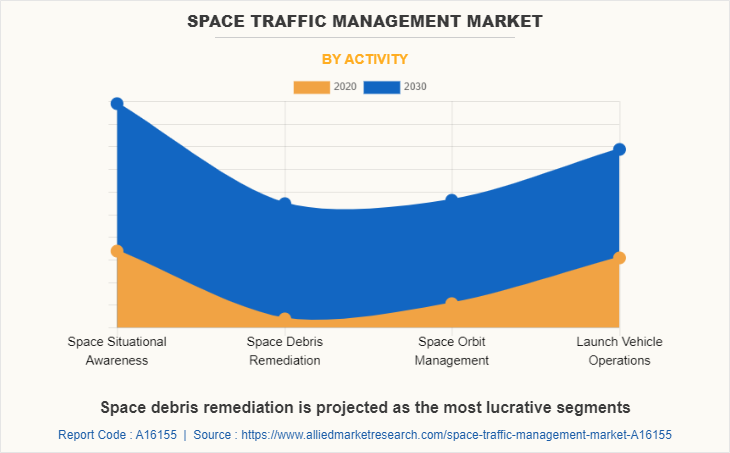 Reducing cost of space technologies
Efforts are being taken by the major corporate bodies such as Lockheed Martin, Thales Group, L3Harris Technologies, Northrop Grumman, and Raytheon Technologies to reduce the overall design, development, manufacturing, and operational cost of space components have generated several business opportunities. Cost reduction can be achieved by incorporating the size, weight, power, and cost (SWAP-C) concept in their manufacturing process, whereas integrating technologies such as additive manufacturing mitigate the need for mass manufacturing. Apart from the reduced cost of space components, the companies such as SpaceX and Virgin Galactic with their concept of shared rocket space using re-usable rockets have made space accessible to a wider target audience.
The overall reduced cost of space components and easily accessible outer space have allowed universities, research bodies, and personal researchers to frequently launch smallsats and CubeSats in outer space for various purposes, including study, experimentation, exploration, mapping & navigation, and research.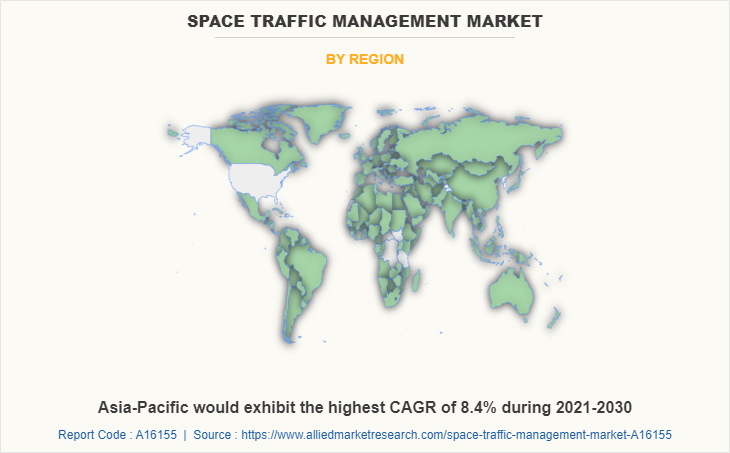 The space traffic management market is segmented into Application, End Use, Orbit and Activity.
KEY BENEFITS FOR STAKEHOLDERS
This study presents the analytical depiction of the global space traffic management market analysis along with the current trends and future estimations to depict imminent investment pockets.

The overall space traffic management market opportunity is determined by understanding profitable trends to gain a stronger foothold.

The report presents information related to the key drivers, restraints, and opportunities of

the global space traffic management market with a detailed impact analysis.

The current space traffic management market is quantitatively analyzed from 2020 to 2030 to benchmark the financial competency.

Porter's five forces analysis illustrates the potency of the buyers and suppliers in the industry.
 Space Traffic Management Market Report Highlights
Aspects
Details
By Application

Communication
Earth Observation
Navigation, Global Positioning System, and Surveillance
Technology Development and Education
Others

By End Use

Civil and Government
Commercial
Military

By Orbit

LEO
MEO and Elliptical
GEO

By Activity

Space Situational Awareness
Space Debris Remediation
Space Orbit Management
Launch Vehicle Operations

By Region

North America (U.S., Canada, Mexico)
Europe (Germany, France, Italy, Spain, Russia, United Kingdom, Rest of Europe)
Asia-Pacific (China, India, Japan, South Korea, Rest of Asia-Pacific)
LAMEA (Latin America, Middle East, Africa)

Key Market Players
L3Harris Technologies, Inc., Raytheon Technologies, BAE Systems plc, Lockheed Martin, Kayhan Space, Saab AB, Thales Group, Boeing Company, Northrop Grumman, Airbus Group