Speaker Market Outlook - 2027
The global speaker market size is expected to reach $233,274.5.0 million in 2027, from $39,576.5 million in 2019, growing at a CAGR of 30.5% from 2020 to 2027. Speakers are utilized for converting electric audio signals into sound waves and are often termed as transducers. They enhance the volume and quality of the sound produced by utilizing speaker drivers, which boosts sound reproduction quality. Moreover, the report considers smart speakers, portable speakers, home audio speakers, and true wireless stereo (TWS) hearables, which integrate latest technologies including virtual assistants, Bluetooth connectivity, integration of Wi-Fi, and portability. Speaker technologies are constantly upgraded to enhance battery backup, portability, water resistance, Bluetooth, and Wi-fi connectivity.  The major players in the speaker industry are inclined toward the development of new products complying to change in consumer demands, as well as to provide high quality audio output.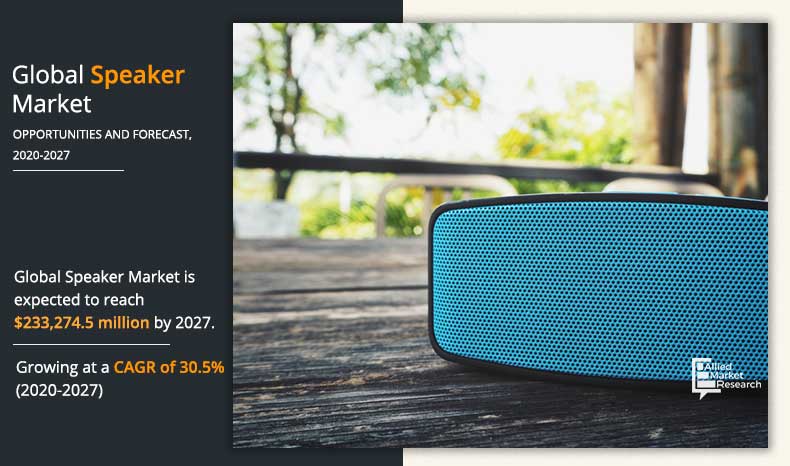 Products such as smart speakers, true wireless stereo (TWS), smart soundbars, and few portable speakers can work with virtual assistants, which function on artificial intelligent technologies. Virtual assistants such as Alexa by Amazon, Siri by Apple, Cortana by Microsoft, and Google Assistant by Alphabet, Inc. mainly provide a user-friendly platform and can perform thousands of functions from playing radio to integrating with home automation products. Virtual assistant technology developers keep on upgrading the features of their virtual assistant devices, which enables smart speakers to do more functions. These rapid advancements promote the demand for speakers with AI virtual assistant technologies, and thereby boosts growth of the speaker market. Moreover, batteries are an integral part of portable speakers and true wireless stereo (TWS). Development in battery technologies aid in enhancing product quality as well as reducing the price of the overall product. Portable speakers mainly include rechargeable lithium-ion batteries with an average battery backup of up to 8 hours. However, with advancements in battery technologies, major players in the industry are focused on developing high-end products with superior battery life. These battery related product upgrades foster the demand for portable speakers and TWS, which propels growth of the market. 
Speakers Market

---
By Product Type
TWS segment is projected to grow at a significant CAGR
However, artificial technologies, such as voice assistants, mainly capture data for analysis and renders it into information. This data is mainly stored on cloud storage, which is prone to cyber-attacks and creates threat of data thefts. Such instances hinder the adoption of smart speakers, which hampers the market growth. In addition, COVID-19, has directly impacted the global speakers market. The pandemic which originated in China and China being the largest exporter of the electronic goods globally, there was direct impact on production and sales of the speakers. Furthermore, due to the lockdown imposed by the China's government, the production facilities of these electronics components were stopped, moreover there was unavailability of the workforce when the production was to begin. Also e-commerce companies had to discontinue the delivery of non-essential items like speakers to its consumers. Retail stores were also closed during certain period of time due to lockdown. This has affected the overall sales of speakers globally. However, recovery is likely to be slow as the consumers will restrict their spending on the electronic goods due to the uncertainty of the economy and possibility of a recession. 
Medium segment holds dominant position in 2019
On the contrary, commercial applications such as use of speakers in healthcare centers, hotels, and commercial offices provide various opportunities for the implementation of smart speakers for daily operations. Numerous capabilities of smart speakers can assist healthcare providers to offer proper care to patients by scheduling their medications on the AI platform. In addition, patients in intensive care can call for assistance at any time by voice commands, which saves time in the treatment and may reduce accidental fatalities. These factors promote the use of smart speakers in commercial applications, thereby, creating lucrative opportunities for the growth of the speaker market.
Speakers Market

---
By End Use
Personal segment holds dominant position in 2019
The global speaker market is segmented into product type, size, end use, sales channel, price, and region. By product type, it is categorized into smart speakers, home audio speakers, portable speakers, and true wireless stereo (TWS). By size, it is classified into small, medium, and large. By end use, it is categorized into personal and commercial. By sales channel, it is bifurcated into online and offline. On the basis of price, the market is analyzed in the price range of less than $50, $50 to $100, $100 to $200, and more than $200. 
Speakers Market

---
By Sales Channel
Online segment holds dominant position in 2019
The global speaker market is analyzed across North America (the U.S., Canada, and Mexico), Europe (the UK, Germany, France, and rest of Europe), Asia-Pacific (China, Japan, India, South Korea, and rest of Asia-Pacific), and LAMEA (Latin America, the Middle East, and Africa). Asia-Pacific held the largest market share during 2019 and is expected to grow at the fastest rate throughout the forecast period.
$100 to $200 segment holds dominant position in 2019
Competition Analysis
The key market players profiled in the report include 3nod Group, AAC Technologies Holdings Inc., Alphabet Inc., Amazon.com, Inc., Bose Corporation, Fortune Grand Technology Inc., Foster Electric Company, Limited, Guoguang Electric Company Limited, Koninklijke Philips N.V., Guangzhou Merry Audio Equipment Co. Ltd., Premium Sound Solutions, Samsung Electronics Co., Ltd., Sony Corporation, Tonly Electronics Holdings Limited, and Tymphany HK Limited. 
Speakers Market

---
By Region
Asia-Pacific holds a dominant position in 2019 and is expected to grow at a highest rate during the forecast period.
Many competitors in the speaker market adopted product launch as their key developmental strategy to expand their product portfolio. For instance, in October 2019, the company Alphabet Inc., through its brand Google launched Nest Mini product in its smart speaker portfolio. The speaker is supported by Google Assistant and provides powerful sound at a lower price. Similarly, in May 2020, Samsung Electronics, Co., Ltd., through its brand JBL, launched the Flip 5 portable Bluetooth speaker, which is manufactured using recycled plastic. It is delivered in bio-degradable eco-friendly packaging to promote sales of the product.
Key Benefits For Stakeholders
The report provides an extensive speaker market analysis of the current and emerging global speaker market trends and dynamics.  

In-depth analysis of the market is conducted by constructing market estimations for the key market segments between 2019 and 2027. 

Extensive analysis of the market is conducted by following the key product positioning and monitoring of the top competitors within the market framework.

A comprehensive speaker market opportunity analysis of all the countries is also provided in the report.

The global speaker market forecast analysis from 2020 to 2027 is included in the report.

The key market players within the market are profiled in this report and their strategies are analyzed thoroughly, which helps understand the competitive outlook of the industry. 
Global Speaker Market Segments
By Product Type
Smart speakers
Home audio speakers
Portable speakers
True wireless stereo (TWS)
By Size
By End Use
By Sales Channel
By Price
Less than $50
$50 to $100
$100 to $200
More than $200
By Region
North America
Europe

UK
Germany
France
Rest of Europe

Asia-Pacific

China
Japan
India
South Korea
Rest of Asia-Pacific

LAMEA

Latin America
Middle East 
Africa
Key Players
3nod Group
AAC Technologies Holdings Inc.
Alphabet Inc.
Amazon.com, Inc.
Bose Corporation
Fortune Grand Technology Inc.
Foster Electric Company Limited
Guoguang Electric Company Limited
Koninklijke Philips N.V.
Guangzhou Merry Audio Equipment Co. Ltd.
Premium Sound Solutions
Samsung Electronics Co., Ltd.
Sony Corporation
Tonly Electronics Holdings Limited
Tymphany HK Limited
 Speakers Market Report Highlights
Aspects
Details
By Product Type

Smart Speakers
Home Audio Speakers
Portable Speakers
True Wireless Stereo (TWS)

By Size
By End Use
By Sales Channel
By Price

Less than $50
$50 to $100
$100 to $200
More than $200

By Region

North America (UNITED STATES, CANADA, MEXICO)
Europe (GERMANY, FRANCE, UK, ITALY, Rest of Europe)
Asia-Pacific (CHINA, JAPAN, INDIA, SOUTH KOREA, Rest of Asia Pacific)
LAMEA (Latin America, Middle East, Africa)

Key Market Players
Tymphany HK Limited, Fortune Grand Technology Inc., Koninklijke Philips N.V., Amazon.com, Inc., Sony Corporation, AAC Technologies Holdings Inc., Premium Sound Solutions, Bose Corporation, Samsung Electronics Co., Ltd., 3nod Group