The global special mission aircraft market was valued at $15.3 billion in 2021, and is projected to reach $26.5 billion by 2031, growing at a CAGR of 5.9% from 2022 to 2031.
Special mission aircraft are those aircraft, which are used to support and enhance the effectiveness of armed forces engaged in combat operations as well as non-combat commercial operations. The special mission aircraft can be configured to perform armed reconnaissance, precision strike, aerial refueling, airdrop resupply, personnel recovery, forward area refueling point operations, infiltration and exfiltration, humanitarian aid, and rescue missions.  Lockheed Martin provides the C-130J-SOF special mission aircraft to cater to the requirements of the international special operations forces (SOF). The aircraft has a payload capacity of 18,023kg, which allows for the carriage of electro-optical /infrared and radar systems, weapon systems, defensive aids, and refueling systems. In addition, many aircraft are designed for the purpose of integration of mission-specific systems for conducting search-and-rescue, maritime patrol, medical evacuation, VIP transportation, and other specific duties such as weather monitoring.
Moreover, U.S. is the leader in the implementation of modern technologies in the military, navy, homeland security, and other defense agencies. The U.S. Department of Defense (DoD) is the nation's largest government agency with an annual budget of $721.5 billion as of the financial year 2020. This allocation was a 5.2% rise from the 2019 budget for the DoD.
The U.S. Air Force, U.S. Navy, and U.S. Army heavily invest in the modernization of the existing defense infrastructure and installation of advanced defense equipment. Moreover, the implementation of defense protocols is expected to promote the growth of the market over the years. Surge in development and deployment of special mission aircraft is expected to drive the growth of the market. For instance, in December 2020, the US State Department approved the Foreign Paramilitary (FMS) capability to Italy two special mission versions of the Gulfstream G550 business jets configured for intelligence, surveillance and reconnaissance (ISR). The approval is part of the Italian Ministry of Defense's multi-year aircraft acquisition plan (2020-2022) announced in October 2020.
Moreover, rise in defense expenditure in China to tackle growing terrorism and regional disputes between China and other countries promotes the growth the adoption of new defense equipment such as drone defense systems, surveillance system, and quick response smart weapons across the region. Therefore, these factors are expected to drive the demand for the special mission aircraft which in turn, accelerates the growth of the market.
In addition, Japan is enhancing its defense capacities to defend against the rise in military technology upgrades by China and Russia. The Japanese organizations are manufacturing advanced defense equipment to cater to the rising threats of attacks. The Japanese Defense Ministry has started conducting its research for the use of vehicle-mounted counter-drone lasers to keep away unauthorized drones. Such developments are expected to drive the growth of the market across Japan.
Factors such as increase in demand for drones, rise in demand for industry-specific solutions, and rise in spending to procure defense equipment globally are anticipated to boost the growth of the global special mission aircraft market during the forecast period. However, lack of skilled and trained personnel, and stringent regulatory norms for components are expected to hinder the growth of the global market during the forecast period. Moreover, rise in adoption of autonomous aircrafts, and increase in demand for air-to-air refueling are expected to create an opportunity for the special mission aircraft industry in near future.
The special mission aircraft market is segmented on the basis of application, platform, end-user and point of sale. The application segment is further divided as intelligence, surveillance, and reconnaissance (ISR), command & control, communication & navigation, and others. By platform, the market is classified into military aviation, commercial aviation, and unmanned aerial vehicle. On the basis of end-user, it is divided into defense, commercial & civil, and space. By point of sale, it is segmented into OEM, and aftermarket. By region, the market is analyzed across North America, Europe, Asia-Pacific, and LAMEA.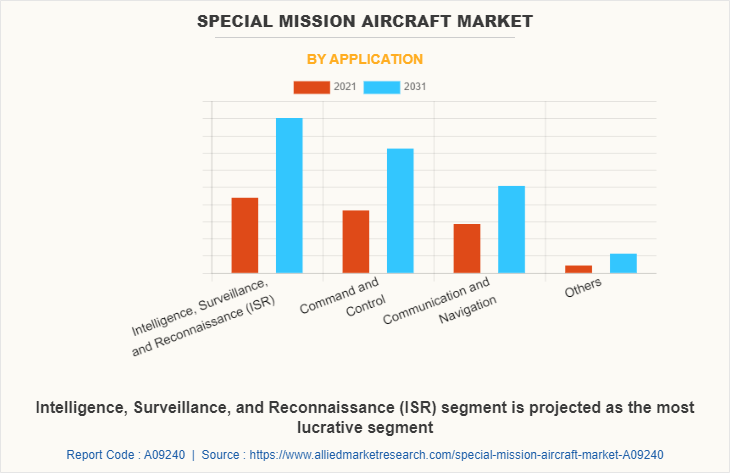 The key players that operate in this special mission aircraft market are BAE Systems Plc., Bombardier, Dassault Aviation, Elbit Systems Ltd., General Atomics, Israel Aerospace Industries Ltd. (IAI), Kratos Defense & Security Solutions, Inc., Leonardo S.p.A., Lockheed Martin Corporation, Northrop Grumman Corporation, Raytheon Technologies Corporation, Saab AB, Textron Inc., Thales Group, and The Boeing Company.
Increase in demand for drones
The use of special mission aircrafts such as unmanned drones has increased drastically over the years, especially to ensure border safety, counter-insurgency, and to conduct surveillance across commercial properties. Drones or unmanned aerial vehicles (UAVs) can identify security and terrorism-related challenges and locate vulnerable zones that are prone to several risks. Drones are the modern force multiplier that can improve the abilities of security forces to monitor criminal activities and tackle evolving challenges in defense and homeland security. In addition, the commercialization of drones is being witnessed throughout the world, as they are often used by oil & gas companies, survey agencies, land & water resources protection agencies, and news agencies, which notably contributes toward the growth of the global market.
In addition, increase in adoption of advanced drones to carry out aerial surveillance at restricted areas and public gatherings such as political rallies, sporting events, smuggling, terror missions, and other illegal activities boosts the market growth. In the last couple of years, the world has witnessed an increasing number of drones-related incidents globally. For instance, countries such as the UK, Saudi Arabia, France, the U.S., India, Spain, and Germany have witnessed aerial surveillance done by unverified drones, attacks on oil reserves, and arms & ammunitions dropping. Such incidents have experienced an exponential growth over the last five years, which notably augment the market growth for special mission aircrafts.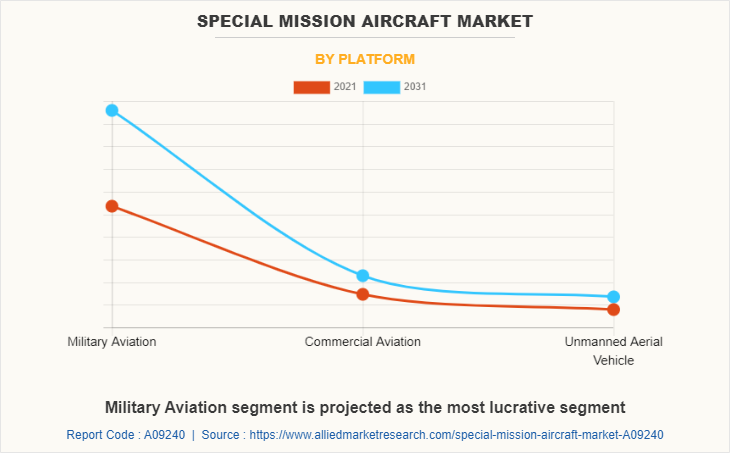 Rise in demand for industry-specific solutions
The global rise in economic intensification has led to an increase in demand for cost-cutting and the development of high-efficiency solutions across the global industries. This rise in demand boosts the need for affordable, easy-to-implement, and high-value on-demand customized systems for the distinct requirement of various industries. The special mission aircrafts manufacturers have increased the development of customized aircrafts and drones for warehouse management, capturing, viewing, and analyzing aerial imagery for agriculture, mining, utility, power, media, telecommunication, logistics, oil & gas, and construction industries, and others. For instance, in April 2021, Skyports and Kenya Airways have signed a Memorandum of Understanding (MoU) for launching operations of permanent unmanned aerial vehicles (UAV) in Kenya. The partnership is aimed at exploring the commercial impact and viability of a variety of logistical, inspection, and medical drone use cases. The special mission aircrafts offer customizable working capacity which increases their integration in different operations of multiple industries. The ability of these aircrafts to perform in multiple environments and deliver customized output acts as a key driver for the growth of the special mission aircraft market in the forecast period.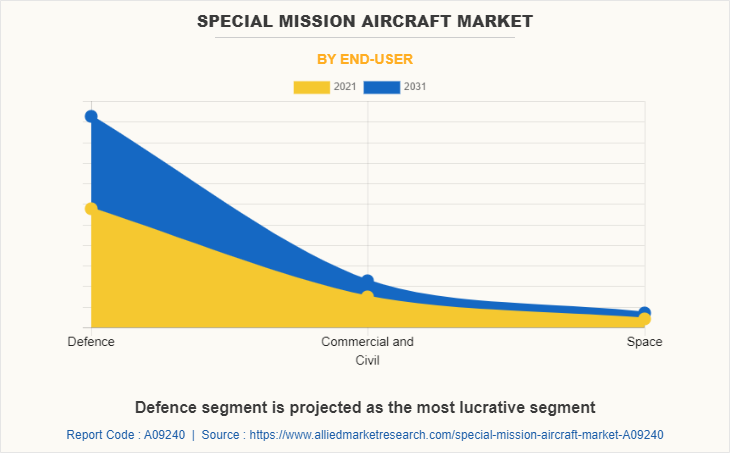 Lack of skilled and trained personnel
Lack of skilled pilots, who can fly modern special mission aircrafts that fly with high speeds and gather accurate data majorly restrains the market. This factor not only prevails in the defense sector, but is also prevalent in the commercial sector.  As with any flourishing market, it is usually difficult finding the trained workers to fill special mission aircrafts related jobs. In special mission aircrafts market space, the innovation is rapidly outpacing training, and the lack of qualified personnel can limit growth opportunities for providers as well as suppliers. Some special mission aircrafts applications necessitate piloting skills and/or others require geo-spatial experts to process data in order to obtain accurate information from images. Moreover, regulations tend to change rapidly to meet the requirements of present and future commercial uses. All these factors are expected to limit the growth of the market during the forecast period.
Rise in adoption of autonomous aircrafts
Cargo planes & drones are expected to be the first to adopt this autonomous aircraft technology. As cargo drones are capable of transporting heavy payloads, they are entering flight test and some experts expect them to start operational service before air taxis carry passengers in urban areas. In addition, the growth in the e-commerce industry is driving the air cargo demand, which may increase the demand for air cargo pilots in the near future. Hence, most of the developments in the autonomous aircraft market are aimed at bringing the autonomous cargo aircraft into commercial use, to fill in the gap due to pilot shortage. Boeing's futuristic NeXt division oversees its heavy-duty drone prototype that is capable of lifting a 500-pound payload. The cargo air vehicle conducted its first indoor flight test last year, and it may move to outdoor testing in 2019. Furthermore, countries such as the U.S., Singapore, the UAE, China, and other developed nations, are using autonomous aircraft to deliver healthcare services such as medicines and other emergency products. Thus, companies are looking forward to design such autonomous aircrafts for multipurpose applications. Hence, such several developments and innovations in the industry leads to the adoption of autonomous aircrafts, which thereby propels the special mission aircraft market growth.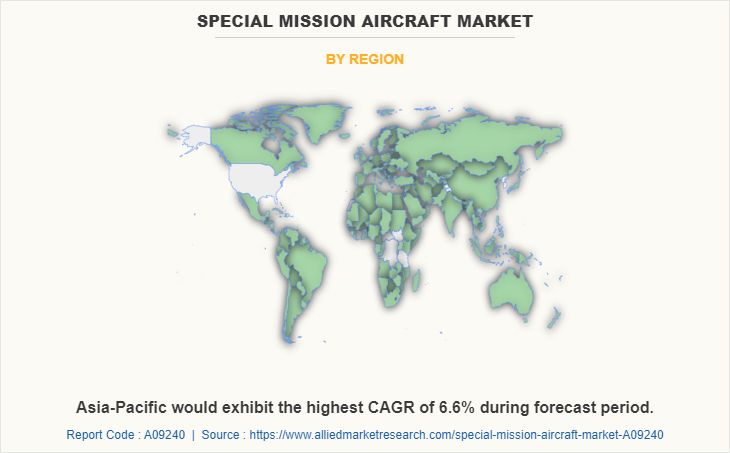 The COVID-19 outbreak forced governments across the globe to implement stringent lockdown and ban import–export of essential raw material items for most of 2020, and few months in 2021. This led to sudden decline in availability of important raw materials for aircraft components. As a result of interrupted supply chains and production schedules caused by the COVID-19 pandemic, aviation production and sales suffered severely, which, in turn, negatively impacted the market for special mission aircraft market. Moreover, overall decline in the output generation in the end use industry such as military & defense, civil & commercial, logistics & transportation, construction & mining, among others has resulted to lower demand outlook. The reduction in aerospace and defense spending has had a negative impact on special mission aircraft development and deployment plans, particularly unmanned aerial vehicles (UAVs). Markets throughout the world, observed reduced procurement of special mission aircrafts last couple of year, and the procurement contracts are expected to grow slowly over the next few years, as governments continue to build up their defense capabilities for addressing the uncertain geopolitical tensions across different nations such as the India-China, India-Pakistan or the continued disagreement in the South China Sea, among others.
Key Benefits For Stakeholders
This report provides a quantitative analysis of the market segments, current trends, estimations, and dynamics of the special mission aircraft market analysis from 2021 to 2031 to identify the prevailing special mission aircraft market opportunities.
The market research is offered along with information related to key drivers, restraints, and opportunities.
Porter's five forces analysis highlights the potency of buyers and suppliers to enable stakeholders make profit-oriented business decisions and strengthen their supplier-buyer network.
In-depth analysis of the special mission aircraft market segmentation assists to determine the prevailing market opportunities.
Major countries in each region are mapped according to their revenue contribution to the global market.
Market player positioning facilitates benchmarking and provides a clear understanding of the present position of the market players.
The report includes the analysis of the regional as well as global special mission aircraft market trends, key players, market segments, application areas, and market growth strategies.
 Special Mission Aircraft Market Report Highlights
Aspects
Details
Market Size By 2031
USD 26.5 billion
Growth Rate
CAGR of 5.9%
Forecast period
2021 - 2031
Report Pages
371
By Application

Intelligence, Surveillance, and Reconnaissance (ISR)
Command and Control
Communication and Navigation
Others

By Platform

Commercial Aviation
Unmanned Aerial Vehicle
Military Aviation

By End-User

Defence
Commercial and Civil
Space

By Point of Sale
By Region

North America (U.S., Canada, Mexico)
Europe (Germany, France, Russia, Netherlands, UK, Poland, Spain, Rest Of Europe)
Asia-Pacific (China, India, Japan, South Korea, Asean, Rest Of Asia-Pacific)
LAMEA (Brazil, UAE, Saudi Arabia, South Africa, Rest Of LAMEA)

Key Market Players
LOCKHEED MARTIN CORPORATION, BOMBARDIER INC, ELBIT SYSTEMS LTD, THE BOEING COMPANY, RAYTHEON TECHNOLOGIES CORPORATION, TEXTRON AVIATION INC., DASSAULT AVIATION SA, LEONARDO SPA, THALES SA, ISRAEL AEROSPACE INDUSTRIES LTD, NORTHROP GRUMMAN CORPORATION, BAE SYSTEMS, GENERAL ATOMICS AERONAUTICAL SYSTEMS, INC, KRATOS DEFENSE & SECURITY SOLUTIONS, INC., SAAB AB