Specialty Insurance Market Outlook – 2030 
The global specialty insurance market size was valued at $73.80 billion in 2020, and is projected to reach $178.52 billion by 2030, growing at a CAGR of 9.3% from 2021 to 2030. Specialty insurance is designed to cover businesses with nontraditional needs and protect negligence claims. In addition, this insurance is obtained for items or events that are considered unique and are rarely covered by standard insurance policies. Construction, healthcare, environmental, and energy industries highly demands for specialty insurance. Furthermore, errors & omissions (E&O) insurance, a type of professional liability insurance, is considered as a standard type of specialty insurance plan.
The COVID-19 pandemic has negatively impacted the sale of specialty lines including marine & trade credit insurance, owing to disrupted supply chain and halted businesses operations across several industry verticals.
Implementation of technologies such as blockchain and Internet of Things (IoT) provides an ability to more accurately assess both current & future risks occurring in specialty insurance, which acts as key driving force of the global specialty insurance market. In addition, specialty insurance provides multiple coverage options with huge flexibility in terms of coverages, policy term, and policy period, which notably contributes toward the specialty insurance market growth. Moreover, surge in demand for specialized expertise is a prime factor that propels the market growth.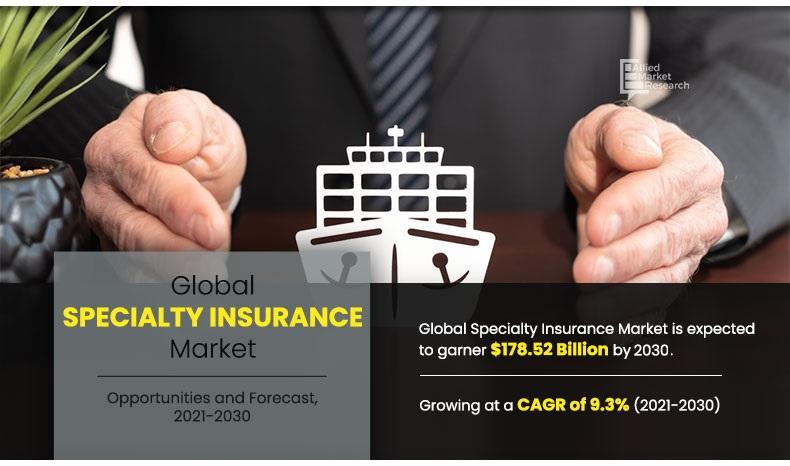 However, extremely volatile market and lack of awareness & understanding toward specialty insurance are some of the factors that limit the market growth. Furthermore, developing economies offer significant opportunities for specialty insurers to expand & develop their offerings, especially among emerging economies such as Australia, China, India, Singapore, and South Korea. In addition, incorporation of IoT helps in risk monitoring, simplifies claims processing, and facilitates loss prediction & prevention, which is expected to provide lucrative opportunities for the expansion of the specialty insurance market in the coming years.
The report focuses on growth prospects, restraints, and trends of the specialty insurance market analysis. The study provides Porter's five forces analysis to understand the impact of various factors such as bargaining power of suppliers, competitive intensity of competitors, threat of new entrants, threat of substitutes, and bargaining power of buyers on the specialty insurance market outlook.
Specialty Insurance Market

---
By Type
Marine, Aviation and Transport (MAT) Insurance segment will dominate the market during 2021 - 2030
Segment Overview
The specialty insurance market is segmented on the basis of type, distribution channel, end user, and region. By type, it is segregated into marine, aviation & transport (MAT), political risk & credit insurance, entertainment insurance, art insurance, livestock & aquaculture insurance, and others. The marine, aviation & transport (MAT) is further segmented into inland marine and ocean marine. 
In addition, the ocean marine is further segregated into cargo insurance, hull & machinery insurance, marine liability insurance, and offshore energy insurance. By distribution channel, it is bifurcated into brokers and non-brokers. Based on end user, the market is divided into business and individuals. By region, it is analyzed across North America, Europe, Asia-Pacific, and LAMEA. 
Specialty Insurance Market

---
By End User
Business segment will hold the dominant position throughout the forecast period
Competitive Analysis
The report analyses top specialty insurance companies operating in the market such as AXA, American International Group Inc., Allianz, ASSICURAZIONI GENERALI S.P.A., Berkshire Hathaway Inc., Chubb, Munich Re, PICC, Tokio Marine HCC, and Zurich. These key players have adopted various strategies, such as product portfolio expansion, mergers & acquisitions, agreements, geographical expansion, and collaborations, to increase their market penetration and strengthen their foothold in the industry.
Specialty Insurance Market

---
By Region
Asia-Pacific region would exhibit the highest CAGR of 10.9% during 2021 - 2030
COVID-19 Impact Analysis
The COVID-19 pandemic has a negative impact on the specialty insurance industry. Sectors such as aviation, marine, and construction have been affected by halt in global travel, trade, and new builds during the crisis. Therefore, use of underlying assets has rapidly reduced, and losses occurred in these sectors have led to decline in specialty insurance coverages. Therefore, demand for specialty insurance products have declined significantly during the global health crisis. 
Top Impacting Factors
Surge in Demand For Specialized Expertise
Increase has been witnessed in the demand for specialized expertise in the specialty insurance programs, as it provides both comprehensive and custom designed to meet the needs of business segments with unique risk profiles. In addition, program administrators (PAs), which is one of the major distributors of specialty insurance, plays a vital role in the market. These administrators act as a specialized expertise, which are engaged in understanding target market's exposures. In addition, several specialty insurers, brokers, and policyholders are increasing relying on this expertise to provide niche specialty coverages in the market. As a result, surge in demand for specialize expertise among businesses and other end users is propelling the demand for specialty insurance, globally.   
Lack of Awareness & Understanding Toward Specialty Insurance 
Misconceptions and low awareness toward specialty insurance significantly restrain the specialty Insurance market growth. Competitive rates depending on coverages, requirement for an entire new policy to cover company's assets, and commissions collected from agents are some of the major areas of misconceptions considering specialty insurance. In addition, awareness toward several perils covered, repayment models, and transparency, in terms of premiums for specialty insurance, act as the key restraints of the market.  
Incorporation of Technologies in Specialty Insurance Product Lines
Key players in the market continue to incorporate technologies in their existing specialty insurance product lines by considering three major areas, including target segments, products, and distribution channel.
This is attributed to the fact that technologies such as artificial intelligence, blockchain, and IoT help in facilitating loss prediction & prevention, risk monitoring, and simplifies claims processing. Furthermore, insurers are investing heavily in these technologies and are focused on new disruptive forces that emerge and shape the specialty insurance marketplace. Therefore, incorporation of advanced technologies in specialty insurance by various players boosts the growth of global market.  
Key Benefits For Stakeholders 
The study provides in-depth analysis of the global specialty insurance market share along with current & future trends to illustrate the imminent investment pockets.
Information about key drivers, restrains, and opportunities and their impact analysis on the global specialty insurance market size are provided in the report.
Porter's five forces analysis illustrates the potency of buyers and suppliers operating in the specialty insurance market.
An extensive analysis of the key segments of the industry helps to understand the specialty Insurance market trends.
The quantitative analysis of the global specialty insurance market forecast from 2021 to 2030 is provided to determine the market potential. 
Specialty Insurance Market Key Segments
By Type
Marine, Aviation & Transport (MAT)

Marine Insurance

Inland Marine Insurance
Ocean Marine Insurance

Cargo Insurance
Hull & Machinery Insurance
Marine Liability Insurance
Offshore Energy Insurance

Aviation Insurance  

Political Risk & Credit Insurance
Entertainment Insurance
Art Insurance
Livestock & Aquaculture Insurance
Others
By Distribution Channel
By End User
By Region
North America
Europe

UK
Germany
France
Italy
Spain
Nordic Countries
Rest of Europe

Asia-Pacific 

China
Japan
India
South Korea
Singapore
Rest of Asia-Pacific   

LAMEA

Latin America 
Middle East
Africa
Key Market Players
AXA
American International Group Inc.
Allianz
ASSICURAZIONI GENERALI S.P.A. 
Berkshire Hathaway Inc.
Chubb
Munich Re 
PICC
Tokio Marine HCC
Zurich