Global Spectrometry Market Research, 2031
The global spectrometry market was valued at $11.1 billion in 2021, and is projected to reach $20.3 billion by 2031, growing at a CAGR of 6.2% from 2022 to 2031.Spectrometry is a comprehensive study that examines and analyses the electromagnetic spectrum created by electromagnetic radiation's interaction with materials as a function of wavelength or frequency. It is possible to identify specific chemicals, such as chemical compounds, impurities, contaminants, or pollutants by ionizing and separating a test sample. Depending upon the sample and requirement it can be examined through various molecular, mass, and atomic spectroscopy techniques.
The COVID-19 outbreak is anticipated to have a positive impact on the spectrometry market. Mass spectrometry studies improved understanding of the SARS-CoV-2 viral pathogenesis while generating diagnostic tools to enhance PCR-based approaches. It became a potentially valuable device type for aerosol, droplet, and fomite (ADF) contagion monitoring. Furthermore, mass mapping with high resolution mass spectrometry was used to identify and discriminate the viral variants of COVID-19. Thus, such utilization of the spectrometry instruments for research studies had a positive impact on the market.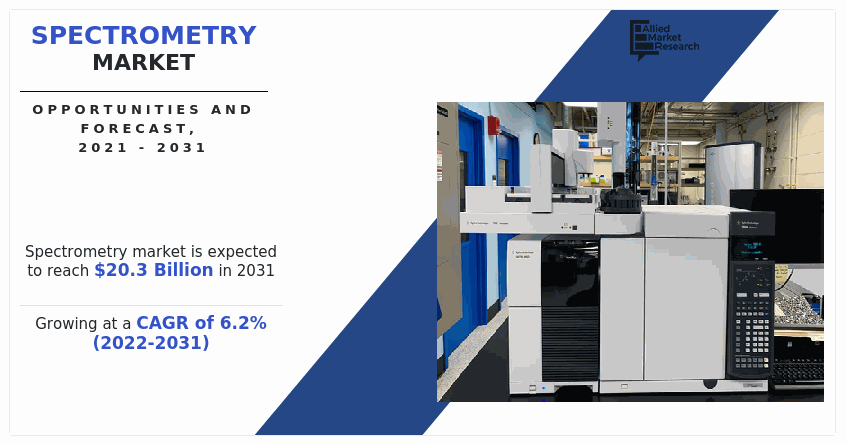 Increase in use of spectrometry methods in pharmaceutical and biotechnological industries for drug testing, drug discovery, protein testing, raw materials testing, quality assurance, and quality control of goods are the primary reasons driving the growth of the spectrometry market size market. Moreover, surge in  use of spectrometry analysis for research operations in pharma and biotech industries for proteomics, metabolomics, genomics, and demand for personalized treatments is driving the spectrometry market opportunity. It is leading the way in both health care and medical research as a new tool for enhanced diagnostics, biomarker identification, and disease detection. Furthermore, introduction of stringent criteria for monitoring dangerous compounds (metals including arsenic, lead, and mercury) in food and drinking water by the US Food and Drug Administration's (USFDA) boosts the utilization of these spectrometry instruments.
However, these instruments are expensive with significant installation and maintenance costs, which is likely to slow down the spectrometry market forecast. In contrast, technological improvements are presently forcing market players to produce new products and increase the amount of cloud-based data needed for analysis. As a result, numerous firms have a significant chance to invest in spectrometry market growth during the forecast period, particularly in developing countries.
SPECTROMETRY MARKET SEGMENTATION
The spectrometry market is segmented on the basis of type, end user, and region. On the basis of type, the market is categorized into molecular spectrometry, mass spectrometry, and atomic spectrometry. Molecular spectrometry segment is further segmented into visible & ultraviolet spectroscopy, infrared & near infrared spectroscopy, nuclear magnetic resonance spectroscopy, and Raman spectroscopy. Mass spectrometry segment is further segmented into hybrid mass spectroscopy, single mass spectroscopy, and others. Atomic spectrometry segment is further segmented into atomic absorption spectroscopy, X-ray diffraction spectroscopy, X-ray fluorescence spectroscopy, inductively coupled plasma optical emission spectroscopy, and inductively coupled plasma mass spectrometry.
By application, it is classified into pharmaceutical & biotechnology companies, research & academic institutes, and others.
Region wise, the market is analyzed across North America (the U.S., Canada, and Mexico), Europe (Germany, France, UK, Italy, Spain, and rest of Europe), Asia-Pacific (Japan, China, Australia, India, South Korea, and rest of Asia-Pacific), and LAMEA (Brazil, South Africa, Saudi Arabia, and rest of LAMEA).

Segment Review
Depending on type, the molecular spectrometry segment held the largest spectrometry market size share in the global market in 2021 with $4281.93 million, and is expected to remain dominant during the forecast period, owing to innovation in infrared and near infrared spectroscopy and availability of numerous technologically advanced molecular spectrometry instruments.
Spectrometry Market

---
By Type
Molecular spectrometry segment dominated the market in 2021, and is expected to remain dominant during the forecast period.
By end user, the research & academic institutes segment dominated the market in 2021, with $5,023.17 million spectrometry market share and is expected to lead during the forecast period, owing to rise in R & D activities for drug discovery, clinical trials, toxicity testing for pharmaceuticals as well as food and water testing. 
Spectrometry Market

---
By End User
Research and academic institutes dominated the market in 2021, and is expected to remain dominant during the forecast period.
Region wise, North America is expected to account for the highest spectrometry market share, owing to established spectrometry laboratories, robust infrastructure for research, and availability of key players across the region, followed by Europe, Asia-Pacific, and LAMEA. Asia-Pacific is expected to register the fastest CAGR during the forecast period, due to rapid development in spectrometers, increase in public–private investment, and continuous government support for pharmaceutical & biotechnology R&D. Moreover, China and India are expected to witness growth at high CAGR in the spectrometry market of Asia-Pacific.
Spectrometry Market

---
By Region
North America dominated the market in 2021, however, Asia-Pacific is expected to fastest growth rate in the forecast period.
The key players operating in the global spectrometry industry are Agilent Technologies, Bruker Corporation, Danaher Corporation (SCIEX), Endress+Hauser Group (Analytics Jena GmbH), Leco Corporation, Kore Technology, PerkinElmer, Inc., Shimadzu Corporation, Thermo Fisher Scientific Inc., and Waters Corporation.
Key Benefits For Stakeholders
This report provides a quantitative analysis of the market segments, current trends, estimations, and dynamics of the world spectrometry market analysis from 2021 to 2031 to identify the prevailing world spectrometry market opportunities.
The market research is offered along with information related to key drivers, restraints, and opportunities.
Porter's five forces analysis highlights the potency of buyers and suppliers to enable stakeholders make profit-oriented business decisions and strengthen their supplier-buyer network.
In-depth analysis of the world spectrometry market segmentation assists to determine the prevailing market opportunities.
Major countries in each region are mapped according to their revenue contribution to the global market.
Market player positioning facilitates benchmarking and provides a clear understanding of the present position of the market players.
The report includes the analysis of the regional as well as global world spectrometry market trends, key players, market segments, application areas, and market growth strategies.
 Spectrometry Market Report Highlights
Aspects
Details
By Type

Molecular Spectrometry
Mass Spectrometry
Atomic Spectrometry

By End User

Pharmaceutical and Biotechnology Companies
Research and Academic Institutes
Others

By Region

North America (U.S., Canada, Mexico)
Europe (Germany, France, U.K., Italy, Spain, Rest of Europe)
Asia-Pacific (Japan, China, Australia, India, South Korea, Rest of Asia-Pacific)
LAMEA (Brazil, South Africa,, Saudi Arabia, Rest of LAMEA)

Key Market Players
Thermo Fisher Scientific, Inc., Danaher Corporation, Agilent Technologies, Waters, Bruker Corporation, shimadzu corporation, Perkin Elmer Inc., endress+hauser group, Leco Corporation, Kore Technology