Spectrum Analyzer Market Overview:
Global Spectrum Analyzer Market is expected to reach $1,813 million in 2023, from $1,068 million in 2016, growing at a CAGR of 7.7% from 2017 to 2023. Spectrum analyzers are used to analyze signal frequency and amplitude in logarithmic scale when the electric signal passes through the system, such as in real-time spectrum analyzer. Spectrum analyzers are used for manufacturing and designing purposes in the field services, repair of electrical devices to determine their performance, error detection, and troubleshooting errors.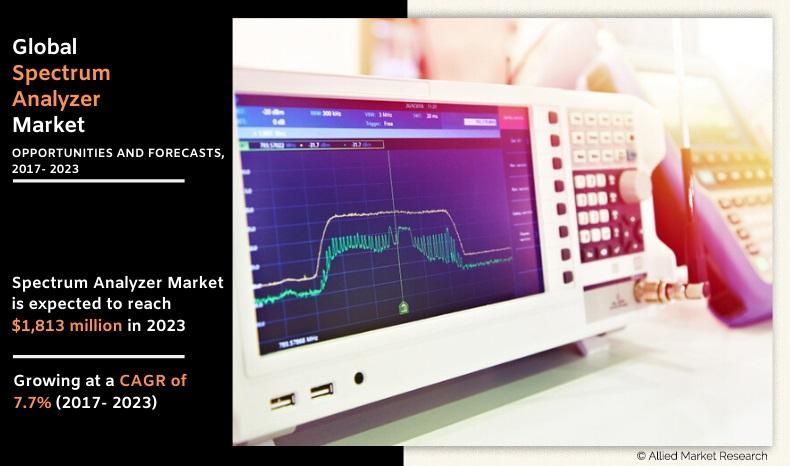 Spectrum analyzers are one of the most important instruments in any electronic laboratory. It serves several purposes in signal analysis in a wide range of applications, such as audio, video, communications, radar, and many other designs. However, the price of spectrum analyzers is a prohibitive factor for some users. Furthermore, the cost is reduced due to introduction of new affordable oscilloscopes with built-in spectrum analyzer capability, which is expected to provide attractive opportunity for the spectrum analyzer market.
Segment Overview
The global spectrum analyzer market is segmented based on product, network technology, end user, and geography. By product, it is classified into handheld spectrum analyzer, portable spectrum analyzer, and benchtop spectrum analyzer. In 2016, the benchtop spectrum analyzer segment dominated the global market, in terms of revenue, and is expected to maintain this trend throughout the forecast period, owing to its wide frequency range applications.
Market Segmentation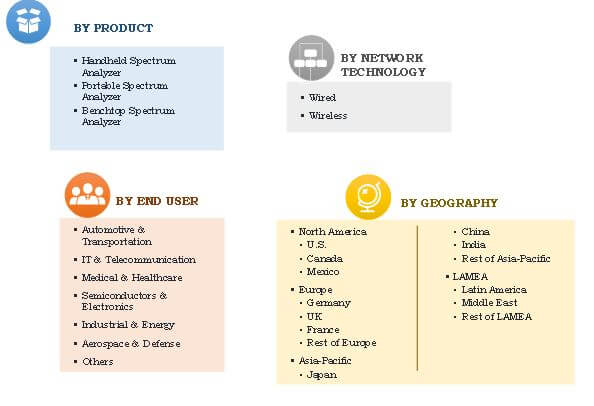 On the basis of end user, the market is categorized into automotive & transportation, IT & telecommunication, medical & healthcare, semiconductors & electronics, industrial & energy, aerospace & defense, and others. The semiconductors & electronics segment dominated the global market, in terms of revenue, and is expected to maintain this trend.
Geographical Scenario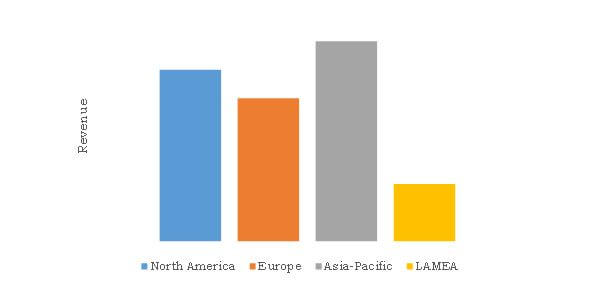 Geographically, Asia-Pacific is expected to dominate the spectrum analyzer market during the forecast period, due to established semiconductor & electronics industry in China & India and increase in adoption of this system in automotive & transportation industries. Moreover, widespread acceptance of spectrum analyzers in North America, owing to rise in investment in aerospace & defense and IT & telecommunication industry are expected to boost the market growth.
Competition Analysis
Competitive analysis and profiles of the major market players, such as Advantest Corporation, Teledyne Lecroy, Fortive Corporation, Yokogawa Electric Corporation, Anritsu Corporation, Rohde & Schwarz GmbH & Co., Kg., National Instruments Corporation, Keysight Technologies, Giga-tronics Incorporated, and B&K Precision Corporation are provided in this report.
Top Impacting Factors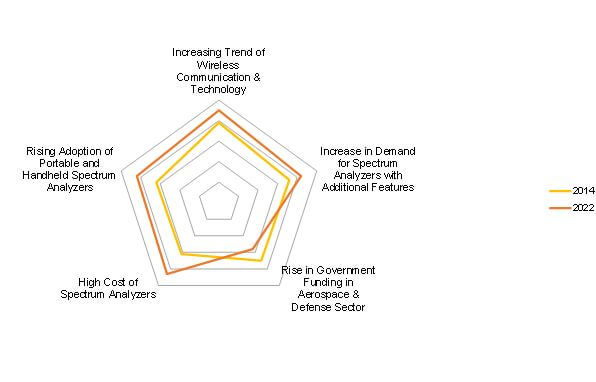 Key Benefits
The study provides an in-depth analysis of the global spectrum analyzer market to elucidate the prominent investment pockets
Current trends and future estimations are outlined to determine the overall market potential and single out profitable trends to gain a stronger foothold in the market
The report provides information about key drivers, restraints, and opportunities their impact analyses
The market is analyzed based on various regions, namely, North America, Europe, Asia-Pacific, and LAMEA
 Spectrum Analyzer Market Report Highlights
Aspects
Details
By Product Type

Handheld Spectrum Analyzer
Portable Spectrum Analyzer
Benchtop Spectrum Analyzer

By Network Technology

Wired Spectrum Analyzer
Wireless Spectrum Analyzer

By END-USER

Automotive & Transportation
IT & Telecommunication
Medical & Healthcare
Semiconductors & Electronics
Industrial & Energy
Aerospace & Defense
Others

By Geography

North America
Europe

Germany
France
UK
Rest of Europe

Asia-Pacific

China
Japan
India
Rest of Asia-Pacific

LAMEA

Latin America
Middle East
Africa

Key Market Players
FORTIVE CORPORATION, TELEDYNE LECROY, ADVANTEST CORPORATION, YOKOGAWA ELECTRIC CORPORATION, KEYSIGHT TECHNOLOGIES, ANRITSU CORPORATION, ROHDE & SCHWARZ GMBH & CO., KG., NATIONAL INSTRUMENTS CORPORATION, B&K PRECISION CORPORATION INDUSTRIES, GIGA-TRONICS INCORPORATED
Other Players in the Value Chain Include
Cobham PLC., Avcom of Virginia Inc., Stanford Research Systems, Inc., Bird Technologies