Speech Recognition Market Outlook - 2026
The global speech recognition market size was valued at $6.39 billion in 2018, and is projected to reach $29.28 billion by 2026, registering a CAGR of 19.9% from 2019 to 2026. 
Speech recognition is a technology used in various devices such as smartphones, cars, and computers which enables system to identify the sound of spoken words and convert them into machine readable form. It uses linguistic units for speech and audio signals. These signals are measured by word error rate (WER) that helps to identify the inaccuracies occurred while processing. Moreover, there are numerous speech recognition technologies like Amazon Alexa, Google's google assistant, Apple Siri, and Microsoft Cortana that enable easy accessibility of interaction by people to their devices. The purpose of a speech technology is to increase speed, accuracy, and help improve the efficiency of the system.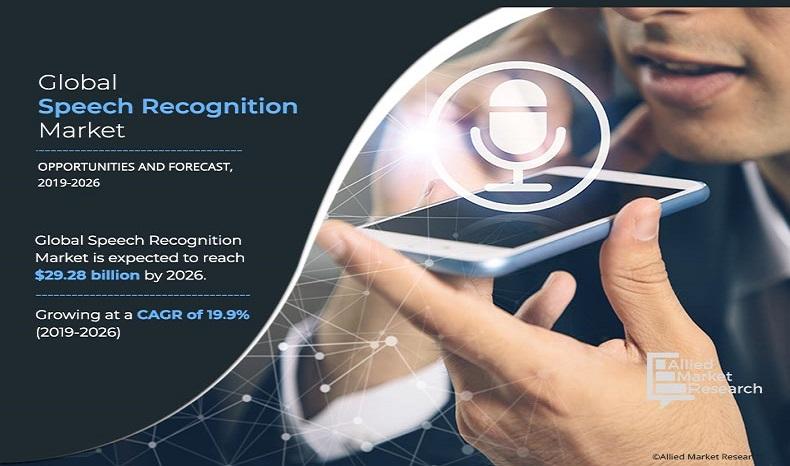 Speech recognition industry increases the use cases of consumer goods, consumer electronics, and vehicle infotainments. It is majorly used in smartphones, vehicles, querying based databases, and giving commands to computer-based system which are highly profiled on specialized vocabularies. This technology completely changes the interaction of people with their system, devices, phones, home, and cars.
In May 2019, Marvell announced the sale of its Wi-Fi Connectivity business to NXP for $1.7 billion. That month, Marvell also said it would acquire GlobalFoundries' ASIC business for $650 million and buy Multi-Gig Ethernet and networking controller supplier Aquantia for $452 million as the company shifts emphasis to data centers and related networks. There have been a half-dozen semiconductor acquisition announcements in 2019 valued at $1 billion or more, together representing 89% of the M&A so far this year.
Segmentation
The global speech recognition market is analyzed by deployment mode, end use, and region. By deployment, the market is analyzed across on cloud and on premise. On the basis of end use, the market is divided into automotive, consumer electronics, healthcare, enterprise and others. By region, it is analyzed across North America, Europe, Asia-Pacific, and LAMEA along with their prominent countries. 
Speech Recognition Market

---
By Deployment Mode
On Cloud deployment mode is projected as one of the most lucrative segments.
The speech recognition market is expected to witness significant growth in North America owing to the technological advancements and ongoing R&D activities in autonomous vehicles, healthcare, and consumer electronics in this region. In addition, increase in sale of in luxury cars, and smart wearables, have propelled the adoption of speech recognition in this region.
The key players profiled in the report include Google Inc., Naunce Communication, IBM, Baidu, Amazon, Microsoft, Raytheon BBN Technologies, Sensory, Iflytek, and Speak2web. These key players have adopted strategies, such as product portfolio expansion, mergers & acquisitions, agreements, geographical expansion, and collaborations, to enhance their market penetration.
Speech Recognition Market

---
By End User
Healthcare segment is expected to secure leading position during forecast period.
Top Impacting Factors
The notable factors positively affecting the speech recognition market include increase in demand for speech recognition in automotive, rise in demand for voice biometric systems for user authentication, and high growth potential in healthcare application. However, lack of accuracy in harsh environments and high installation cost hamper the market growth. Moreover, increase in adoption of speech recognition in the consumer verticals and emergence of speech recognition in robotics offers huge market opportunities in the next six years.
Increasing demand for speech recognition in automotive    
Technological advancements in speech and voice solutions such as voice dialing or voice biometric enhances performances of connected devices in the car. Speech recognition is used in the car for remote control and navigation system. The user will command through microphone installed in the remote control of the car. In addition, increase in demand for voice-driven navigation systems is expected to drive speech recognition technology market growth in the hardware and software segments. Integration of voice-enabled in-car infotainment systems is gaining popularity across the globe as several countries initiate "hands-free" regulations that govern the use of mobile phones while driving. Hence, advancement in technology drives the speech recognition market growth.
Speech Recognition Market

---
By Geography
Asia Pacific region would exhibit the highest CAGR of 21.4% during 2019-2026
Lack of Accuracy in harsh environments
Speech recognition occupies a prominent place in communication between the humans and machine. Several factors affect the accuracy of the speech recognition system such as environmental condition, recording devices, prosodic variations, speaker variations, and others. Hence, it is very important to record the speech in good environment with proper recording device to reduce the error rate. Back ground noise can influence much on the recognition accuracy.
Rising adoption of speech recognition in the consumer verticals
Increase in demand for intelligent virtual assistant (IVA) smart speakers with voice capabilities is expected to be the prominent driver for the speech and voice recognition market regarding consumer vertical during the forecast period. IVA smart speakers such as Amazon Eco, Google Home, and Apple HomePod have witnessed high growth in North America and Europe during the last 2 years. Moreover, the speech and voice recognition is expected to witness significant growth in the personal robotics market such as robotic pets, cleaning robots, and robot companion. All these factors together fuel the speech recognition market growth.
Key Benefits for Stakeholders:
This study includes the analytical depiction of the global speech recognition industry size along with the current trends and future estimations to determine the imminent investment pockets.
The speech recognition market size is determined to understand the profitable trends to gain a stronger foothold.
The report presents information related to key drivers, restraints, and opportunities with a detailed impact on the speech recognition market analysis.
The current speech recognition market forecast is quantitatively analyzed from 2018 to 2026 to benchmark the financial competency.
Porter's five forces analysis illustrates the potency of the buyers and suppliers in the speech recognition market.
The report includes the speech recognition market share of key vendors and speech recognition market trends.
 Speech Recognition Market Report Highlights
Aspects
Details
By Deployment Model
By End Use

Automotive
Consumer Electronics
Healthcare
Enterprise
Others

By Region

North America (U.S., Canada, Mexico)
Europe (UK, Germany, France, Russia, Rest of Europe)
Asia-Pacific (China, India, Japan, Australia, Rest of Asia-Pacific)
LAMEA (Latin America, Middle East, Africa)

Key Market Players
Amazon. Com, Inc., Baidu, Inc., Google Inc. (Alphabet Inc.), IBM Corporation., IFLYTEK Inc., Microsoft Corporation, Nuance Communications, Inc., Raytheon Company, Sensory Inc., speak2web