Spintronic Logic Devices Market Outlook - 2026
The global spintronic logic devices market size was valued at $2.14 billion in 2018, and is projected to reach $21.89 billion by 2026, registering a CAGR of 34.7% from 2019 to 2026. Spintronics refers to spin-based electronics used in many solid-state devices to study the intrinsic spin of electrons. Its major motive is to use the spin of the electrons rather than their charge, and to utilize the magnetic moment associated with them. 
All spintronic technology devices act according to the information stored into spins as per spin orientation. Subsequently, the spins, being attached to mobile electrons, carry the information along a wire, leading to a terminal that reads the information.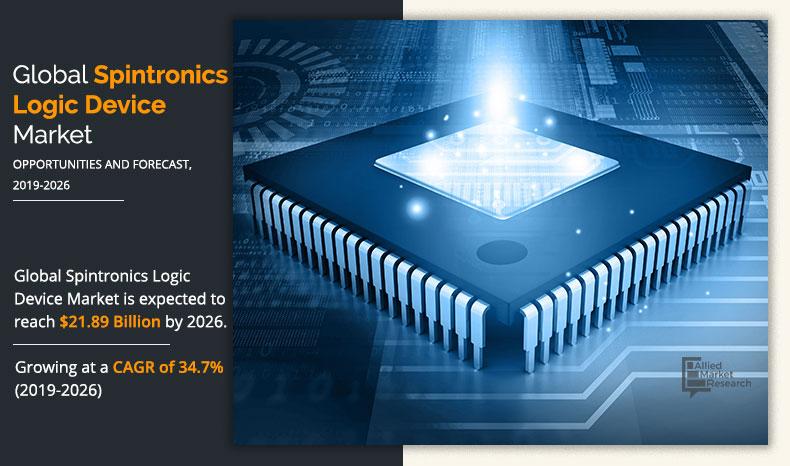 In electronic devices, information is traditionally stored, processed, and communicated using an electron's charge. This pattern is increasingly turning out to be energy-inefficient, owing to the fact that the movement of charge within an information-processing device always leads to current flow and an associated dissipation. Replacing "charge" with the "spin" of an electron to convert information may eliminate much of this power dissipation and lead to introduction of more energy-efficient "green electronics". This has spurred the demand for spintronic logic devices, thereby augmenting the market growth.
The spintronic logic devices are widely used in various industries and automotive applications, where reliability of the connection is a major concern. Furthermore, the industrial spintronics provide reliability of operation in harsh environments. According to the Global EV Outlook 2019 report by the International Energy Agency (IEA), China remains the world's largest electric car market, followed by Europe and the U.S. and the global electric car fleet exceeded 5.1 million in 2018, up two million from the previous year. 
The growth of the global spintronic logic devices market is driven by substantial rise in demand for spin electronics in electronic devices, due to their several advantages over conventional electronics such as it has been extensively deployed in data storage devices, due to its faster data transmission capabilities and increased storage capacity. Also, surge in penetration of electric vehicles, which is help to grow the demand for lightweight construction and reduced battery operation space & power consumption in electric vehicles have driven the adoption of spintronics devices. 
Furthermore, the automobile industry has witnessed shift in preference toward electric vehicles for higher fuel efficiency and cleaner running fuel/electric hybrids and plug-in electric vehicles. Also, surge in need for higher data transfer speed coupled with increase in storage capacity. 
Technological advancements in the spintronics technology, especially in magnetic sensors, such as high resolution, high sensitivity, compact size, and low power consumption significantly contribute toward the growth of the global spintronic logic devices market. However, high installation cost of spintronics logic devices is a key restraining factor of the market. On the contrary, increase in government support and funding toward electric vehicle & electronics is anticipated to offer lucrative opportunities for market expansion during the forecast period. 
Segmentation
The spintronic logic devices market is segmented on the basis of type, application, and region. On the basis of type, the market is bifurcated into metal based devices and semiconductor based devices. The metal based devices segment dominated the spintronic logic devices market in terms of revenue in 2018, whereas the semiconductor based devices segment is expected to grow at the highest CAGR during the forecast period. 
Spintronic Logic Devices Market

---
By Type
Semiconductor Based Devices segment is projected to be the most lucrative segment
These metal based devices segment is further classified into giant magneto resistance-based device, tunnel magneto resistance-based devices, spin-transfer torque device, and spin-wave logic device. semiconductor based devices are sub segmented into spin diode, spin filter, and spin field effect transistor. 
Spintronic Logic Devices Market

---
By Application
Data Storage segment would exhibit the highest CAGR of 39.7% during 2019 - 2026
Applications covered in the study include electric vehicles, industrial motors, semiconductor lasers, magnetic tunnel transistors, data storage, and others (magnetic sensing and magnetic random-access memory). Region wise, the spintronic logic devices market analysis is done across North America, Europe, Asia-Pacific, and LAMEA.  
Spintronic Logic Devices Market

---
By Region
Asia-Pacific holds a dominant position in 2018 and would maintain the lead over the forecast period
Top Impacting Factors
The notable factors impacting on the spintronic logic devices market include rise in demand for spintronics in electronic devices, increasing penetration of electric vehicles and surge in need for higher data transfer speed and increased storage capacity.
However, high installation cost hampers the spintronics logic devices market growth. This factor is expected to slow down the market growth. Moreover, increase in government support & funding offers huge spintronic logic devices market opportunities in the next six years.  
Competitive Analysis
The report provides a comprehensive analysis of major market players such as Advanced Microsensors, Applied Spintronic Technology, Inc., Crocus Technology, Everspin Technologies Inc., Futek Advanced Sensor Technology Inc., HBM, Kistler Group, PCB Piezotronics, Infineon Technologies, and Sensor Technology. 
Furthermore, the prominent players have adopted several strategies such as product launch, acquisition, and others to enhance their business capabilities and increase their spintronic logic devices market share. For instance, PCB Piezotronics executed an agreement with Meggitt PLC in order to purchase the assets of their Endevco sensor business. This acquisition significantly expands PCB our product portfolio, especially in the automotive and aerospace & defense markets.  
Key Benefits for Stakeholders:
This study includes the analytical depiction of the global spintronic logic devices market growth along with the current trends and future estimations to determine the imminent investment pockets.
The market size is determined to understand the profitable trends to gain a stronger foothold.
The report presents information related to key drivers, restraints, and opportunities with a detailed impact on the spintronic logic devices market industry. 
The current spintronic logic devices market forecast is quantitatively analyzed from 2018 to 2026 to benchmark the financial competency.
Porter's five forces analysis illustrates the potency of the buyers and suppliers in the spintronic logic devices industry.
The report includes the spintronic logic devices market trends and market share of key vendors.
 Spintronic Logic Devices Market Report Highlights
Aspects
Details
By Type

Metal Based Devices

Giant Magneto Resistance-Based Device (GMRs)
Tunnel Magneto Resistance- Based Device (TMRs)
Spin- Transfer Torque Device
Spin- Wave Logic Device

Semiconductor Based Devices

Spin Diode
Spin Filter
Spin Field Effect Transistor (FETs)

By Application

Electric Vehicles
Industrial Motors
Semiconductor Lasers
Magnetic Tunnel Transistors
Data Storage
Others

By Region

North America (U.S., Canada, Mexico)
Europe (Germany, France, UK, Rest of Europe)
Asia-Pacific (Japan, China, South Korea, Rest of Asia-Pacific)
LAMEA (Latin America, Middle East, Africa)

Key Market Players
Advanced Microsensors., Applied Spintronic Technology, Inc., Everspin Technologies Inc., Futek Advanced sensor Technology Inc., HBM, Kistler Group, PCB Piezotronics, Infineon Technologies, Sensor Technology