Spoolable Pipes Market Overview:
Spoolable Pipes Market is expected to reach $2,107 million by 2023, from $1,345 million in 2016, registering a CAGR of 6.7% from 2017 to 2023. Spoolable pipes provide excellent resistance against corrosion, temperature, pressure, chemicals, and impact.
These properties have increased the applicability spoolable pipes across various end-user industries such as offshore, onshore oil & gas, waste water treatment, mining among others. Growth in production of crude oil and natural gas, owing to the rise in energy consumption globally, boosts the consumption of spoolable pipes. The cost-effectiveness of these pipes as compared to conventional piping systems, in terms of manpower required, and energy consumed for installation purpose drive the market demand.
High corrosion and fatigue resistance make it co-terminus with the production cycles of oil fields, proving it to be a better alternative to steel pipes. Moreover, increase in application areas of spoolable pipes, such as in waste water treatment, water distribution, and mining may have a positive impact on the market growth.
The report on global spoolable pipes market focuses on matrix type, reinforcement type, application, sales channel, and geography. The matrix segment includes thermoplastics and thermosets. Based on reinforcement, the market is divided into fiber reinforcement, steel reinforcement, and others. The application segment consists of onshore, offshore, downhole, and others. On the basis of sales channel, the market is bifurcated into direct and indirect. The report analyzes the market trends in different geographies, which include North America, Europe, Asia-Pacific, and LAMEA.
In 2016, LAMEA was the highest revenue contributor to the global market, accounting for approximately two-fifths share, and is expected to maintain its dominance during the forecast period. New oil & gas transportation infrastructure development, particularly in Turkey, Egypt, and Colombia, is anticipated to drive the spoolable pipes market in LAMEA region.
Global Spoolable Pipes Market Share: by Geography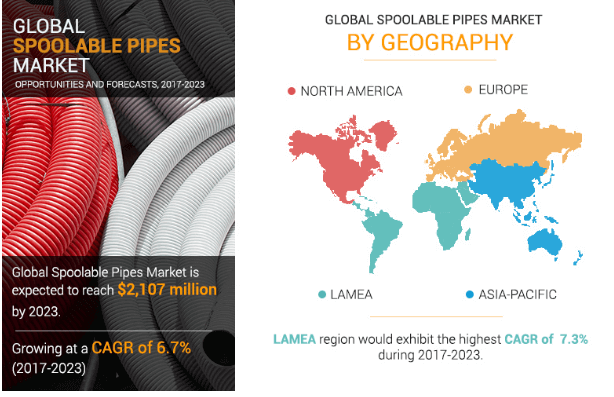 Top Investment Pockets
Onshore application is the most lucrative segment for spoolable pipes market, which is expected to grow at the highest CAGR of 7.1% from 2017 to 2023. The share of global oil & gas production from onshore production facilities is higher than offshore production. However, offshore application segment is the second most attractive segment, growing at a significant CAGR of 6.9%.
Segment Review
In 2016, the thermoplastics matrix segment accounted for the highest revenue and is expected to be register highest CAGR of 6.8%. Thermoplastic resins can be reprocessed & recycled, as no crosslinking occurs and they can be reshaped, reheated, and frozen, repeatedly. Characteristics of thermoplastics, such as high strength, UV resistance, hardness, self-lubrication, durability, waterproofing, and toughness, make it ideal for industrial use.
Global Spoolable Pipes Market Share: by Matrix Type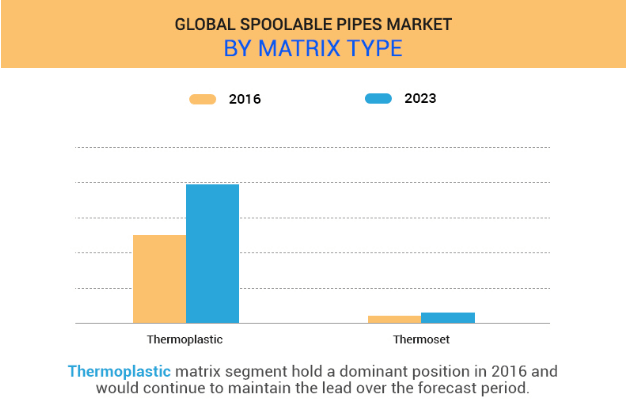 Global Spoolable Pipes Market Share: by Application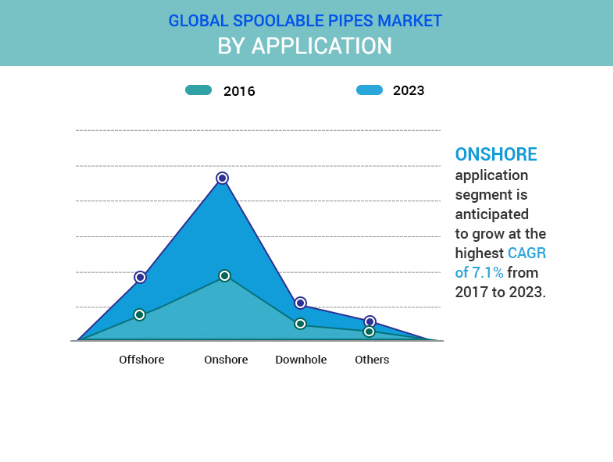 LAMEA Review
Middle East is one of the largest producers of crude oil. The region requires pipes for safe transportation of oil, wherein traditional steel pipes lines are being replaced by thermoplastic spoolable pipes. In 2016, National Oilwell Varco, Inc., a leading manufacturer and provider of oilfield equipment and technology, expanded its composite pipes business with new composite pipe manufacturing facility in Saudi Arabia. This is expected to boost the market growth in the Middle East region. The region is expected to grow at a significant CAGR of 7.1% from 2017 to 2023.
The key players operating in the global spoolable pipes market are Airborne Oil & Gas B.V., Changchun Gaoxiang Special Pipes Co., Ltd., Flexpipe Inc., FlexSteel Pipeline Technologies, Inc., Future Pipe Industries (L.L.C.), Magma Global Limited, National Oilwell Varco, Inc., Pipelife International GmbH, Polyflow LLC, and Smartpipe Technologies.
Other players operating in this market are MXROS Inc., Victrex PLC, DeepFlex Inc., Wavin B.V., IAF Marketing & Vertriebs GmbH, 911 Equipment, Anticorrosive Protective Systems LLC, and H.A.T. Flex.
Key Benefits
The report provides an in-depth analysis of the current trends, drivers, and dynamics of the global spoolable pipes market to elucidate the prevailing opportunities and tap the investment pockets.
It offers qualitative trends and quantitative analysis of the global market from 2016 to 2023 to assist stakeholders to understand the market scenario.
In-depth analysis of the key segments demonstrates the matrix, reinforcement, and its application.
Competitive intelligence of the industry highlights the business practices followed by key players across geographies as well as the prevailing market opportunities.
Key players are profiled to understand the competitive outlook of the market.
 Spoolable Pipes Market Report Highlights
Aspects
Details
By Matrix Type

Thermoplastics
Thermosets

By Reinforcement Type

Fiber Reinforcement
Steel Reinforcement
Others

By Application

OFFSHORE

Subsea flowlines
Jumpers
Choke & kill lines
Others

ONSHORE

Production gathering lines
Injection lines
Others

DOWNHOLE

Directional drilling
Well intervention
Others

OTHERS

By Sales Channel
By Geography

North America
Europe

Turkey
Norway
Germany
UK
Rest of Europe

Asia-Pacific

India
China
Indonesia
Thailand
Rest of Asia-Pacific

LAMEA

Latin America
Middle East
Africa

Key Market Players
AIRBORNE OIL & GAS B.V., MAGMA GLOBAL LIMITED, CHANGCHUN GAOXIANG SPECIAL PIPES CO., LTD, FLEXSTEEL PIPELINE TECHNOLOGIES, INC., SMARTPIPE TECHNOLOGIES, POLYFLOW LLC., FLEXPIPE INC., FUTURE PIPE INDUSTRIES (L.L.C.), PIPELIFE INTERNATIONAL GMBH, NATIONAL OILWELL VARCO, INC.