The sports gun market size was valued at $2,436.1 million in 2019, and is estimated to reach $2,779.0 million by 2027, registering a CAGR of 9.70% from 2020 to 2027. 
Sport gun is referred as a non-lethal weapon that includes rifle, pistol, and shotgun.  It is intended for competitive shooting and recreational purposes. These guns differ from one another according to their technology, projectile, caliber, and others. Sports guns are lighter and more comfortable to use as compared to lethal guns such as AK 47, Rheinmetall MG 3, Uzi, M4 Carbine, and others.
Increasing participation in various shooting sports acts as a key factor driving the sports gun market growth. Sporting sports includes Target Shooting, High Power Rifle, Popinjay, Sporting Clays, Skeet Shooting, Cowboy Action Shooting, Skirmish and among others. For instance, military pentathlon is a shooting discipline that consists of sighting shots and competition shooting.
People are increasingly participating in the shooting sports owing to various benefits associated such as it enhances physical discipline, focus and sharpens the eyesight. Furthermore, growing participation of school and college kids/students in national level shooting sports is expected to increase growth of the market. For instance, according to Scholastic Shooting Sports Foundation, the participants in Scholastic Clay Target Program were 5,174 in 2001 that increased to 12,504 in 2015. Scholastic Shooting Foundation is the leader in youth shooting sports programs.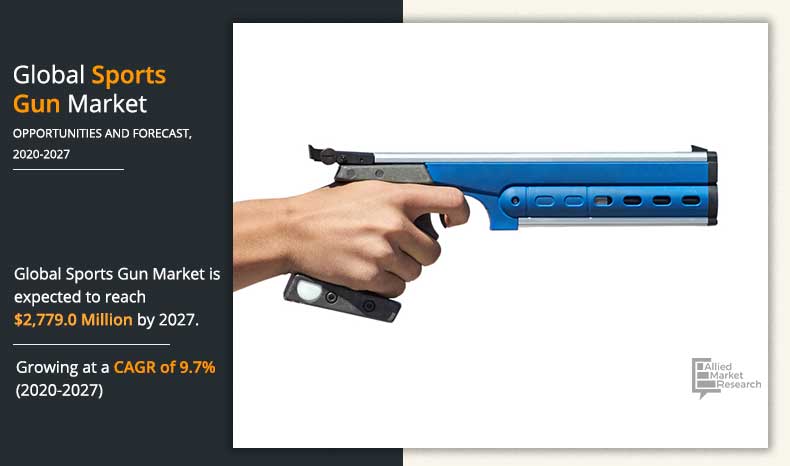 The report segments the market on the basis of gun type, application, distribution channel and region. On the basis of gun type, the market is segmented into rifle, pistol and shotgun. On the basis of application, the market is bifurcated into competitive shooting and recreational sports. According to distribution channel, the sports gun market is classified into gun stores, sporting goods stores, online, and others. Region wise, it is analyzed across North America (U.S., Canada, and Mexico), Europe (Germany, UK, France, Russia, Italy, Spain, and Rest of Europe), Asia-Pacific (China, India, Japan, Australia, South Korea, and Rest of Asia-Pacific), and LAMEA (the Middle East, Latin America, and Africa).
Sports Gun Market

---
By Gun Type
Pistol segment helds the major share of 38.4% in 2019
On the basis of gun type, the pistol segment accounted for the around one-third half of the sports gun market share in 2019. Pistol has been the one of the most preferred choices of the aspiring shooters, as it is convenient to handle, and easy to fire as compared to other gun type such as rifle and shotgun. Increasing participation of players in pistol shooting in Olympic and commonwealth games is expected to generate high demand for pistol during the forecast period 2020-2027. There are various sports and events conducted by Olympic committee such as 25m Rapid Fire Pistol, 10m Air Pistol, 25m Pistol, 10m Air Pistol though men's and women's events.
Sports Gun Market

---
By Application
Competitive Shooting segment helds the major share of 54.5% in 2019
According to sports gun market analysis, On the basis of application, the recreational shooting segment was valued at $2,436.10 million in 2019, and is expected to reach $1,306.00 million by 2027, with CAGR of 10.6%. Recreational shooting includes sports that are played for fun and not as professionals. It is considered to be less stressful physically and mentally. Recreational shooting has been gaining significant traction in the global sports gun market owing to benefits such as improved metal health, fun, physical fitness, social involvement and others.
Sports Gun Market

---
By Distribution Channel
Gun Stores segment helds the major share of 37.9% in 2019
On the basis of distribution channel, online segment has been gaining significant popularity owing to benefits such as privacy, convenience, discounts and others. There are various popular online sellers who deal in sports gun including Rainier Arms, RifleGear, CDNN Sports, AIM Surlus, Brownells and others. Growing e-commerce business has been supporting the growth of the sports gun market and encouraging sellers to sell online. For instance, according to United Nations Conference on Trade and Development, in 2017, the E-commerce sales in the U.S., Japan and China was accounted for $8883.00 billion, $2975.00 billion, and $1931.00 billion, respectively
Sports Gun Market

---
By Region
North America region helds the higest market share of 51.2% in 2019
Region wise, North America was the prominent market in 2019, and is expected to continue throughout the sports gun market forecast period 2020-2027. This is majorly attributed to increasing Olympic shooting sports participants and innovative shooting sports. Innovative shooting sports include paintball, 4-H shooting sports, and others.  Increasing participation of women in shooting sports, especially in emerging economies such as China, India, and others. Manufacturers all around the world invest in these economies, which is projected to surge the product market demand in Asia-Pacific.
The players in the product market have adopted various developmental strategies to expand their market share, increase profitability, and remain competitive in the market. The key players profiled in this report include American Outdoor Brands Corporation, Beretta Holding S.A., Browning Arms Company, Colt's Manufacturing Company, LLC, Crosman Corporation, German Sport Guns GmbH, Howa Machinery, Ltd., J.G. Anschütz GmbH & Co.KG, Olympic Arms Inc., and Sturm, Ruger &Company, Inc.
Key Benefits for Stakeholders:
The report provides a quantitative analysis of the current sports gun market trends, estimations, and dynamics of the market size from 2019 to 2027 to identify the prevailing opportunities.
Porter's five forces analysis highlights the potency of buyers and suppliers to enable stakeholders to make profit-oriented business decisions and strengthen their supplier–buyer network.
In-depth analysis and the market size and segmentation assists to determine the prevailing sports gun market opportunities.
The major countries in each region are mapped according to their revenue contribution to the market. 
The market player positioning segment facilitates benchmarking and provides a clear understanding of the present position of the market players in the sports gun industry.
 Sports Gun Market Report Highlights
Aspects
Details
BY GUN TYPE
BY APPLICATION

COMPETITIVE SHOOTING
RECREATIONAL SPORTS

BY DISTRIBUTION CHANNEL

GUN STORES
SPORTING GOODS STORES
ONLINE
OTHERS

BY REGION

NORTH AMERICA (US, CANADA, MEXICO)
EUROPE (GERMANY, UK, FRANCE, RUSSIA, ITALY, SPAIN, REST OF EUROPE)
ASIA-PACIFIC (CHINA, INDIA, JAPAN, AUSTRALIA, SOUTH KOREA, REST OF ASIA-PACIFIC)
LAMEA (LATIN AMERICA, MIDDLE EAST, AFRICA)

Key Market Players
American Outdoor Brands Corporation, BERETTA HOLDING S.A, BROWNING ARMS COMPANY, Colt's Manufacturing Company, LLC, Crosman Corporation(Velocity Outdoors), German Sport Guns GmbH, HOWA MACHINERY, LTD. ( The Howa Group), J.G. ANSCHÜTZ GmbH & Co.KG, Olympic Arms Inc, STURM, RUGER & COMPANY, INC