Sports Protective Equipment Market Outlook - 2026
The sports protective equipment market was valued at $7,518 million in 2018 and is expected to grow at a CAGR of 3.9% to attain a market size of $10,171 million by 2026. Outdoor sports participation of the youth has been growing over the past decades. Outdoor sports involve risk of injuries associated with the physical activities. If proper measures are not taken, the injuries may be either lethal of permanent disability. It is mandatory to use sports protective equipment as it offers protection against sudden external impacts and helps prevent lethal injuries. The sports protective equipment market showed steady growth rate in the past few years, and is expected to continue this trend in the future.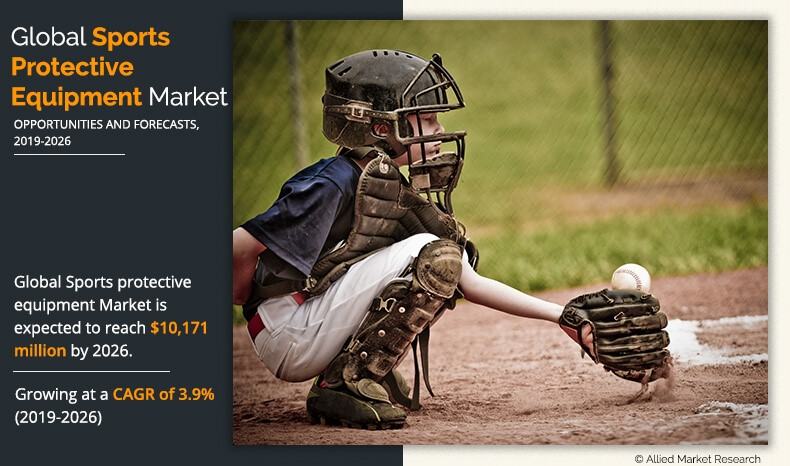 Eminence of national & international sports events, growth in consumer awareness regarding health & fitness, and rise in participation in sports activities have led to increased demand for sports protective gear, thereby supplementing the growth of the sport's protective equipment market. However, availability of low-quality and counterfeit products hinders the growth of the market. One of the important factors involved in the prevention of accidental injuries in sports is to follow the standards of fitting, use, maintenance, and high quality of sport protective equipment. Trending online retail and increase in disposable income in emerging economies are expected to offer opportunities for the development of the market.
Participation in various sports activities at school, college, or university level is one of the factors that drives the growth of the market. Participation rates differ with respect to different generations. For instance, in 2015 in the U.S., over 80% of Gen Z (born after year 2000) and 49% of Millennials (born between 1980 and 1999) were involved in high-calorie burning activities. About 48% of Gen X (born between 1965 and 1979) participated at least once a week in a fitness activity/sport, whereas Baby Boomers (born between 1945 and 1964) were reported to be the least active. Such increase in levels of participation is anticipated to propel the adoption of sports protection equipment.
Increase in consumer spending on sports equipment is witnessed in the recent years. Such rise in levels of spending on sports equipment by consumers is expected to positively impact the sports protective equipment industry, thus fueling the market growth. Rise in consumer awareness regarding the health benefits offered by indulging in physical activities positively impacted the market globally. Moreover, the interest for personal appearance is on a rise among the individuals, promoting health consciousness among them, and is expected to drive the growth of the market.
The report analyses the sports protective equipment market trends based on product type, area of protection, distribution channel, and region.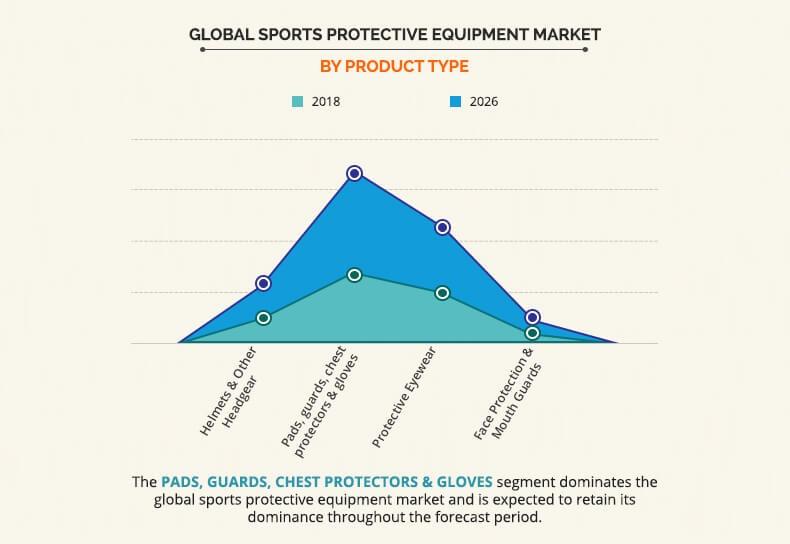 On the basis of product type, the market is segmented into helmets & other headgear, pads, guards, chest protectors & gloves, protective eyewear, and face protection & mouth guards. Pads, guards, chest protectors & gloves, and protective eyewear collectively accounted for over 75% of the total sports protective equipment market share.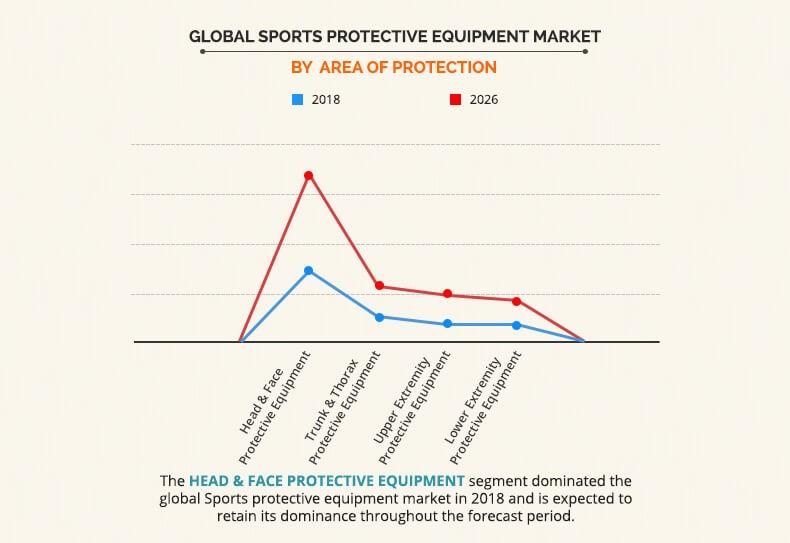 In addition, the market is analyzed with respect to area of protection and is segmented into head & face protective equipment, trunk & thorax protective equipment, upper extremity protective equipment, and lower extremity protective equipment. Head & face segment continues to dominate the market, and is expected to lead the market throughout the forecast period. Lower and upper extremity equipment are anticipated to witness higher growth rates globally.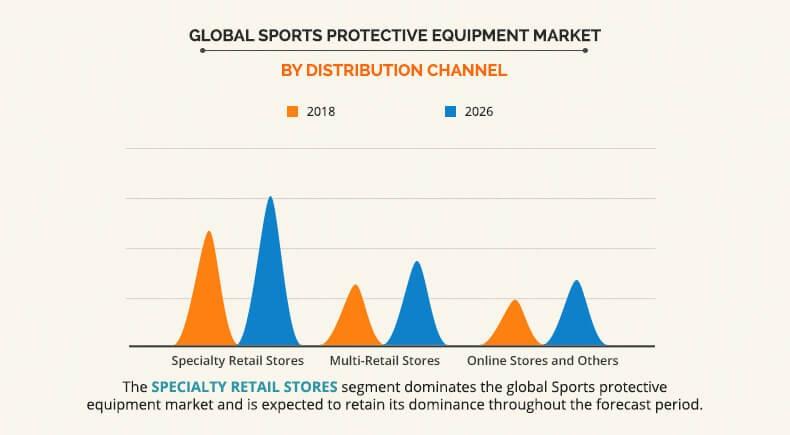 Based on distribution channel, it is classified into specialty retail stores, multi-retail stores, and online stores & others. Specialty retail stores is projected to continue to remain the preferred channel for sports gear; however, it is expected to lose its sheen with the emergence of online stores.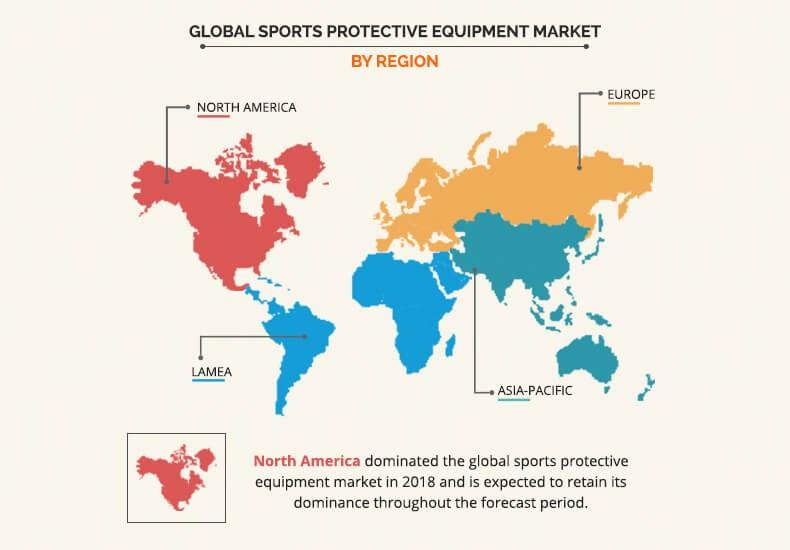 Developed economies such as North America and Europe lead the market and are expected to maintain their dominance throughout the forecast period, owing to the prevalence of sports culture in these regions. In 2018, they collectively accounted for more than 65% of the total sports protective equipment market size. Developing regions are expected to witness the rise in demand for sports gear, owing to the growth in penetration of sports such as football in Asia-Pacific and baseball & basketball in Brazil.
U.S. accounted for the largest percentage of sports protective equipment market share in 2018, and is expected to maintain its dominance throughout the forecast period. Overall youth participation is stable over the years, however, has declined in some of the major sports in North America. As per statistics, individuals aged between 6 and 17 years are observed to be most active in basketball (9,694), baseball (6,711), outdoor soccer (7,656), and football (2,032), in this region. However, the point of concern is that youth participation has declined in these sports by 6.80%, 4.30%, 8.40%, and 32.40%, respectively. The region has also witnessed growth in participation of the sports such as ice hockey and lacrosse by about 43.70% and 28.80%, respectively. Moreover, on account of high purchasing power, consumer spending is on a rise on helmets, mouth guards, protective eyewear, and other sports accessories in the recent years. This has led to the development of the market, and is expected to further supplement the industry growth in the coming years.
Key market players profiled in the report are Adidas Ag, Nike Inc., Under Armour Inc., Puma SE, Amer Sports Corporation, Asics Corporation, Vista Outdoor, BRG Sports, Xenith, and Shock Doctor (Bregal Partners). They have adopted acquisition and partnership & agreements to capture a larger market share and increase their customer base. Prominent players such as Amer Sports Corporation and Vista outdoor have acquired other market players to sustain market competition. 
Key Benefits for Sports Protective Equipment Market:
This study provides an in-depth sports protective equipment market analysis to elucidate the imminent investment pockets. 
The report provides information regarding key drivers, restraints, and opportunities with a detailed impact analysis.
Porter's five forces analysis highlights the potency of suppliers & buyers and describes the competitive scenario of the market, which is expected to facilitate efficient business planning.
Value chain analysis provides key inputs on role of key intermediaries involved, which is expected to assist the stakeholders to devise appropriate strategies. 
This report presents a detailed quantitative analysis of the current sports equipment industry trends and future estimations to identify the prevailing market opportunities.
 Sports Protective Equipment Market Report Highlights
Aspects
Details
By Product Type

Helmets & Other Headgear
Protective Eyewear
Face protection & mouth guards
Pads, guards, chest protectors, & gloves

BY AREA OF PROTECTION

Head & face
Trunk & thorax
Upper extremity
Lower extremity

By Distribution Channel

Specialty Retail Stores
Multi-Retail Stores
Online Stores & Others

By Region

North America (U.S, Canada, Mexico)
Europe (UK, France, Italy, Germany, Rest of Europe)
Asia-Pacific (China, Japan, India, Australia, Rest of Asia-Pacific)
LAMEA (Brazil, Middle East, Rest of LAMEA)

Key Market Players
Adidas AG (Adidas), Amer Sports Corporation, ASICS Corporation, BRG Sports, Nike, Inc. (Nilke), PUMA SE, Under Armour, Inc., United Sports Brands, Vista Outdoor Operations LLC., XENITH