The global sports sunglasses market size was valued at $3.1 billion in 2019, and is projected to reach $3.4 billion by 2027, registering a CAGR of 6.8% from 2021 to 2027. Sports sunglasses are a protective eyewear which is designed to prevent from bright and high-energy sunlight from discomforting or damaging the eyes. The sports sunglasses are coated with UV blockers and ultraviolet B rays that allow prevention from harmful UV rays. Moreover, large number of players wear sports sunglasses because it reduces glare and improves contrast that helps in providing better visibility in the field.
Sports sunglasses are specialized lenses made up of polycarbonate materials that are more durable, sturdier, and safer for the eyes during the physical activity owing to which it is used in sports. Moreover, these sunglasses are more impact-resistant as compared to traditional glasses lenses made up of glass or plastic due to which it is used in swimming, cycling, mountain biking, and other activities. This drives the growth of the sports sunglasses market. Sports sunglasses are differently shaped and designed as compared to regular sunglasses so that they can provide full protection to the eyes of the players.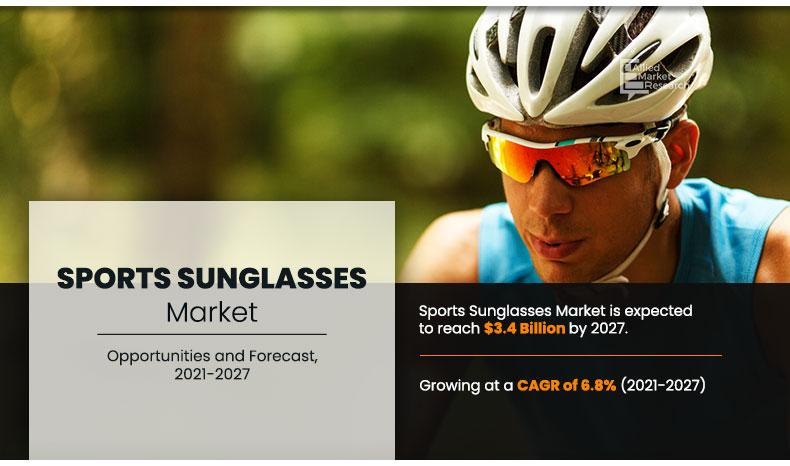 Developing countries such as China, India, and Nigeria have seen expansion of sports stores such as Decathlon, Adidas, Puma, and Nike. There is an increase in the number of sports stores owing to surge in trend of sports apparel and equipment. For instance, Bausch & Lomb Inc., launched six high-class sports sunglasses stores in India under the brand name John Jacobs. Moreover, large sporting events that surge the interest of people toward sports such as cycling, mountain biking, triathlon, cricket, watersports, and others augment the growth of the market.
Sports sunglasses have now become technologically advanced owing to continuous innovation by manufacturers. These sunglasses are available in hydrophobic coating that allows scratch resistant surface, which repels liquid. Moreover, now-a-days lenses are designed from shatter resistant and lightweight polycarbonate and nylon lens material to enhance comfort and provide better protection and coverage to the players. In addition, availability of sports sunglasses with polarized lenses helps in reducing the harmful impact of UVA/UVB, which also augment the growth of the sports sunglasses market. However, high prices and popularity of sports sunglasses brands like Nike, Adidas, and Puma have resulted large scale counterfeiting. Counterfeit brands are usually prevalent in the developing economies where customers are highly price-sensitive. Counterfeiting tarnishes brand image owing to low quality use of material and lower prices of products. This factor hampers the sale of the existing original sports sunglasses brands in the market.
Increase in government investment in sports like Olympics, Formula 1 racing, Cricket World Cups, FIFA, and others further provide lucrative opportunities for the manufacturers. As the sports events are being organized on domestic level, and the motivation from the government authorities for the players to participate has increased the number of sports players participation in the events. According to International Olympic Committee, the number of players participated in 2016 Olympics increased by 470 from 2012. This is expected to increase the demand for sports accessories, such as clothes, sports sunglasses, shoes, and other equipment during the forecast period. 
The global sports sunglasses market is segmented into type, gender, distribution channel, and region. By type, the market is bifurcated into polarized and non-polarized. By gender, it is categorized into male, female, and unisex. On the basis of distribution channel, it is classified into hypermarket/supermarket, specialty stores, brand outlets, and online sales channel. Region wise, it is analyzed across North America (U.S., Canada, and Mexico), Europe (UK, Germany, France, Italy, Spain, and rest of Europe), Asia-Pacific (China, Japan, India, Australia and New Zealand, ASEAN and Rest of Asia-Pacific and LAMEA (Latin America, Middle East, and Africa).
On the basis of type, the polarized segment led in terms of market value in 2019, and is expected to retain its dominance during the forecast period. Polarized sports sunglasses are available with progressive lens and photochromic lens, which helps in reducing the harmful impact of UVA/UVB rays.
Sports Sunglasses Market

---
By Type
Polarized segment dominates the global market and is expected to retain its dominance throughout the forecast period.
On the basis of gender, the male sports sunglasses segment led the sports sunglasses market share in 2019. Availability of male sports sunglasses with round & transparent lenses and tinted lenses is driving the sports sunglasses market growth rate. 
Sports Sunglasses Market

---
By Gender
Female segment is expected to grow at a highest CAGR of 8.2% during the forecast period.
By distribution channel, the hypermarket/supermarket segment led the market value in 2019. The availability of broad range of consumer goods under a single roof, provision of ample parking space, and convenient operation timings are the factors that boost the growth of the hypermarket/supermarket segment in the developed and the developing region.
Sports Sunglasses Market

---
By Distribution Channel
Online Sales Channel segment would witness the fastest growth, registering a CAGR of 9.2% during the forecast period.
The key players operating in the sports sunglasses industry include Adidas AG (Adidas), Luxottica, PUMA SE, Nike, Inc., Decathlon SA, Under Armour, Inc., Titan Company Limited, Liberty Sports, Inc., Yiwu Conchen Glasses Co., Ltd., and Safilo Group S.p.A.
Sports Sunglasses Market

---
By Region
North America dominates the market and is expected to grow with a CAGR of 5.2% during the forecast period
Covid-19 Impact Analysis
COVID-19 is an infectious disease that originated in Hubei province of the Wuhan city in China in late December 2020.
The global coronavirus pandemic has created a number of challenges for exporters in the developing and developed countries. The challenges sports sunglasses exporters face are likely to remain for the foreseeable future, as different states and governments around the world attempt to tackle COVID-19 with various measures.
Moreover, complete restriction on outdoor sports such as cricket, football, volleyball, cycling, biking, and baseball has affected the global sports sunglasses market. In addition, all the sports events in 2020 were either postponed to the next year or have been cancelled.
Import and export restrictions on goods and quarantine and lockdown measures imposed by governments are key challenges exporters are facing during this pandemic.
Key Benefits For Stakeholders
This report provides a quantitative analysis of the market segments, current trends, estimations, and dynamics of the sports sunglasses market analysis from 2019 to 2027 to identify the prevailing market opportunities.
The key countries in all the major regions are mapped on the basis of market share.
The sports sunglasses market forecast is offered along with information related to key drivers, restraints, and opportunities.
Porter's five forces analysis highlights the potency of the buyers and suppliers to enable stakeholders make profit-oriented business decisions and strengthen their supplier–buyer network.
In-depth analysis of the sports sunglasses market trends assists to determine the prevailing sports sunglasses market opportunities.
 Sports Sunglasses Market Report Highlights
Aspects
Details
By Type
By Gender
By Distribution Channel

Hypermarket/Supermarket
Specialty Store
Brand Outlets
Online Sales Channel

By Region

NORTH AMERICA (US, CANADA, MEXICO)
EUROPE (UK, GERMANY, France, ITALY, SPAIN, REST OF EUROPE)
ASIA-PACIFIC (CHINA, JAPAN, INDIA, Australia and New Zealand, ASEAN, Rest of Asia-Pacific)
LAMEA (LATIN AMERICA, MIDDLE EAST, AFRICA)

Key Market Players
DECATHLON SA, SAFILO GROUP S.P.A., TITAN COMPANY LIMITED, NIKE, INC, YIWU CONCHEN GLASSES CO.,LTD, PUMA SE, ADIDAS AG, LIBERTY SPORT, INC., UNDER ARMOUR, INC., ESSILORLUXOTTICA