Steam Condensate Piping Market Research, 2031
The global steam condensate piping market size was valued at $4.3 billion in 2020, and is projected to reach $6.3 billion by 2031, growing at a CAGR of 3.3% from 2022 to 2031. Steam condensate piping is an important component of steam infrastructure systems that are installed in various industries such as paper & pulp, food processing, oil & gas refining and other manufacturing industries. 
The steam condensate piping market was hampered during the outbreak of COVID-19 pandemic, owing to restrictions on manufacturing activities. In addition, condensate piping systems could not be effectively installed through OEMs during the lockdown period.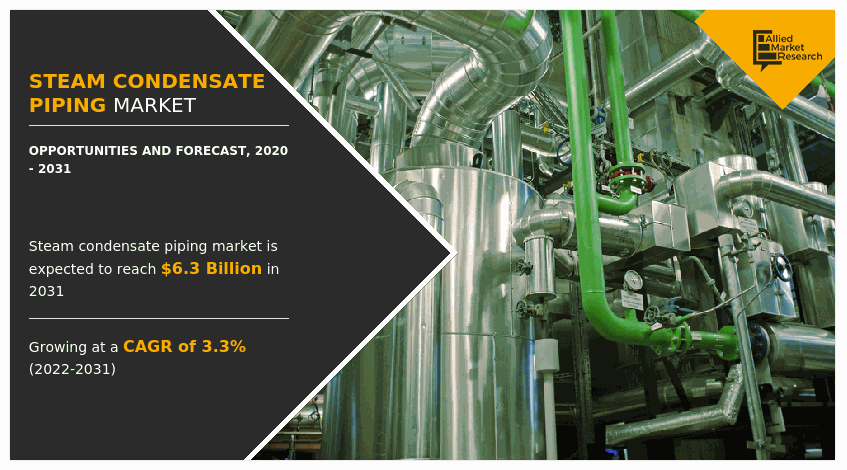 Steam is extensively used in various industrial applications such as sterilization, chemical cracking, and other heating processes. Hence, to transfer the steam from boiler assembly to desired process location, a network of pipes is extensively used. However, during the passage of steam through pipelines, some of it cools down and condensates. This condensate is often responsible for corroding inner walls of steam pipes. This creates a need for condensate piping for draining the condensate. Steam condensate piping system collect condensate from steam pipes and delivers it either for reuse or discards it into sever. These factors positively influence the steam condensate piping market. 
Accumulated condensate can lead to premature degradation of main steam pipes and form an obstacle for the flow of steam. This can be prevented by draining condensate by using steam condensate piping. Steam condensate piping system makes the process more energy efficient enabling the reuse of collected hot steam condensate in other processes, such as for pre heating feed water and space heating. Such highly desirable benefits of steam condensate piping system are is expected to contribute significantly toward growth of the steam condensate piping market.
Major players in the steam condensate piping marketsuch Metline Industries, Voistalpine Rotec GmbH, Nippon steel corporation, Shandong Rigang Metal Material Co., Ltd, and Mueller Industries Inc. in the pipes manufacturing industry offer a wide range of metal pipes that can be used as steam piping. In addition, steel pipes are ideal for transferring steam and steam condensate, owing to their high strength and corrosion resistance capabilities. Moreover, availability of a wide range of pipes, which can be used in small as well as large industries is expected to contribute significantly in growth of steam condensate piping industry.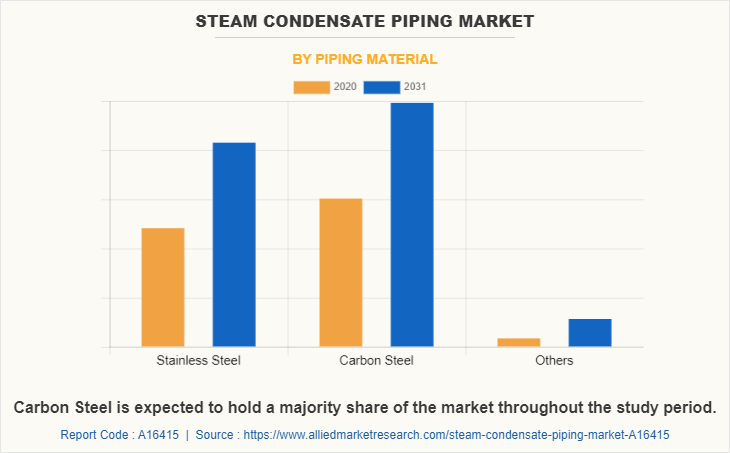 Novel coronavirus had rapidly spread across various countries and regions, causing an enormous impact on lives of people and the overall community. It began as a human health condition and later became a significant threat to global trade, economy, and finance. The COVID-19 pandemic halted production of many components of steam condensate piping, owing to the lockdown. The economic slowdown initially resulted in reduced spending on various industrial machineries including steam related equipment by industrial and commercial users. However, owing to introduction of various vaccines, severity of the COVID-19 pandemic has significantly reduced. As of mid-2022, the number of COVID-19 cases have reached an insignificant number, and it is expected to completely subside in the coming years. This has led to full-fledged reopening of steam condensate piping manufacturing companies at their full-scale capacities. Furthermore, it has been two years since the outbreak of this pandemic and many companies have shown significant signs of recovery.
Furthermore, rise in population and increase in disposable income of people in general propel growth of manufacturing and petrochemical industries across the globe. In addition, governments across the world are phasing out old coal-fired power plants to replace them with new natural gas-fired powerplants to make a move toward sustainable energy. Such factors are expected to provide lucrative opportunities for the steam condensate piping market growth during the forecast period.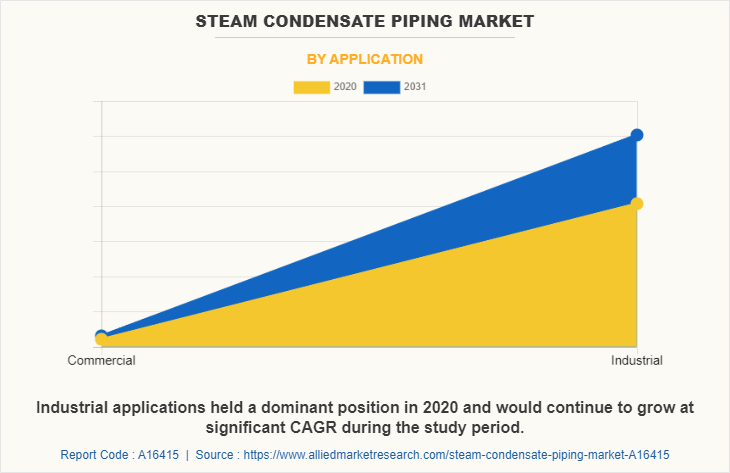 The steam condensate piping market is segmented into Piping Material and Application. By piping material type, the market is categorized into stainless steel, carbon steel, and others. By application, it is categorized into commercial and industrial. Region wise, the market is analyzed across North America, Europe, Asia-Pacific, and LAMEA. Asia-Pacific held the largest steam condensate piping market share in 2020, accounting for the highest share, and is anticipated to maintain this trend throughout the forecast period. This is attributed to rapid growth of various manufacturing and processing industries.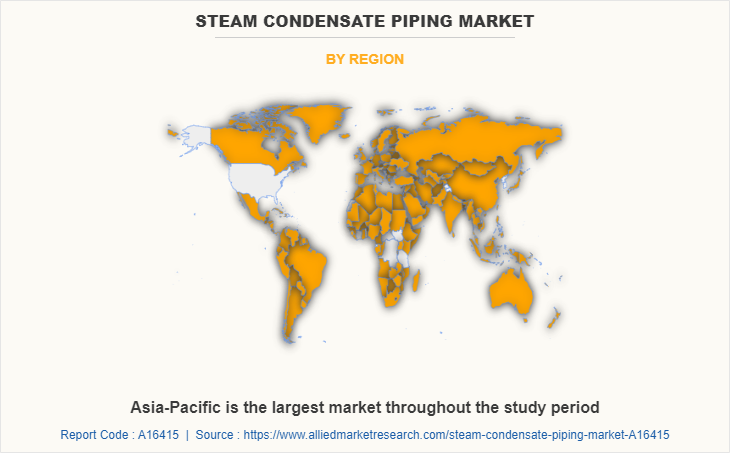 Key Benefits For Stakeholders
This report provides a quantitative analysis of the market segments, current trends, estimations, and dynamics of the steam condensate piping market analysis from 2020 to 2031 to identify the prevailing steam condensate piping market opportunities.
The market research is offered along with information related to key drivers, restraints, and opportunities.
Porter's five forces analysis highlights the potency of buyers and suppliers to enable stakeholders make profit-oriented business decisions and strengthen their supplier-buyer network.
In-depth analysis of the steam condensate piping market segmentation assists to determine the prevailing market opportunities.
Major countries in each region are mapped according to their revenue contribution to the global market.
Market player positioning facilitates benchmarking and provides a clear understanding of the present position of the market players.
The report includes steam condensate piping market forecast analysis of the regional as well as global steam condensate piping market trends, key players, market segments, application areas, and market growth strategies.
 Steam Condensate Piping Market Report Highlights
Aspects
Details
By Piping Material

Stainless Steel
Carbon Steel
Others

By Application
By Region

North America (U.S., Canada, Mexico)
Europe (France, Germany, Italy, United Kingdom, Rest of Europe)
Asia-Pacific (China, Japan, India, South Korea, Rest Of Asia Pacific)
LAMEA (Latin America, Middle East, Africa)

Key Market Players
Nippon Steel Corporation, Tubacex S.A, Zenith Steel Pipes & Industries Limited, Metline Industries, Jindal Saw Ltd., voestalpine AG, Steelmor Industries, Mueller Industries, Inc., Shandong Rigang Metal Material Co., Ltd, Threeway Steel Co., Ltd.