Street Cleaning Machine Market Research, 2031
The global street cleaning machine market size was valued at $730.3 million in 2021, and is projected to reach $1.5 billion by 2031, growing at a CAGR of 7.3% from 2022 to 2031.
Street cleaning machines such as sweepers and washers cleanse the streets normally in urban and industrial areas such as construction companies, ports, grocery markets, cement works, and airports. It is suitable for outdoor and indoor areas as they have a powerful internal combustion engine and hydrostatic drive.
The street cleaning machine market is anticipated to experience growth, owing to the fact that project developers and civic authorities all over world are looking at mechanized solutions to speed up maintenance work. Subsequently, global leaders are looking to enter this lucrative market. Integrated townships and industrial parks make up a trending opportunity for the street cleaning machine market. Recently, road infrastructure is an area that has been receiving a lot of attention. The rapid expansion of road networks is inevitable with growing population and increasing urbanization. Street cleaning machines are available in diesel, petrol or CNG, all of which can be opted as per user or customer preference. In European and North American countries, regulatory bodies are investing large amounts to maintain highways, roads and infrastructure. Such factor is anticipated to boost the street cleaning machine market growth.
The market was negatively impacted initially in 2020, however the growing need for clean streets positively impacted the sales of the market during 2021
Major players have adopted various strategies such as product launch and acquisition to sustain the competition and improve the product portfolio. For instance, in January 2022, Bortek Industries, Inc. (Bortek) successfully finished a deal to buy Carolina Industrial Equipment, Inc.'s operating assets (CIE) a well-respected industry leader as a full-service Industrial cleaning and environmental equipment distributor marking global presence.
The market is segmented on the basis of product type, product category, mode of operation, business type, and region. On the basis of product type, the market is divided into walk-behind and ride-on and truck mounted. On the basis of product category, the market is divided into sweepers and washers. On the basis of mode of operation, the market is divided into electric and manual and ICE. On the basis of business type, the market is divided into new sales and aftermarket. Region-wise, the global market analysis is conducted across North America (the U.S., Canada, and Mexico), Europe (UK, France, Germany, Spain, and Rest of Europe), Asia-Pacific (China, Japan, India, South Korea, and Rest of Asia-Pacific), and LAMEA (Latin America, the Middle East, and Africa).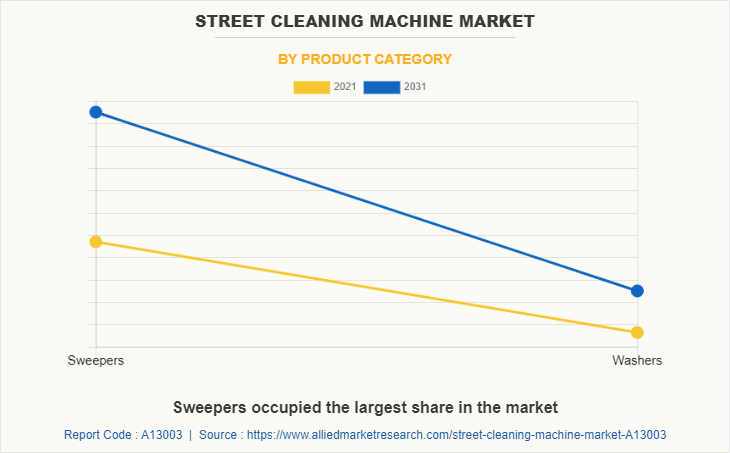 On the basis of product category, the sweepers segment generated the highest revenue in 2021, due to development of road infrastructure coupled with advancement in technology (mechanization) is estimated to stimulate the growth of the global street cleaning machine market.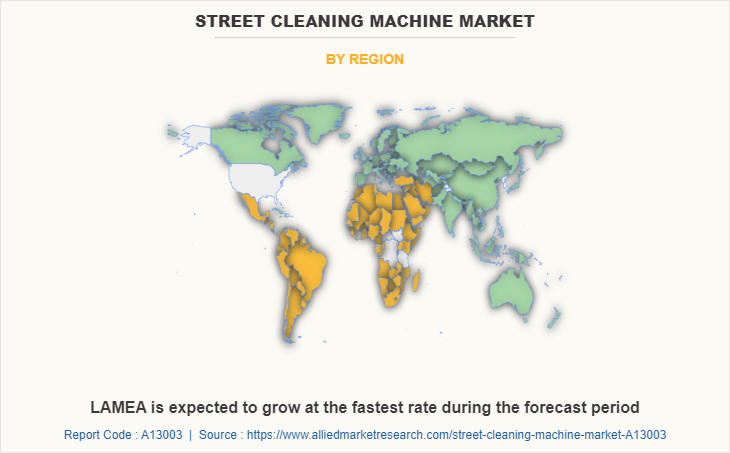 On the basis of region, Europe registered largest share in the global street cleaning machine market share in 2021, owing rise in investment in infrastructure development in countries such as Germany, Italy and France are expected to boost the market for street cleaning machine in Europe.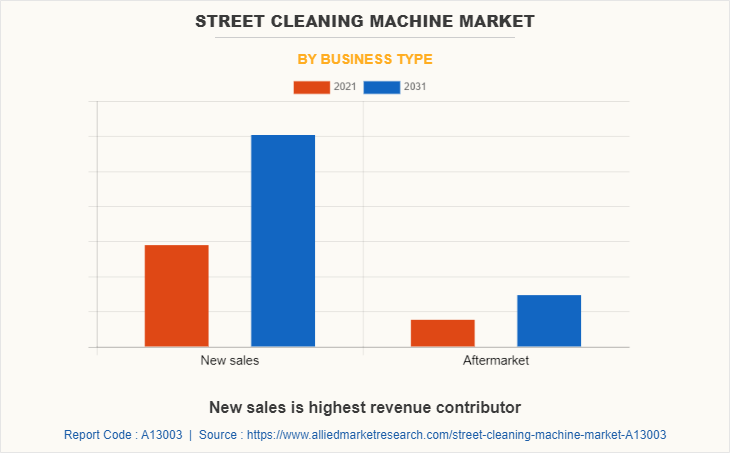 On the basis of business type, the new sales segment accounted for the highest revenue in the global market in 2021, owing to rise in construction activities and development of roadways, highways and residential projects are expected to boost the street cleaning machine market opportunity.
The novel coronavirus (COVID-19) rapidly spread across various countries and regions in 2019, causing an enormous impact on lives of people and the overall community. It began as a human health condition and has now become a significant threat to global trade, economy, and finance. The COVID-19 pandemic halted production of many products in street cleaning machine market, owing to lockdowns. Furthermore, the number of COVID-19 cases is expected to reduce in the future with the introduction of the vaccine for COVID-19 in the market. This has led to the reopening of street cleaning machine companies at their full-scale capacities. This is expected to help the market recover by the end of 2022. After COVID-19 infection cases begin to decline, equipment & machinery producers must focus on protecting their staff, operations, and supply networks to respond to urgent emergencies and establish new methods of working.
COMPETITION ANALYSIS
The key players that operate in the street cleaning machine market are Alfred Karcher GmbH & Co. KG, Bortex Industries, Boschung Mecatronic AG, Dulevo SpA, Fayat Group, Global Environmental Products, Inc., Hako Group, Kam Avida Enviro Engineers, Schwarze Industries, Tennant Company.
Key Benefits For Stakeholders
 Street Cleaning Machine Market Report Highlights
Aspects
Details
By Product Type

Walk-behind
Ride-on and truck mounted

By Product category
By Mode of operation
By Business type
By Region

North America (U.S., Canada, Mexico)
Europe (Germany, UK, France, Spain, Rest Of Europe)
Asia-Pacific (China, Japan, South Korea, India, Rest Of Asia-Pacific)
LAMEA (Latin America, Middle East, Africa)

Key Market Players
Hako Group, Tennant Company, Schwarze Industries, Dulevo SpA, Fayat Group, Alfred Karcher GmbH & Co. KG, kam avida enviro engineers pvt ltd, Kam Avida Enviro Engineers, Global Environmental Products, Inc, Bortex Industries, Boschung Mecatronic AG