The global structural health monitoring market size was valued at $1,674.0 million in 2019 and is projected to reach $3,815.1 million by 2027, registering a CAGR of 14.5% from 2020 to 2027. Structural health monitoring (SHM) refers to collection and analysis of data collected through a wide array of connected sensors during the service life of a structure or equipment. It is a non-destructive and continuous method of identifying and quantifying the deterioration state of the object to predict the necessity of repair and maintenance. 
The COVID-19 pandemic has negatively affected the global structural health monitoring market mainly due to the halt in international trade, prolonged lockdowns, and hindrances in construction and maintenance activities, globally.
Over the years, structural health monitoring (SHM) technologies have emerged as an exciting new field within civil engineering. SHM has become an important tool in the design, analysis, and maintenance of modern civil engineering structures and systems. The growth of structural health monitoring market is driven by increased focus on structural health monitoring, obsolete infrastructure in Europe and North America, obsolete aircraft of domestic & international airlines, reduction of inspection costs, and frequent occurrences of natural calamities. In addition, growth in investments in infrastructure and advances in wireless sensor networks create ample opportunities for the global structural health monitoring market share. However, high implementation cost and challenges pertaining to data normalization restrain the structural health monitoring market growth.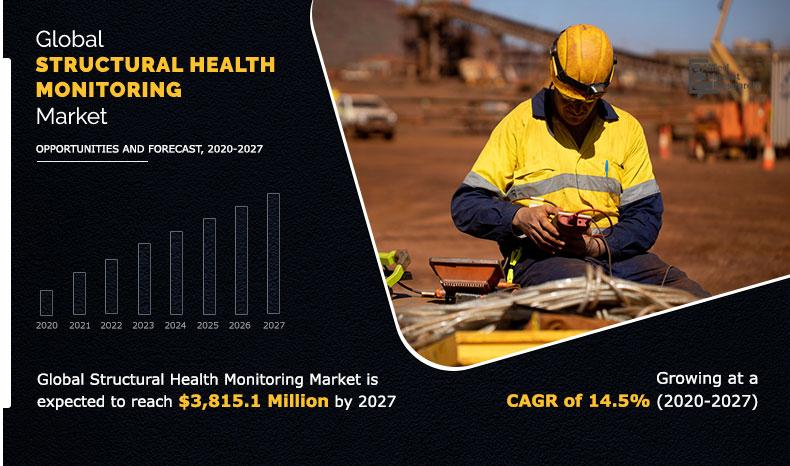 Structural health monitoring for civil structures is gaining popularity globally in the field of construction management and maintenance. SHM reduces the inspection costs as well as research time, and enables to better understand the behavior of structures under dynamic loads, seismic protection, in real or near real-time data information. SHM of civil structures ensures better management in post-earthquake scenarios, and support rescue operations. However, the structural monitoring of static and dynamic stress of dams has gained significant attention during the years due to the negative effects of structural responses. In addition, the actual structural responses of dams differ from the initial values computed while designing due to several environmental and other load conditions. These variations are expected to be observed depending on the type of construction, assumptions made in structural modelling, and analysis and differences in proposed design and final structure.
Further, high focus of the governments of different countries toward development and adoption of latest technologies is a major driving factor for the growth in implementation of structural health monitoring systems. For instance, under its Transport and Research and Innovation Monitoring and Information System (TRIMIS) program, the European government conducted COST Action TU1402: Quantifying the Value of Structural Health Monitoring activity. The COST Action TU1402 was active between 2014 and 2019 and was aimed at gaining scientific evidence regarding the high value of SHM as well as its societal and industrial impact for infrastructural management and design. The impact and evidence of the optimal and target use of SHM resulted in reduction of operational expenditure by up to 90% and risk reduction by propelling reliability, robustness, and safety enhancement.
The global structural health monitoring market is segmented on the basis of component, end user, connectivity, and region. Based on component, the structural health monitoring market is fragmented into hardware, software, and services. According to end user, the global structural health monitoring market is categorized into civil, aerospace, defense, mining, energy, and others. By connectivity, the market is classified into wired and wireless. Region wise, the structural health monitoring market has been analyzed across North America (the U.S., Canada, and Mexico), Europe (Germany, the UK, France, Italy, and rest of Europe), Asia-Pacific (China, Japan, India, and rest of Asia-Pacific), and LAMEA (Latin America, Middle East, and Africa). 
Competition Analysis
The key players profiled in this report include National Instruments Corporation, Advitam Inc., Digitexx Data Systems, Inc. Acellent Technologies, Inc., Nova Metrix LLC, COWI A/S, Geocomp Corporation, Hottinger Baldwin Messtechnik GmbH, Strainstall UK Limited, and Kinemetrics Inc.
The key players in this market adopted product launch, partnership, and expansion as their key strategies to meet the change in consumer demands. For instance, Strainstall UK Limited launched a new load shackles to monitor solutions for Marine Energy's PLAT_I tidal energy project in the U.S. The project aimed to provide better understanding about the effect of extreme conditions for turbines.
Key Benefits For Stakeholders 
The report provides an extensive analysis of the current and emerging structural health monitoring market trends and dynamics.  
In-depth market analysis is conducted by structural health monitoring market estimations for the key market segments between 2019 and 2027. 
Extensive analysis of the market is conducted by following key product positioning and monitoring of the top competitors within the market framework.
A comprehensive analysis of all the regions is provided to determine the prevailing opportunities.
The global structural health monitoring market forecast analysis from 2020 to 2027 is included in the report.
The key market players within the structural health monitoring market analysis are profiled in this report and their strategies are analyzed thoroughly, which help understand the competitive outlook of the market.
Global Structural Health Monitoring Market Segments
By Component
By Connectivity
By End User
Civil
Aerospace
Defense
Energy
Mining 
Others