Structural Heart Devices Market Overview:
Global Structural Heart Devices Market size was valued at $6,006 million in 2015, and is expected to reach $12,076 million by 2022, supported by a CAGR of 10.5% during the forecast period 2016 - 2022. A structural heart disease is a non-coronary defect of the heart, thus not affecting the blood vessels in the heart. Most of the structural heart conditions are present since birth (congenital), but these can also be acquired later in life, owing to wear & tear from infection. Advancements in the medical field have replaced the open heart surgical procedures with minimally invasive procedures, such as transcatheter aortic valve replacement (TAVR) and transcatheter mitral valve repair (TMVR).
Rise in incidence of structural heart diseases (aortic stenosis and mitral regurgitation); technological advancements; development of innovative repair devices, such as annuloplasty rings, occluders; and increase in demand for minimally invasive techniques are factors that drive the structural heart devices market. However, high cost of surgeries and stringent government regulations hamper this growth. Conversely, increase in focus of key players on R&D activities of structural heart devices and upsurge in demand for quick and long-lasting procedures among the geriatric population are expected to provide lucrative opportunities for the players in the structural heart devices market.
STRUCTURAL HEART DEVICES MARKET SEGMENTATION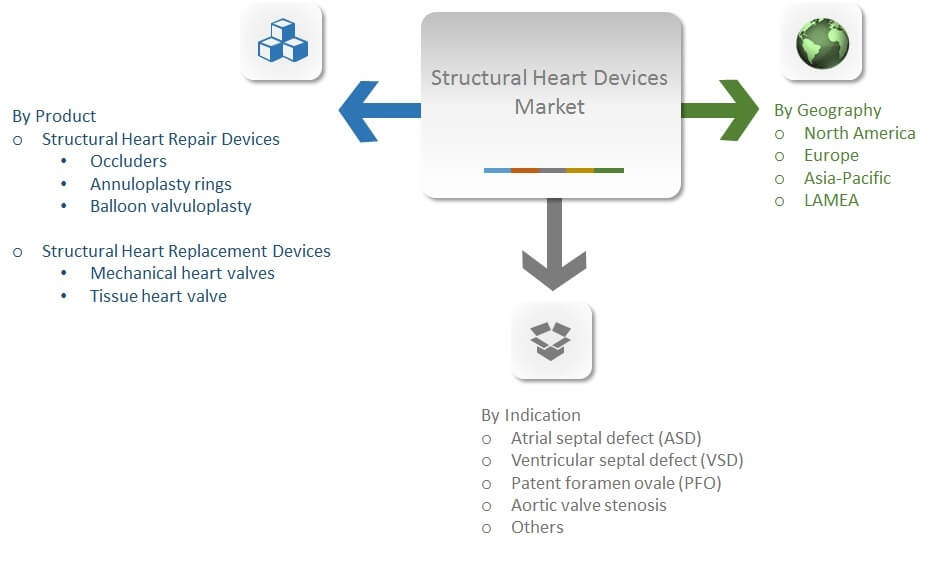 Segment review
According to AMR analysis, the structural heart repair devices segment held nearly half of the global structural heart devices market size in 2015, owing to increase in prevalence of structural heart diseases. In addition, advancements in repair devices and development of innovative products have further fueled the market growth.
STRUCTURAL HEART REPAIR DEVICES MARKET, BY PRODUCT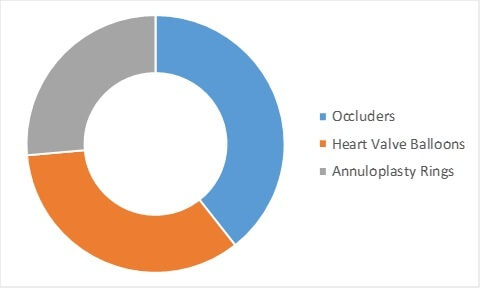 LAMEA structural heart devices industry
Rise in incidence of aortic stenosis coupled with rapid adoption of structural heart devices drives the growth of the structural heart devices market in LAMEA. In addition, increased focus of structural heart devices vendors in emerging markets (such as Asia-Pacific and LAMEA) is set to further contribute to the growth of this market. Lack of healthcare facilities and increased need for treatment devices for structural heart diseases have increased the penetration of major players in the Middle East. Nevertheless, the structural heart devices market growth is driven by improving healthcare infrastructure coupled with rise in disposable income.
Saudi Arabia Structural Heart Devices Industry Overview, 2014-2022 ($Million)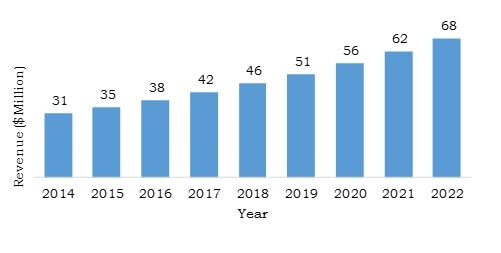 Top impacting factors
Rise in number of patients suffering from structural heart diseases
An increase in demand for structural heart devices has been witnessed, owing to the rise in number of patients suffering from structural heart diseases. These disorders are generally congenital; hence, they occur very commonly in a newborn. For instance, as per The Nemours Foundation, about 1 in every 100 newborns suffers from congenital heart defects, which can range from mild to severe. According to Micro Interventional Devices, Inc., in the U.S., about 60 million people, i.e., about 20-25% adult population suffer from structural heart defects. As per the Center for Structural Heart Disease at Henry Ford Hospital (CSHD), in Henry Ford Hospital, about 250,000 patients are diagnosed with mitral valve diseases annually. Moreover, in Europe, the prevalence of aortic stenosis is 1.75 million. These statistics clearly highlight the need for structural heart treatment devices, thus providing impetus to develop new techniques for repair and replacement of heart defects. In 2007, TAVR procedures were approved in Europe and in 2012 in the U.S. Moreover, around 80,000 patients undergo mitral valve repair or valve replacement surgery each year.
Technological advancements in structural heart devices industry
The upgraded treatments for improving quality of life and increased life expectancy fuel the demand for technologically advanced structural heart devices, such as advanced tissue heart valves useful in structural heart repair and replacement. Further, with the advent of tissue valves used in tissue aortic valve replacement, the quality of life for patients suffering from aortic regurgitation has improved. For instance, in April 2016, launch of St. Jude's Trifecta valve with Glide Technology (GT), an advanced tissue valve, has made options available for patients in need of aortic valve replacement. Technological innovations result in change in heart-related disorder treatment patterns, lowering the burden of heart disease. Novel tissue valves and mechanical heart valves are widely used to treat structural heart defects with greater longevity. 
Growth in demand for minimally invasive procedures
Structural heart devices and techniques are minimally invasive in nature, and are thus highly preferred over other techniques, such as open heart surgeries. Mitral valve replacement, aortic valve replacement, and prosthetic heart valve replacement procedures are minimally invasive procedures widely used by experts in cardiology to treat structural heart diseases. For instance, as per Center for Structural Heart Disease at Henry Ford Hospital (CSHD), around 80,000 patients undergo mitral valve repair or valve replacement surgery annually. Moreover, innovative developments in structural heart devices and procedures, such as aortic valve replacement valves, left arterial appendage closure devices, and advent of tissue or biological valves, are anticipated to provide promising growth opportunities for the market. 
High cost and risk associated with the treatment procedures
High cost of advanced structural heart devices and risk associated with the procedures are major constraints for market growth. The adoption rate of technologically advanced structural heart devices is low, especially in emerging economies, as these devices are more expensive than their traditional counterparts. For instance, as per Edwards Lifesciences, cost of SAPIEN transcatheter heart valve with the RetroFlex 3 Transfemoral System is $32,500, which is highly expensive for common people. Furthermore, risks associated with these devices are stroke, kidney failure, and gastrointestinal complications, which are observed after mitral valve replacement procedure.
Stringent approval process for structural heart devices
Approval processes for structural heart devices in most of the countries are stringent, as these are highly specialized devices that are introduced in the body. According to the FDA, structural heart devices are classified as class III devices, whereas these devices fall under class IIa (heart valve occluders and tester) and class III (for prosthetic and biological heart valves) category of CE mark classification. In addition, the process is time consuming and requires high investment. According to Advanced Medical Technology Association, it is estimated that about 77% and 80% of the total cost of commercializing a class II and class III medical device, respectively, in the market is spent at FDA-linked approval stages.
STRUCTURAL HEART DEVICES MARKET KEY BENEFITS:
The study provides an in-depth analysis of the market along with current trends and future estimations to elucidate the imminent investment pockets.

It offers a quantitative analysis from 2014 to 2022 to enable stakeholders to capitalize on the prevailing market opportunities.

Extensive analysis of the market based on products helps to understand the type of devices used to treat structural heart diseases.

Competitive intelligence highlights the business practices followed by leading players across various regions.

Comprehensive analysis of all geographical regions helps to determine the prevailing opportunities.

Key players and their strategies are analyzed to understand the competitive outlook of the overall market.

Extensive analysis is conducted by following key product positioning and monitoring the top contenders within the market framework.
STRUCTURAL HEART DEVICES MARKET KEY SEGMENTS
By Product
Repair Devices

Annuloplasty Rings

Heart Valve Balloons

Occluders

Replacement Valves

Mechanical Heart Valves

Tissue Heart Valves
By Indication
Atrial Septal Defect (ASD)

Ventricular Septal Defect (VSD)

Patent Foramen Ovale (PFO)

Aortic Valve Stenosis

Others 
By Age Group
Pediatric

Infants (6 months to 12 months)

Toddlers (1-2 years)

New Born (0-5 months)

Preschooler (3-5 years) 

School-aged Children (6-12 years) 

Adolescent (13-18 years)

Adults

Young Adults (19-24 years)

Adulthood (25-39 years) 

Middle-aged Persons (40-59 years) 

Older People/Old Age (60-84 years) 

Very Old (85+ years)
By Region
North America

Europe

Germany

France

UK

Italy

Spain

Rest of Europe

Asia-Pacific

Japan

China

India

Australia

South Korea

Rest of Asia-Pacific

LAMEA

Brazil 

South Africa

Israel

Saudi Arabia

Rest of LAMEA
The key companies profiled in the report are Medtronic plc; St. Jude Medical, Inc., Braile Biomedica, Medical Technology Est., Boston Scientific Corporation; Micro Interventional Devices, Inc., Edwards Lifesciences Corporation, LivaNova PLC, JenaValve Technology, Inc., and Cryolife, Inc. Other players operating in this market include Corvia Medical, Inc., CardioKinetix, Inc., Biomerics, LLC, Lepu Medical Technology (Beijing) Co., Ltd., XELTIS BV, and Comed B.V.
 Structural Heart Devices Market Report Highlights
Aspects
Details
By PRODUCT

STRUCTURAL HEART REPAIR DEVICES

Occluders
Annuloplasty Rings
Heart Valve Balloons

STRUCTURAL HEART REPLACEMENT DEVICES

Mechanical valves
Tissue valves

By AGE GROUP

PEDIATRIC

Newborns
Infants
Toddlers
Preschoolers
School-aged children
Adolescents

ADULTS

Young adults
Adulthood
Middle-aged persons
Older people/old age
Very Old

By INDICATION

ATRIAL SEPTAL DEFECT
PATENT FORAMEN OVALE
VENTRICULAR SEPTAL DEFECT
AORTIC VALVE STENOSIS
OTHER INDICATIONS

By GEOGRAPHY

North America
Europe

France
Germany
Italy
Spain
UK
Russia
Rest of Europe

Asia-Pacific

China
Japan
India
South Korea
Australia
Thailand
Malaysia
Indonesia
Rest of Asia-Pacific

LAMEA

Brazil
South Africa
Saudi Arabia
UAE
Argentina
Rest of LAMEA

Key Market Players
JENAVALVE TECHNOLOGY, INC., LIVANOVA PLC, MEDTRONIC PLC, BRAILE BIOMEDICA, EDWARDS LIFESCIENCES CORPORATION, MEDICAL TECHNOLOGY EST., ST. JUDE MEDICAL, INC., BOSTON SCIENTIFIC CORPORATION, CRYOLIFE, INC., MICRO INTERVENTIONAL DEVICES, INC.