The global structural insulated panels market size was valued at $458.1 million in 2020, and is projected to reach $786.6 million by 2030, registering a CAGR of 5.5% from 2021 to 2030. A structural insulated panel (SIP), also known as a structural insulating panel, is a type of sandwich panels, which are used in construction and engineering industries. This consist of an insulating layer of stiff core sandwiched between two layers of structural board. The boards can be of various types such as sheet, magnesium oxide board (MgO) plywood, and cement. 
The COVID 19 outbreak has affected the growth of the structural insulated panels industry owing to the lockdown measure in the countries and delay in manufacturing and production of structural insulated panels which are utilized in residential and non-residential spaces.
The growth of the global structural insulated panels market is projected to be driven by implementation of favorable green building standards and regulations for the use of building insulation materials to reduce total energy consumption and rise in expenditure in the construction of cold chain infrastructure throughout the world. Structural insulated panels are lightweight, have an aesthetic external look, and enhance the thermal performance of buildings, hence, they have gained widespread popularity across the world. Owing to its potential to shorten total construction time, structural insulated panel is frequently utilized in the construction of warehouses. Warehouses and last-mile delivery hubs are witnessing high penetration, as the e-commerce sector expands. For instance, in September 2020, according to Dave Clark, Senior Vice President of worldwide operations at Amazon announced that the company will build 100 new distribution centers and warehouses till end of 2020. Development of the construction sector is projected to have a positive impact on the structural insulated panels market growth.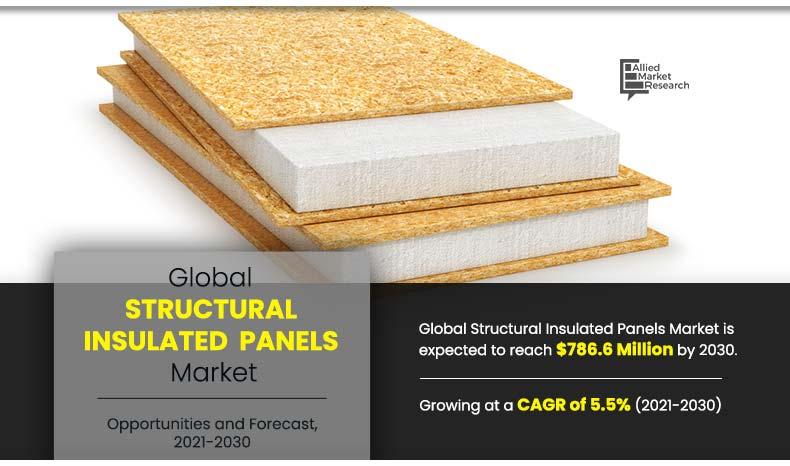 Get more information on this report : Request Sample Pages
The novel coronavirus has rapidly spread across various countries and regions, causing enormous impact on lives of people and overall community. Originating as a global health crisis, it now poses significant threat to worldwide trade, economy, and finance. Owing to the continuous lockdown in key countries, the COVID-19 pandemic has halted production of many items in the structural insulated panels business.
Market players can afford a complete lockdown only for a limited period, after which they would have to alter their investment plans. Furthermore, number of COVID-19 cases are expected to reduce in the near term, as vaccine for COVID-19 has been introduced in the market. This is further expected to lead to re-initiation of structural insulated panels companies at their full-scale capacities, which would aid the market to recover by the start of 2022. As COVID-19 infection cases are declining, equipment and machinery producers are focusing on protecting their staff, operations, and supply networks to respond to urgent emergencies and establish new methods of working. 
Structural Insulated Panels Market

---
By Product Type
Polystyrene segment is projected to grow at a significant CAGR
Get more information on this report : Request Sample Pages
Polyisocyanurate (PIR), polyurethane (PU), expanded polystyrene (EPS), extruded polystyrene (XPS), and other raw materials are utilized to make structural insulated panels. Furthermore, owing to their durability, fireproof properties, and superior surface quality, metal sheets are becoming a popular facing material. In addition, owing to rise in global warming concerns, few key players are launching global warming potential products made from XPS. For instance, in July 2020, Owens Corning launched FORMULAR NGX, which is new line of XPS foam products that deliver 90% reduction in global warming potential without compromising on the product performance. 
Furthermore, wall insulation is one of the most important aspects of improving a building's energy efficiency. Insulated walls and floors form a protective envelope that prevents heat transmission from outside via conduction and convection radiation, thus lowering energy costs for heating and cooling a structure. Increased demand from the residential sector and well-developed cold chain and logistics industry to improve social infrastructure contribute to market expansion in North America. Asia Pacific is projected to register the highest growth rate, due to rapid expansion of the residential and commercial construction sectors as well as the implementation of different green building standards. 
Structural Insulated Panels Market

---
By End User
Residential segment holds dominant position in 2020
Get more information on this report : Request Sample Pages
The global structural insulated panels market is segmented into product type, application, end user, and region. By type, the market is categorized into polystyrene panels, polyurethane panels and polyisocyanurate panels, glass wool panels, others. Depending on application, it is fragmented into walls and floors, roofs, and cold storage. On the basis of end user, it is bifurcated into residential and nonresidential. Region wise, the market is analyzed across North America, Europe, Asia-Pacific, and LAMEA.
Competition Analysis
Key companies profiled in the structural insulated panels market report include Owens Corning, PFB Corporation, Premier Building System, Rautaruukki Corporation, T. Clear Corporation, ACME Panels, American Insulated Panel, Extreme Panel Technologies, Inc., InGreen Systems, and Kingspan Group PLC.
Structural Insulated Panels Market

---
By Region
North America holds a dominant position in 2020 and Asia-Pacific is expected to grow at a significant rate during the forecast period.
Get more information on this report : Request Sample Pages
Key Benefits For Stakeholders
The report provides an extensive analysis of the current trends and future estimation and dynamics of the global structural insulated panels market.  
In-depth structural insulated panels market analysis is conducted by constructing market estimations for key market segments between 2020 and 2030. 
Extensive analysis of the emerging structural insulated panels market is conducted by following key product positioning and monitoring of top competitors within the market framework.
A comprehensive analysis of all the regions is provided to determine the prevailing opportunities.
The global emerging structural insulated panels market forecast analysis from 2021 to 2030 is included in the report.
The key players within emerging structural insulated panels market are profiled in this report and their strategies are analyzed thoroughly, which help understand the competitive outlook of the emerging structural insulated panels industry. 
Global Structural Insulated Panels Market Segments
Key Segments
By Product Type
Polystyrene
Polyurethane Panels and Polyisocyanurate Panels
Glass Wool
Others 
By Application
Walls & floors
Roofs
Cold Storage
By End User
Residential
Nonresidential
By Region
North America
Europe

Germany
UK
France
Italy
Rest of Europe

Asia-Pacific

China
Australia
Japan
South Korea
Rest of Asia-Pacific

LAMEA

Latin America
Middle East 
Africa
Key Players
Owens Corning
PFB Corporation
Premier Building System
Rautaruukki Corporation
T. Clear Corporation
ACME Panels
American Insulated Panel
Extreme Panel Technologies, Inc.
InGreen Systems
Kingspan Group PLC