Student Loan Market Research, 2031
The global student loan market was valued at $3,933.18 billion in 2021, and is projected to reach $8,750.75 billion by 2031, growing at a CAGR of 8.7% from 2022 to 2031.
"With increase in demand owing to financial struggles of families to pay education bills and increase in demand for up-skilling during the pandemic, the student loan market is is expected to grow in upcoming years."
Expenses associated with higher education or postsecondary education can be covered by a student loan, which is an amount of money obtained for such purposes. Student loans are designed to pay for living expenses while the borrower is pursuing a degree. They also cover the cost of tuition and other educational costs. When students are in college, payments are frequently postponed, and depending on the lender, they may occasionally be postponed for an additional six months after receiving a degree.
The lower interest rates on student loans and no credit checks for the loan applications are the factors which acts as a major driver in the market. In addition, subsidized interests offered by the lenders are accelerating the market student loan market growth. However, longer repayment period and risk on credit report after defaulting hamper growth of the market. On the contrary, developing economies offer significant opportunities for student loan lenders to expand their offerings, owing to factors such as growth in the middle-class segment, rapid urbanization and rise in literacy level. Moreover, importance for higher education along with additional courses in corporate sector is anticipated to provide a potential growth opportunity for the market.
The report focuses on growth prospects, restraints, and trends of the student loan market analysis. The study provides Porter's five forces analysis to understand the impact of various factors such as bargaining power of suppliers, competitive intensity of competitors, threat of new entrants, threat of substitutes, and bargaining power of buyers on the student loan market outlook.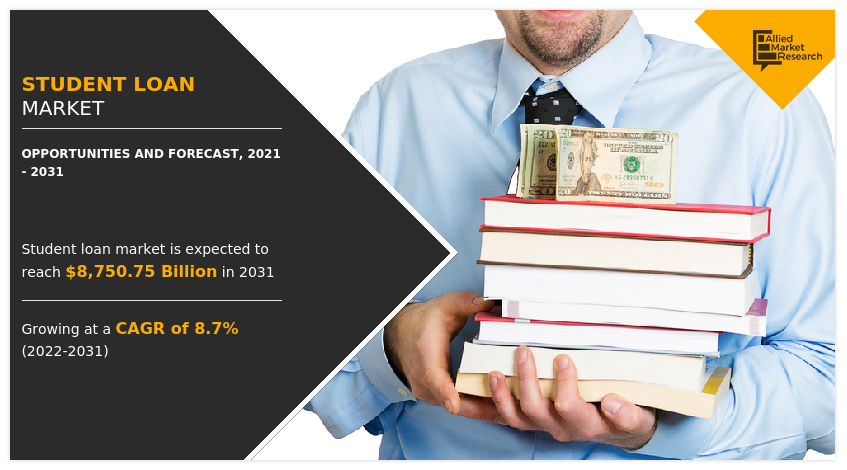 The student loan market is segmented into Type, Repayment Plan, Age Group and End User.
Segment Review
The student loan market is segmented into type, repayment plans, age group, end user, and region. By type, the market is differentiated into federal/government loan and private loan. The federal/government loan is further segmented into federal/government parent student loan and federal/government graduate loan. The federal/government loan is further segregated into direct subsidized loan and direct unsubsidized loan. Depending on repayment plans, it is fragmented into standard repayment plan, graduated repayment plan, revised pay as you earn (REPAYE), income-based (IBR) and others. On the basis of age group, it is segmented into 24 or younger, 25 to 34 and above 35. The end user covered in the study includes graduate students, high school students and others. Region wise, the market is analyzed across North America, Europe, Asia-Pacific, and LAMEA.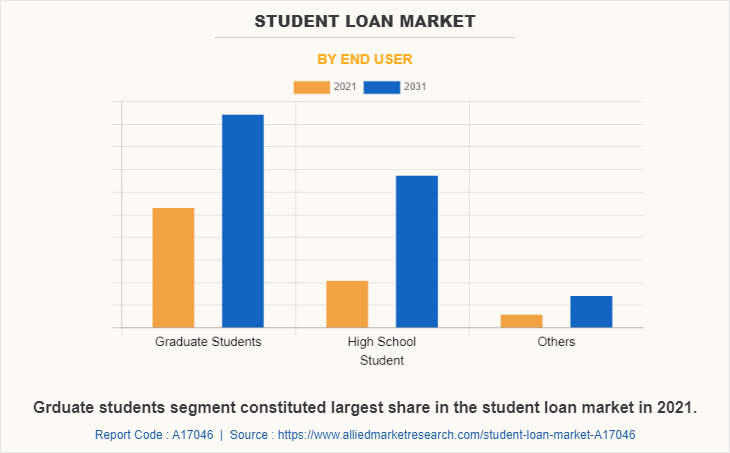 By end user, the graduate students segment acquired major student loan market share. This is attributed to the fact that there is an increasing number of students wanting to attend universities and complete their higher education. For several such students, borrowing huge amounts money even before they start working can be a setback, but completing higher education is a personal and professional growth for an individual.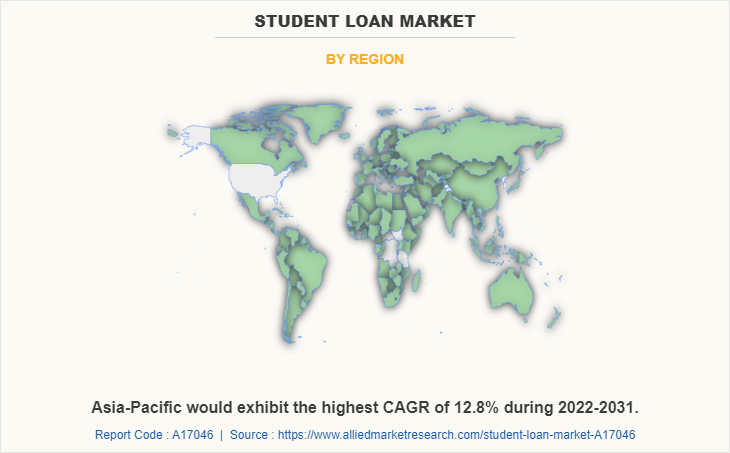 Region wise, North-America dominated the market in 2021. This is attributed to fact that federal student loans are popular with U.S. students studying in U.S., but they are not available to international students. Instead, international students are eligible for international student loans in the U.S.
The key players operating in the global student loan market include Ascent Funding, LLC, Avanse Financial Services Ltd., Citizens Financial Group, Inc., Carvana, Chegg Inc., Earnest LLC, Edfinancial Services, LLC, Eduvanz Financing Private Limited, Google, Laurelroad, LendKey Technologies, Inc., MPOWER Financing, Prodigy Finance Limited, Quotanda, Social Finance, Inc., Wells Fargo, and ZeeFi Pty Ltd. These players have adopted various strategies to increase their market penetration and strengthen their position in the student loan industry.
COVID-19 Impact Analysis
COVID-19 pandemic has a significant impact on the student loan industry, owing to increase in demand for students' loan globally as many families struggled financially to pay educational bills. Student loans are experiencing massive growth as the costs for online education grew during the pandemic. Moreover, increase in demand for up-skilling or executive courses during the pandemic benefited the student loan market size. This, in turn, has become one of the major the student loan market trends during the global health crisis.
Top Impacting Factors
Less rate of interest on student loans
Comparing the education loan to other loan such as mortgage, auto, and personal loans, the student loan has a lower interest rate. Due to the fact that a lower interest rate means smaller monthly payments and less stress for the borrower, both students and their parents are not subject to as much financial hardship. Moreover, student loans are different from other loans including that they don't require collateral up to a certain amount, saving the borrower the stress of having to prepare for security, which is frequently the case with other loans where the applicant has to prepare for a guarantee in order to get a loan from a financial institution or bank. Thus, less rate of interest on student loans is boosting the growth of the market.
Increasing cots for education
The number of persons enrolling in executive education programs has steadily increased over the last few years. In today's society, there has been a critical requirement for the highly qualified and technological labor. The only way to be relevant to the evolving job profiles given the influx of new employment and the development of new strategies for accelerating corporate growth is via education. However, there is a rise in the number of students who desire to study abroad in order to advance their professions. In the upcoming years, it's also anticipated that more people would spend money abroad on such expensive courses. For instance, data from CRIF High Mark, a credit bureau, shows that lenders that specialize in student loans, including banks and non-bank lenders, had disbursed $110,000 in loans during the past 12 months through September 2020. Thus, the increasing costs for education is expected to create student loan market opportunity to grow in future.  
Increasing need for education
The biggest advantage of the student loan is that it motivates educated but underprivileged people to continue their study and find rewarding work, advancing their career. These are designed so that the student does not have to pay back the loan right away but instead must do so once their education is complete by deducting payments from their income. As a result, majority of the people in developing countries are opting student loans to pursue higher educations. Furthermore, increase in demand for higher degrees and additional courses in corporate sector is benefiting the growth of student loan market. Thus, increase in need for education is expected to provide lucrative opportunities for the market growth.
KEY BENEFITS FOR STAKEHOLDERS
    This report provides a quantitative analysis of the market segments, current trends, estimations, and dynamics of the student loan market forecast from 2022 to 2031 to identify the prevailing student loan market opportunity.

    The market research is offered along with information related to key drivers, restraints, and opportunities.

    Porter's five forces analysis highlights the potency of buyers and suppliers to enable stakeholders make profit-oriented business decisions and strengthen their supplier-buyer network.

    In-depth analysis of the student loan market segmentation assists to determine the prevailing market opportunities.

    Major countries in each region are mapped according to their revenue contribution to the global market.

    Market player positioning facilitates benchmarking and provides a clear understanding of the present position of the market players.

    The report includes the analysis of the regional as well as global student loan market share, key players, market segments, application areas, and market growth strategies.
 Student Loan Market Report Highlights
Aspects
Details
By Type

Federal/Government Loan
Private Loan

By Repayment Plan

Standard Repayment Plan
Graduated Repayment Plan
Revised Pay As You Earn (REPAYE)
Income-based (IBR)
Others

By Age Group

24 or Younger
25 to 34
Above 35

By End User

Graduate Students
High School Student
Others

By Region

North America (U.S., Canada)
Europe (United Kingdom, Germany, France, Italy, Spain, Russia, Rest of Europe)
Asia-Pacific (China, Japan, India, Australia, South Korea, Singapore, Rest of Asia-Pacific)
LAMEA (Latin America, Middle East, Africa)

Key Market Players
Carvana, Avanse Financial Services Ltd., ZeeFi Pty Ltd, Edfinancial Services, LLC, Wells Fargo, Earnest LLC, MPOWER Financing, Google, Social Finance, Inc., Eduvanz Financing Private Limited, Laurelroad, LendKey Technologies, Inc., Chegg Inc., Quotanda, Citizens Financial Group, Inc., Ascent Funding, LLC