The global submarine market size was valued at $23.3 billion in 2021, and is projected to reach $33.9 billion by 2031, growing at a CAGR of 4.0% from 2022 to 2031.
Submarines are type of ships that move above the water as well as below the water and enhance the capabilities of the defense sector. Submarines are majorly classified into nuclear & non-nuclear submarines and are majorly used for military operations. However, these types of underwater vehicles have commercial applications to a certain extent. Primary applications of submarine within the military domain include protecting international waters, perform underwater warfare, provide underwater command, control, communications, computers, intelligence, surveillance, and reconnaissance (C4ISR) support.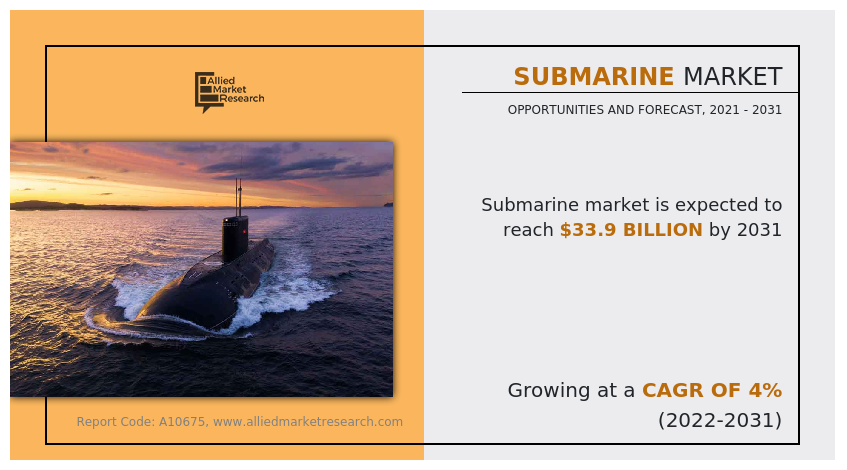 The primary applications of submarines within the commercial and government domain include marine weather monitoring, scientific research, locating oil basin on sea bead, tourism, and recreational. Submarines have a product life cycle of 25 to 45 years, and heavily depend on maintenance repair & overhaul (MRO) and part upgradation & modification contracts to ensure the sub is in operational condition across its operational lifespan. The ballistic missiles submarines (SSBN) and nuclear power attack submarines (SSN) have nuclear reactor as its fuel core.
These types of submarines have more than 30 years of operational lifespan and are capable of staying underwater for longer period as compared to diesel electric submarines, which have operational lifespan of 25 to 30 years. The growth of submarine market is driven by factors such as rise in geopolitical conflicts across the globe, increasing terrorism activities in international waters, and demand to have a comprehensive underwater bathymetric study of enemy territories to gain strategic stabilities.
Submarine Market

---

By Type
Ballistic Missile Submarines (SSBNs) is projected as the most lucrative segment
These factors are back with gradually increasing defense budget allocation toward naval activities, allowing nations to acquire more submarines. The expansion of Chinese naval capacities remains one of the primary factors driving the submarine market in several nations including India, South Korea, Australia, and the U.S. Countries such as the U.S. are actively deploying their stealth submarines across several strategic locations, emphasizing their strategic stability across the globe. For instance, in October 2022, a U.S. based nuclear powered USS West Virginia Class (SSBN 736) submarine was spotted in the international waters of Arabian Sea. The appearance followed the announcement by China's president to include Taiwan on the Chinese mainland by any means possible. The appearance also served as a strategic response by Russia, with the Russian president delivering a statement defending Russia's territorial integrity.
The submarine market is segmented into type, propulsion, application, and region. By type, the market is segregated into Ballistic Missile Submarines (SSBNs), Nuclear-Powered attack submarines (SSNs), Diesel-electric attack submarines (SSKs), and others. By propulsion, the market is bifurcated into nuclear and non-nuclear. By application, it is classified into military surveillance & combat, marine weather monitoring & scientific research, and others. Region wise, the market is analyzed across North America, Europe, Asia-Pacific, and LAMEA.
Companies have adopted product development, collaboration, and long-term agreements as their key development strategies. Key players operating in this submarine market are BAE Systems, Bollinger Shipyards, Mitsubishi Heavy Industries, Ltd., General Dynamics, Huntington Ingalls Industries, inc., Kawasaki Heavy Industries, Ltd., Lockheed Martin Corporation, Navantis, Thales, and ThyssenKrupp AG.
Submarine Market

---

By Propulsion
Nuclear is projected as the most lucrative segment
Increasing spending on research and development
The governments of many countries are investing heavily to enhance the capabilities of submarines and improve the security of the countries, which is expected to increase the demand for submarines during the forecast period. Furthermore, developing countries such as U.S., Germany, UK, and others are investing in novel submarine technologies. For instance, in June 2021, the U.S. Navy Institution mentioned in a report that the U.S. Navy required $110 million for developing next generation attacking submarines. According to the Navy's R&D budget justification books, the service expects to begin the manufacturing of SSN(X), its next-generation attack submarine, in the second half of the 2030s. The service will use the FY 2022 R&D funding to help prepare for an analysis of alternatives (AoA) study. Similarly, in September 2021, the UK Research and Innovation organization funded $25.50 million for research and development studies for green submarines which reduce maritime pollution in the seas.
Moreover, global organizations are increasing their military budget for innovations in submarines that enhance the capabilities of submarines strengthen the country's security and protect the threats. For instance, in April 2022, the Stockholm International Peace Research Institute (SIPRI) mentioned in a report that total global military expenditure increased by 0.7% in 2021, to reach $2113 billion. The five largest spenders in 2021 were the U.S., China, India, the UK, and Russia, together accounting for 62% of expenditure. Therefore, the surge in spending on R&D activities and increasing military expenditures are expected to propel the submarines market growth globally during the forecast period. Furthermore, the growing involvement of numerous technologies in smart farming is projected to propel the market growth during the forecast period. Technological advancements for the development of drone and government initiatives are expected to create lucrative opportunities for the market. For instance, in June 2022, Department of Agriculture and Farmers' Welfare of India has approved $828.6 million in funding for the Kerala agricultural university's research and demonstration of drone-based agricultural technologies including tethered drone. While $446.17 million has been set aside for drone research, the remaining $382.43 million has been set aside for large-scale demonstrations of various types of drones such as tethered drones, micro drones, and others which are used in fields. Thus, the rising adoption of tethered drone in commercial applications are anticipated to drive the market growth during the forecast period.
Submarine Market

---

By Application
Military surveillance and Combat is projected as the most lucrative segment
Rise in geopolitical issues between countries
With increasing maritime border disputes and political conflicts, governments in the Middle East, Asia, and Europe are investing in upgrading their submarine fleets with ballistic missile defense capabilities. In addition, with Russia in Eastern Europe and China in East Asia, the prospect of a great-power war appears more likely now than at any time since the Cold War's end.
The Chinese People's Liberation Army's (PLA) efforts to prevent U.S. forces from interfering in the "Asian Mediterranean" have particularly challenged the U.S. Navy's historic Pacific dominance. The Communist Party of China's confidence and bellicosity appear to be growing in parallel with its regional capabilities. Furthermore, with invasion of Ukraine, Russia has used many submarines in this war, and the U.S. is also supporting Ukraine with military equipment. Thus, these geopolitical issues all over the world are expected to increase the demand for submarines to strengthen the power of the navy that is anticipated to support the market growth during the forecast period.
Similarly, increasing conflicts between countries such as China-Taiwan, India-Pakistan and China-Australia have led developed countries to cooperate with others to defend themselves. For instance, in September 2021, AUKUS partnership between Australia, the UK, and the U.S., Australia will build eight nuclear-powered submarines under an Indo-Pacific security partnership with the U.S. and the UK for future threats from nearby countries such as China. In addition, after 1958 Australia is the second country after the UK to be given access to U.S. nuclear technology to manufacture nuclear-powered submarines. Thus, the collaborations between countries are expected to drive the submarine market during the forecast period.   
High cost of maintenance and repair
The high cost of maintenance & repair on submarines is limiting the adoption of submarines by developing and underdeveloped countries. The submarines have cost millions of dollars to maintain, and as a result, underdeveloped countries such as Afghanistan, Angola, Bangladesh, and others are unable to maintain them. For instance, in April 2019, the Congressional Budget Office organization mentioned in a report that the U.S. spends an average of $30 million on every submarine to continue its capabilities and performance. Also, between 1993 and 2017, the Navy performed 117 maintenance overhauls on attack submarines and outsourced 29 to private shipyards. Thus, the high cost of maintenance of submarines is anticipated to hinder the submarine market growth during the forecast period.
Furthermore, the companies are also collaborating with the governments to offering its services and modern technologies for the submarines. For instance, in June 2022, Northrop Grumman has signed a $458 million sole-source contract from the US Navy to provide a range of services that will support ballistic missile submarines over a more than five-year period. The company's marine systems business will perform shipyard field operations, hardware production, systems engineering, program management, documentation and logistics under the Columbia and Dreadnought Fleet Ballistic Missile Program for fiscal 2022 to 2026.
Similarly, in August 2022, American defense contractor General Dynamics Electric Boat (GDEB) has signed a contract change for engineering, engineering, design agent and shipyard design support for operational strategic and attack submarines for the U.S. Navy. The contract is worth $236 million and is expected to be completed by 2023.
Moreover, in July 2021, the HII Newport News shipbuilding division of Huntington Ingalls Industries, Inc. signed a $90 million submarine maintenance and conversion contract. The order was issued by the Naval Sea Systems Command of Washington, D.C. Under the terms, Huntington's Newport News division will provide planning, engineering and technical support for shipyard services and program management support for industrial work on submarine availability, facilities, and modifications. Therefore, these high-cost maintenance and up-gradation contracts limit the developing and underdeveloped countries to adopt the submarines, which limits the market growth.
Submarine Market

---

By Region
Europe would exhibit the highest CAGR of 5.1% during 2022-2031
Implementation of AIP and MAD for operations by governments
In the current scenario, government organizations are deploying new and advanced technologies in submarines, which are expected to offer lucrative opportunities for submarine market players during the forecast period. For instance, in March 2021, the Indian Organization, DRDO (defense research and development organization) developed the 270-kilowatt fuel cell-based AIP system which are to be progressively retrofitted on the scorpene submarines. The DRDO completed this development with L&T and Thermax Ltd.
Furthermore, military ASW (anti-submarine warfare) uses technologies such as magnetic anomaly detectors (MAD), which detect tiny disturbances in the earth's magnetic field caused by metallic submarine hulls, passive and active sonar sensors, which use sound propagation to detect objects underwater, and radar and high-resolution satellite imagery to detect surfaced submarines.
Recent commercial tools and technology advancements now allow open-source researchers to monitor submarine fleets. Through this, the researchers can better understand the size and composition of countries' submarine fleets, monitor submarine, and submarine base construction, and potentially learn about patrol patterns and behaviors using commercial satellite imagery, synthetic aperture radar (SAR), hydro-acoustic sensors, and social media analysis. Thus, these technologies are expected to create opportunities for submarine manufacturers during the forecast period.
Owing to the disruption in supply chain and decline in manufacturing activities, import and exports have fallen across almost all the commodity sectors. Conventional manufacturing technologies where parts are collected from OMEs across the globe and assembled at one place has faced a major shortage in terms of components. At the same time OEMs have experienced shortage in raw materials due to limited import/export facilities during the pandemic.
Key Benefits For Stakeholders
This study presents an analytical depiction of the global submarine market analysis along with current trends and future estimations to depict imminent investment pockets.

The overall submarine market opportunity are determined by understanding profitable trends to gain a stronger foothold.

The report presents information related to the key drivers, restraints, and opportunities of

the global submarine market with a detailed impact analysis.

The current submarine market are quantitatively analyzed from 2022 to 2031 to benchmark the financial competency.

Porter's five forces analysis illustrates the potency of the buyers and suppliers in the industry.
 Submarine Market Report Highlights
Aspects
Details
Market Size By 2031
USD 33.9 billion
Growth Rate
CAGR of 4%
Forecast period
2021 - 2031
Report Pages
237
Type

Ballistic Missile Submarines (SSBNs)
Nuclear-Powered attack submarines (SSNs)
Diesel-electric attack submarines (SSKs) and others

Propulsion
Application

Military surveillance and Combat
Marine Weather Monitoring and Scientific Research
Others

By Region

North America (U.S., Canada)
Europe (Russia, UK, Germany, France, Italy, Rest of Europe)
Asia-Pacific (China, India, North Korea, South Korea, Japan, Rest of Asia-Pacific)
LAMEA (Latin America, Middle East, Africa)

Key Market Players
BAE Systems plc, General Dynamics Corporation, Huntington Ingalls Industries, Inc., Kawasaki Heavy Industries, Ltd., Lockheed Martin Corporation, Mitsubishi Heavy Industries, Ltd., Navantia, Thales, Thyssenkrupp AG, Bollinger Shipyards