Superalloys Market Research, 2031
The global superalloys market was valued at $6.8 billion in 2021, and is projected to reach $15.1 billion by 2031, growing at a CAGR of 8.5% from 2022 to 2031.
The market for superalloy is expanding due to increased demand from the rising nations, caused by their increased need for electrical power. The surge in demand for industrial gas turbines, particularly for the oil and gas industry in developing countries like India, Brazil, China, and West Africa, is also anticipated to present the industry's players with major development prospects in the near future.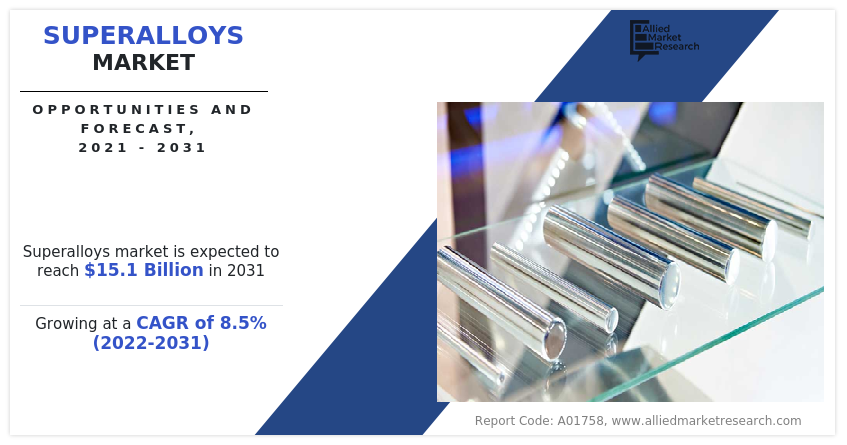 Superalloys or high-performance alloys are metal alloys with superior strength, resistance, surface stability, creep resistance at elevated temperatures and corrosion. In general, superalloys are utilized in products and applications that operate under high pressure, radiation, force, and temperature while being exposed to corrosive fluids. They have austenitic face-centered cubic (FCC) crystals with cobalt, iron, or nickel as the alloying element. There is an increase in demand for superalloys due to their high strength and resistance to creeping and high temperatures in applications such as aerospace and aircraft.
Superalloys are utilized in a variety of industries, including oil and gas, aerospace, gas turbine industrial. Combustion chambers, blades and shafts of aircraft gas turbine, turbocharger and exhaust valve of reciprocating engines, fans, pumps and bolts of chemical and petrochemical industries, bolts rocket engine parts of space vehicles, and blades of steam turbine power plants are prominent end-use products and applications where superalloys are widely used.
In addition, superalloys are widely utilized in the automobile industry due to their ability to keep strength at elevated temperatures. In addition, their modest weight contributes to the improvement of the fuel efficiency of automobiles and aircraft. Superalloys might be composed of iron, nickel, or cobalt. In the aerospace industry, nickel-based superalloys are favored due to their resistance to physical stress and extremely high temperatures, which contributes to their excellent surface stability. Industrial nickel-based superalloys include alloying elements like chromium, aluminum, tungsten, titanium, cobalt tantalum, and niobium, among others. Several market leaders are concentrating on the creation of lightweight, cost-effective superalloys.
In the automotive industry, superalloys are largely employed in electrical systems, radiators, control units, sensors, tanks, heater cores, and tubes. They are perfect for use in such automotive applications due to their high conductivity, strength and resilience to corrosion heat and wear. According to a recent study published by the German Association of Automotive Industry, the new registration of motor vehicles reached 16,763 units in Europe during the fourth quarter of 2020, 3080 units in South America, 37,467 units in Asia, 12,733 units in Western Europe, 17,421 units in North America, and 5,180 units in other regions globally. Similarly, in August 2021, Ford began construction on its vehicle facility in Germany.
The new plant will be responsible for assembling a new electric vehicle and intends to increase the country's output of electric vehicles. In addition, recent data from the International Organization of Motor Vehicle Manufacturers (OICA) indicates that the total automotive production in, America, Africa, Europe, and Asia in 2021 increased by 17%, 37%, 25% and 28% respectively, as compared to 2020. As a result, the need for superalloys employed in the automotive sector for usage in automobile electrical systems, control units, sensors, and more, is anticipated to expand as automotive production increases. This is expected to drive the market expansion in the coming years.
In addition, to maintain a competitive edge in the industry, superalloy manufacturers continually invest in global development through joint ventures, partnerships, and mergers & acquisitions. For instance, Aperam S.A. and Tekna formed a joint venture in November 2019 to build a new venture in nickel and specialty alloy spherical powder. Not only did the joint venture expand its global reach, but it also stimulated innovation in the global market.
Several industries such as aerospace, energy, and oil & gas majorly rely on several types of superalloys to operate gas turbine engines. However, the prices of base alloys required for the production of superalloys are relatively higher, which hinders global market growth. In addition, development of new generations of superalloys to gain higher temperature resistance involves the incorporation of expensive alloying metals such as rhenium and ruthenium, thus making superalloys more expensive. Thus, the aforementioned factors are expected to restrain global market growth in the near future.
Increasing market research activities will generate extraordinary growth opportunities.
Superalloys are metals with diverse properties. A mix of metals distinguishes it as unusual. As a result, the market is increasing its research efforts to expand the application of superalloys. This research effort will result in the launch of new products to the market. For instance, in July of 2020, Additive Fabrication (AM) technology announced a new nickel superalloy, ABD-900AM, developed for crack-free metal 3D printing, which may be used for direct manufacturing of complicated parts at a fraction of the cost and time required by conventional manufacturing. In recent years, superalloys have garnered interest in numerous industry areas, including automotive, aerospace, electricity, and gas turbines and Markforged launched inconel 625 superalloy for 3D printing in September 2019.
The novel material is resistant to corrosion and elevated temperatures and is employed in applications exposed to extreme environments, such as those found in the chemical processing, offshore, and aerospace industries. The additive manufacturing of inconel 625 reduces lead times and part costs. The leading players in the superalloys market will introduce numerous new goods that will increase the market's overall demand. Due to this development, the market's supply rates are expected to reach their peak. Additionally, the expansion of titanium alloys will increase the opportunity for growth. In a variety of sectors, titanium alloy is in high demand, especially in the aircraft industry.
The use of high-grade titanium in aircraft and other defense equipment has risen. Some of the equipment requiring titanium alloys are aviation engines, shafts, and blades. The marine sector and turbine equipment are also in high demand in the market. All these variables are projected to generate lucrative potential growth The superalloys market is segmented on the basis of base material, application, and region. By base material, the market is divided between nickel-based, cobalt-based, and iron-based superalloys. The applications segment is categorized into aerospace, industrial gas turbine, automotive, oil & gas, industrial, and others. By region, the market is analyzed across North America, Europe, Asia-Pacific, and LAMEA.
The key players operating in the superalloys market are Arconic, ATI, Beijing International Aeronautical Materials Corporation, CANNON-MUSKEGON, Carpenter Technology Corporation, Chromalloy Gas Turbine LLC, Doncasters Group, Forged Solutions Group, HAYNES INTERNATIONAL., and Hitchiner Manufacturing Co., Inc. The key players adopted various strategies such as agreements, joint ventures, new product launches, and business expansion to sustain the market competition.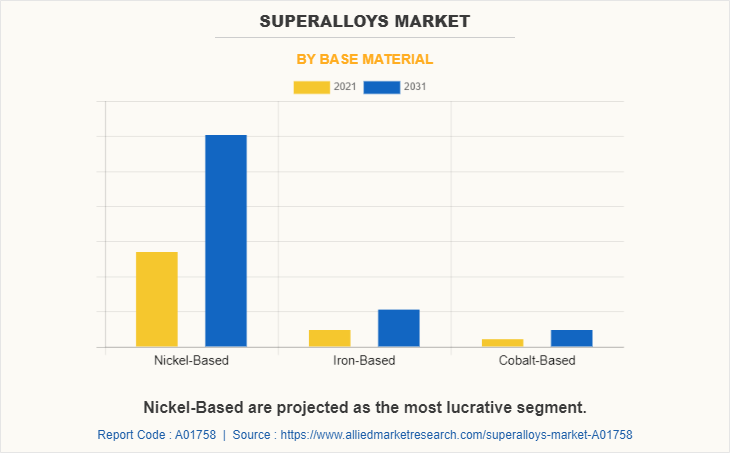 Nickel-based superalloys segment is the leading base material, due to its wide applications in the aerospace industry. High preference is attributed to the supply of benefits such as high resistance to harsh temperatures and physical stress, which contributes to surface stability and revenue growth. Nickel-based superalloys are utilized in load-bearing applications at high temperatures, which cannot be accomplished with ordinary alloys. These alloys constitute more than 50% of the weight of advanced aircraft engines, the bulk of the world's modern aircraft engines comprise superalloys created from titanium and aluminum.
The demand for nickel-iron alloys will increase due to their comparative affordability with respect to their substitutes. In addition, these superalloys possess high-temperature mechanical properties and oxidation resistance. These alloys are majorly used in the hottest parts of gas turbines turbine blades, turbine discs, metal processing, and casting blades.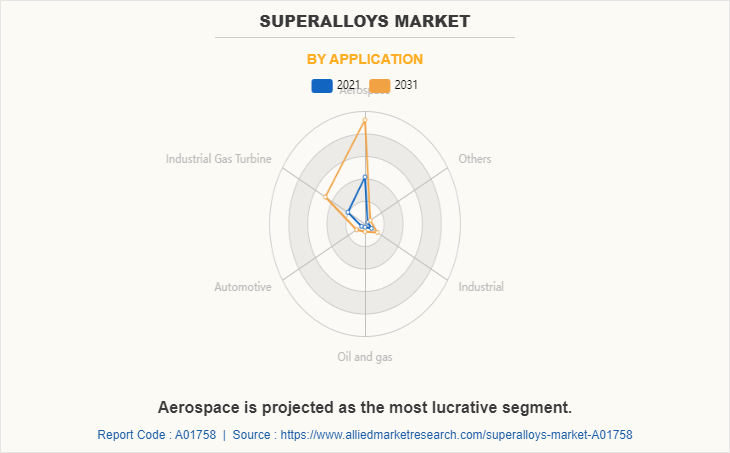 The aerospace application segment dominated the global market, because of the growing demand for superalloys in aircraft and rocket engines due to their high strength, light weight, and durability. The rise of the global market for superalloys has been driven by the rapid adoption of new engineering technology by the alloy industry. Superalloys enable the aerospace industry to manufacture high-performance components such as jet engines and airframes.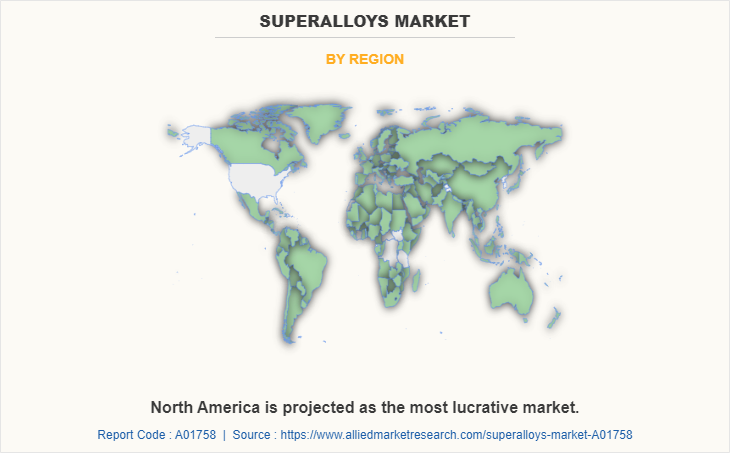 Region wise, North America dominated the market due to an increase in demand from the aerospace industry. For instance, in January 2021, FedEx Express invested approximately $6.6 billion in the development of 24 medium and large freighters by Boeing. Due to the increase in air freight activities, the U.S. Federal Aviation Administration (FAA) forecasts that the total number of commercial aircraft will reach 8,270 by the end of 2037. In addition, it is projected that the U.S. mainliner carrier fleet will increase at a rate of 54 aircraft per year. In addition, according to CNBC (Consumer News and Business Channel), the U.S. Defense Department proposed $715 billion for national defense expenditures in 2022, which includes both the construction of new aircraft and the repair and maintenance of existing aircraft.
Key Developmental Strategies Undertaken by Key Players:
In April 2019, ATI extended its agreement with Rolls Royce to supply rotating disc quality nickel alloys that are used in the Trent engine family. This agreement covers the production of a wide range of critical products used to make Rolls-Royce's next-generation jet engines as well as spare parts for in-service engines.
In March 2019, ATI expanded its third line for production in its joint venture ATI STAL for Asia Region. The joint venture is involved in the manufacturing of stainless-steel strip for Asian markets. With this expansion the company will be able to meet the growing demand from Asian market.
In February 2019, Arconic invested $100 million to expand its hot mill capability and added downstream equipment capabilities to manufacture industrial and automotive aluminum products in its Tennessee operations facility. The industrial market consists of aluminum alloy-sheet-made products, which are used in applications for commercial transportation, appliances, machinery, and construction. This expansion increased the demand for superalloys.
In June 2019, Carpenter Technology Corporation launched an advanced jet engine gear solution, Pyrowear 225 alloy for critical transmission applications. Pyrowear 225 alloy offers a combination of 30 % higher ultimate strength or 250 degrees F operating temperature improvement. This solution is expected to enable next generation engines to realize further improvements in fuel efficiency, by allowing operation at higher temperatures with reduced weight. In July 2018, Arconic launched a new titanium alloy for the aerospace industry, ARCONIC-THOR. The new product launched is lighter, cost-effective, and nickel-based superalloy.
Key Market Trends:
One of the important aspects positively impacting the market is the enormous growth of the aviation industry as well as the increasing use of superalloys in the production of jet engines. It is also attributed to the growing popularity of superalloys due to their operating efficiency and low environmental impact. Furthermore, the market is driven by the rising global demand for passenger and commercial vehicles with powerful engines. The increasing usage of superalloys in vehicle turbochargers, ignition prechambers, exhaust valves, nozzles and exhaust gas cleaner fasteners further provide a positive outlook for the market.
In addition, the expanding global energy crisis is driving the demand for nuclear power facilities, which in turn presents lucrative growth opportunities for market participants. In addition, the increasing usage of superalloys in the oil and gas industry for drilling, onshore and offshore exploration, and production is driving market expansion. In addition, continual improvements in the aluminum and magnesium mining process and a substantial increase in the extraction of metals needed for alloying are driving the market expansion.
COVID-19 Impact Analysis:
As the world conducts a vaccination campaign, there are opportunities and challenges for market participants to benefit and boost their credentials. Jet engines, aviation hot spots, oil and gas exploration, and automobile turbochargers are examples of technology that relies on superalloys. It is expected to witness an increase in the post-COVID environment. After a significant pause created by the pandemic, the expected efforts to boost industrial growth are projected to result in a positive trend in the future.
Key Benefits For Stakeholders
This report provides a quantitative analysis of the market segments, current trends, estimations, and dynamics of the superalloys market analysis from 2021 to 2031 to identify the prevailing superalloys market opportunities.
The market research is offered along with information related to key drivers, restraints, and opportunities.
Porter's five forces analysis highlights the potency of buyers and suppliers to enable stakeholders make profit-oriented business decisions and strengthen their supplier-buyer network.
In-depth analysis of the superalloys market segmentation assists to determine the prevailing market opportunities.
Major countries in each region are mapped according to their revenue contribution to the global market.
Market player positioning facilitates benchmarking and provides a clear understanding of the present position of the market players.
The report includes the analysis of the regional as well as global superalloys market trends, key players, market segments, application areas, and market growth strategies.
 Superalloys Market Report Highlights
Aspects
Details
Market Size By 2031
USD 15.1 billion
Growth Rate
CAGR of 8.5%
Forecast period
2021 - 2031
Report Pages
304
By Application

Industrial Gas Turbine
Automotive
Oil and gas
Industrial
Aerospace
Others

By Base Material

Nickel-Based
Iron-Based
Cobalt-Based

By Region

North America (U.S., Canada, Mexico)
Europe (Germany, UK, France, Spain, Italy, Rest of Europe)
Asia-Pacific (China, Japan, India, South Korea, Australia, Rest of Asia-Pacific)
LAMEA (Brazil, UAE, Saudi Arabia, South Africa, Rest of LAMEA)

Key Market Players
Hitchiner Manufacturing, ATI, Arconic, Carpenter Technology Corporation, Doncasters Group, Forged Solutions Group, HAYNES INTERNATIONAL., Chromalloy Gas Turbine LLC, Beijing International Aeronautical Materials Corporation, CANNON-MUSKEGON