Superdisintegrants Market Outlook - 2027
Superdisintegrants is the combination of substances which added to the drug formulation that facilitates the disintegration of tablet or capsule content into smaller particles. It consists of fragments of disintegrated parts of tablets component parts such as insoluble coating of the tablets or of capsule shells, or of any melted fatty substance. Superdisintegrating agents accelerate the swelling of a tablet when it comes into contact with a fluid and it can be added before or after the wet granulation stage. Superdisintergrant have various properties such as good hydration capacity, good moulding and flow properties, good mouth feel, etc. It should also be compatible with the other excipients and have desirable tableting properties. Various types of superdisintegrant introduce in the market including natural superdisintegrants, synthetic superdisintegrants and other. This types of superdisintegrant used in various therapeutic areas such as gastrointestinal, cardiovascular, neurology, oncology and hematology. Superdisintegrants are used in tablets and capsules to ensure the rapid break down into their primary particles, facilitating the dissolution or release of the active ingredients.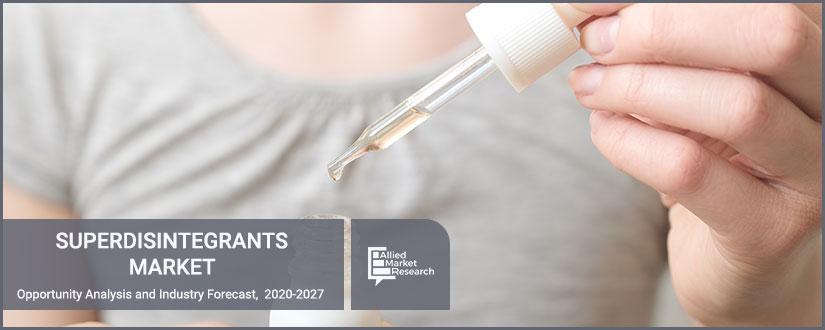 COVID-19 Scenario Analysis:
Pharmaceutical and biotech companies together with governments around the globe are working to address the COVID-19 outbreak, from supporting the development of vaccines to planning for medicines supply chain challenges. Currently, around 115 vaccine candidates and 155 molecules are in the R&D pipeline. Moreover, commonly used drugs such as Hydroxychloroquine have witnessed dramatic surge in demand for the management of COVID-19. Such high demand for these drugs has presented huge opportunity for manufacturers of COVID-19 management drugs, as many developed countries are short of these drugs. Owing to the demand for vaccine and treatment drugs for COVID-19, the pharmaceutical and biotechnology industry is expected to witness a significant growth in the future.
 
As the COVID-19 virus outbreak in December 2019, the disease has spread to almost 100 countries across the globe with the "World Health Organization" announcing it a public health emergency. The global impacts of the COVID-19 pandemic are already starting to be felt, and will significantly affect the superdisintegrants market in 2020. COVID-19 can affect the global economy in three main ways by directly affecting production and demand, by creating supply chain and market disruption, and by its financial impact on firms and financial markets.
Top impacting factors: Market Scenario Analysis, Trends, Drivers and Impact Analysis:
Crospovidone drug product hold the largest market share and dominated the product segment, which attributed to factor such as it has first-rate disintegration and dissolution improving effect, which is usually used in the preparation of tablets, granules and capsules. 
Globally, North America hold the largest superdisintegrants market share and dominated overall market due to rising demand for generic drugs, presence of major market player, and increasing number R&D activities. However, Asia Pacific is expected to expand the market growth rate which attributed to growing number of outsourcing of excipients including superdisintegrants, rising demand for manufacturing of new superdisintegrants, increasing demand for superdisintegrants product, increasing advancement in technologies. 
The factors that drive the superdisintegrants market growth such as growth in generic market development of new superdisintegrants for the pharmaceutical sector, increasing geriatric population who have difficulties with swollen tablets or capsule, growing demand for superdisintegrants product, increasing R&D activities, increasing investment in R&D and increasing adoption rate of novel drug delivery system technology and orally disintegrating tablets, rising acceptance of advanced technologies. The factors such as less spending on R&D activities and concerns about quality and safety, restrain the market growth The major opportunity available for superdisintegrants market such as pharmaceutical market development in developing regions, greater research into natural superdisintegrants rising geriatric population which rises the demand for superdisintegrants product and increasing investment in R&D activities.   The various Challenge face by the market manufacturer such as maintaining Safety and meeting the quality expectations of regulators, end users, drug makers, and more importantly, patients and succeeding instant streamlining and maximum transparency in supply chain activities 
New Product launch to flourish the market:
Major Key market manufacturer have been focusing on increasing research and development activities and producing new product solution for specific applications as there are varying demands based on the utilization. Leading market players have determined how improved accuracy can be influential in many applications. In 2016, "Roquette" has launched complete range of sodium starch glycolate products designed for specific formulation needs, GLYCOLYS® LV, used for high-shear granulation addition in intra granular phase and GLYCOLYS® Low pH, used for acidic drugs. GLYCOLYS® is a multipurpose superdisintegrant, for all other requirement.
In 2017, "BASF Group" has launched "Kollidon® CL-F" used in wet granulation processes, when large amount of granulation liquids are needed. Kollidon® CL-F is the perfect alternative when formulators are looking for a disintegrant with strong disintegration power in combination with a smooth tablet surface and pleasing haptic properties. 
In 2017, "DuPont" has launched "Ac-Di-Sol® Croscarmellose Sodium" is one of DuPont's flagship offerings for pharmaceutical manufacturers. An internally cross-linked sodium carboxymethyl cellulose (NaCMC), it used in the disintegration and dissolution of pharmaceutical and dietary supplement tablets, capsules, and granules.
In 2018, "Ashland" has launched Polyplasdone™ crospovidone superdisintegrants are synthetic, insoluble, but rapidly swellable, crosslinked homopolymers of N-vinyl-2-pyrrolidone. Crospovidone provides rapid disintegration and dissolution to oral solid dosage forms.
Key benefits of the report:
This study presents the analytical depiction of the global superdisintegrants market along with the current trends and future estimations to determine the imminent investment pockets.
The report presents information related to key drivers, restraints, and opportunities along with detailed analysis of the global superdisintegrants market share.
The current market is quantitatively analyzed to highlight the global superdisintegrants market growth scenario.
Porter's five forces analysis illustrates the potency of buyers & suppliers in the market. 
The report provides a detailed global superdisintegrants market analysis based on competitive intensity and how the competition will take shape in coming years. 
Questions answered in the Superdisintegrants Market research report:
Who are the leading market players active in superdisintegrants market?
What are the current trends will influence the market in the next few years?
What are the driving factors, restraints, and opportunities in the market?
What are the projections for the future that will help in taking further strategic steps?
 Superdisintegrants Market: Global Opportunity Analysis and Industry Forecast, 2020–2027 Report Highlights
Aspects
Details
By Product

Croscarmellose Sodium
Crospovidone
Sodium Starch Glycolate
Ion Exchange Resin
Modified Cellulose
Others

By Type

Natural Superdisintegrant
Synthetic Superdisintegrant
Others

By   Dosage Form

Tablets and Capsules
Mouth dissolving Films

By Therapeutic Areas

Gastrointestinal
Cardiovascular
Neurology
Oncology
Hematology

By Region

North America (U.S., Canada, Mexico)
Europe (France, Germany, Italy, Spain, UK, Rest of Europe)
Asia-Pacific (China, Japan, India, South Korea, Australia, Rest of Asia-Pacific)
LAMEA (Brazil, South Africa, Saudi Arabia, Rest of LAMEA)

Key Market Players
Roquette Frères S.A, Asahi Kasei Corporation, JRS PHARMA, DowDuPont, Ashland Global Holdings Inc, Nippon Soda Co., Ltd., The Dow Chemical Company BASF SE, FMC Corporation, Huber Corporation, DFE Pharma