Surface Mounted (SMD) LED display is a type of flat-panel LED display characterized by 3 in 1 encapsulation which means that it integrated 3 colors (red, green, and blue) in a single system. The assembly on the circuit board is done by polarization process with high quality equipment on the front of the LED module. SMD LED displays are rectangular in shape and consist of three cells which contain a luminescent crystal or semiconductor material producing light when current flows through it. 
SMD LED displays are largely used in media and advertising sector as they provide unique pixel display designs enhancing customer engagement offering more luminosity at low cost with lower power consumption. These are largely used in domestic and industrial lighting systems, in automobiles as well as personal consumer electronic devices such as LED screens, TVs, projectors as they provide better, sharper images, longer lifespan with wider viewing angle avoiding motion delay. Developments in machine learning, big data analytics integrated with this display solution would offer exceptional visual performance, which implies that surface mounted LED display market share is expected to undergo significant growth  in the coming years.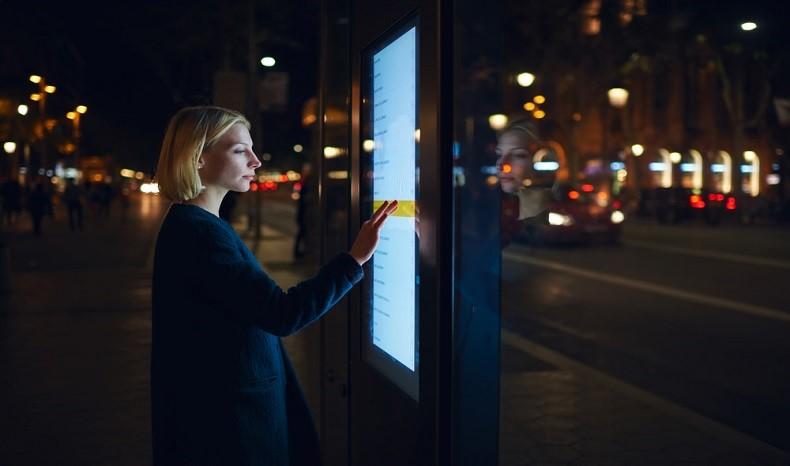 Covid-19 Impact Analysis:
Emergence of coronavirus, a deadly respiratory disease originating in Wuhan, became a serious health threat worldwide. China being the main manufacturing hub of electronic goods has been adversely affected due to the COVID-19 outbreak due to substantial slowdown in manufacturing operations. In February 2020, electronic display industry was already facing shortage of components which are mainly imported from China.
In June 2020, LG Display Ltd. Introduced SMD LED displays to allow retail stores, pharmacies dynamically relay up-to-date messaging on their health protocols, sanitization standards to customers. In addition, Operation Center Video Walls from Userful, Canadian software company specializing in surface-mounted LED displays, allow operators to view and monitor real-time content sources such as live camera feeds, TV broadcast, Web browser dashboards on video walls hence helping government officials and healthcare workers in decision-making.
The pandemic has caused temporary demand lapse for SMD LED display devices, owing to the cancellation of international delegation, board meeting, social gathering and temporarily closing down of retail stores, malls, restaurants has crippled demand for the surface mounted LED display market and outdoor advertisements. 
On the other hand, with schools, colleges and offices closing down and online courses becoming more prevalent interactive screens on walls or desks are in demand. Large display suppliers are trying to make their products more attractive at low cost and offer foldable, bezel-less displays.
SMD LED display is facing demand lapse in response to the unprecedented lockdown imposed. Currently, the demand is driven by the healthcare sector and emergency services to display real-time content, broadcast valuable information regarding testing centers, and helpful tips on how to stay safe during this crisis. The market is anticipated to make fast rebound shortly after lockdown restrictions are lifted.
Top Impacting Factors: Market Scenario Analysis, Trends, Drivers, and Impact Analysis
Rise in adoption of brighter surface mounted LED displays in personal consumer electronic devices such as LED screens, television, and projectors used for outdoor advertisement as well as to showcase important information in control rooms, conference, and exhibitions primarily drives the surface mounted LED display market growth. However, intense competition, high cost of these displays, and light pollution caused by high resolution and brightness of SMD LED displays hinder the market growth.
On the other hand, use of customized interactive SMD LED displays by police to improve criminal activity response rates as well as in the healthcare sector to keep staff updated of critical information further boosts the surface mounted LED display market revenue. Advancements in product innovation and production of interactive SMD LED displays to enhance shopping experience in retail shops presents new pathways to the surface mounted LED display industry.
New Product Launches to Flourish the Market
Leading surface mounted LED display market players have adopted necessary steps to improve quality and overall functionality of SMD LED displays with vivid colors to improve user-viewing experience.
In August 2019, LG Electronics, a South Korean multinational electronics company, launched 130 All-in-one LED screens, transparent OLED and new outdoor display at affordable prices and long-lasting services. LG 130 All-in-one LED screen features a 130-large screen with no seam or bezel and its large size with high picture quality supported by HDR10 presents accurate, realistic experience to viewers while fully captivating with surface sound driven by 162W 36 embedded sound units. It allows users easy access to picture mode and volume using remote control instead of connecting to a PC. 
The IP-56 rated Outdoor Display, XE4F series (55/49), with simple, robust design can be easily installed to meet needs under external environments requiring complex installation conditions. The XE4F series possess powerful brightness of 4,000 nits, providing clear and vivid picture quality under direct sunlight. IPS technology provides better control of the liquid crystals that allows the screen to be viewed at virtually any angle. With more LED units, XE4F series operate brighter at lower temperature and enables clear visibility even when the viewer is wearing polarized glasses. 
Surge in Use in Automotive and Industrial Applications
The global automotive industry is on the verge of tremendous change in terms of overall business model, owing to rapid advances in emerging technologies such as autonomous driving and augmented reality thus boosting commercialization aspects of surface mounted LED displays. 
In 2020 Mercedes Benz is set to launch its new customer model cars with OLED panels developed by LG display in dashboards and rear-seat monitors.
In 2021, General Motors would come up with the modestly customizable Cadillac Escalade. The most important feature is 14.2-inch digital instrument cluster behind the steering wheel where basic driver information shows up and can also be toggled between night-vision mode that leverages an infrared camera and an augmented reality view.
Key benefits of the stakeholders:
The study gives an analytical overview of the surface mounted LED display market forecast with current trends and future estimations to determine imminent investment pockets.
The report provides information related to key drivers, restraints, and opportunities along with detailed surface mounted LED display market analysis.
The current surface mounted LED display market trends are quantitatively analyzed.
Porter's five forces analysis illustrates the potency of buyers & suppliers in the market. 
Questions answered in the Surface mounted LED Display Market research report:
Who are the leading market players active in the surface mounted LED display market?
What would be the detailed impact of COVID-19 on the market?
What current trends would influence the surface mounted LED display market in the next few years?
What are the driving factors, restraints, and opportunities in the surface mounted LED display market?
What are the projections for the future that would help in taking further strategic steps?
 Surface Mounted LED Display Market Report Highlights
Aspects
Details
By Type

Single-screen
Video Wall
Signage
Variant Display
Interactive Whiteboard

By Location
By Layout
By Component

Hardware
Software
Service
Installation
Maintenance
Rental

By Product Type

Embedded LED display
Slatted LED display

By Application
By Industry Vertical

Commercial
Transportation
Industrial
Media and Advertising
Healthcare
Others

By Region

North America (US, Canada, Mexico)
Europe (Germany, UK, France, Russia, rest of Europe)
Asia Pacific (India, Japan, China, rest of Asia Pacific)
LAMEA (Latin America, Middle East, Africa)

Key Market Players
Sony Corp., Daktronics Inc., Lighthouse Technologies Ltd., Panasonic Corp., Data Display Co. Ltd., Toshiba Corp., Leyard Optoelectronics Co. Ltd., Barco NV, Galaxia Electronics and Toshiba Corp., Shenzhen Dicolor Optoelectronics Co. Ltd.