Surgical Hat Market Research, 2030
The global surgical hat market size was valued at $533.5 thousand in 2021 and is projected to reach $719.1 thousand by 2030, growing at a CAGR of 3.3% from 2022 to 2030. Polyester is a synthetic fabric derived from a chemical reaction combining petroleum, water, and coal. It may be the best fabric for surgical scrub hats since it is long-lasting, easy to care for, quick to dry, and resistant to shrinking, stretching, and wrinkling. Polyester can hold perspiration rather than absorb it like cotton, so you may feel a bit damp, but it will help to keep the surgical room clean. Due to its great utility, it is frequently used for surgical scrub caps.
The global surgical hat market has benefited from the global pandemic. The massively rising demand for surgical hats in healthcare facilities to stop the COVID-19 infection is what is driving the market's expansion. The growing significance of personal safety and hygiene in healthcare and the general public to prevent the transmission of the lethal and highly contagious virus is another major reason driving the expansion of the worldwide surgical hat market.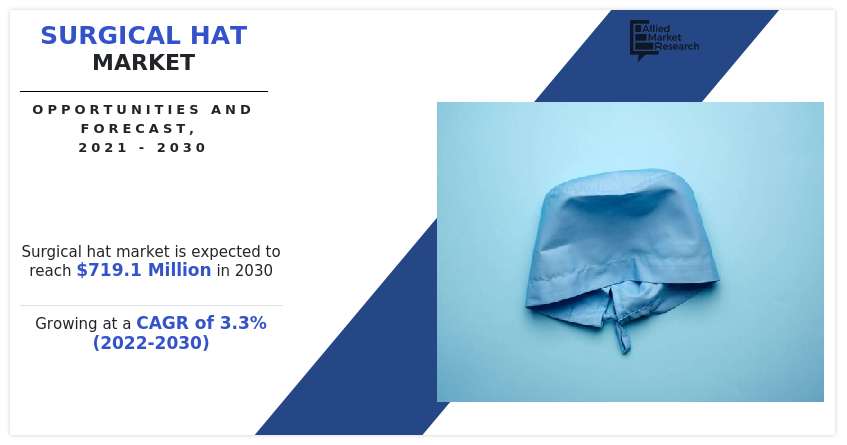 The surgical hat market is segmented into Application, Distribution Channel and Type.
Disposable hats are often rejected at many hospitals, as nurses may be unfamiliar with the concept of bringing surgical hat home to wash. Some claim that 'using washable goods' poses an infection risk, however in most cases, these regulations are out of date. According to Linda Comyns of Walsgrave Theatres for a long-time using cloth hats were never allowed in theatres since this was judged an infection control concern. However, studies have shown that it makes no difference whether the hats are disposable or of cloth, as long as the cloth hats are changed on a daily basis. Each member of staff has been issued one hat more than the amount of shifts they work each week to assist ensure compliance. Using one hat in daily basis they are harmful for human body.
Many hospitals in the U.S. have established sustainability targets in order to address the healthcare industry's substantial carbon impact. However, the majority of patient care is presently provided by single-use, disposable medical equipment in many institutions. These goods create millions of pounds of garbage each year, considerably increasing the environmental effect of hospitals. Non-hazardous medical waste, such as Personal Protective Equipment (PPE) used in infection control, accounts for 85% of all medical waste produced by hospitals. As a result, employing reusable PPE would considerably reduce hospital waste and help hospitals become more sustainable. These factors are anticipated to propel the surgical hat market growth in the near future.
The key players profiled in this report include Medline Industries, Inc., Cardinal Health., Henry Schein, Inc., Owens & Minor, O&M Halyard or its affiliates., SEE KATE SEW, Mölnlycke Health Care AB., PAUL HARTMANN AG, Zarys International Group, Alleset, and KIMKAPS LLC.
The global surgical hat market is segmented on the basis of type, application, distribution channel, and region. By type, the market is sub-segmented into cotton, non-woven, and others. By application, the market is classified into hospital, ambulatory surgery center, clinic, and others. By distribution channel, the market is classified into online and offline. By region, the market is analyzed across North America, Europe, Asia-Pacific, and LAMEA.
Surgical Hat Market

---

By Application
Ambulatory surgery centers and anticipated to grow at a fastest CAGR over the projected timeframe
By type, the non-woven sub-segment dominated the market in 2021. Non-woven surgical caps are available in blue, white, and green color. These non-woven surgical hats are designed to meet the needs of the health and medical care industries. Non-woven surgical hat serve to cover the entire head and scalp area. As the hair and scalp contain a huge number of microorganisms, releasing these microbes during a medical operation might be hazardous. This skull hat is the most effective approach to ensure cleanliness. Several companies were providing a non-woven surgical cap at a reasonable price. Furthermore, surgical hat market contributes to a hygienic work environment by preventing unsanitary hair infection during surgeries. These factors are projected to propel the surgical hat market demand over the comin years.
Surgical Hat Market

---
By Distribution Channel
Offline segment held the highest market share in 2021 and is anticipated to continue its dominance over the forecast period
By application, the hospital sub-segment dominated the global surgical hat market share in 2021. The growth of the hospital sub-segment is mostly due to factors such as strategic developments between innovative firms and hospitals, an ageing population, and the establishment of specialty hospitals. The hospital sector is regarded as one of the most critical components of healthcare infrastructure, owing to its better outpatient services and increased patient satisfaction. As a result, the need for surgical apparel in the hospital sub-segment is expected to expand dramatically, potentially bolstering the surgical headgear business in the future.
Surgical Hat Market

---
By Type
Non-woven held the highest market share in 2021
By distribution channel, the offline sub-segment dominated the global surgical hat market share in 2021. The majority of disposable surgical hats are sold through offline distribution channels such as shops, convenience stores, brand outlets, and direct sales. Since pharmacies and medical stores stock a wide selection of surgical headgear, several companies are choosing to advertise and market their goods through these channels. Additionally, buyers are able to assess the quality and materials used in various products when they visit these businesses in person.
Surgical Hat Market

---
By Region
Asia-Pacific is projected to grow at the fastest CAGR over the forecast period
By region, North America dominated the global market in 2021 and is projected to remain the fastest-growing sub-segment during the forecast period. The surgical hat demand in countries, namely China and India, is increasing rapidly. For instance, in March 2020, there have been signs of improvement in PPE supply availability, owing in part to China's normalization of manufacturing. Manufacturers in China have stated that their manufacturing lines are operational but reliant on raw material availability, underscoring the worry and necessity of obtaining raw materials for face masks, surgical hats, gowns, and coveralls.
Impact of COVID-19 on the Global Surgical Hat Industry
The global pandemic has a positive influence on the global surgical hat business. The cause for the market expansion is the increasing demand for surgical hats in healthcare settings to combat COVID-19 infection.

The Indian Government has expanded its export restriction in pandemic to include all PPE items, such as mask, cap, gown including raw materials such as non-woven textiles used to make surgical cap and other protective equipment

Sales of surgical hat are directly proportional to the demand from end-use industries namely healthcare, appliances, packaging, and others. However,

the COVID-19 pandemic's import-export restrictions, restricted borders, and supply chain interruptions had a significant impact on the need for surgical hats in the healthcare sector.
Key Benefits For Stakeholders
This report provides a quantitative analysis of the surgical hat market forecast segments, current trends, estimations, and dynamics of the surgical hat market analysis from 2021 to 2030 to identify the prevailing surgical hat market opportunities.
The market research is offered along with information related to key drivers, restraints, and opportunities.
Porter's five forces analysis highlights the potency of buyers and suppliers to enable stakeholders make profit-oriented business decisions and strengthen their supplier-buyer network.
In-depth analysis of the surgical hat market segmentation assists to determine the prevailing market opportunities.
Major countries in each region are mapped according to their revenue contribution to the global market.
Market player positioning facilitates benchmarking and provides a clear understanding of the present position of the market players.
The report includes the analysis of the regional as well as global surgical hat market trends, key players, market segments, application areas, and market growth strategies.
 Surgical Hat Market Report Highlights
Aspects
Details
Application

Hospital
Ambulatory Surgery Centers
Clinics
Others

Distribution Channel
Type
By Region

North America (U.S., Canada, Mexico)
Europe (Germany, U.K., France, Spain, Italy, Rest of Europe)
Asia-Pacific (China, Japan, India, South Korea, Australia, Rest Of Asia Pacific)
LAMEA (Brazil, Saudi Arabia, UAE, South Africa, Rest of LAMEA)

Key Market Players
Halyard HealthMedicom, HARTMANN GROUP, molnlycke health care us, hartmann, zarys international group llc lp, GRI-Alleset, Inc., KimKaps, medline industries, inc., Cardinal Health Inc., Henry Schein, Inc., Owens & Minor Inc.