The surgical robotic systems market size was valued at $ 5,341.0 million in 2019, and is expected to reach $ 15,010.3 million by 2027 at a CAGR of 13.7% during the forecast period.
Robotic surgery is a minimally invasive type of surgery that uses robotics to perform surgical procedures. Such robotic systems are operated by surgeons and are made of miniaturized surgical instruments placed on robotic arms, allowing surgeons to conduct the operation accurately. Surgical robotic systems are a combination of equipment, accessories, software, and services that help to perform several minimally invasive surgeries including gynecological, cardiac, neurological, orthopedic, and others. Robotic systems allow surgeons to automate the surgical procedure, thereby improving efficacy and precision during the procedure, and minimizing post-surgical complications. In addition, they provide effective representations of body parts and increase dexterity, which aid surgeons to work on inaccessible body parts. Further, they reduce the risk of blood loss and infection; and offer shorter recovery time and less amount of scars in comparison to the traditional open surgery.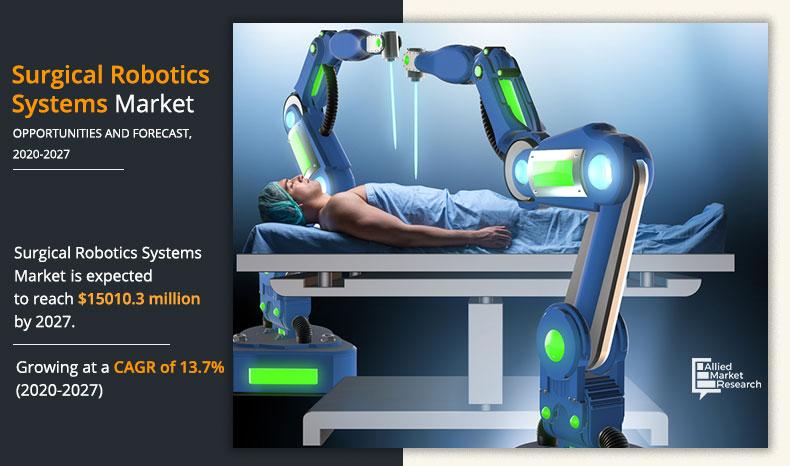 Get more information on this report : Request Sample Pages
In addition, since the past few years, surgical robots have undergone a paradigm shift due to technical developments in the fields of 3D imaging, high-definition microscopic cameras, data recorders, data processing devices, motion sensors, remote navigation systems, robotic-controlled catheters and other medical-use accessories. Hence, this is to develop new applications for existing platforms as well as create disruptive technologies, which will drive the surgical robotic market.
The increasing need for automation in the healthcare sector and growing demand for minimally invasive surgeries are the major factors driving the surgical robotic systems and procedures market. In addition, a rise in incidences of colorectal cancer, neurological disorders, gynecological diseases among others, is expected to boost the adoption of robotic surgical systems. Surgical robotic systems offer less post-surgical complications and reduce labor cost. Due to this, large-scale hospitals based in developed and developing economies are now favoring automate surgical/hospital services, which ultimately drives the market growth. On the other hand, high cost associated with surgical robot's procedures and accidental death/injuries due to broken instruments and system errors are projected to hinder the surgical robotic systems market growth.
COVID-19 pandemic, which started from Wuhan city of China, has widely spread across the globe. This pandemic has disrupted growth in many economies across various domains. The COVID-19 pandemic has stressed healthcare systems worldwide, so many hospitals and trauma center services are no longer open for public services, owing to safety measures imposed by governments. The COVID-19 outbreak is expected to impact positively on the global surgical robotic systems market during the forecast period. In many hospitals around the world, non-emergent surgeries were put on hold as hospitals were transformed into COVID centers. COVID-19 has put a virtual halt to elective surgeries, robotic-assisted surgeries are beneficial to support of critical patients, owing benefits over open surgery and often over conventional laparoscopy surgeries. COVID-19 pandemic has given a boost to robotic-assisted surgeries and many systems have been installed in developing countries in the last few months.
The global surgical robotics systems market is segmented into component, application and region. Based on component, the market is segmented into systems, accessories, and services. The based on application is segmented into gynecology surgery, urology surgery, neurosurgery, orthopedic surgery, general surgery and others. Region wise, the market is analyzed across North America, Europe, Asia-Pacific, and LAMEA.
Component segment review
By component, the accessories segment was the highest contributor to the market in 2019, owing to rising adoption of surgical robotic systems across Tier-1 hospitals, recurrent sales of accessories for these systems and demand for highly efficient replaceable components. Services is expected to emerge as the leading segment since it is mandatory for every surgical robotic systems buyer to maintain the system's performance. The services segment would exhibit the fastest growth, during the forecast period.
Surgical Robotic Systems Market

---
By Component
Accessories & Instrument segment holds a dominant position in 2019 and would continue to maintain the lead over the forecast period.
Get more information on this report : Request Sample Pages
Application segment review
By application, the gynecology surgery segment accounted for the highest share in 2019. However, orthopedic surgery is expected to register the highest CAGR during the forecast period owing to large patient population undergoing robotic surgical procedures, lesser healing time and comparatively less post-surgical complications.
Surgical Robotic Systems Market

---
By Surgery Type
Orthopedic Surgery Segment is projected as one of the most lucrative segment.
Get more information on this report : Request Sample Pages
Orthopedic Surgery Segment is projected as one of the most lucrative segment.
North America accounted for the highest revenue generating region in terms of revenue, in 2019 with around 52.9% share of the global surgical robotic systems market. The market growth in North American region is supplemented by rapid technological advancements, increase in investments in R&D activities, rise in patient pool and widening scope of applications. However, Asia-Pacific would emerge as the leading region during the forecast period by registering a CAGR of 14.4%. This is mainly attributed to the impending need for sophisticated healthcare facilities and rising incidence of gynecological diseases and others.
Surgical Robotic Systems Market

---
By Region
Asia Pacific region would exhibit the highest CAGR of 14.4% during 2020-2027.
Get more information on this report : Request Sample Pages
Some of the key players operating in the surgical robotic systems market include Intuitive Surgical, Inc., Stryker Corporation, Titan Medical Inc., Transenterix, Inc., Johnson & Johnson, Globus Medical, Inc, Medtronic Plc., Siemens Ag (Siemens Healthineers), Smith & Nephew and Zimmer Biomet Holdings Inc.
Key Benefits For Stakeholders
The study provides an in-depth analysis of the global surgical robotic systems market along with the current trends and future estimations to elucidate the imminent investment pockets.
A comprehensive analysis of the factors that drive and restrict the surgical robotic systems market growth is provided in the report.
The surgical robotic systems market forecast is studied from 2020 to 2027.
Comprehensive quantitative analysis of the industry from 2019 to 2027 is provided to enable the stakeholders to capitalize on the prevailing surgical robotic systems market opportunities.
Extensive analysis of the key segments of the surgical robotic systems industry helps to understand the application and products of surgical robotics that are used across the globe.
Key market players and their strategies have been analyzed to understand the competitive outlook of the surgical robotic systems market.
 Key Market Segments & Key Market Players
Segments
Sub-segments
By Component

Systems
Accessories & Instrument
Services



BY SURGERY TYPE

Gynecology Surgery
Urology Surgery
Neurosurgery
Orthopedic Surgery
General Surgery
Others



By Region

North America
Europe

Germany
France
Uk
Italy
Spain
Rest of Europe

Asia-Pacific

Japan
China
India
Australia
Rest of Asia-Pacific

LAMEA

Brazil
Saudi Arabia
South Africa
Rest of LAMEA



Key Market Players

INTUITIVE SURGICAL, INC.
GLOBUS MEDICAL, INC
Johnson & Johnson
Medtronic Plc.
Siemens AG (Siemens Healthineers)
Smith & Nephew
Stryker Corporation
Titan Medical Inc.
Transenterix, Inc.
Zimmer Biomet Holdings, Inc.