The global surgical sutures market size was valued at $4,350.12 million in 2019 and is projected to reach $6,115.02 million by 2027, registering a CAGR of 5.60% from 2020 to 2027. Surgical sutures, commonly called stitches, involve the use a needle with an attached length of thread. Surgical sutures are used to close wounds such as skin ulcers, neuropathic ulcers, pediatric cardiac surgery, and diabetic ulcers. These sutures cause less reaction and provide better passage of the thread through the tissue.
The COVID 19 pandemic has forced postponement of elective surgeries to limit the spread of disease while preserving hospital capacity and resources. Furthermore, reduced general surgical procedure impact the surgical sutures market in a deleterious manner.
The growth of the global surgical sutures market is majorly driven by surge in incidence of accidents, increase in expenditure on healthcare, rise in popularity of cosmetic surgeries, and development of advanced sutures such as film coated sutures. However, rise in preference for minimally invasive surgical procedures and presence of alternative wound care products act as the major the market constraints. Conversely, increase in awareness about novel surgeries, surge in geriatric population, and rise in demand for better healthcare facilities are expected to provide lucrative opportunities for the surgical sutures market growth during the forecast period.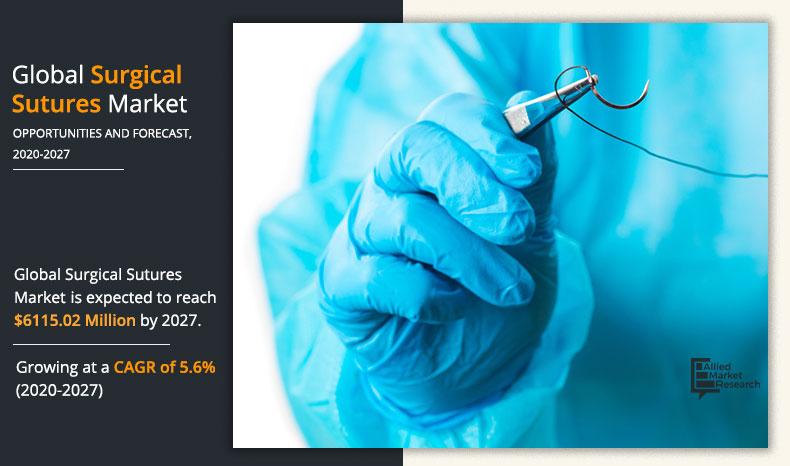 The surgical suture market is negatively impacted by the pandemic, as restrictions elated to functioning hours of general surgical procedure across the globe, which has been significantly diminished to prevent the spread of COVID-19. Furthermore, closure of many departments of various hospitals worldwide due to shortage of staff required has also impacted the number of surgeries, which are suggested to non-COVID-19 patients. Moreover, COVID-19 patients are expected to rush to allocate valuable resources to manage these patients. This has forced the world over to cancel elective surgeries. If there is any urgency regarding the patient's surgery, surgical teams should consider waiting for COVID-19 test results of patients who may be suspected of being infected. In case of anticipated OT staff shortage, emergency surgical procedures especially in the night should be considered only after determining suitable availability of staff and equipment. Aerosol is generated during procedures such as intubation, electrocautery of blood, catheter insertion etc. This increases the risk of healthcare workers acquiring infection from patients who test COVID-19 positive or patients who are on high suspicion of having infections. Furthermore, reduced general surgical procedure impact the surgical sutures market in a deleterious manner.
The global surgical sutures market is segmented into product type, material, application, and region. On the basis of product type, the market is categorized into automated suturing devices and sutures. Sutures by type are further divided into absorbable sutures and nonabsorbable sutures. Depending on material, the market is segregated into monofilament and multifilament. By application, it is classified into cardiovascular surgeries, general surgeries, gynecological surgeries, orthopedic surgeries, and ophthalmic surgeries. Region wise, it is analyzed across North America, Europe, Asia-Pacific, and LAMEA.
Surgical Sutures Market

---
By Drug Class
Sutures segment holds a dominant position in 2019 and would continue to maintain the lead over the forecast period.
Global surgical sutures market, by product type 
Surgical sutures are surgical threads used to close cuts of a wound to promote the healing process. In terms of product type, the automated suturing devices segment dominated the surgical suture market in 2019. This is attributed to the fact that ASDs are used to seal/close a wound and surgical incision. They are applicable in various surgical methods such as minimally invasive surgery, open surgical operations, and female urogenital surgeries. These devices are preferred during laparoscopic surgeries, as they provide accuracy and precision while operating in a three-dimensional plane. Thus, ASD adoption is on a rise over traditional suturing methods, owing to the aforementioned benefits, thereby augmenting the market growth. 
Surgical Sutures Market

---
By Material
Multifilament Segment is projected as one of the most lucrative segment.
Global surgical sutures market, by material 
By material, the multifilament segment is projected to grow at the highest CAGR during the forecast period. Multifilament sutures are braided sutures with multiple threads of material and they come with a coating of different materials, such as silicon, and wax. They cause inflammatory reaction but require less number of ties to maintain the knot. Multifilament sutures are commonly produced from materials, such as PGA sutures, polyglactin 910, silk, and polyester sutures. These are majorly used in orthopedic surgeries and others.
Surgical Sutures Market

---
By Region
Asia Pacific region would exhibit the highest CAGR of 7.5% during 2020-2027.
Region segment review
North America was the leading revenue contributor to the global surgical sutures market in 2019, owing to rise in adoption of advanced absorbable & antibacterial coated sutures, increase in incidence of various chronic diseases, and the development of the wound management sector. The U.S. surgical sutures market is expected to account for the major share of the market, due to rise in demand for advanced surgical methods & surgical products such as biocompatible surgical sutures with antimicrobial coatings. Moreover, high healthcare investment for R&D in the U.S. and Canada is anticipated to boost the market during the forecast period.
However, Asia-Pacific is expected to register the highest CAGR during the forecast period, owing to the presence of high population base, increase in awareness about chronic diseases, development in healthcare infrastructure, rise in demand for number of surgical procedures with increase in incidence of chronic diseases in the region, and demand for better healthcare services from the large patient population. Asia-Pacific represents significant opportunities for venture capitalists and investors, as the developed markets are comparatively saturated. Remarkable surgical sutures market developments led by China and Japan to incorporate new technologies and develop healthcare settings majorly drive the market growth in Asia-Pacific.
Key Benefits For Stakeholders
This report provides a detailed quantitative analysis of the current trends and future estimations from 2019to 2027, which assist to identify the prevailing market opportunities. 
An in-depth market analysis includes analysis of various regions, which is anticipated to provide a detailed understanding of the current trends to enable stakeholders formulate region-specific plans.
A comprehensive analysis of factors that drive and restrain the growth of the global is provided.
Region-wise and country-wise market conditions are comprehensively analyzed in this report.
The projections in this report are made by analyzing the current trends and future market potential from2019 to 2027, in terms of value.
An extensive analysis of various regions provides insights that are expected to allow companies to strategically plan their business moves.
Key market players within the surgical sutures market are profiled in this report and their strategies are analyzed thoroughly, which helps in understanding competitive outlook of the market.
Key Market Segments
By Product Type
Automated Suturing Devices

Disposable Automated Suturing Devices
Reusable Automated Suturing Devices

Sutures

Absorbable Sutures

Natural Sutures
Synthetic Sutures

Vicryl Sutures
Monocryl Sutures
Polydioxanone Sutures
Polyglycolic Sutures
Others

Nonabsorbable Sutures

Nylon Sutures
Prolene Sutures
Stainless Steel Sutures
Others
By Material
Monofilament
Multifilament
By Application
Cardiovascular Surgeries
General Surgeries
Gynecological Surgeries
Orthopedic Surgeries
Ophthalmic Surgeries
Other Surgeries
By Region
North America
Europe

Germany
France
UK
Italy
Spain
Rest of Europe

Asia-Pacific

Australia
Japan
India
China
Rest of Asia-Pacific

LAMEA

Brazil 
Saudi Arabia 
South Africa
Rest of LAMEA