The global surrogacy market generated $112.80 million in 2015, and is projected to reach $201.40 million by 2025, growing at a CAGR of 6.1% from 2016 to 2025.
Surrogacy is a method of assisted reproduction in which the intended parents work with a surrogate who carries the baby until birth. There are two types of assisted reproductive procedures that are used for surrogacy, namely, traditional and gestational. Traditional technology involves utilization of surrogate's eggs, making her biological mother of the baby. While in gestational, the surrogate does not have any type of biological link with the baby. Rise innumber of people suffering from infertility problems including reduced sperm count, problem in egg or sperm production act as high impact rendering factor for growth of the surrogacy market. Factors such as hormonal changes, stress, alcohol consumption, and steroid lead to the rise in infertility cases, thereby, positively impacting the business growth.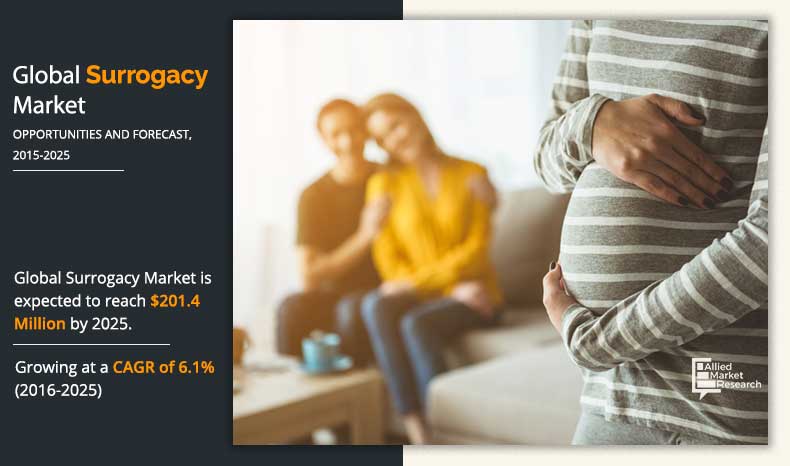 Most markets are dropping down, owing to the outbreak, including the surrogacy market. The surrogacy market is negatively impacted by the pandemic as most countries adopted lockdown to combat the pandemic. In addition, most fertility clinics across the globe have stopped undertaking new cases of infertility treatment for next few months, till the condition seems to be under control. For instance, on March 17, 2020, the American Society for Reproductive Medicine (ASRM) is sued certain recommendations that included not initiating new cycles of assisted ovulation, intrauterine inseminations (IUIs), in vitro fertilization (IVF), or "non-urgent" egg freezing.
Technological advancements in assisted reproductive technologies, rise in awareness regarding infertility treatment, and growth in number of fertility clinics are expected to drive the surrogacy market growth during the forecast period. However, high cost related to the procedure along with stringent regulations pertaining to surrogacy in several countries restrict growth of market. Various factors that lead to infertility include problem with sperm or egg production, age, genetic factors, and excessive exposure to some chemicals and toxins. Alcohol consumption, steroid use, surgical removal of one of the testicles due to cancer, and diabetes can also result in low sperm count, thereby leading to infertility problems in men.In women, hormonal disorders, benign growths in uterus, abnormal anatomy of the cervix or uterus, blocked fallopian tubes, stress, chemotherapy, kidney, or sickle cell disease may result in infertility. Furthermore, rise in number of fertility clinics along with growth in awareness about fertility treatments such as sperm/egg donation and in-vitro fertilization escalates the adoption of fertility treatments, thereby propelling the business growth. Moreover, rise inprevalence of polycystic ovarian syndrome in women leads to difficulty in conceiving child, resulting in escalated demand for surrogate mother, thereby leading to market expansion. However, stringent regulations pertaining to commercial method along with high cost involved in the procedure hampers the market growth.
Surrogacy market Segmentation
The global surrogacy market is segmented on the basis of type, technology, end user, and region. By type, it is divided into gestational surrogacy and traditional surrogacy. By technology, it is segmented into IVF with intracytoplasmic sperm injection (ICSI), IVF without ICSI, and intrauterine insemination (IUI). On the basis of region, the market is analyzed across North America (the U.S., Canada, and Mexico), Europe (Germany, the UK, France, Spain, Italy, and rest of Europe), Asia-Pacific (Japan, China, India, Australia, and rest of Asia-Pacific), and LAMEA (Brazil, South Africa, Saudi Arabia, and rest of LAMEA).
Segment review
On the basis of type, gestational surrogacy dominated the global market in 2015, and is anticipated to continue this trend throughout the forecast period, owing to high adoption of gestational technique by surrogacy professionals along with technological advancements. Moreover, high adoption of gestational technique by surrogacy professionals along with technological advancements is expected to drive the segment growth. Furthermore, emotional and legal complexities associated with traditional surrogacy further propels the adoption of gestational surrogacy.
Gestational Surrogacy holds the dominant position in 2015 and would continue to maintain the lead over the forecast period.
By technology, the IVF (with ICSI) segment accounted for the largest market share in 2015. This segment is expected to exhibit a prominent growth rate, attributed to the fact that it has revolutionized male infertility treatment, as it requires smaller number of sperms that are penetrated into egg with the help of injection technique.
Surrogacy Market

---
By Technology
IVF with (ICSI) segment is projected as one of the most lucrative segments.
Asia-Pacific presents lucrative opportunities for key players operating in the surrogacy market. Surrogacy in countries such as India is cheaper compared to developed countries such as the U.S. and Canada; thereby, fueling the market growth of surrogacy in this region. Growth of the surrogacy market is supplemented by surge in adoption of gestational surrogacy, fertility types, and rise in fertility tourism. On the other hand, poor technological outreach and cultural barriers of surrogacy, especially IVF types in the less developed countries of Asia-Pacific restrict the market growth.
Surrogacy Market

---
By Region
North America region would exhibit the highest CAGR of 6.4% during 2016-2025.
The key players operating in the global surrogacy market include New Hope Fertility Center, IVI RMA Global, Clinic Scanfert, Bourn Hall Fertility Clinic, NOVA IVI Fertility, Houston Fertility Center, Ovation Fertility, Extraordinary Conceptions, Care Fertility Group, Growing Generations LLC.
Key Benefits For Stakeholders
The study provides an in-depth analysis of the surrogacy market, and the current trends and future estimations to elucidate the imminent investment pockets.
It presents a quantitative analysis of the surrogacy market from 2015 to 2025 to enable stakeholders to capitalize on the prevailing market opportunities.
Extensive analysis of the surrogacy market based on procedures and services assists to understand the trends in the industry.
Key players and their strategies are thoroughly analyzed to understand the competitive outlook of the surrogacy market.
 Surrogacy Market Report Highlights
Aspects
Details
By Type

Gestational surrogacy
Traditional surrogacy

By Technology

IVF with ICSI
IVF without ICSI
Intrauterine Insemination

By Region

North America (U.S., Canada, Mexico)
Europe (UK, Rest of Europe)
Asia-Pacific (India, Australia, Rest of Asia-Pacific)
LAMEA (Brazil, South Africa, Rest of LAMEA)

Key Market Players
NEW HOPE FERTILITY CLINIC, IVI RMA GLOBAL, HOUSTON FERTILITY CENTER, CLINIC SCANFERT, BOURN HALL FERTILITY CLINIC, NOVA IVI FERTILITY, OVATION FERTILITY, EXTRAORDINARY CONCEPTIONS, CARE FERTILITY GROUP, GROWING GENERATIONS LLC