Sustainable Tourism Market Research, 2032
The global sustainable tourism market was valued at $3.3 trillion in 2022, and is projected to reach $11.4 trillion by 2032, growing at a CAGR of 14% from 2023 to 2032.
Sustainable tourism, also known as ecological tourism or eco-tourism, aims to lessen the damaging effects of travel on the planet while fostering positive social and economic benefits. It places a strong emphasis on safeguarding the environment, preserving biodiversity, respecting indigenous cultures, and upholding moral principles along the whole tourism value chain. The plan seeks to strike a balance between meeting the needs and expectations of visitors, improving the welfare of the local population, and preserving and safeguarding both cultural and natural resources. 
Increasing importance of global environmental conditions as well as the willingness of tourists to engage in tourism that benefits the local populace are some of the major factors that positively impact the sustainable tourism market. Greater efforts taken by younger generation of tourists to maintain sustainable practices while visiting tourist areas will boost the market in the future.
Globally, as travelers become more aware of the environmental, social, and cultural implications of their journeys, there is an increasing desire for sustainable tourism. Travelers are seeking ways to lessen their ecological footprint due to a rising awareness of the repercussions of environmental deterioration, the depletion of forests, and the loss of biodiversity. They actively seek out destinations and activities that promote environmental preservation, reduce carbon emissions, and protect natural resources. Travelers are becoming increasingly concerned about the treatment of wildlife and the preservation of natural habitats. Customers seek out ethical wildlife tourism experiences that prioritize animal welfare and promote conservation. They are drawn to locations that promote ethical encounters with wildlife, increase education and awareness, and aid in conservation. Many companies and organizations are also incorporating sustainable tourism into their CSR (corporate social responsibility) agendas. They are promoting eco-friendly travel options, integrating them into their regular operations, and collaborating with eco-travel suppliers. This corporate commitment reinforces the need for sustainable travel and helps increase the sustainable tourism market size. 
Favorable government initiatives are crucial for developing and supporting the sustainable travel and tourism sector. Globally, governments are starting to recognize the value of sustainable tourism for societal development, economic expansion, and environmental preservation. Governments have established laws and regulations to promote eco-friendly travel. These regulations may contain instructions for environmental management, support for initiatives to certify sustainable tourism, guidelines for energy and waste management, and incentives for sustainable tourism businesses. By fostering an atmosphere for sustainable practices, these rules encourage those working in the industry to take more responsible behaviors. Governments may offer financial incentives to support initiatives for sustainable tourism. For community-based tourist activities, energy-efficient renovations, and the creation of sustainable infrastructure, these incentives could come in the form of loans, grants, tax exemptions, and subsidies. Financial support encourages businesses to make investments in environmentally friendly practices and helps with the start-up costs associated with implementing sustainable projects. Governments participate in agreements and initiatives on a global scale to advance sustainable tourism. They collaborate with other countries to share knowledge, improve sustainable tourism globally, and exchange best practices. Enhancing cross-cultural understanding, promoting sustainable tourism on a global scale, and making it simpler to spread sustainable tourism practices. 
The general population does not understand or are aware of the ideas and practices of sustainable tourism. Many tourists are not aware of how their travel choices can affect the environment, as well as the adverse impacts that tourism has on society, the economy, and the environment. Without the proper information, they could fail to actively consider opportunities for sustainable tourism or understand the value of engaging in ethical travel practices. The lack of effective communication channels and instructional programs frequently harms efforts to promote sustainable tourism. Educational institutions, tourism organizations, and governments all play crucial roles in informing the public and promoting awareness of sustainable tourism among industry players. In the absence of comprehensive and engaging educational activities, which would impede market expansion, understanding of sustainable tourism may remain limited. Some tourism businesses could be reluctant to adopt sustainable practices due to perceived obstacles or a lack of understanding. Converting to sustainable tourism may be challenging or time-consuming because it calls for organizational and behavioral changes as well as financial expenditures in sustainable infrastructure. Such elements result in losses for the market for sustainable travel.   
One of the major developments in the industry for sustainable tourism is the rising environmental concern among younger generations. As younger generations, such as Millennials and Generation Z, for example, become more environmentally conscious and look for sustainable travel experiences, the market will gain immensely in the future and these generations will occupy a significant sustainable tourism market share. This shift in consumer behavior has had a significant impact on the tourism industry. The younger demographics are actively searching for vacation destinations where environmental preservation and sustainability are top priorities. They are drawn to places with natural landscapes, protected areas, and eco-friendly behaviors. Young travelers who are concerned about the environment are drawn to eco-friendly destinations that demonstrate a commitment to environmental protection and offer genuine, nature-based experiences. Travel experiences that are socially and environmentally responsible are gaining popularity among younger generations. They seek out opportunities to engage with local cultures, support local businesses, and participate in local activities. Younger generations are especially drawn to sustainable tourism providers who give authentic, fully immersive experiences, promote cultural preservation, and present opportunities for meaningful connections with local residents. These elements may have a favorable future effect on the sustainable tourism market.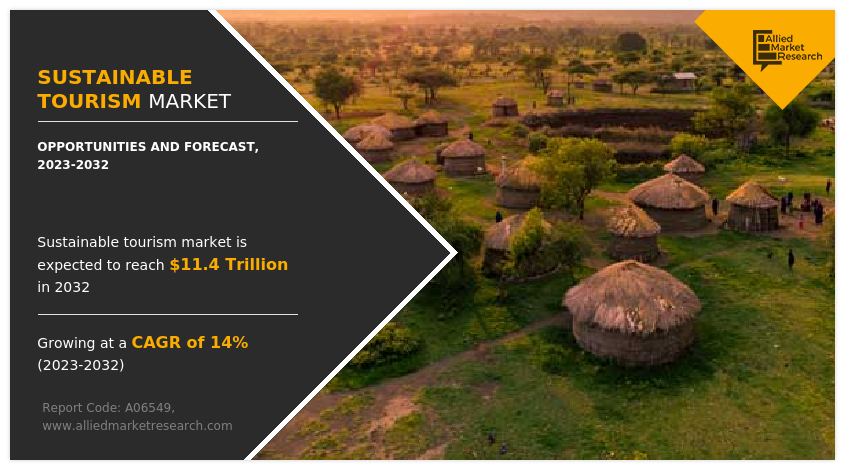 Segment Overview 
The sustainable tourism market is segmented on the basis of type, application, age group, and region. By type, the sustainable tourism market is classified into coastal tourism, mountain tourism, and island tourism. Depending on application, the market is categorized into solo, group, family, and couples. By age group, the market is divided across millennials, baby boomers, Generation X, and silver hair. y region, the market is divided across North America (the U.S., Canada, and Mexico), Europe (UK, Germany, France, Italy, Spain, Netherlands, Rest of Europe), Asia-Pacific (China, Japan, India, South Korea, Australia, and rest of Asia-Pacific), and LAMEA (Brazil, Argentina, Saudi Arabia, United Arab Emirates, South Africa, and the Rest of LAMEA).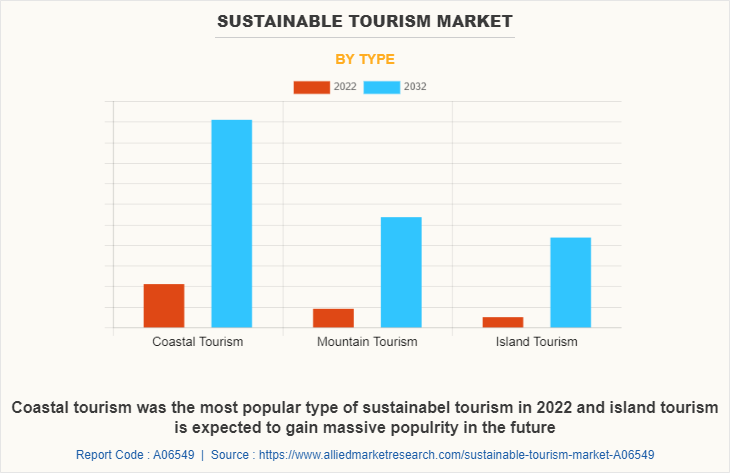 By Type 
Coastal tourism has a big impact on the demand for sustainable travel. Because of its special qualities, such as sandy coastlines, maritime life, water-related activities, and cultural past, coastal areas draw millions of tourists from all over the world. Coastal tourism needs to be appropriately managed to preserve the ecosystem, the environment, the local population, and the cultural heritage of these areas. The sustainable tourism industry includes a large portion of mountain tourism. Because they provide breathtaking scenery, a special natural ecology, adventure sports, and a rich cultural history, mountains draw a lot of visitors. To safeguard fragile mountain ecosystems, the local population, and long-term sustainability, it is essential to govern mountain tourism properly. Islands make up a sizeable share of the tourist attractions in the global market for sustainable tourism because of their stunning beaches, diverse aquatic ecosystems, rich cultural past, and unique landscapes. Sustainable island tourism is being swiftly implemented by many tourism organizers in order to protect delicate island ecosystems, uphold local cultures, and ensure the long-term sustainability of these places, which will also boost sustainable tourism market growth.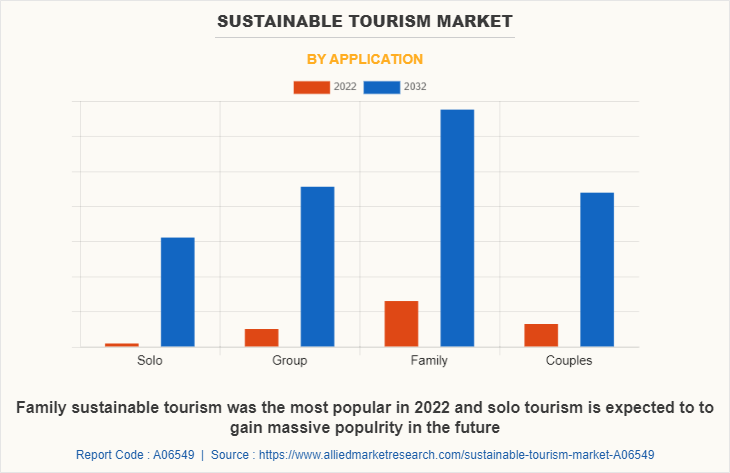 By Application 
A rapidly developing category for sustainable tourism is solo tourism and travel, also known as solo travel or lonely travel. Traveling alone without companions or organized tour groups is referred to as solo tourism. It offers tremendous opportunities for cultural immersion, growth, and self-discovery. When done carefully, solo travel offers many benefits. The broader sustainable tourism industry includes group tourism, sometimes known as organized tour groups or group travel. Group tourism refers to organized trips where several people travel together under the direction of a tour operator or group leader. When done sustainably, group travel may provide a number of benefits. Family travel, also known as intergenerational travel or family tourism, makes up a substantial percentage of the demand for sustainable tourism. Family tourism refers to travel experiences that involve members of the family, such as parents, children, and occasionally extended family. Responsible family travel can be advantageous in a variety of ways, and help increase the sustainable tourism market demand. Couples tourism, often known as romantic travel or partner holidays, is a significant portion of the global tourism market. Travel experiences designed exclusively for partners are referred to as couples tourism, whether they are for a romantic trip, a marriage anniversary celebration, or just some quality time. When done correctly, couples' travel can be advantageous in a number of ways.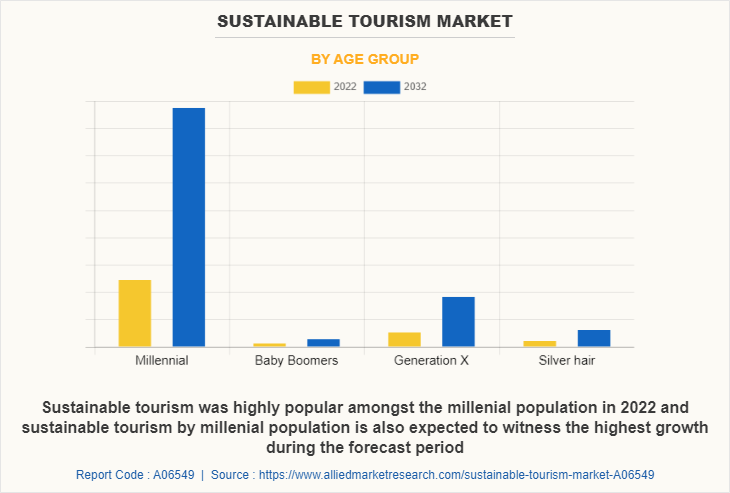 By Age Group 
People who were born during the early 1980s in addition the latter half of the 1990s constitute a crucial target group for sustainable tourism. Given this generation's well-known devotion to improving society and the environment, sustainability is an important consideration when picking a location. The market also gains due to the frequent traveling that millennials' well-paying jobs promote. Baby boomers are customers who were born between 1946 and 1964, and they account for a sizable chunk throughout the market for sustainable travel. Since they are beginning to approach retirement or semi-retirement, this generation has more time and money to spend on travel, allowing them to travel more and spend more money on sustainable travel. Customers from Generation X, or people born between the middle of the 1960s and the early 1980s, make up a sizable portion of the market. Destinations that offer genuine experiences, eco-friendly housing, smart outdoor hobbies, family-friendly sustainability, culinary experiences, and wellness possibilities may appeal to Generation X visitors who value eco-friendly and educational travel experiences. The generation of consumers with silver hair, often known as senior folks or elderly tourists, represents an ever-growing segment of the sustainable tourism industry. This group's specific tastes and needs for sustainable tourism present this market with numerous prospects for growth as they continue to love travel and exploring new places, aiding in a positive sustainable tourism market forecast.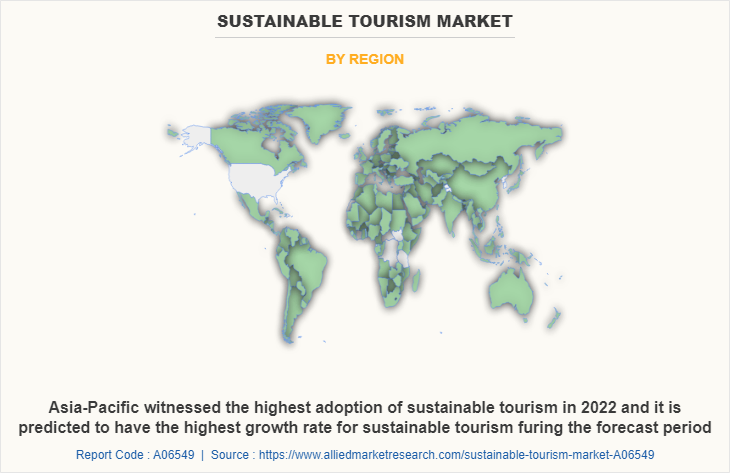 By Region 
Outdoor sports and ecotourism are frequently sought after by consumers in North America. They are drawn to locations that provide them the chance to explore and fully appreciate the wonders of the natural world, especially its biodiversity and fauna. Eco-lodges, national park systems, environmental reserves, and planned ecotours are a few examples of sustainable tourism goods that are popular with North American tourists.  Travel experiences that enable visitors to support and engage with local communities are highly valued by North American consumers. In Europe, city breaks and urban tourism are common. European consumers seek out eco-friendly accommodations, eco-friendly modes of transportation, and eco-friendly urban sustainability initiatives. Sustainable city tours, bike sharing programs, and eco-friendly urban planning are popular among European tourists. Customers in Europe also value rural and marine travel experiences and seek for eco-friendly coastal resorts, restful retreats, and chances to get back in touch with nature. European consumers value history and culture highly and seek out areas with historical landmarks, museums, galleries, and cultural events. 
Asia-Pacific consumers place a high priority when it comes to their own as well as other countries' cultural heritage. They seek to locations with historical sites, UNESCO World Heritage sites, locally manufactured goods, and cultural festivals. Programs that foster environmentally conscious travel at historical sites, advance cultural preservation, and involve local people are appealing to tourists from the Asia-Pacific area. Travels for spiritual and physical well-being are particularly popular with consumers in the Asia Pacific region. They search for areas that provide yoga retreats, meditation centers, and other holistic health-enhancing activities. LAMEA customers place a high importance on community involvement and local immersion. They look for opportunities to interact with locals, learn about their cultures, and support local businesses. This demographic reacts favorably to locally guided tours, home stays, and other community-based tourism initiatives. Customers from LAMEA are typically outdoorsy and have an adventurous mindset. They search for areas that offer opportunities for hiking, water sports, trekking, and other environmentally friendly adventure activities. LAMEA travelers select adventure tourism companies that emphasize safety, environmental conservation, and moral conduct. 
Some of the major players analyzed in this report are Intrepid Group Pty Limited, G Adventures, Spiti Ecosphere, Basecamp Explorer Group, Wilderness Safaris, Loola Adventure Resort, Vagabond and Driftwood Small Group Tours of Ireland, Chumbe Island Coral Park, Inkaterra, and Tourism Holdings Limited. 
Key Benefits For Stakeholders
This report provides a quantitative analysis of the market segments, current trends, estimations, and dynamics of the sustainable tourism market analysis from 2022 to 2032 to identify the prevailing sustainable tourism market opportunities.
The market research is offered along with information related to key drivers, restraints, and opportunities.
Porter's five forces analysis highlights the potency of buyers and suppliers to enable stakeholders make profit-oriented business decisions and strengthen their supplier-buyer network.
In-depth analysis of the sustainable tourism market segmentation assists to determine the prevailing market opportunities.
Major countries in each region are mapped according to their revenue contribution to the global market.
Market player positioning facilitates benchmarking and provides a clear understanding of the present position of the market players.
The report includes the analysis of the regional as well as global sustainable tourism market trends, key players, market segments, application areas, and market growth strategies.
 Sustainable Tourism Market Report Highlights
Aspects
Details
Market Size By 2032
USD 11.4 trillion
Growth Rate
CAGR of 14%
Forecast period
2022 - 2032
Report Pages
273
By Type

Coastal Tourism
Mountain Tourism
Island Tourism

By Application

Solo
Group
Family
Couples

By Age Group

Millennial
Baby Boomers
Generation X
Silver hair

By Region

North America (U.S., Canada, Mexico)
Europe (UK, Germany, France, Italy, Spain, Netherlands, Rest of Europe)
Asia-Pacific (China, Japan, India, South Korea, Australia, Thailand, Indonesia, Malaysia, Rest of Asia-Pacific)
LAMEA (Brazil, Argentina, Saudi Arabia, United Arab Emirates, South Africa, Rest of LAMEA)

Key Market Players
Tourism Holdings Limited, Basecamp Explorer AS, LooLa Adventure Resort, Intrepid Group Pty Limited, G Adventures Inc., Vagabond Tours Limited, Inkaterra, Wilderness Safaris, Spiti Ecosphere, Chumbe Island Coral Park Ltd.
Analyst Review
According to the CXOs of several leading companies, sustainable tourism is an up-and-coming sector within the broader travel and tourism industry due to its positive impact on the travel industry as well as the environment and local people of the tourist spots. As sustainable practices can be adopted in several regular tourist activities, the implementation of sustainable tourism is easy, which promotes several tourists to adopt such types of practices during their holidays and leisure travels. 
The sustainable tourism industry is primarily being run by the numerous benefits it has on the ecology, wildlife, natural diversity, of the tourist locations, as well as the several positive effects on the local residents of the tourist spots. As one of the main objectives of sustainable tourism is the development of the local populace of the region, is it being highly adopted by the millennial generation, who are highly active in matters of equality and development of underdeveloped communities and countries.  
Government initiatives will play a major role in the proliferation of the sustainable tourism industry. Investments by the countries' governments for the development of sustainable tourism locations and facilities such as renewable energy coupled with certifications for environmentally sustainable practices will help business owners in the region to engage in such sustainable tourism, which will help provide a major boost to the market.