The global synthetic lubricants market was valued at $12.0 billion in 2018, and is projected to reach $18.8 billion by 2026, growing at a CAGR of 5.8% from 2019 to 2026.
Lubricant is a substance used to control or reduce friction between two surfaces of the engine component or machinery. Synthetic lubricants are the lubricants that are formulated from synthetic base oil that replaces mineral oil from crude oil such as esters, Poly Alpha Olephine (PAO), and others. They are generally characterized as oily and liquid material not directly derived from petroleum but shows similar properties to petroleum lubricants. These lubricants help control the vehicle temperature by absorbing the heat generated by moving parts of the vehicle and transferring it to the sump or cooler. Collectively these factors help in enhancing the overall vehicle life cycle.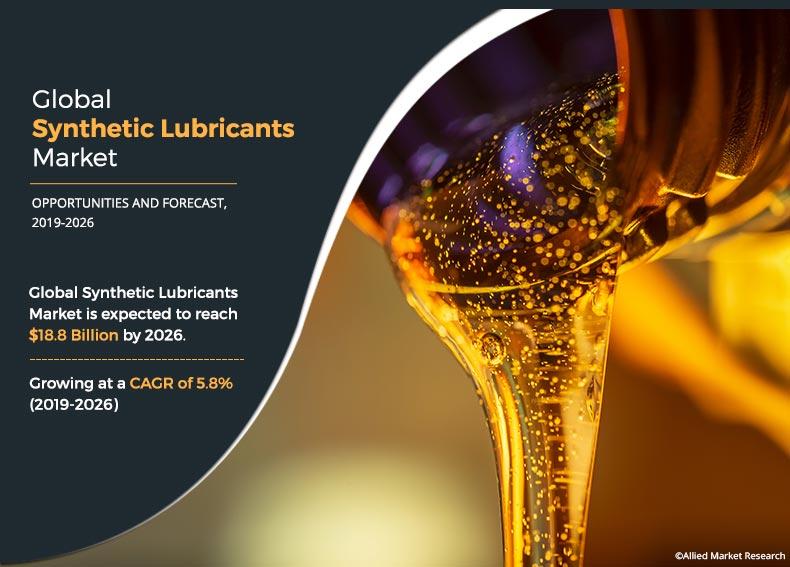 The global synthetic lubricants market is operating at the growth stage of its industry life cycle where new product launch, development in the synthetic lubricant technology, and introduction of new-age engine types are the prominent factors that boost the synthetic lubricants market growth. Synthetic lubricants have grater properties over mineral lubricants along with better hardware compatibility to automotive components that fuel the overall market growth of synthetic lubricants. These lubricants are less expensive than the bio-based and mineral lubricants, which is one of the major factors expected to boost the global market growth. On the other hand, emergence of bio-based lubricants as a strong substitute of synthetic lubricants is the major factor that restrains the market growth. In addition, fluctuating prices of raw materials is further expected to hamper the market growth.
Promising growth opportunities are anticipated in this market due to consistent change in the vehicle design and introduction of modern new-age engines in the market. Also, adoption of new age engines and high end automotive parts is the recent synthetic lubricants market trends across the globe. Furthermore, synthetic lubricants have greater compatibility to these engines and high end parts, hence, there would be immense scope of these lubricants during the forecast period. 
The global synthetic lubricants market is segmented on the basis of base oil, product, end user, and region. Depending on the base oil, the global market is categorized into differential esters, Polyalkylene Glycol (PAG), and polyalphaolefins (PAO). Based on product, it is divided into engine oil, hydraulic fluid, metalworking fluids, compressor oil, gear oil, transmission fluid, turbine oil, and others. By end user, the global market is fragmented into automotive, industrial, and others. Region wise, the global market is analyzed across North America, Europe, Asia-Pacific, and LAMEA.
Asia-Pacific acquired the highest market share in terms of revenue. This is attributed to the presence of automotive production and the resulting highest vehicle production and sales across the region. China, India, and Japan are among the major contributors in this market due to strong automotive sales. 
The global synthetic lubricants market analysis covers in-depth information of the major industry participants. Some of the major players in the market include Royal Dutch Shell PLC, ExxonMobil Corporation, British Petroleum (Bp) PLC, Chevron Corporation, Total SA, Idemitsu Kosan Co. Ltd., Sinopec Limited, Lukoil, Petroliam Nasional Berhad (Petronas), and Indian Oil Corporation Ltd.
Other players in this market include Croda International PLC., Penrite Oil, Liqui Moly GmbH, Rock Valley Oil and Chemical Co, and Peak Lubricants Pty Ltd., and others
Key players are adopting numerous strategies such as product launch, agreement, and business expansion to stay competitive in this market. 
For instance, in July 2019, Indian Oil Corporation launched high-performance lubricants named Servo SuperMile Plus. It is a high-quality engine oil suitable for new-generation petrol and diesel cars. 
In addition, in March 2018, Petronas launched two engine oils at Geneva motor show. These two new lubricants named Petronas Selenia Quadrifoglio 5W-40 and Petronas Syntium 7000 0W-16 by strengthening the product portfolio of the company.
Global Synthetic Lubricants Market, by Base Oil
By base oil, Polyalphaolefins emerged as the global leader in 2018. They are considered as a high-performance lubricant as they offer a high viscosity index and hydrolytic stability. Some of the factors that fuel the demand for PAO-base oil include its growing adoption in hydraulic, gear and bearing oil, suitability in high temperature as well as extreme cold conditions, and relatively low cost over other base oils.
Synthetic Lubricants Market

---
By Base Oil
PAO is projected as the most lucrative segment.
Global Synthetic Lubricants Market, by Product
By product, engine oil segment acquired major synthetic lubricants market share 2018, and is expected to be the largest one by the end of the forecast period. Engine oil is designed to boost the efficiency of the vehicle by aiming at extending the overall vehicle life cycle. The basic factor that drives the consumption of engine oil includes increase in automotive sales across the globe. As compared to the last decade, the sale of luxury cars has grown tremendously due to rise in disposable income in developing nations. In addition, changing diesel and petrol-based engine designs changed the way engine oil is being used. New age engines are demanding high-performance engine oil due to development in the engine specifications.
Synthetic Lubricants Market

---
By Product
Engine Oil is projected as the most lucrative segment.
Global Synthetic Lubricants Market, by End User 
By end user, synthetic lubricants market size was the largest for automotive segment both in terms of value and volume. This can be attributed to suitability of synthetic lubricants in overall vehicle system over industrial applications. 
Synthetic Lubricants Market

---
By End User
Automotive is projected as the most lucrative segment.
Global Synthetic Lubricants Market, by Region
By region, Asia-Pacific acquired prominent synthetic lubricants market share, owing to strengthening industrialization, growth in urbanization, and highest automotive sales and production as compared to other regions. Asia-Pacific is the highest populous region, which is further fueling the automotive sales linked with growth in the disposable income of the middle-class population. Urbanization is growing at a rapid pace in China, Indonesia, and India; thereby, boosting the growth of the passenger car segment.
Synthetic Lubricants Market

---
By Region
Asia-Pacific holds a dominant position in 2018 and would continue to maintain the lead over the forecast period.
Key Benefits for Stakeholders
The report provides an in-depth analysis of the synthetic lubricants market forecast along with the current and future market trends.
This report highlights the key drivers, opportunities, and restraints of the synthetic lubricants market along with the impact analyses during the forecast period.
Porter's five forces analysis helps analyze the potential of the buyers & suppliers and the competitive scenario of the global synthetic lubricants industry for strategy building.
A comprehensive analysis of the factors that drive and restrain the synthetic lubricants market growth is provided.
The qualitative data in this report aims on synthetic lubricants market dynamics, trends, and developments.
The synthetic lubricants market size is provided in terms of revenue.
 Synthetic Lubricants Market Report Highlights
Aspects
Details
By Region

North America (U.S., Canada, Mexico)
Europe (Germany, France, Italy, Spain, Russia, UK, Rest of Europe)
Asia-Pacific (China, Japan, India, South Korea, Australia, Rest of Asia-Pacific)
LAMEA (Brazil, Saudi Arabia, UAE, South Africa, Rest of LAMEA)

By Base Oil

Polyalkylene Glycol (PAG)
Polyalphaolefin (PAO)
Esters

By Product

Engine Oil
Hydraulic Fluid
Metalworking Fluids
Compressor Oil
Gear Oil
Transmission Fluid
Turbine Oil
Others

By End User

Automotive
Industrial
Others

Key Market Players
Sinopec Corp., British Petroleum (BP) p.l.c, Lukoil, IDEMITSU KOSAN CO., LTD., Royal Dutch Shell plc, INDIAN OIL CORPORATION LTD., Chevron Corporation, EXXON MOBIL CORPORATION, TOTAL S.A., Petroliam Nasional Berhad (PETRONAS)