Syringes Market Statistics 2030
The global syringes market size was valued at $15,340 Million in 2019, and is projected to reach $32,394.74 Million by 2027, registering a CAGR of 9.6 % from 2020 to 2027. Syringe is a medical instrument used for the extraction of fluids from the body or to inject fluids into the body. Syringes are available in various shapes and types, including general syringe, specialized syringes (insulin syringe, tuberculin syringe), and disposable syringes (conventional syringes, prefilled syringes, and safety syringes).
The COVID 19 outbreak has lead to shutdown of manufacturing of syringes which in turn lead to supply shortage at a global scale. This is expected to restrain the growth of the market.
Mandatory recommendation by WHO to switch to disposable syringes ensuring safe injection practices, resulting in increased use of disposable syringes, significantly fosters the growth of the syringes market. However, prefilled syringes are expected to accelerate over the coming decades. They are generally preferred for parenteral administration of various drugs, minimizing drug waste, increasing product life span, and greater dose precision are some of the driving factors boosting the market demand.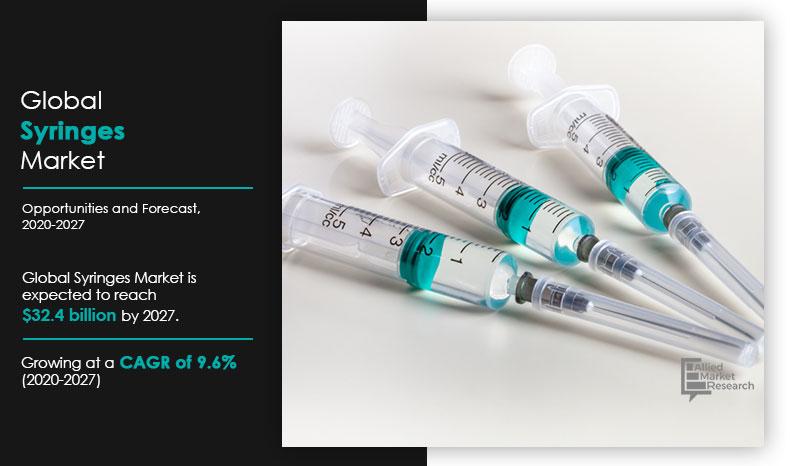 Rise in need for vaccination & immunization, surge in geriatric population, increase in number of surgical procedures, advancements in surgical devices, and rise in incidence of chronic diseases are the key factors that drive the growth of the global syringes market. Increase in cases of needlestick injuries has a significant impact on the syringes market, the fact that needlestick injuries are the leading cause of blood-borne diseases among healthcare professionals.
Syringes Market

---
By Product Type
specialized syringes segment holds a dominant position in 2019
According to the Occupational Safety and Health Administration (OSHA) estimates, approximately 5.6 million healthcare professionals were susceptible to blood-borne diseases in 2014, owing to rise in prevalence of needlestick and other sharps object injuries. Every year, about 384,000 healthcare personnel suffer from needlestick injuries in the U.S. Thus, such alarming increase in incidence of needlestick injuries has created an impending need for safety syringes. In addition, wide availability of cost-effective syringes and increase in healthcare expenditure and rise in number of surgeries among elderly population significantly contribute toward the growth of the market. Moreover, increase in focus of companies to introduce other means of drug delivery without using syringes is expected to restrict the adoption of syringes, thereby negatively impacting the market growth in the near future. However, chances of developing infection, owing to use of contaminated, reusable syringes are expected to hamper the market growth.
The World Health Organization (WHO) on January 30, 2020, declared COVID-19 outbreak a public health emergency of international concern. COVID-19 has affected around 210 countries across the globe. Syringes manufacturing and distributing companies have been affected by COVID-19 to a limited extent, owing to shutdowns in various COVID-19 affected countries and a rise in the number of syringes manufacturing workers falling ill during the COVID-19 pandemic, leading to short supply. Thus, COVID-19 infection restrain the syringes market to a limited extent.
Disposable syringes segment holds a dominant position in 2019
Syringes Market Segmentation
The global syringes market is segmented into type, usage, material, end use, and region. By type, the market is categorized into general syringes, specialized syringes, and others. The specialized syringes are further divided into insulin syringe and tuberculin syringes. Depending on usage, the market is bifurcated into reusable and disposable syringes. The disposable syringes segment is subsegmented into conventional syringes, prefilled syringes, and safety syringes.
On the basis of material, the market is fragmented into glass and polymer. By end user, it is segregated into hospitals, diagnostic centers, specialty centers, and others. Region wise, it is analyzed across North America Europe, Asia-Pacific, and LAMEA.
Syringes Market

---
By Material Type
Polymer is projected to be one of the lucrative segment
Segment review
Presently, on the basis of type, the specialized syringes segment is the major revenue contributor, and is projected to grow significantly during the forecast period. This is attributed to increase in demand for disposable syringes and rise in demand for injectable drugs.
Depending on end user, the hospital segment is the major shareholder in the global syringes market, owing to ease of facilities for surgeries, rise in prevalence of chronic diseases among the geriatric population, availability of advanced healthcare facilities, and rise in number of hospitals across the globe drive growth of the segment.
Syringes Market

---
By End Use
Hospitals segment holds a dominant position in 2019
Snapshot of Asia-Pacific syringes market
Asia-Pacific presents lucrative opportunities for key players operating in the syringes market, owing to rise in demand for syringes, development of the R&D sector, rise in healthcare reforms, and technological advancements in syringes. Moreover, surge in demand for advanced medical facilities, presence of high population base, and increase in number of target population suffering from chronic diseases in emerging economies contribute toward the growth of the market. Furthermore, focus of leading manufacturers on expanding their geographical presence in emerging Asia-Pacific countries to capture high market share is expected to drive the growth of the syringes market in the region.
The key players profiled in this report include B. Braun Melsungen AG, Becton, Dickinson and Company, Cardinal Health Inc, Gerresheimer AG, Hindustan Syringes and Medical Devices Ltd., Medline Industries, Inc, Nipro Corporation (Nipro Medical Corporation), Retractable Technologies, Inc, Smith's Group Plc, Terumo Corporation (Terumo Medical Corporation).
Syringes Market

---
By Region
Asia-Pacific region would exhibit the highest CAGR of 10% during 2020-2027.
Key Benefits For Stakeholders
The study provides an in-depth analysis of the syringes market size along with the current trends and future estimations to elucidate the imminent investment pockets.

It offers syringes market analysis from 2019 to 2027, which is expected to enable the stakeholders to capitalize on the prevailing opportunities in the market.

A comprehensive analysis of major regions is provided to determine the prevailing opportunities.

The profiles and growth strategies of the players are thoroughly analyzed to understand the competitive outlook and global syringes market growth.
 Syringes Market Report Highlights
Aspects
Details
By Product

General Syringes
Specialized Syringes

Insulin Syringes
Tuberculin Syringes

Others

By End Use

Hospitals
Diagnostic Centers
Speciality Centers
Others

By Material
By Usage

Disposable Syringes

Conventional syringes
Safety syringes
Prefilled syringes

Reusable Syringes

By Region

North America (U.S, Canada, Mexico)
Europe (Germany, France, UK, Italy, Spain, Rest of Europe)
Asia-Pacific (China, Japan, India, Australia, South Korea, Rest of Asia-Pacific)
LAMEA (Brazil, Saudi Arabia, South Africa, Rest of LAMEA)

By Key Market Players

Braun Melsungen AG
Becton, Dickinson and Company
Cardinal Health Inc
Gerresheimer AG
Hindustan Syringes and Medical Devices Ltd.
Medline Industries, Inc.
Nipro Corporation (Nipro Medical Corporation)
Retractable Technologies, Inc
Smith's Group Plc
Terumo Corporation (Terumo Medical Corporation)