The global Tactical Footwear Market Size was valued at $1.6 billion in 2021, and is projected to reach $2.9 billion by 2031, growing at a CAGR of 6.2% from 2022 to 2031.
The COVID-19 pandemic has had a significant impact on the tactical footwear industry. Many police departments and military units have scaled back training and operations, leading to reduced demand for tactical footwear. Additionally, supply chain disruptions and factory closures caused by the pandemic have led to shortages and delays in the production and distribution of tactical footwear.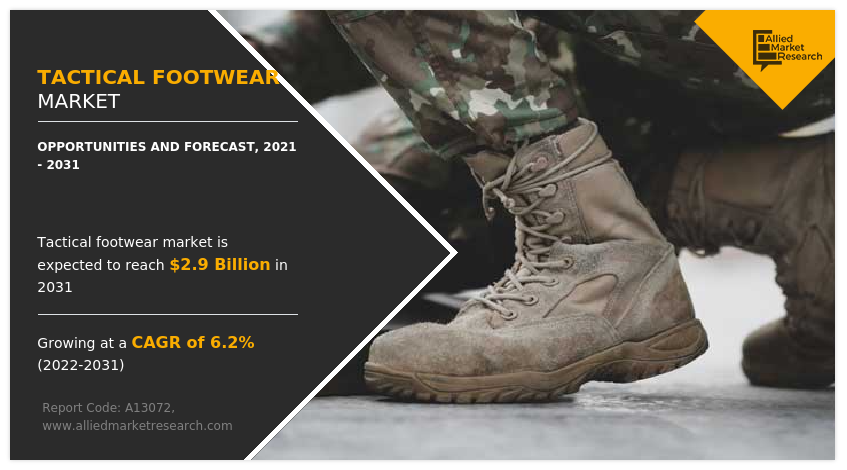 Market Dynamics 
Specialized footwear known as tactical footwear is specifically designed for individuals working in law enforcement, military, security, and outdoor enthusiasts. This footwear is created to provide maximum protection, support, and comfort in a wide range of environments, including rugged terrain, slippery surfaces, and harsh weather conditions.
Durable materials such as leather or nylon are typically used to make tactical footwear, and they often come equipped with waterproofing, insulation, and reinforced toe caps. Non-slip soles, ankle support, and cushioned footbeds are also commonly included to provide extra stability and comfort.
Tactical footwear can be designed differently depending on its intended use, with certain styles optimized for running, hiking, or combat. These shoes offer wearers a tactical advantage by enabling them to move quickly and comfortably while maintaining a firm grip and control on the ground.
The tactical footwear market has been growing steadily over the years, driven by the increasing demand for specialized footwear for the military, law enforcement, and other professionals who require high-performance footwear for their jobs.
One of the major trends in the tactical footwear market has been the development of lightweight and breathable footwear. Manufacturers are using advanced materials and technology to create footwear that is durable, comfortable, and able to withstand harsh environments. Additionally, there has been a trend towards more versatile footwear that can be used in a variety of settings, such as urban environments or rugged terrain.
Another trend in the tactical footwear market has been the integration of advanced features such as waterproofing, insulation, and impact-resistant soles. These features make the footwear more durable and suitable for use in extreme conditions.
Furthermore, there has been a growing emphasis on sustainability in the footwear industry, and this trend is also reflected in the tactical footwear market. Manufacturers are using eco-friendly materials and production processes to create footwear that is both high-performing and environmentally responsible.
Finally, online sales have been driving growth in the tactical footwear market. As e-commerce platforms become more popular and convenient, consumers are increasingly turning to online channels to purchase their tactical footwear. This trend is expected to continue in the future, as more consumers seek the convenience and accessibility of online shopping.
Large amounts of water and expansive pastureland are necessary for raising animals for leather. In the past 50 years, around 70% of the Amazon rainforest has been cleared for pastures or the growing of feed crops. Millions of species' habitats are impacted, the earth's tree cover is destroyed, and climate change is exacerbated, all of which are major hindrances to the growth of the global tactical footwear industry.
Furthermore, animal husbandry and its nitrous oxide and methane-rich byproducts, including leather, are major causes of unpleasant weather. In addition, factory farm animals produce 130 times as much garbage as the entire human population without the implementation of waste treatment technologies. According to numerous environmental protection organizations, livestock contamination of waterways poses the greatest threat.
The process of turning skin into leather requires enormous amounts of energy and the use of hazardous chemicals, including formaldehyde, coal tar derivatives, various oils, dyes, and finishes, some of which are cyanide-based. This is true even though some leather manufacturers falsely promote their products as environmentally friendly. As a result, the manufacturing of tactical footwear has a negative impact on the environment, which inhibits market expansion.
Due to the niche nature of the tactical footwear market, there are prospects for various manufacturing companies to make investments there. Due to the restricted presence of the dominant, diversified players in the tactical footwear market, stakeholders are preparing to invest in and grow their companies through product innovation.
Hence, emerging businesses can benefit from a restricted presence. Also, the majority of businesses are solely dedicated to the creation and marketing of tactical footwear. For instance, 5.11 Tactical increased the number of company-owned retail locations nationwide in 2019. Also, this business provides superior tactical footwear goods for both men and women. Hence, it is projected that the sum of all these elements will in the years to come produce profitable chances for the growth of the global market.
Segmental Overview
The global tactical footwear market is segmented into product, end-use, sales channel, and region. By product, the market is bifurcated into boots and shoes. On the basis of end-use, it is fragmented into men and women. Depending on the sales channel, it is segregated into supermarkets/hypermarkets, online stores, specialty stores, business-to-business, and others. Region-wise, the market is analyzed across North America, Europe, Asia-Pacific, and LAMEA.
By Product Type
Based on the product, the boots segment dominated the global market in the year 2021 and is likely to remain dominant during the forecast period. Due to their sturdy and durable nature, boots are highly sought after for use in unfavorable conditions, including heavy rainfall and extreme snowfall. Additionally, their slip-resistant and stable design has made them popular all around the world. However, shoes are the fastest-growing segment during the forecast period with a CAGR of 6.8%. A shoe is designed to suit the foot, below the ankle and has a flexible top made of leather or plastic and a heavier sole and heel. The look of shoes has changed dramatically over time and from culture to culture, with aesthetics initially being linked to function. Shoes are popularly used for jogging, running, strolling, golf, bowling, dancing, and formal events such as weddings and at business.
Military boots, which fall under the tactical footwear category, are specifically designed to withstand harsh conditions and are commonly worn by military troops. These boots feature a regimental appearance and are characterized by a cap toe design.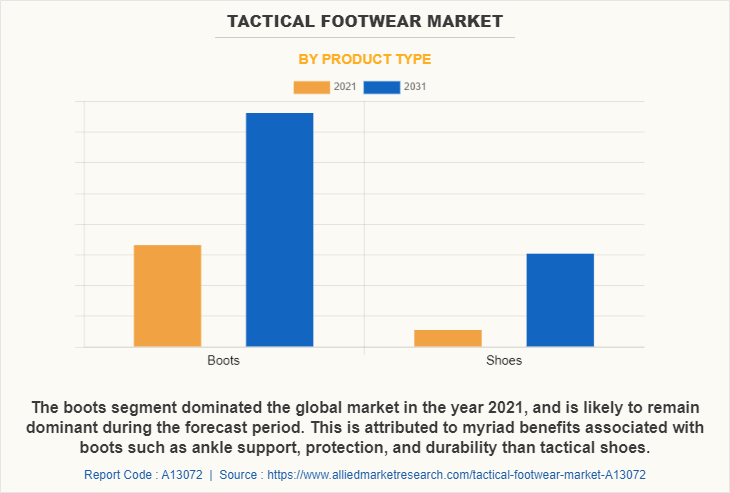 By End Use
Based on end use, men segment dominated the global market in the year 2021, and is likely to remain dominant during the forecast period. The increasing interest of men in tactical footwear, such as cold weather, jungle, and desert boots, is enhancing sales. This is because tactical footwear is designed for usage by law enforcement officers, military personnel, special operations troops, security guards, and public safety professionals, as well as being appropriate for backpacking and hiking. As a result, the high level of comfort and durability provided by these tough shoes, which are designed to function well in challenging conditions, is the primary element fueling the expansion of the global market.
However, the women segment is the fastest-growing segment during the forecast period. Female population is conscious about the overall appearance, especially when it comes to wearing footwear. Moreover, women embrace their fitness and healthy lifestyle in social environment. As a result, they seek for apparels and footwear, which make them feel comfortable. Taking this trend into consideration, most of the manufacturers in the global tactical footwear market have been making efforts on fabricating products that cater to the requirements of female population.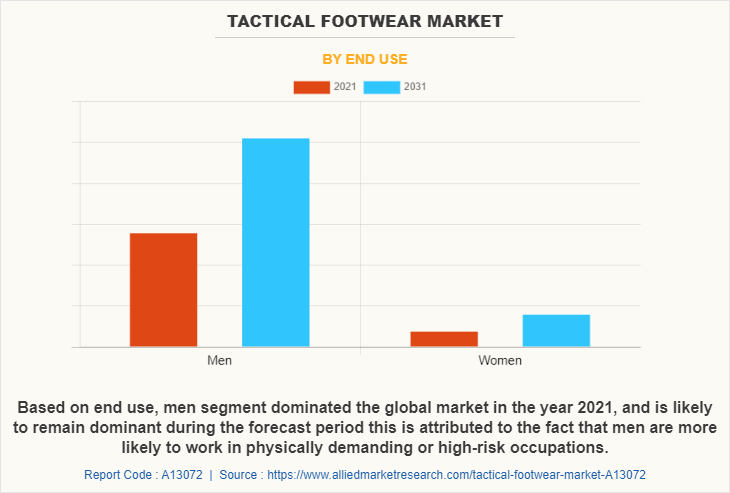 By Sales Channel
Based on sales channels, business to a business segment dominated the global market in the year 2021 and is likely to remain dominant during the forecast period. Business-to-business sales channel garnered a major Tactical Footwear Market Share in the tactical footwear industry. This is attributed to the high supply of footwear in the armed force and police services. In addition, the Tactical Footwear Market Demand is high for industrial purposes, as bulk supply is high from manufacturer to manufacturer, which is fostering Tactical Footwear Market Growth.
However, online stores are likely to be the fastest-growing segment during the Tactical Footwear Market Forecast period. The online platform serves as a popular medium for the purchase of footwear. This is attributed to easy availability and the benefits such as information about the attributes of the products, time-saving features, and the facility of home delivery provided by online platforms. Furthermore, an increase in penetration of various online portals and rise in the number of offers or discounts attract consumers to purchase footwear through online channels. In addition, shopping through the internet is driven by increase in preference for reviewing customer feedback over a particular product. Furthermore, this mode offers a wide range of products at a reasonable price and is easily accessible by consumers 24X7 remotely. Moreover, online sales channel has increased consumer reach owing to which it has evolved as a key source of revenue for many companies.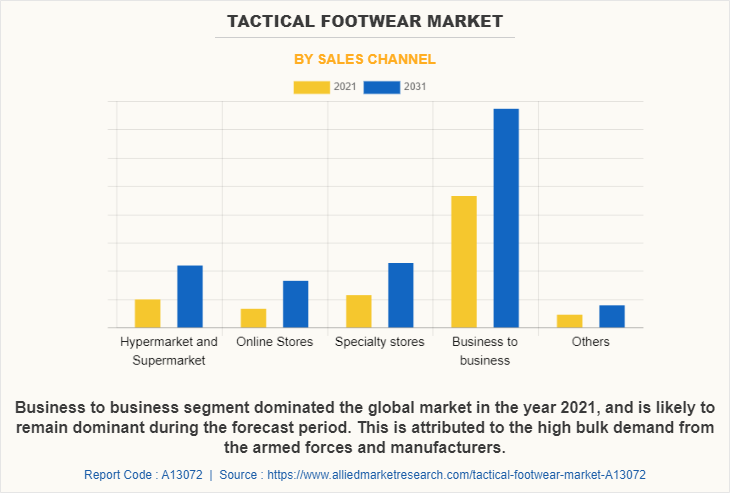 By Region
Based on region, North America region dominated the global market in the year 2021 and is likely to remain dominant during the forecast period. North America currently is the leading market for tactical footwear, due to the exponentially growing demand for tactical footwear. Furthermore, increase in adoption of tactical footwear among health enthusiasts notably contributes toward the market growth. They have recently been a popular choice among hikers and backpackers, thus driving their sale in the region.  Furthermore, tactical footwear exhibit several advantages over regular boots, such as high flexibility, enhanced slip resistance, strong uppers, and superior breathability, which promote airflow to keep the feet cool when conducting strenuous activities. Hence, the tactical footwear market in North America is expected to grow at a notable pace.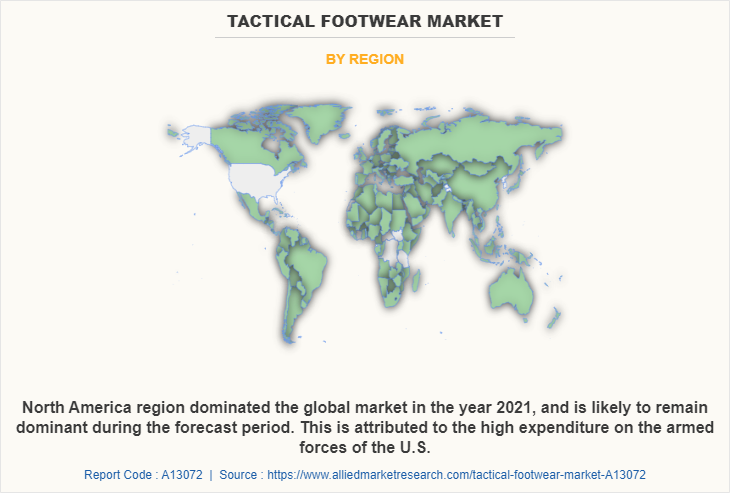 Competition Analysis
The key players have adopted various strategies to remain competitive in the market such as partnership, merger, acquisition and collaboration. The major players operating in the global tactical footwear market are Adidas AG, APEX Global Brands, Asics Corporation, Belleville Boot Company, Garmont International S.r.l., Maelstrom Footwear, Nike, Inc., PUMA SE, Under Armour, Inc., and 5.11 Tactical.
Some Examples of Merger in The Market
In February 2021, Apex Global Brands Inc. entered into a merger agreement with Galaxy Universal LLC. The company said, under the terms of the agreement, Galaxy Universal would acquire all of the outstanding shares of Apex for 2 dollars per share in cash.
Some Examples of Acquisition in the Market
In November 2022, ASICS Corporation announced the acquisition of njuko SAS, the leading race registration platform for running events across Europe. With the acquisition of njuko, ASICS now offers race registration services worldwide, with capabilities in Japan, North America, Australia, New Zealand, and now Europe.
Some Examples of Collaboration in the Market
In December 2020, Nonnative reimagined the same silhouette for its next collaboration with sportswear powerhouse Asics. The new "Clay" collaboration on the shoe from Nonnative and Asics is expected to hit stores that take inspiration from tactical military boots.
Some Examples of Partnership in the Market
In April 2021, Nike partnered with many world-class athletes such as Michael Jordan, Neymar, Christiano Ronaldo, and Tiger Woods to name a few, for its brand endorsement.
.Key Benefits For Stakeholders
This report provides a quantitative analysis of the market segments, current trends, estimations, and dynamics of the tactical footwear market analysis from 2021 to 2031 to identify the prevailing tactical footwear market opportunities.
The market research is offered along with information related to key drivers, restraints, and opportunities.
Porter's five forces analysis highlights the potency of buyers and suppliers to enable stakeholders make profit-oriented business decisions and strengthen their supplier-buyer network.
In-depth analysis of the tactical footwear market segmentation assists to determine the prevailing market opportunities.
Major countries in each region are mapped according to their revenue contribution to the global market.
Market player positioning facilitates benchmarking and provides a clear understanding of the present position of the market players.
The report includes the analysis of the regional as well as global tactical footwear market trends, key players, market segments, application areas, and market growth strategies.
 Tactical Footwear Market Report Highlights
Aspects
Details
Market Size By 2031
USD 2.9 billion
Growth Rate
CAGR of 6.2%
Forecast period
2021 - 2031
Report Pages
289
By PRODUCT TYPE
By END USE
By SALES CHANNEL

Hypermarket and Supermarket
Online Stores
Specialty stores
Business to business
Others

By Region

North America (U.S., Canada, Mexico)
Europe (Germany, France, UK, Spain, Italy, Russia, Rest of Europe)
Asia-Pacific (China, Japan, India, Australia, South Korea, Thailand, Vietnam, Rest of Asia-Pacific)
LAMEA (Brazil, Iran, Egypt, Turkey, South Africa, Saudi Arabia, Rest of LAMEA)

Key Market Players
Puma SE, Under Armour, Inc., Belleville Boot Company, 5.11 tactical, Maelstrom Footwear, Nike, Inc., Elten GmbH, Qingdao Glory Footwear Co., Ltd., McRae Footwear, Apex Global Brands Inc., Adidas AG, Military 1st, Garmont International S.R.L, ASICS Corporation, RNS Footwear Pvt. Ltd.
Analyst Review
Based on the insights of the CXOs of leading companies, the tactical footwear industry is experiencing rapid expansion, owing to rise in demand for trendy and comfortable tactical footwear. Rapid urbanization, demographics changes along with increase in demand of boots for military personnel, and surge in demand for boots in industrial and mining sectors fuel the Tactical Footwear Market Growth. Moreover, consumers consider comfort as an important parameter while choosing appropriate footwear. In addition, consumers presently are ready to indulge in stylish and comfortable footwear. Thus, all these factors are expected to contribute toward the growth of the overall market during the forecast period.
The CXOs further added that increase in penetration of online shopping platforms act as key growth driver of the global tactical footwear market. Most of the global players of the tactical footwear market are constantly investing in the development of their online and digital distribution channels. Thus, leading players are focusing on digitization, as the future is showing a promising growth opportunity through online channels.