Tannin Market Outlook - 2021-2030
The global tannin market size was valued at $2.3 billion in 2020, and is projected to reach $4.0 billion by 2030, growing at a CAGR of 5.7% from 2021 to 2030.
COVID-19 pandemic outbreak across the globe has halted the production of leather goods and wine, and wood adhesive across the globe amid government imposed lock down measures owing to which the demand for tannin has been declined globally.
Tannin is a complex chemical substance derived from phenolic acids (also known as tannic acid). Tannins are classified as phenolic compounds, which are found in many species of plants. Commercial tannins are pale yellow to light brown amorphous substances in the form of powder, flakes, or a spongy mass. They are used chiefly in tanning leather, dyeing fabric, and making ink, and in various medical applications.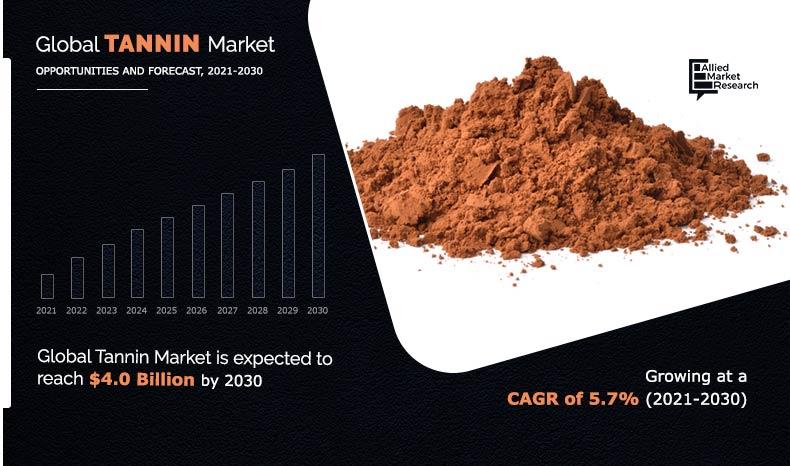 The growth of the global tannin market is primarily driven by surge in demand from leather tannery, wine, paints & coatings, and adhesive manufacturing industry. In addition, rise in alcohol consumption due to increase in disposable income and improvement in living standards of consumers across the globe are expected to surge the demand for tannin. Moreover, increase in demand for luxury goods, automobiles with luxurious leather interiors, clothes, and shoes as well as rise in use of tannins in applications such as healthcare and wood adhesives serve as the foremost drivers of the global tannin market. 
However, carcinogenic effects of tannins are expected to hamper the tannin market growth during the forecast period. On the contrary, rise in number of start-ups offering innovative products and technologies are expected to provide lucrative growth opportunities for the tannin market during the forecast period.
The global tannin market size is segmented into source, product, application, and region. By source, the market is categorized into plants and brown algae. On the basis of product, it is fragmented into hydrolysable, non-hydrolysable, and phlorotannin. By application, it is divided into leather tanning, wine production, wood adhesives, anticorrosive primers, and others. Region wise, it is studied across North America, Europe, Asia-Pacific, and LAMEA.
The major key players operating in the global tannin industry include Tannin Corporation, S.A. Ajinomoto Omnichem N.V., Polson Pty. Ltd., Forestal Mimosa Ltd., Ever S.R.L., and UCL Company (Pty) Ltd., Laffort SA, Zhushan County Tianxin Medical & Chemical Co., Ltd., W. Ulrich GmbH, and Tanin Sevnica D.D.
Global Tannin Market, By Region
Europe accounted for a major share in tannin market in 2020. European countries have been extensively manufacturing wines from ages, as drinks have been a regular part of the traditional meals across the region. Moreover, innovation in terms of flavor, color, and packaging customizations has led to increased sales of wines. Therefore, owing to high demand, considerable land areas were converted into vineyards, especially in the countries of Spain, Italy, France, and Turkey, as their local wines gained popularity across the globe. Manufacturers, thus, procure grapes in bulk from these vineyards to produce wine at lower prices. Tannins are widely used in wineries across Europe to protect wine from oxidation during barrel aging. Rapid development of the wine industry across the region is likely to drive the demand for tannins, thereby augmenting the growth of tannin market across the region.
North America would exhibit an CAGR of 6.3% during 2021-2030
Global Tannin Market, By Source
The plants segment accounted for a major share in the tannin market in 2020. Plants containing tannin include wattle, trefoil, sainfoin, quebracho, mangroves, eucalyptus, and canaigre. These plants are easy to procure, and the processes of manufacturing tannins from these plants are easy. These factors are anticipated to accelerate the growth of the segment during the forecast period.
Plants is projected as the most lucrative segment.
Global Tannin Market, By Product
The hydrolysable segment accounted for a major tannin market share in 2020. Hydrolysable tannins when heated form gallic acids. These products have beneficial antibacterial effects, and thus are used in the manufacturing of pharmaceuticals. In addition, recent studies have suggested that hydrolysable are effective against cancer. Thus, rise in number of cancer patients across the globe is likely to drive the demand for hydrolysable tannins in coming years, which eventually will foster the growth of the tannin market.
Hydrolysable is projected as the most lucrative segment.
Global Tannin Market, By Application
The leather tanning segment was the major share contributor in 2020. This is attributed to the fact that leather tanning involves treating the skin and hides of skin to produce leather. The process produces soft, durable, and flexible material. Leather is one of the mostly traded materials in the world. The consumption of luxury leather products has increased globally with increasing population and changing lifestyle trends, thus driving the demand for tannin across the globe. In addition, leather tanned products are widely used in various end-user industries, such as footwear and packing industries. More than 65.0% of the world's demand for leather is being met by developing economies. Surge in need to maintain and improve the aesthetic and functional aspects of leather is further anticipated to drive the demand for tannin across the world.
Tannin Market

---
By Application
Leather Tanning is projected as the most lucrative segment.
COVID-19 impact analysis
According to the International Monetary Fund (IMF), owing to the outbreak of novel coronavirus (COVID-19), the global economy shrunk by 3.0% in 2020. Many countries are under stringent lockdown, which have forced several sectors to shut down their operations. This has halted manufacturing activities and reduced the demand and production of tannin.
The COVID-19 pandemic has had a negative impact on the overall leather industry, including the footwear, apparel, and accessories. Retailers faced severe losses during the first two quarters of 2020. According to a report by the World Footwear, the sales of footwear declined by close to 32.0% in the U.S. at the end of the first two quarters of 2020. Low demand for footwear, in general, is subsequently expected to decrease the sales of leather shoes.  Many manufacturers in the market have historically relied on China for finished products as well as raw materials used in the manufacturing of various leather goods. The pandemic has, however, disrupted the supply chain, causing severe losses in terms of product shipment and on-time delivery. Due to this, the demand for tannin from leather manufacturers and tanners has declined significantly in 2020, and is likely to be to affected in 2021. However, the demand for tannin from leather industry is anticipated to recover in the first half of 2022, as various leather goods manufacturing players are about to restart their manufacturing activities.
The COVID-19 pandemic has disrupted the global wine distribution channel due to the extensive closure of and restrictions on hotels and restaurants across the world. The sudden outbreak of pandemic has affected around 77.0% of hotels, with turnover falling by 60.0% across the sector, while restaurants witnessed decline by 91.0% by the end of 2020 across the globe. Owing to decline in sales of wine across the globe, the production of wine has reduced, which, in turn, affected the consumption of tannin from wineries, thereby negatively impacting the growth of the market. 
Tannin is widely used in production of wood adhesive. Attributed to the outbreak of COVID-19 pandemic, the construction of various residential, commercial, and industrial projects has been halted amid lockdown. As a result, the demand for wood adhesives to be used in glue laminated beams, windows, and doors has been declined. In addition, amid lockdown, various wood adhesive manufacturing plants have shut down their production activities, which resulted in decline in demand for tannin.
Key benefits for stakeholders
The global tannin market analysis covers in-depth information of major industry participants.
Porter's five forces analysis help analyze potential of buyers & suppliers and the competitive scenario of the industry for strategy building.
Major countries have been mapped according to their individual revenue contribution to the regional market.
The report provides in-depth analysis of the global tannin market forecast for the period 2021–2030.
The report outlines the current global tannin market trends and future scenario of the global tannin market from 2020 to 2030 to understand the prevailing opportunities and potential investment pockets. 
Key drivers, restraints, & opportunities and their detailed impact analysis are explained in the global tannin market study.
 Tannin Market Report Highlights
Aspects
Details
BY SOURCE
BY PRODUCT

Hydrolysable
Non-hydrolysable
Phlorotannin

BY APPLICATION

Leather tanning
Wine production
Wood adhesives
Anti-corrosive primers
Others

BY REGION

North America (U.S., Canada, Mexico)
Europe (Germany, France, Italy, Spain, UK, Rest of Europe)
Asia-Pacific (China, Japan, South Korea, India, Australia, Rest of Asia-Pacific)
LAMEA (Brazil, Saudi Arabia, South Africa, Rest of LAMEA)

Key Market Players
TANNIN CORPORATION, S.A. AJINOMOTO OMNICHEM N.V, .POLSON PTY. LTD., FORESTAL MIMOSA LTD., EVER S.R.L, .UCL COMPANY (PTY) LTD., Laffort SA, .ZHUSHAN COUNTY TIANXIN MEDICAL & CHEMICAL CO., LTD., W. ULRICH GMBH, TANIN SEVNICA D.D.