The global tape storage market size is expected to reach from $4.31 billion in 2019 to $9.42 billion by 2030, growing at a CAGR of 7.8% from 2020 to 2030. 
The Media & Entertainment segment impacted negatively, due to COVID-19.
Tape storage or magnetic tape data storage is a system that is used for storing digital information on magnetic tape using digital recording. Tape drive is a device that performs writing or reading of data.  It is based on one of the oldest concepts of digital information storage and continues to be in strong demand as an economical, secure, and scalable tape storage method to retain and protect infrequently accessed, yet essential data for long term. The key benefits of tape storage are long-term durability, low cost, and high data storage capacity.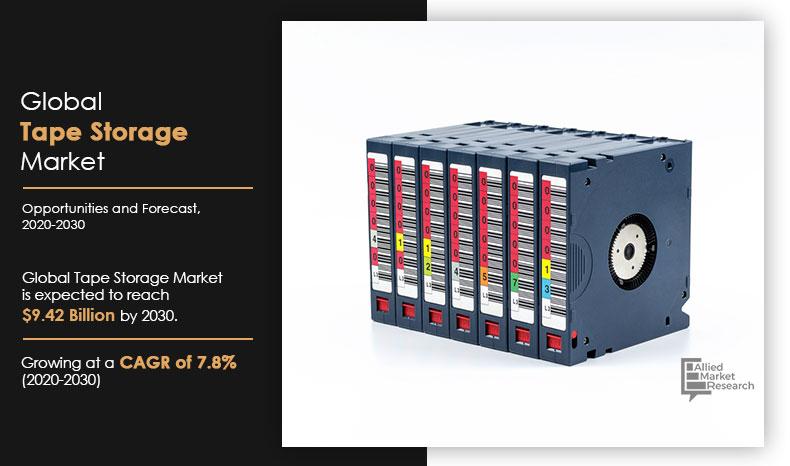 Extensive rise in data volumes and growth in adoption of tape storage by large enterprises primarily drives growth of the market. In addition, rise in threats of ransomware attacks on organization networks further fuels the market growth. In addition, growth in industrialization fuels the tape storage market trends. However, requirement of high initial investments for tape drive is anticipated to restrain the market growth. On the contrary, emergence of higher storage capacities in tape storages is anticipated to provide lucrative opportunities for growth of the tape storage market. In addition, rise in demand for data storage and security, owing to emergence of advanced technologies and applications is expected to be opportunistic for growth of the tape drive market during the forecast period. 
Tape backup market has been significantly impacted by the COVID-19 outbreak. Production facilities of electronics and semiconductors have been halted, owing to slowdown and unavailability of workforce across the globe. COVID-19 outbreak has caused a significant and protracted drop in manufacturing utilization, and travel bans & facility closures kept workers out of their factories, which has led to slowdown in growth of the tape storage market revenue in 2020. 
However, the negative impact of COVID-19 on the tape storage market share is expected to be there for a short period, and by early 2021, the tape backup market is anticipated to observe robust recovery rate along with extensive demand for installation of tape storage across data centers and enterprises across the globe. Enterprises are expected to increase their IT infrastructure as well as storage budgets to reduce negative impact of the pandemic. This factor is expected to significantly fuel the post pandemic market growth.
The global tape storage market is segmented on the basis of component, technology, capacity, use case, end use, industry vertical, and region. On the basis of component, the market is bifurcated into tape cartridges and tape vault. By technology, the market is classified into LTO-1 to LTO-5, LTO-6, LTO-7, LTO-8, LTO-9, DDS-1, DDS-2, DDS-3, DDS-4, and DLT IV. On the basis of capacity, it is tape storage market is divided into less than 1 TB, 1 TB to 200 TB, 201 TB to 999 TB, 1 PB to 100 PB, and more than 100 PB. By use case, it is classified into archiving and backup. On the basis of end use, it is divided into cloud providers, data center, and enterprises. On the basis of industry vertical, it is divided into IT & telecom, BFSI, media & entertainment, healthcare, oil & gas, and government & defense. Region wise, the tape storage market share is analyzed across North America, Europe, Asia-Pacific, and LAMEA.
Tape Storage Market

---
By Component
Tape Cartridges segment is projected as one of the most lucrative segments.
Top Impacting Factors
Some major factors that impact the market growth include:
Extensive rise in data volumes 
Human-and machine-generated data across the globe is experiencing fastest growth rate along with traditional business data. This ever-rising volume of data is expected to drive demand for higher capacity tape storage solutions. This growth in data volumes is attributed to shift from paper-based data to computerized data, which in turn, demands effective storage solutions. While data is growing on an exponential rate, keeping this data safe is a big issue; therefore, tape storage is popularly being used to keep backup of data safely. This factor is expected to primarily fuel the tape storage market growth. 
Growth in adoption of tape storage by large enterprises 
Large enterprises are experiencing huge growth in volume of enterprise-grade data as well as need for high-capacity data back-up and archiving storage. In addition, tape storage is most preferred storage option by large enterprises as it helps them address their needs for low-cost and high-volume data storage. Moreover, availability of enterprise-grade tape storage development strategies among key players fuels adoption of tape storage in large enterprises. For instance, IBM 3592 Enterprise Tape Products are designed for large enterprise environments that require high-performance tape solutions. 
Tape Storage Market

---
By Industry Vertical
IT & Telecom segment is expected to secure leading position during forecast period.
Such factors contribute toward growth in adoption of tape storage in large enterprises, which propels the market growth.
The emergence of higher storage capacity in tape storage
Features such as durability, longevity, density, energy efficiency, and scalability enables development of higher storage capacity of tape storage to meet growing demand for data storage. This is attributed to continuous rise in data, owing to emergence of high-definition 4K/8K videos, IoT, and AI-based big-data analysis. For instance, according to the December 2020, IBM press release, currently, they produce about 2.5 quintillion bytes of data on a daily basis; and worldwide data is anticipated to hit 175 zettabytes by 2025, representing 61% annual growth. Therefore, key players operating in the market are introducing advanced high storage capacity tape storage solutions, which provide lucrative opportunities for the market growth. For instance, in December 2020, FUJIFILM Corporation announced collaboration with IBM, with which it achieved worldwide record of 317 Gbpsi recording density with magnetic tapes using Strontium Ferrite, a new magnetic particle. This represents development of the technology that can produce data cartridges with capacity of 580TB (terabytes), around 50 times greater than current cartridges. This development is expected to prove opportunistic for the tape storage market growth.
Competition Analysis
The company profiles of tape storage market players included in this report are Dell Technologies Inc., Hewlett Packard Enterprise, International Business Machines Corporation, Lenovo, Oracle Corporation, Overland Tandberg, QStar Technologies, Inc., QUALSTAR CORP., Quantum Corporation, and Spectra Logic Corporation. The global tape storage industry key market players adopt various strategies such as product launch, product development, collaboration, partnership, and agreements to influence the market growth.
Tape Storage Market

---
By Region
Asia-Pacific region would exhibit the highest CAGR of 8.9% during 2020-2027
Key Benefits For Stakeholders
This study comprises analytical depiction of the global tape storage market size along with the current global tape storage market trend and future estimations to depict imminent investment pockets.
The overall tape storage market analysis is determined to understand the profitable trends to gain a stronger foothold.
The report presents information related to key drivers, restraints, and opportunities with a detailed impact analysis.
The tape storage market forecast is quantitatively analyzed from 2019 to 2030 to benchmark the financial competency.
Porter's five forces analysis illustrates the potency of the buyers and suppliers in the market.
 Tape Storage Market Report Highlights
Aspects
Details
BY COMPONENT

Tape Cartridges
Tape Vault

BY TECHNOLOGY

LTO-1 to LTO-5
LTO-6
LTO-7
LTO-8
LTO-9
DDS-1
DDS-2
DDS-3
DDS-4
DLT IV

BY CAPACITY

Less Than 1 TB
1 TB to 200 TB
201 TB to 999 TB
1 PB to 100 PB
More Than 100 PB

BY USE CASE
BY END USE

Cloud Providers
Data Center
Enterprises

BY INDUSTRY VERTICAL

IT & Telecom
BFSI
Media & Entertainment
Healthcare
Oil & Gas
Government & Defense

BY REGION

North America (U.S, Canada, Mexico)
Europe (Germany, UK, France, Rest of Europe)
Asia-Pacific (China, Japan, India, South Korea, Rest of Asia-Pacific)
LAMEA (Latin America, Middle East, Africa)

Key Market Players
DELL TECHNOLOGIES INC, HEWLETT PACKARD ENTERPRISE DEVELOPMENT LP, INTERNATIONAL BUSINESS MACHINES CORPORATION, LENOVO, ORACLE CORPORATION, OVERLAND TANDBERG, QSTAR TECHNOLOGIES, INC, QUALSTAR CORP, QUANTUM CORPORATION, SPECTRA LOGIC CORPORATION