Target Drone Market Statistics 2021-2030:
The global target drone market was valued at $4.46 billion in 2020, and is projected to reach $8.55 billion in 2030, registering a CAGR of 6.9%.    
The rapid spread of COVID-19 had a significant impact on the global target drone market in 2020, owing to the implementation of strict lockdown measures, and the disruption in the supply chain of required materials across the world. COVID-19 pandemic led to several challenges for the target drone industry including logistics challenges, among others. On the other hand, the target drone manufacturers had to reduce expansion and R&D investments to withstand the decline in revenue and operating performance of the defense industry. The challenges in the installation of target drones for military, naval, and air force applications were observed throughout the year, and are expected to continue for a few years.
Target drones are unmanned vehicles (marine, ground, and aerial) that are generally used for combat training against manned and unmanned threats, destruction tests on decoys that simulate behavior of real threats, and testing and development of military systems. Target drones are used as cost-effective substitutes to equipment and systems used by military forces across various countries. Target drones are very identical to unmanned aerial vehicles. These drones find their application in ground, aerial, sea surface, and underwater targets. These drones are widely used for training of anti-craft warfare scenarios.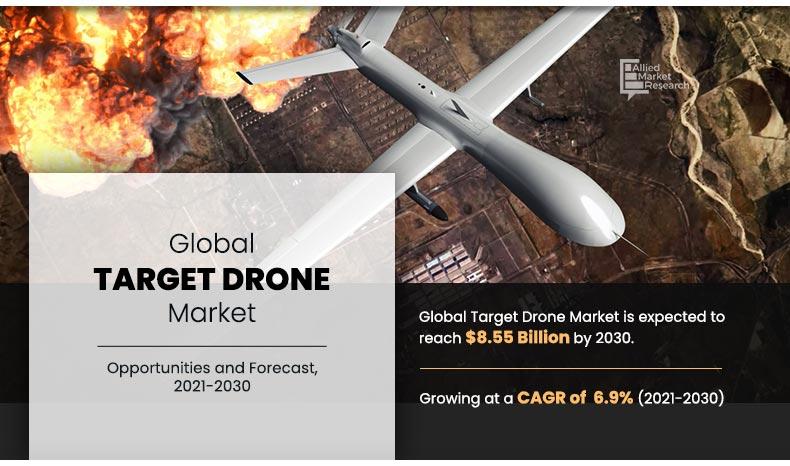 On the basis of end use, target, mode of operation, and region. The end use segment is further divided into defense and commercial. On the basis of target, the market is segmented into aerial target, ground target, and marine target. By mode of operation, it is segmented into autonomous and remotely piloted. Region wise, the market is analyzed across North America, Europe, Asia-Pacific, and LAMEA.
Competitive analysis and profiles of the major target drone market players include Airbus S.A.S., BAE Systems plc, Denel Dynamics, Embention, Griffon Aerospace, Leonardo S.p.A., Lockheed Martin Corporation, Northrop Grumman Corporation, Qinetiq Group plc, and The Boeing Company. 
Rise in spending to procure defense equipment globally
The global military expenditure has seen exponential growth in recent years. According to the Stockholm International Peace Research Institute (SIPRI), the global military expenditure has reached $1,981 billion in 2020 with a 2.6% year-on-year increase. 
The military expenditure accounted for 2.4% of global gross domestic product in 2020. Thus, increase in global military expenditure has augmented adoption of modern defense systems, including target drone systems and related technologies. 
Increase in military and defense expenditure globally facilitates implementation of target drone system technologies. Furthermore, advancements in weapons and attacking capabilities worldwide have created a surge in demand for modernization and installation of sophisticated defense infrastructure by governments to prevent threats and offensive attacks from foreign countries. Hence, increase in defense expenditure is expected to open new avenues for growth of the target drone market during the forecast period.
Target Drone Market

---
By End Use
Defense is projected as the most lucrative segments
Surge in territorial conflicts throughout the world
In recent years, the world has witnessed an upward trend in wars and conflicts across numerous nations across the world. Recent political upheaval that happened in Afghanistan in August 2021 has brought the country to a permanent state of chaos. Rise in terrorist attacks and violent conflicts in the country is expected to lead to more unfavorable instance across the neighboring nations in the future.  Currently, there are numerous ongoing wars and minor conflicts in several countries globally, most of which are in the Middle East, North West Asia, and Sub-Saharan Africa and a major ongoing drug-war in Mexico. Nations across the world are buying arms and ammunitions to counter the terrorism block the entry of enemy soldiers and curb anti-national activities. Moreover, misfortunate events that happened last year in countries such as the U.S. and France have resulted in a large number of citizens in carrying guns for self-defense purposes. Recent war between Armenia and Azerbaijan proved capabilities of drone attacks in giving added advantage over conventional war equipment. This has given a push to train army against drone attacks and how to efficiently destroy enemy drones. Such factors are anticipated to propel growth of the global target drone market during the forecast period.
Lack of skilled and trained personnel
Lack of skilled pilots, who can fly modern target drones that fly with high speeds and gather accurate data majorly restrains the market. This factor not only prevails in the defense sector, but is also prevalent in the commercial sector. While target drones are quite valuable in giving real war scenario-based training to military personnel, there is a significant huge shortage for trained drone operators worldwide.
Target Drone Market

---
By Target
Ground Target is projected as the most lucrative segments
As with any flourishing market, it is usually difficult finding trained workers to fill drone-related jobs. In the target drone market, innovations are rapidly outpacing training and lack of qualified personnel can limit growth opportunities for providers as well as suppliers. Some drone applications necessitate piloting skills and/or others require geo-spatial experts to process data to obtain accurate information from images.
Moreover, regulations tend to change rapidly to meet requirements of present and future commercial uses. All these factors are expected to limit growth of the target drone market during the forecast period.
Target Drone Market

---
By Mode Of Operation
Autonomous is projected as the most lucrative segments
Increase in drone-related incidents across the globe
Use of drones has increased drastically over the years, especially to ensure border safety, counter-insurgency, and to conduct surveillance and data gathering across commercial assets. Drones or unmanned aerial vehicles (UAVs) can identify security and terrorism-related challenges and locate vulnerable zones that are prone to several risks. Drones are modern force multipliers that can improve abilities of security forces to monitor criminal activities and tackle evolving challenges in defense and homeland security. In addition, commercialization of drones is being witnessed throughout the world, as they are often used by oil & gas companies, survey agencies, land & water resources protection agencies, and news agencies, which notably contributes toward growth of the global market.
With surge in manufacturing of drones throughout the world, adverse events are expected to increase exponentially, and it is of paramount importance for governments to safeguard their borders, people, and assets from evolving nature of threats. If gone unchecked, drone-related threats may result in immense financial implications and loss of many lives throughout the world. Thus, rise in in malicious drone-related incidents has led to increase in demand for target drones, which can help train army personnel against any such events. This acts as a major factor that fuels growth of the global target drone market.
Target Drone Market

---
By Region
Asia-Pacific would exhibit the highest CAGR of 8.4% during 2021-2030.
COVID-19 Impact Analysis 
The COVID-19 impact on the target drone market is unpredictable and is expected to remain in force till the fourth quarter of 2021. 
The COVID-19 outbreak forced governments across the globe to implement strict lockdowns and banned import–export of nonessential items for most of 2020. This led to sudden fall in the availability of important raw materials. 
Moreover, nationwide lockdowns forced manufacturing facilities to partially or completely shut their operations.
Adverse impacts of the COVID-19 pandemic have resulted in delays in activities and initiatives regarding development of reliable and innovative target drones globally.
Key Benefits For Stakeholders
This study presents analytical depiction of the global target drone market analysis along with the current trends and future estimations to depict imminent investment pockets.
The overall target drone market opportunity is determined by understanding profitable trends to gain a stronger foothold.
The report presents information related to key drivers, restraints, and opportunities of the global target drone market with a detailed impact analysis.
The current target drone market is quantitatively analyzed from 2020 to 2030 to benchmark the financial competency.
Porter's five forces analysis illustrates the potency of the buyers and suppliers in the industry.
Key Market Segments
By End Use
By Target
Aerial Target
Ground Target
Marine Target
By Mode of Operation
Autonomous
Remotely Piloted    
By Region
North America
Europe

Germany
UK
France
Russia
Rest of Europe

Asia-Pacific

China
Japan
India
South Korea
Rest of Asia Pacific

LAMEA

Latin America
Middle East
Africa
Key Players
Airbus S.A.S.
BAE Systems plc
Denel Dynamics
Embention
Griffon Aerospace
Leonardo S.p.A.
Lockheed Martin Corporation
Northrop Grumman Corporation
Qinetiq Group plc
The Boeing Company
 Target Drone Market Report Highlights
Aspects
Details
By END USE
By TARGET

Aerial target
Ground target
Marine target

By MODE OF OPERATION

.Autonomous
Remotely piloted

By Region

North America (U.S., Canada, Mexico)
Europe (France, Germany, Italy, Spain, UK, Russia, Rest of Europe)
Asia-Pacific (China, Japan, India, South Korea, Australia, Thailand, Malaysia, Indonesia, Rest of Asia-Pacific)
LAMEA (Brazil, South Africa, Saudi Arabia, UAE, Argentina, Rest of LAMEA)

Key Market Players
DENEL DYNAMICS, AIRBUS S.A.S., BAE SYSTEMS PLC, LEONARDO SPA, .NORTHROP GRUMMAN CORPORATION, THE BOEING COMPANY, LOCKHEED MARTIN CORPORATION, GRIFFON AEROSPACE, QINETIQ GROUP PLC, .EMBENTION