Technical Ceramics Market Outlook-2026
The global technical ceramics market was valued at $8.03 billion in 2018, and is projected to reach $13.09 billion by 2026, growing at a CAGR of 6.20% from 2019 to 2026. 
Technical ceramic is an inorganic, non-metallic material with a unique combination of thermal and physical properties that make it highly functional. It is ideally used in technical applications such as high temperature, and corrosion & wear resistance, and offers longer service life along with sustained cost-efficiency. Thus, this material is popular by the name of technical ceramics. In addition, it is also known as high-performance ceramic and engineering ceramic.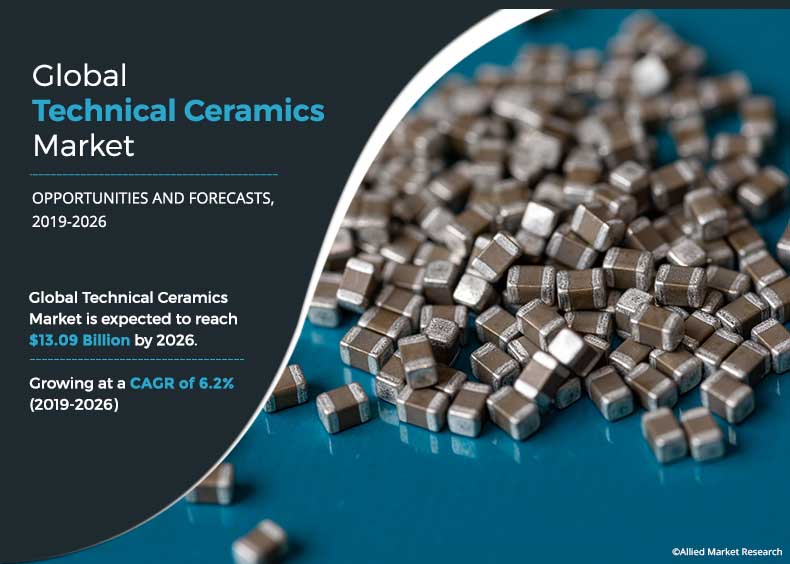 The growth of the technical ceramics market is entirely driven by the associated properties. Insulating and conductive properties of technical ceramics have made them fundamentals in the production of electronics and semiconductor products. Furthermore, their high-temperature compatibility largely recommends their use in high-temperature applications in energy & power and industrial manufacturing sector. In addition, thermal shock resistance and high stability offered by technical ceramics further boost their adoption in various end-use industries such as medical, consumer goods, energy & power, and others. On the other hand, high prices associated with technical ceramics is the major factor that restrains the global technical ceramics market growth. Miniaturization is one of the recent technical ceramics market trend which is offering new growth opportunities to this market. Therefore, technical ceramics manufacturers are focusing on the production of smaller size ceramic product manufacturing. 
The global technical ceramics market is segmented on the basis of material, product, end-use industry, and region. By material type, the global market is divided into oxide ceramics and non-oxide ceramics. By product, the market is divided into monolithic ceramics, ceramic coatings, and ceramic matrix composites. By end-use industry, the global market is studied across electronics & semiconductors, automotive, energy & power, industrial, medical, military & defense, and other end-use industries. Region-wise, the market is analyzed across North America, Europe, Asia-Pacific, and LAMEA.
Asia-Pacific acquired the highest market share in terms of revenue in 2018. This is attributed to the presence of an established automotive industry, growth in the semiconductor industry, and expanding nature of the consumer electronics sector across the region. Some of the major countries that contributed toward the regional growth are China, India, and Japan in response to strong automotive sales and rapid growth in the consumer electronics sector.   
Some of the major market players operating and profiled in this market are KYOCERA Corporation, Albemarle Corporation, Morgan Advanced Materials plc, Rauschert GmbH, McDanel Advanced Ceramic Technologies, CoorsTek Inc., Saint-Gobain S.A., and 3M, NGK Spark Plug Co., Ltd., and KCC CORPORATION.
Apart from the mainstream market players, some of the other manufacturers in the value chain are Superior Technical Ceramics, Ceradyne Inc., Ortech Incorporated, Murata Manufacturing Co. Ltd. Momentive Performance Materials Inc., and others.
Key players are adopting numerous strategies such as product launch, agreement, joint venture, and business expansion, to stay competitive in this market. 
For instance, in July 2019 KYOCERA formed a joint venture with Ube Industries to manufacture ceramic filters for 5G base stations. Under this joint venture, Kyocera acquired 51% of the shares of Ube Electronics, Ltd. This development is likely to strengthen the product portfolio of both companies by utilizing each other's technical capabilities. 
Global Technical Ceramics Market, by Material
By material, oxide-based ceramics emerged as the largest market with more than 60% technical ceramics market share in 2018. This is mainly attributed to the high demand for alumina in electronics & electrical, automotive, energy & utility, and other industries. In addition, titanate ceramic is mostly blended with aluminum by forming solid ceramics, which is highly recommended in the application such as industrial process heating and heavy industrial processing. As a result, their industrial adoption is high in process industries for various applications. 
Technical Ceramics Market

---
By Material
Oxides is projected as the most lucrative segment.
Global Technical Ceramics Market, by Product
By product, the monolithic ceramics segment has dominated the global market by acquiring close to two-thirds of the global market share in 2018 and a similar segment anticipated to continue dominating the market during the forecast period. The demand for monolithic ceramics was on the rise on account of the rapid rise in the sales of consumer electronic products such as laptops, smartphones, television, cameras, and others. This is because monolithic ceramics are effectively utilized in the production of capacitors for consumer electronics devices.
Technical Ceramics Market

---
By Product
Monolithic Ceramics is projected as the most lucrative segment.
Global Technical Ceramics Market, by End-Use industry
By end-user industry, electronics & semiconductor segment was the largest end-use industry among others in 2018. Technical ceramics are considered as fundamentals in the production of electronics and semiconductor products. They are also used in the production of capacitors, which is a basic component used in consumer electronics and electronics appliances. As a result, increase in sales of products such as smartphones, laptops, tablets, chargers, and other high-end appliances significantly drives the use of technical ceramics in the electronics and semiconductor industry. 
Technical Ceramics Market

---
By End User
Electronics & Semiconductor is projected as the most lucrative segment.
Global Technical Ceramics Market, by Region
By region, Asia-Pacific is the market leader across the globe for a reason. China, India, Japan, South Korea, and Australia are the prominent contributors to the regional growth of technical ceramics. The region has the presence of several established industries such as automotive, electronics & electricals, and energy & power, which collectively surge the demand for technical ceramics.
Technical Ceramics Market

---
By Region
Asia-Pacific holds a dominant position in 2018 and would continue to maintain the lead over the forecast period.
Key Benefits for Stakeholders
The report provides an in-depth outlook of the technical ceramics market analysis along with the current and future market trends
This report highlights the key drivers, opportunities, and restraints of the market along with the impact analyses during the forecast period
Porter's five forces analysis helps analyze the potential of the buyers & suppliers and the competitive scenario of the global technical ceramics industry for strategy building
A comprehensive analysis of the factors that drive and restrain the market growth is provided
The qualitative data in this report aims on market dynamics, trends, and developments
The global technical ceramics market size is provided in terms of revenue along with pricing analysis of each product type
 Technical Ceramics Market Report Highlights
Aspects
Details
By Material Type
By Product

Monolithic Ceramics
Ceramic Coatings
Ceramic Matrix Composites (CMC)

By End Use Industry

Electronics & Semiconductor
Automotive
Energy & Power
Industrial
Medical
Military & Defense
Others

By Region

North America (U.S., Canada, Mexico)
Europe (Germany, France, Italy, Spain, UK, Rest of Europe)
Asia-Pacific (China, Japan, India, South Korea, Australia, Rest of Asia-Pacific)
LAMEA (Brazil, Saudi Arabia, UAE, South Africa, Rest of LAMEA)

Key Market Players
Albemarle Corporation, CoorsTek, Inc., KCC Corporation, KYOCERA Corporation, McDanel Advanced Ceramic Technologies, LLC., Morgan Advanced Materials plc, NGK SPARK PLUG CO., LTD., Rauschert GmbH, SAINT-GOBAIN