Telecom Analytics Market Outlook: 2026
The global telecom analytics market size was valued at $3.52 billion in 2018, and is projected to reach $9.89 billion by 2026, growing at a CAGR of 13.9% from 2019 to 2026. Telecom analytics is a form of business intelligence precisely applied and packaged to fulfill the multifaceted requirements of telecommunication organizations. Telecom analytics is aimed at decreasing operational costs and maximizing profits by increasing sales, reducing fraud, and improving risk management. The adoption of analytics in telecommunications is proposed to enhance visibility into internal processes, core operations, and market conditions, distinguish trends and generate forecasts.
Rise in need for churn reduction, demand for fraud detection owing to increase in number of network attacks, and need for streamlining revenue management operations are expected to impact the growth of the global telecom analytics market.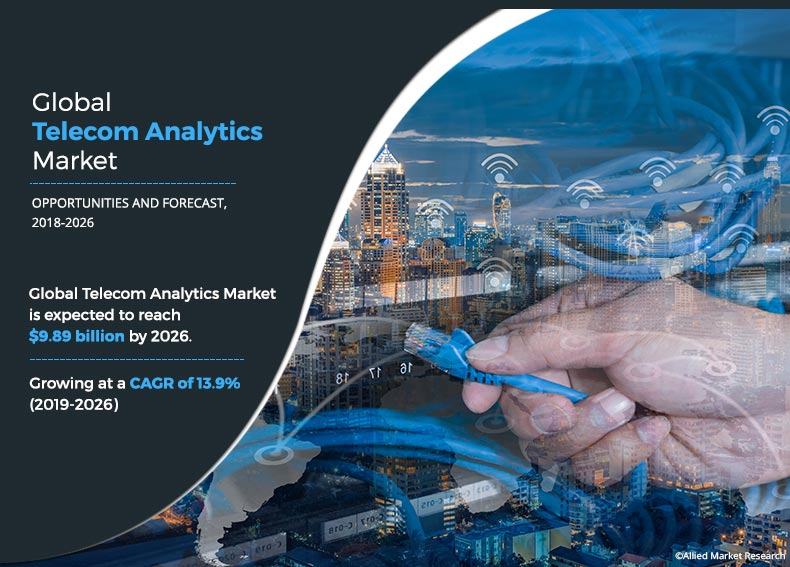 Lack of awareness about telecom analytics solutions is anticipated to restrict the market growth. On the contrary, rise in adoption of new technologies such as AI and machine learning in telecom analytics are expected to offer lucrative opportunities for market expansion.
Telecom Analytics Market

---
By Component
Service segment is projected to show highest growth during the forecasted period.
Depending on deployment model, the cloud segment dominated the overall telecom analytics market in 2018, and is expected to maintain the dominance during the forecast period. This is attributed to various advantages offered by cloud-based telecom analytics solutions such as direct IT control, internal data delivery & handling, faster data processing, efficient resource utilization, and cost-effectiveness.
Telecom Analytics Market

---
By Deployment
Cloud deployment segment is projected to show highest growth during the forecasted period.
On the basis of application, the network management sector segment led the global telecom analytics market in 2018, and is expected to continue this trend during the forecast period. However, the risk & compliance management segment is expected to exhibit the highest growth in the near future, as telecom analytics is increasingly being adopted for fraud detection. Increase in number of cyberattacks and data breaches in networks are driving the demand for predictive analytics in telecom sector. Thus, telecom analytics is witnessing increased adoption for predictive maintenance for telecom networks amongst CSPs.
Telecom Analytics Market

---
By Application
Customer Management segment dominated the market in 2018.
The key players operating in the global telecom analytics market analysis include SAP SE, Oracle, SAS Institute, Teradata, Tibco, Adobe, Cisco, IBM, Tableau, and Sisense.
Telecom Analytics Market

---
By Organization Size
SMEs segment is projected to show highest growth during the forecasted period.
The report focuses on the growth prospects, restraints, and global telecom analytics market trends. Moreover, the study includes the Porter's five forces analysis of the industry to understand the impact of various factors such as bargaining power of suppliers, competitive intensity of competitors, threat of new entrants, threat of substitutes, and bargaining power of buyers on the growth of the telecom analytics market.
Segment review
The global telecom analytics market is segmented into component, deployment, application, and region. Depending on component, the market is bifurcated into software and service. As per the deployment, it is classified into cloud and on-premise. As per organization size, market is divided into large enterprises and small & medium sized enterprises (SMEs). On the basis of application, it is segregated into customer management, network management, sales & marketing management, risk & compliance management, and others. Region wise, it is analyzed across North America, Europe, Asia-Pacific, and LAMEA.
In 2018, North America accounted for the highest telecom analytics market share, due to the accessibility of such software on mobile devices such as smartphones and tablets. Continuous advancements in IT infrastructure and technology used for customer support, presence of major number of market vendors, and accessibility of proficient technical expertise pertaining to managing the modern customer experience and helpdesk software contribute toward the telecom analytics market growth in this region.
Telecom Analytics Market

---
By Region
North America region is expected to dominate the market during the forecast period.
Top impacting factors
Rise in need for churn reduction
A churn in the context of the telecom industry, can be stated as the proportion of subscribers moving from a specific a service provider to other in a certain period. Companies are increasingly focusing on reducing the churn since reputation of the company lowers if the percentage churn rises year on year. This affects the company's future business & sales severely. Adoption of telecom analytics can reduce the churn by about 15%. Thus, telecom service providers are demanding for the customer churn analytics tool to prevent the revenue loss, improve quality of customer service, and reduce the marketing & sales costs. Adopting telecom analytics solution enables carriers to gain insights from subscriber usage data to understand their behavior pattern and optimize customer experiences. It also facilitates the opportunity for cross-selling & up selling for the telecom companies. In addition, market vendors are offering telecom analytics solutions infused with machine learning to comprehend sentiments, thus carriers can recognize at-risk subscribers or roots of churn occurring at present and in future. This enables companies to create marketing or customer care programs to avoid churn. It can also identify subscribers prepared for data plan upgrades, and potential buyers of new services. Churn analytics in the telecom industry also enables to detect when the customers are expected to switch their service providers or carriers.
Rise in need for streamlining revenue management
The need to streamline business operations impacting the revenue is primarily driving the growth of the telecom analytics market. Revenue of telecom companies is mainly dependent on the number of subscribers, sale of value-added services, billing charges, and others. Telecom analytics help in recognizing the constraints, which needs to be upgraded to increase the revenue of telecom companies. Telecom analytics software enables to reduce the risk and make appropriate business decisions. In addition, it also assists companies to differentiate their business with a competitive strategy and deliver subscriber focused scores to help in revenue growth. Telecom analytics solutions can provide qualitative and quantitative metrics offering objective Key Performance Indicators (KPIs) or Key Quality Indicators (KQIs) measurements to a numerous application for business, network or customer use cases. Telecom analytics can help in measuring the critical subscriber decisions, which impact revenues and it can be measured by deriving propensity scores, with the relevant information including subscriber's experience (xDRs), location, partners (TAP), network (probes), activities (logs). Thus, the market is expected to grow during the forecast period due to these functions. 
Impact of COVID-19 on Telecom Analytics Market:
The growth of the telecom analytics market is expected to increase during the Covid-19 pandemic outbreak. The telecom service providers are suffering from cases of fraud during the lockdown. The telecom analytics helps in fraud detection and enhance the visibility of core operations and internal processes Therefore, the adoption of the telecom analytics has been increased during active lockdown. 
Moreover, the rising pressure on broadband due to the work from home facility and increase in use of online streaming platforms during global lockdown, the demand for telecom analytics has increased.
Key Benefits for Stakeholders
This study includes the analytical depiction of the global telecom analytics market forecast and trends to determine the imminent investment pockets.
The report presents information related to key drivers, restraints, and opportunities.
The current market size is quantitatively analyzed from 2018 to 2026 to highlight the financial competency of the industry.
Porter's five forces analysis illustrates the potency of buyers & suppliers in the telecom analytics industry.
 Telecom Analytics Market Report Highlights
Aspects
Details
By Component
By Deployment
By Organization Size
By Application

Customer Management
Network Management
Sales & Marketing Management
Risk & Compliance Management
Others

By Region

North America (U.S., Canada)
Europe (UK, Germany, France, Italy, Spain, Rest of Europe)
Asia-Pacific (China, Japan, India, Australia, Rest of Asia-Pacific)
LAMEA (Latin America, Middle East, Africa)

Key Market Players
Adobe Inc., Cisco Systems, Inc., International Business Machines Corporation, Oracle Corporation, SAP SE, SAS Institute Inc., Sisense Inc., Teradata Corporation, TIBCO Software Inc., Tableau Software