Telehandlers Market Outlook - 2026
The global telehandlers market size was valued at $5,433.9 million in 2018, and is projected to reach $7,821.4 million by 2026, growing at a CAGR of 4.5% from 2019 to 2026. Telehandlers are lift trucks used widely to lift and transfer heavy materials, such as container goods, crates, and other such components, to short distances. These trucks are ubiquitously used in dockyards, warehousing operations, and recycling operations to perform functions such as loading & unloading goods from vehicles and moving packed goods around storage areas. Moreover, these vehicles are used with variety of attachments such as platforms and grippers. 
The global telehandlers market is driven by the ability of these trucks to carefully and easily transfer heavy loads to various locations. Advancements in telehandlers, such as electric type or lithium-ion powered, are expected to boost the demand for these telehandlers. However, cyclic nature of lift trucks and limited number of suppliers hamper the telehandlers market growth. Irrespective of these challenges, rise in demand for telehandlers by suppliers and manufacturers is expected to provide numerous opportunities for the telehandlers market in the future.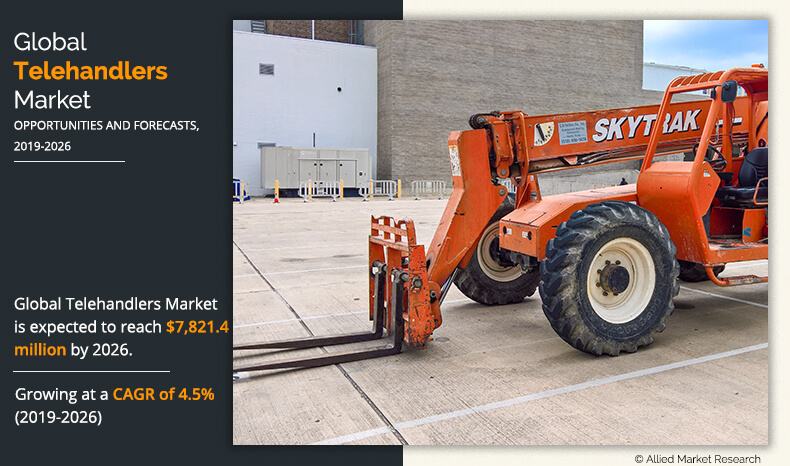 Furthermore, many telehandler manufacturers such as JCB, Manitou and Faresin are opting for "green logistics". The green logistics refers to the process of reducing damage to the environment by minimizing pollution caused by logistics operations. This gives telehandler manufacturers a competitive advantage over others as consumers demand more environmental-friendly logistics services.  
Telehandlers Market

---
By Lifiting Height
50ft and more segment is projected to grow at a significant CAGR
The focus on green logistics provides multiple opportunities for the telehandler manufacturers , making a positive impact on the environment and the society as well. For instance, in November 2018, Battery Power Industries (BPI) and Manitou developed battery-powered telehandlers with high speed charging systems for mining and infrastructure construction. Similarly, JCB launched 30-19E telehandler, the first electric telehandler, for recycling facilities, manufacturing plants, and distribution centers. This new telehandler is well suited for indoor work with zero emissions and low noise levels.
Telehandlers Market

---
By End User
Construction segment holds dominant position in 2018
The telehandlers market is segmented on the basis of height, end-user, and region. By height, it is bifurcated into less than 50 ft and 50 ft & more. By end user, it is classified into construction, mining, agriculture, heavy industries, and others. Region wise, it is analyzed across North America, Europe, Asia-Pacific, and LAMEA. 
Telehandlers Market

---
By Region
Asia-Pacific holds a dominant position in 2018, and is expected to grow at a highest rate during the forecast period.
The telehandler market share in Asia-Pacific has gained traction in the recent years, owing to significant number of ongoing infrastructure and development projects in China and India. Moreover, the fast-growing economies, especially East Asian countries, fuel the development-related projects for infrastructure, transportation, and airports. This increases the demand for compact and robust telehandlers in Asian countries. Many telehandler manufacturers are focused toward business expansion, which boosts the telehandlers market growth. For instance, in March 2019, JCB invested US $91.7 million in Gujarat, India to meet the increasing demand for construction equipment.
Competition Analysis
The key market players profiled in the telehandlers market report include Wacker Neuson SE, Doosan Infracore Co. Ltd., Terex Corporation, Liebherr Group, Manitou Group, J.C. Bamford Excavators Ltd., Linamar Corporation, Caterpillar, CNH Industrial, and Oshkosh Corporation. The major players operating in the global telehandlers market have adopted key strategies such as product development to strengthen their market outreach and sustain the stiff competition in the market. For instance, in November 2017, Doosan Infracore Co. Ltd. launched the new Bobcat V723 VersaHANDLER telescopic tool carrier also known as telehandlers. The new product is included in 7,000 to 8,000-pound size class and can easily handle heavy loads. It also features Power Quick-Tach attachment mounting system, which increases its functionality. Similarly, in June 2019, JCB launched the new Hydraload 555-210R telehandler with rotating telescopic handler. The product features maximum lift capacity of 5.5 tons with maximum lifting height of 20.5m. 
Key Benefits for Telehandlers Market:
The report provides an extensive analysis of the current and emerging telehandlers market trends and dynamics.  
In-depth telehandlers market analysis is conducted by constructing estimations for the key segments between 2018 and 2026. 
Extensive analysis of the telehandlers market is conducted by following key product positioning and monitoring of the top competitors within the market framework.
A comprehensive analysis of four major regions is provided to determine the prevailing opportunities.
The global telehandlers market forecast analysis from 2018 to 2026 is included in the report.
Key market players operating in the global telehandlers market are profiled in this report, and their strategies are analyzed thoroughly, which help to understand the competitive outlook of the telehandlers industry. 
Global Telehandlers Market Segments
By Height
Less than 50 ft
50 ft & more
By End-user
Construction
Mining
Agriculture
Others
By Region
North America
Europe

Germany
France
UK
Russia
Rest of Europe

Asia-Pacific

Japan
China
India
South Korea
Rest of Asia-Pacific

LAMEA

Latin America
Middle East 
Africa
Key Players
Wacker Neuson SE, 
Doosan Infracore Co. Ltd.
Terex Corporation
Liebherr Group
Manitou Group
J.C. Bamford Excavators Ltd.
Linamar Corporation
Caterpillar
CNH Industrial 
Oshkosh Corporation
 Telehandlers Market Report Highlights
Aspects
Details
By HEIGHT

Less than 50 ft
50 ft and more

By END-USER

Construction
Mining
Agriculture
Others

By Region

North America (U.S., Canada, Mexico)
Europe (France, Germany, Italy, Spain, UK, Russia, Rest of Europe)
Asia-Pacific (China, Japan, India, South Korea, Australia, Thailand, Malaysia, Indonesia, Rest of Asia-Pacific)
LAMEA (Brazil, South Africa, Saudi Arabia, UAE, Argentina, Rest of LAMEA)

Key Market Players
Manitou Group, Oshkosh Corporation, DOOSAN INFRACORE CO. LTD., CATERPILLAR INC., Linamar Corporation, CNH Industrial N.V., Wacker Neuson Group, Terex Corporation, J C BAMFORD EXCAVATORS LTD., Liebherr-International AG