Teleradiology Market Outlook - 2025
The global teleradiology market accounted for $2,709 million in 2017 and is expected to reach $10,621 million by 2025 with a CAGR of 18.4% from 2018 to 2025.Teleradiology is a branch of telemedicine that involves transmission of radiological images and related data from one location to another for diagnostic and consulting purpose. It is an advanced technology that has emerged due to the imbalance between demand and availability of diagnostic services. This is evident from the fact that high demand for radiology services in countries such as the U.S., Singapore, and the UK, were often unfulfilled owing to dearth of skilled and specialized professionals specific to teleradiology. For instance, there is an increase in the number of CT scans being performed in the U.S., however, there is a persisting shortage of radiologists in the country. In addition, in Singapore, there is a scarcity of radiologists for night coverage, while in the UK, a radiologist takes 21 days on an average to submit an MRI report. All these challenges were met by teleradiology and thereby led to the growth of tele-based technologies and surge in demand for teleradiology techniques globally.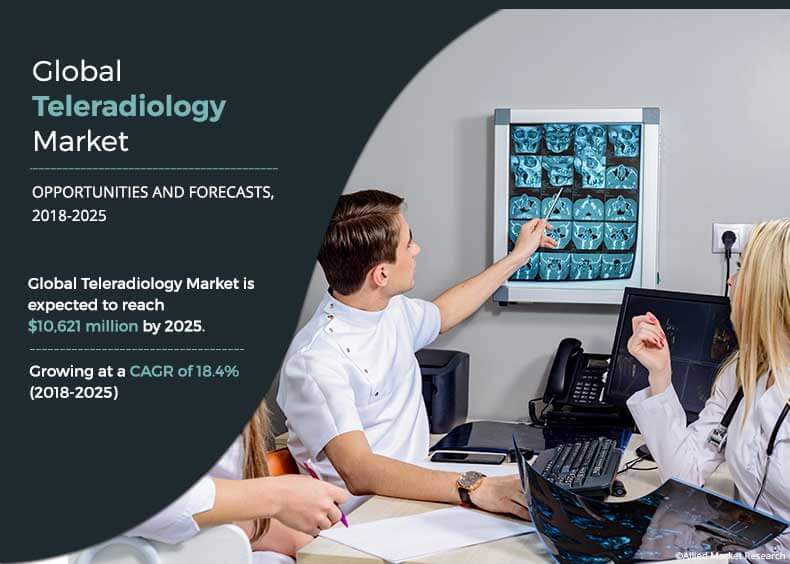 Increase in demand for radiological services owing to high prevalence of chronic diseases such as congestive heart failure and orthopedic injuries are the major factors that propel the growth of the teleradiology market. In addition, significant increase in government expenditure on healthcare information (HCIT) sector and rise in focus of key players toward bringing innovation to digital diagnostics further fuels the market growth. However, low availability of broadband networks and shortage of skilled radiologists restrain the market growth. Moreover, continuous advancements in medical diagnostic technologies are expected to provide lucrative opportunities for the growth of the teleradiology market during the near future.
Imaging Techniques segment review
Based on teleradiology market analysis imaging techniques, the teleradiology market is classified into X-rays, computed tomography (CT), ultrasound, and others. The computed tomography (CT) segment was the largest contributor to the teleradiology market, owing to the surge in number of institutes installing CT scanners, teleradiology-based CT. Moreover, capability of CT scan to scan complex body structures such as lungs, brain, and cardiac cavities propel the market growth. In addition, ability of the computed tomography to provide 3-D images of the body parts including lungs, brain, heart, and abdomen; accuracy in analysis, and constant improvements in the innovation are the major factors fueling the market growth of CT scan. However, the nuclear imaging segment is anticipated to grow at the fastest rate during the forecast period. This is attributed to the technological advancements, increase in diagnostic applications in several diseases, such as cancer & cardiovascular diseases, government support, and shift from standalone to hybrid modalities.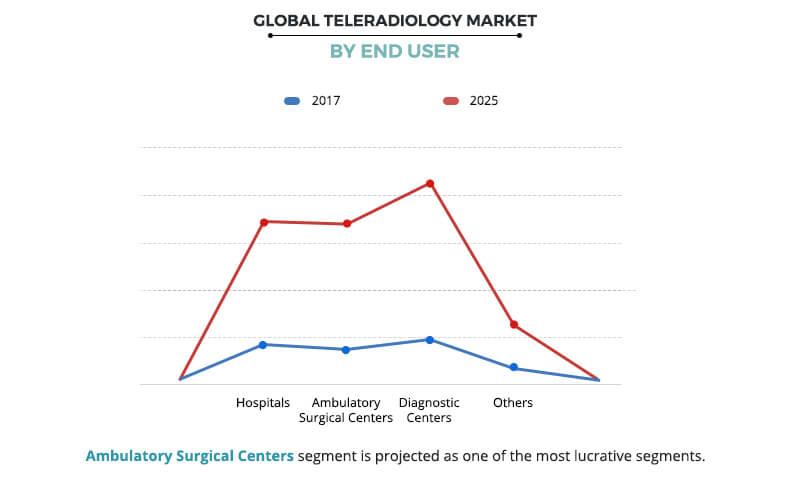 End User segment review
Based on end user, the teleradiology industry is segmented into hospitals, ambulatory surgical centers, diagnostic centers, and others. The ambulatory surgical centers segment accounted for the highest revenue in 2017 and is anticipated to grow at the fastest growth rate during the forecast period. This is attributed to the fact that ambulatory surgery centers offer improved efficiency in health care delivery, allowing patients to spend less time in the health care setting. Moreover, rise in patient preference toward visiting ambulatory surgical centers for rapid and easy diagnosis accompanied with surge in use of teleradiology services in these centers is anticipated to boost the market growth during the forecast period.
Region segment review
Based on region, the global teleradiology market is analyzed across North America, Europe, Asia-Pacific, and LAMEA. North America dominated the market in 2017, accounting for the highest share, and is anticipated to maintain this trend throughout the forecast period. This is attributed to increased funding by government agencies and rise in focus toward use of teleradiology services in diagnostic centers, ambulatory surgical centers, hospitals, and others, in this region. However, as per teleradiology market forecast, Asia-Pacific is projected to register the highest growth rate from 2018 to 2025. This is attributed to the increase in penetration of the key players including GE Healthcare, Philips, and others, which fuels the teleradiology market growth. For instance, GE Healthcare adopted partnership with Teleradiology Solutions to widen its reach across India with Teleradiology's proprietary Radiology Workflow Solution—RadSpa to make remote radiology reporting services available to healthcare providers.
The report provides a comprehensive analysis of the leading companies operating in the global teleradiology market such as Siemens AG, 4ways Limited, Global Diagnostics Limited, Mednax, Inc., Koninklijke Philips N.V., GE Healthcare, Everlight Radiology, Agfa-Gevaert Group, Radisphere National Radiology Group, Inc., and Fujifilm Medical Systems, Inc. The other players in the value chain (not included in the report) include Cybernet Medical Corporation, Spectra AB, Medica Reporting Ltd., Radiology Reporting Online (RRO), Sectra Imtec AB, StatRad, LLC, Ramasift Inc., and Alta Vista Teleradiology.
Key Benefits for Teleradiology Market:
The study provides an in-depth analysis of the global teleradiology market share with the current trends and future estimations to elucidate the imminent investment pockets.
A comprehensive analysis of the factors that drive and restrict the global teleradiology market size is provided.
A comprehensive quantitative analysis is provided from 2018 to 2025 to assist stakeholders to capitalize on the prevailing market opportunities.
An extensive analysis of the key segments of the industry helps to understand the global teleradiology market trends.
Key players and their strategies are provided to understand the competitive outlook of the teleradiology market.
Teleradiology Key Market Segments:
By Imaging Technique
X-rays
Computed Tomography (CT)
Ultrasound
Magnetic Resonance Imaging (MRI)
Nuclear imaging
Fluoroscopy
Mammography
Others
By Technology
Hardware
Software

Picture Archiving and Communication System (PACS)
Radiology Information System (RIS)

Telecom & Networking

Web-Based Teleradiology Solutions
Cloud-Based Teleradiology Solutions
By End User
Hospitals
Ambulatory Surgical Centers
Diagnostic Centers
Others
By Region
North America
Europe

UK
France
Germany
Italy
Russia
Spain
Rest of Europe

Asia-Pacific

Japan
China
India
South Korea
Australia
Rest of Asia-Pacific

LAMEA

Saudi Arabia
South Africa
Brazil
Turkey
Venezuela
Rest of LAMEA