Textile Dyes Market Outlook - 2026
The global textile dyes market was valued at $9.4 billion in 2018 and is projected to reach $15.5 billion by 2026, growing at a CAGR of 6.3% from 2019 to 2026. Textile dyes are the coloring agents or pigments that are used to give a certain look to textiles. The textiles such as denim, polyester, wool, cotton, acrylics fur, nylon, silk, and many others are colored through the use of dyes. Dyes are textile colorants produced through a mixture of various chemicals to obtain the desired color. Direct, reactive, VAT, basic, acid, and disperse are the types of dyes used for textile. 
Textile dyes market growth is driven by consumer demand for textiles in various applications. Moreover, the lower cost of manufacturing owing to availability of raw material and labor at cheaper rates also drives textile dyes growth. The rise in environmental pollution caused by toxic substances such as lead, arsenic, and heavy metals in dyes, has negatively impacted the industry.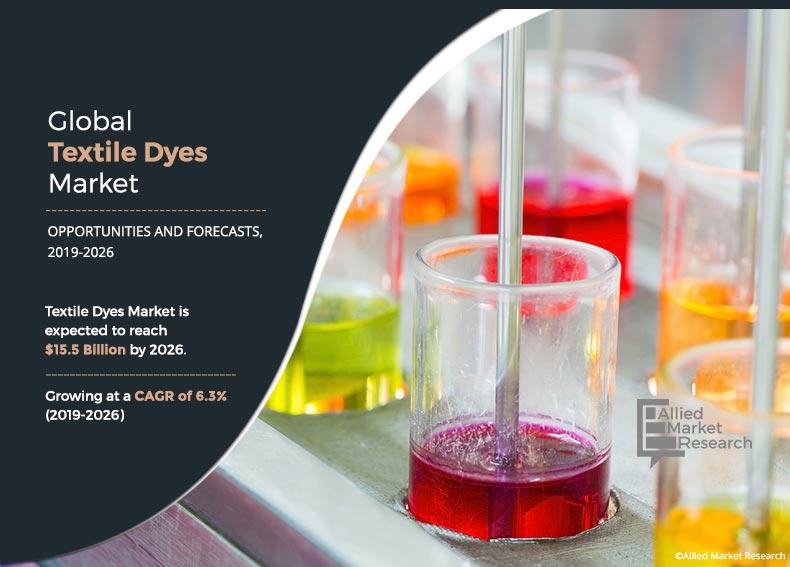 Moreover, market growth is hampered due to implementation of various health & environment regulations toward the use of textile dyes. Furthermore, textile dyeing processes consume huge amount of water as a solvent leading to water wastage, which further acts as a restraint owing to scarcity of water. The development of new processes that minimize the water wastage is anticipated to create a significant opportunity for the market growth. Moreover, developments in organic dyes for a healthy environment also offers lucrative opportunity to the textile dyes industry.
The global textile dyes market is segmented into dye type, fiber type, and region. Depending on dye type, the market is classified into direct, reactive, VAT, basic, acid, disperse, and others. The disperse segment was the highest contributor to the market. It is one of the highly adopted types of dyes owing to significant benefits over other types of dyes such as high lightfastness than most reactive dyes, ease of use, overall low cost, less water requirement water, and others. Hence, it is used increasingly to dye textiles.
Textile Dyes Market

---
By Dye Type
Reactive segment is projected as the fastest growing segment.
The reactive segment is estimated to be the fastest growing segment during the forecast period. Reactive dye is anticipated to grow at a noteworthy rate owing to its beneficial features such as bright shades, ease of application, quick-drying properties, cost-effective, and others. In addition, reactive dye requires only a single finish wash owing to which it is highly adopted in the textile industry.
Textile Dyes Market

---
By Fiber Type
Acrylic segment is projected as the fastest growing segment.
On the basis of fiber type, the market is categorized into wool, polyester, acrylic and others. Polyester gained a significant market share in the market and is expected to maintain its growth throughout the analysis period. This is attributed to its numerous advantages such as high strength, weather-resistant, high elasticity, and others. It is one of the most preferred fibers in the textiles industry owing to its excellent physical properties, cheap price, versatility, recyclability, and others.
The acrylic segment is estimated to grow with the highest CAGR during the forecast period. Acrylic fiber is anticipated to grow at the significant growth rate. This is attributed to numerous factors such as rise in demand for fibers in yarns for the manufacturing of apparel and household textiles. It is used in products such as winter wear, outerwear fabrics, owing to their property such as moisture resistance.
Textile Dyes Market

---
By Region
Asia-Pacific would exhibit CAGR of 6.9% during 2019-2026.
Region wise, the global textile dyes market is analyzed across North America, Europe, Asia-Pacific, and LAMEA. Asia-Pacific was the highest revenue contributor in the global market. The growth in these regions is driven by the development in manufacturing sectors, increase in population in the continent, and improvement in economic conditions. Additional key factors that fuel the technical textile market include the growth in public infrastructure development, healthcare sector, and rapid urbanization. India and China are the top investment region for the global textile dyes market. Textile dyes producers are focusing on this area as it is the biggest market for textile owing to high demand for apparel and clothing. The development is credited to the rising interest for textile and garments from the huge population. The key market players are expanding their textile dyes companies in APAC, particularly in China and India.
Key players operating boosting the global textile dyes market share include Agrofert S.A., Archroma, Chromatech Incorporated, Colourtex, DuPont., Hollindia International B.V., Huntsman Corporation, Jay Chemicals Industries Ltd., Kiri Industries Ltd. (Kiri), and Organic Dyes and Pigments. In order to stay competitive, these market players are adopting different strategies such as product launch, partnership, agreement, merger and acquisition. For instance, Huntsman launched a series of eco-friendly products disperse dyes and inks, comprehensive range of durable water repellents at Techtextil 2019. The products named PHOBOTEX and Zelan for water repellents and TERATOP XKS HL, TERASIL TS, and TERASIL W/WW dyes for disperse dyes and inks.
Key Benefits for Stakeholders:
The report outlines current textile dyes market trends and future scenario of the textile dyes market size from 2018 to 2026 to understand the prevailing opportunities and potential investment pockets.
Porter's five forces analysis helps to analyze the potential of buyers & suppliers and the competitive scenario of the industry for strategy building.
Major countries in the region have been mapped according to their individual revenue contribution in the textile dyes market analysis at the regional and country-level market.
The key drivers, restraints, and textile dyes market opportunities and their detailed impact analyses are elucidated in the study.
The profiles of key players along with their key strategic developments are enlisted in the report.
Textile dyes market forecast is studied from 2019-2026. 
 Textile Dyes Market Report Highlights
Aspects
Details
By Dye Type

Direct
Reactive
VAT
Basic
Acid
Disperse

By Fiber Type

Wool
Polyester
Acrylic
Others

By Region

North America (U.S., Canada, Mexico)
Europe (Germany, France, UK, Italy, Russia, Rest of Europe)
Asia-Pacific (China, Japan, India, South Korea, Thailand, Rest of Asia-Pacific)
LAMEA (Brazil, Saudi Arabia, Rest of LAMEA)

Key Market Players
Agrofert a.s., Archroma, Chromatech Incorporated, Colourtex, DuPont., Hollindia International B.V., Huntsman Corporation, Jay Chemical Industries Ltd., Kiri Industries Ltd., Organic Dyes and Pigments (ORCO)