Thermal Screening Market Outlook - 2027
Thermal screening is a technology incorporating heat sensor that collects infrared radiation from objects. These scanners produce an electronic high-resolution image on the basis of information about temperature difference measured from a surface of a structure. Thermal screening devices are preferred in industry verticals such as aerospace & defense, industrial sector, and automotive, and are user-friendly, rugged in nature, and could be used in all-weather conditions with high image frequency and temperature range. In addition, thermal screening is also used to detect abnormal changes in physiology in the healthcare sector, which is lucrative to the thermal screening market share globally. It is used from safe distance and produces real-time results, thus offering fast response. Thermal scanners have long operation life as it can be operated in rugged nature efficiently.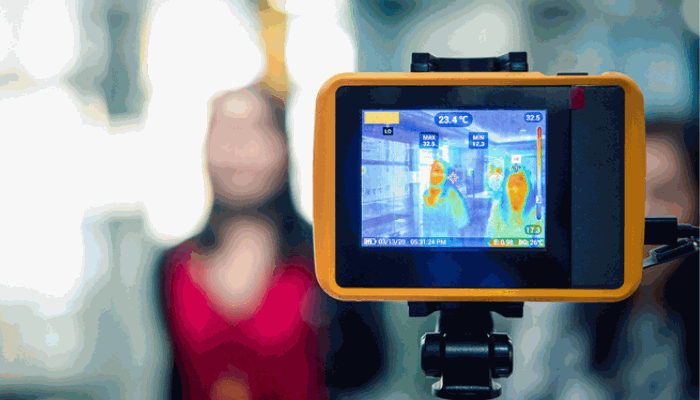 According to thermal screening market analysis, the uncooled thermal sensors are cost-effective compared to cooled thermal scanners, which are expensive due to integration of cryogenic coolers in them. These features and on-going innovations enhance product quality and their standard in the market. Currently, the thermal screening industry portrays an upscale graph and is expected to grow considerably in the coming years.
COVID-19 Scenario Analysis:
Due to coronavirus pandemic, human population around the globe are required to undergo consistent temperature check  monitoring, owing to increase in safety measures. This is expected to boost the sales of thermal scanners globally. In May 2020, FLIR Corporation witnessed over $100 million worth of in booking. In addition, in June 2019, iWEECARE, a Taiwan healthcare company developed TempPal, a smart thermal scanner whose cloud-based functionality to send alerts for suspected body temperature is in high demand.
Thermal scanners are used to identify potential patients of COVID-19 by analyzing the temperature difference of their bodies. Hence, many companies are increasing their production rate, owing to surge in the demand globally.
Fresh stocks in transit are facing hurdles, owing to global lockdown as there are disruptions in supply chain. Since the Indian government relies highly on import, it is working to ease import restrictions to meet demands. In April 2020 NDMA received offers of 1000 digital thermal scanners to fight COVID-19.
Recently thermal scanners have become smarter, which tend to be wirelessly connected to cloud enabling precise scrutiny and remote monitoring of each person. Such scanners have been deployed in airports to battle the pandemic.
Top Impacting Factors: Market Scenario Analysis, Trends, Drivers and Impact Analysis
Rapid urbanization globally has led to robust increase in demand for advanced security and surveillance solutions. Surge in demand for security technologies at airports for mass screening, rising investments by governments in aerospace and defense sectors worldwide, expenditure by companies and governments in R&D, innovations in thermal scanning solutions by several firms tend fuel the growth of the thermal scanners market. However, intense competition, different laws, and continuous currency fluctuations are expected to hamper the thermal screening market growth. In addition, volatile political climate accompanied by increased prices in China due to COVID pandemic is also expected to negatively impact the thermal screening market growth. 
On the contrary, owing to the rugged nature of this device, which can work efficiently in any environmental conditions such like dust, fog, and smoke, is expected to boost its demand and in turn, the market growth. Governments worldwide use this as an inspection tool for security and rescue in different sectors assuring huge investment , hence presenting new pathways in the thermal screening market trends.
New Product Launches to flourish the market
Leading key market players have taken necessary actions to improve overall accuracy and functionality of scanners. Many recent innovations in this technology aim to upgrade the market further. In March 2020, FLIR Systems launched a high-definition thermal imaging system named FLIR Range HDC MR, which uses embedded analytics and image processing to detect illegal activities in worse weather conditions. It is used in border surveillance, ship collision avoidance, health monitoring of aircrafts, and to help soldiers locate and target enemy forces.
In addition, on January 2020, FLIR Systems introduced FLIR GF77a Gas Find IR camera that is a fixed-mount, uncooled, autonomous detection camera for visualizing methane and various poisonous industrial gases. 
The market for thermal scanners using uncooled technology is expected to grow at the highest CAGR owing to low cost, longer operation life, and low maintenance costs.
Surge in use of automotive and industrial applications
Use of thermal scanners operating in the long-wave infrared range (LWIR) has proved to be crucial in the automotive and civil infrastructure sector for detection and measurement applications. For instance, Fluke Corporation launched TiS60+ thermal imaging camera that operates as a troubleshooting and preventive maintenance tool to be used mainly in the automotive sector by technicians and engineers.
The scanner uses IR-fusion technology that helps to pinpoint the exact location of a problem by combining or blending visible and infrared images. This makes the job easier and convenient and provides accurate, precise, real-time results. Such thermal scanners can also be used in the security forces sector. It can also be used to monitor structural health of historical monuments, buildings, and equipment for system protection and efficient performance.
Key benefits of the stakeholders:
The study gives an analytical overview of the thermal screening market with current trends and future estimations to determine imminent investment pockets.

The report analyses information related to key drivers, restraints, and opportunities along with detailed analysis of the overall thermal screening market size.

The current market is quantitatively analyzed.

Porter's five forces analysis illustrates the potency of buyers & suppliers in the market. 
Questions answered in the Thermal Screening Market research report:
Who are the leading market players active in the thermal screening market?

How would the current trends influence the market in the next few years?

What are the driving factors, restraints, and opportunities in the market?

What are the projections for the future that would help taking further strategic steps?
 Thermal Screening Market Report Highlights
Aspects
Details
By Type
By Technology
By Wavelength

Short-Wave Infrared
Medium-Wave Infrared
Long-Wave Infrared

By Application

Thermography
Safety and surveillance
Search and Rescue
Others

By Industry Vertical

Industrial
Commercial
Aerospace and Defense
Oil & gas
Mining
Automotive
Healthcare
Others

By Region

North America (U.S., Canada, Mexico)
Europe (France, Germany, Italy, Spain, UK, Russia, Rest of Europe)
Asia-Pacific (China, Japan, India, South Korea, Australia, Thailand, Malaysia, Indonesia, Rest of Asia-Pacific)
LAMEA (Brazil, South Africa, Saudi Arabia, UAE, Argentina, Rest of LAMEA)

Key Market Players
Tonbo Imaging, 3M Scott, L3Harris Technologies Inc, Optotherm Inc, Fluke Corporation, Thermoteknix Systems Ltd, Seek Thermal Inc, Flir Systems Inc, Leonardo SpA, Axis Communications AB