Thermoelectric Modules Market Research, 2031
The global thermoelectric modules market was valued at $615.2 million in 2021, and is projected to reach $1.3 billion by 2031, growing at a CAGR of 8.3% from 2022 to 2031.
Thermoelectric (TE) modules, also known as thermoelectric coolers or peltier coolers, are semiconductor-based electronic components that act as miniature heat pumps to transport heat from one side of the device to the other. Peltier thermoelectric coolers are used to generate electricity by utilizing the temperature difference between the two sides of the module. For example, in March 2021, Yamaha Corporation developed a thermoelectric power production module using automotive exhaust gas heat energy to generate power. 
Thermoelectric Peltier modules provide improved thermal insulation of vital electronics to ensure optimal performance while addressing thermal issues in vehicle heads-up displays (HUDs) and infotainment systems. The complexity of operations of these newly developed intelligent autonomous systems is rising while their size and weight are reducing, which amplifies the heat flux density and thermal issues in autonomous electronics. The thermoelectric technology helps operate each sensitive device within its temperature range and optimizes its performance.  
The thermoelectric modules market has been severely impacted by the outbreak of the COVID-19 pandemic. With governments of several nations imposing and extending lockdowns, production and manufacturing facilities across the globe have been shut down, owing to crisis and unavailability of the workforce. Considering the inputs from various industry experts belonging to the various stages of the value chain, such as OEMs, suppliers, integrators, end users, and distributors, and the financial release of various companies in the thermoelectric modules ecosystem, it is calculated that the market has experienced a decline during 2019–2020. Furthermore, the outbreak of the pandemic has disrupted the global supply chain, thereby creating significant gap in supply chain. Economic impact of the pandemic has been disruptive. Key players operating in the thermoelectric modules industry temporarily witnessed a slowdown, owing to lack of availability of skilled professional to develop thermoelectric modules market solutions, which has led to decline in revenues for the financial year 2020 to 2021. However, it is expected that the market will recover from 2021 and remain in the growth stage during the forecast period.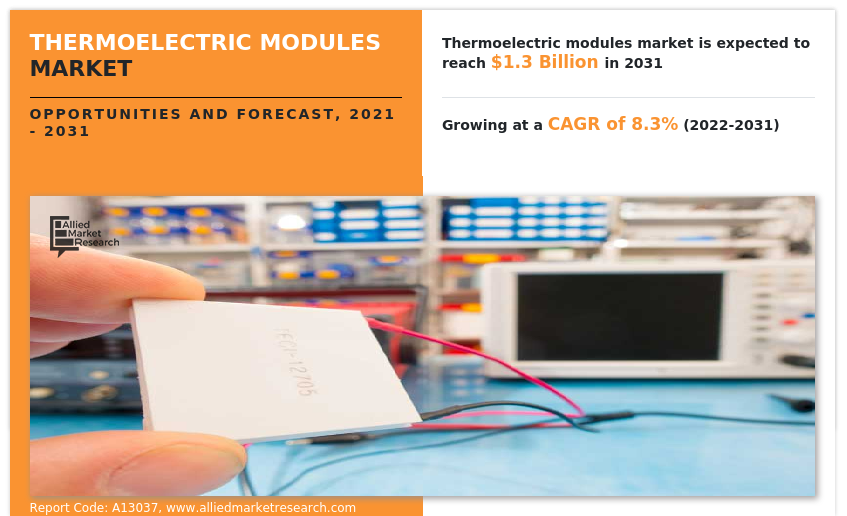 The thermoelectric modules market is segmented into Model, Type, and End-Use Application.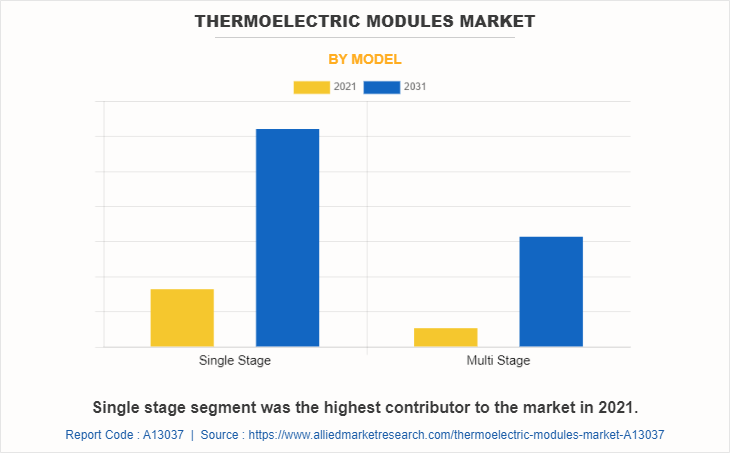 Based on the model, the market is divided into single stage and multi stage. Single stage segment was the highest revenue contributor in the thermoelectric modules market analysis.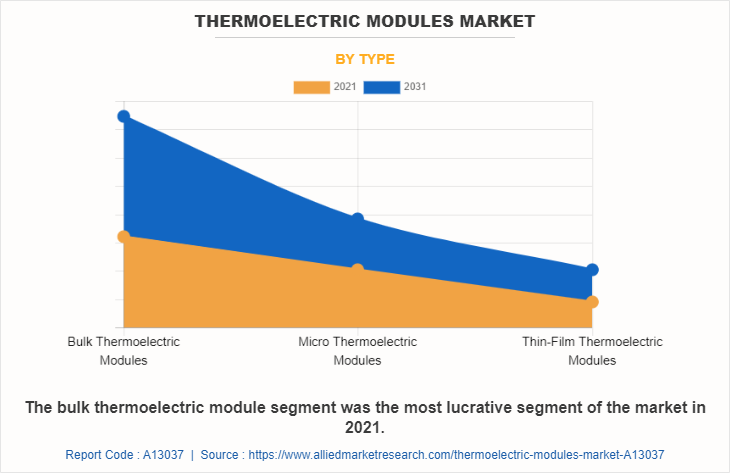 On the basis of type, the market is classified into bulk thermoelectric modules, micro thermoelectric modules, and thin-film thermoelectric modules. The bulk thermoelectric modules segment highly impacted the thermoelectric modules market share.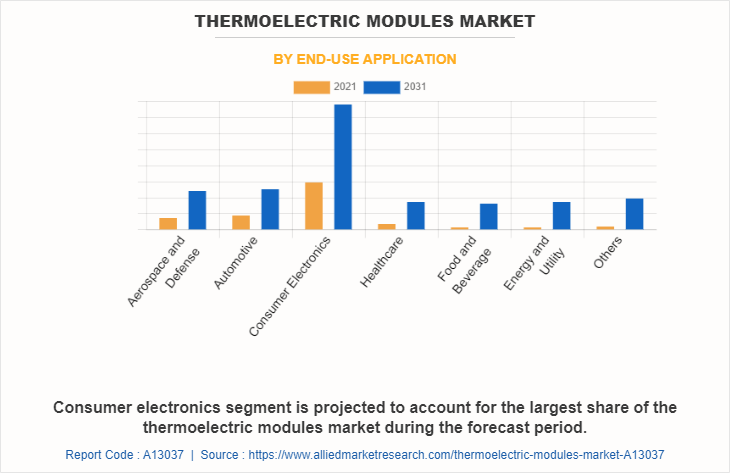 By end-use application, the thermoelectric modules industry is categorized into aerospace & defense, automotive, consumer electronics, healthcare, food & beverage, energy & utility, and others. The consumer electronics segment was the highest revenue contributor to the market during the thermoelectric modules market forecast.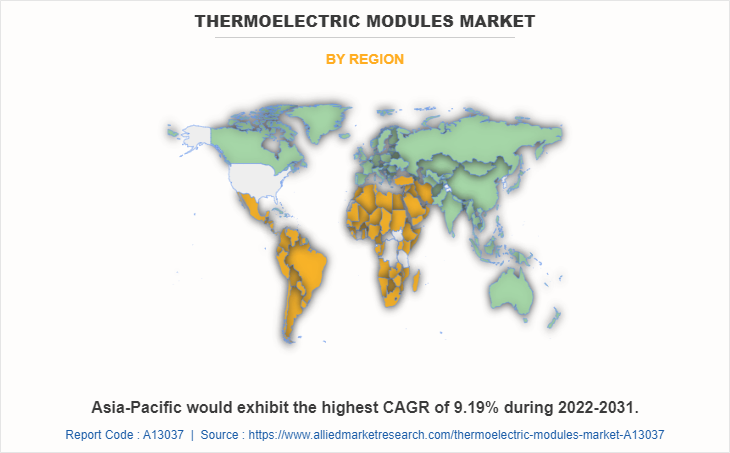 Region-wise, the thermoelectric modules market trends are analyzed across North America (the U.S., Canada, and Mexico), Europe (UK, Germany, France, and rest of Europe), Asia-Pacific (China, Japan, India, South Korea, and rest of Asia-Pacific), and LAMEA (Latin America, the Middle East, and Africa). Asia-Pacific, specifically China, remains a significant participant in the global thermoelectric modules market overview. Major organizations and government institutions in the country are intensely putting resources into technology. 
Thermoelectric modules are used in a variety of industries including automotive, consumer, electronics, aerospace and defense, medical & laboratory, oil & gas, power & energy, food & beverage, metals & mining, and telecommunications. A key growth area of the market is the medical device industry due to the increasing need for high-performance devices, both large and small, for therapeutic and analytical purposes. Medical electronic equipment includes medical equipment, medical diagnostic tools, and monitoring equipment. These devices, including surgical instruments and automated immunoassay analyzers, require greater precision, reliability, and efficiency in terms of thermal performance. To achieve this, medical device designers have introduced passive thermal control systems that include heat pipes and vapor chambers. Additionally, designers can ensure consistent temperature control and increase device power levels without increasing operating temperatures. Therefore, medical devices use heat pipes, medical chillers, and vapor chambers as thermal management solutions. Hence, this is expected to increase the demand for thermoelectric element in the coming years.   
Country-wise, the U.S. acquired a prime share in the thermoelectric module market in the North American region and is expected to grow at a significant CAGR during the forecast period of 2019-2031. The U.S., holds a dominant position in the thermoelectric module market, owing to the rise in investment by prime vendors to boost the smart thermoelectric module solutions for consumer electronics and IT and telecom applications.  
In Europe, the UK, dominated the thermoelectric module market, in terms of revenue, in 2021 and is expected to follow the same trend during the forecast period. However, Germany is expected to emerge as the fastest-growing country in Europe's thermoelectric module with a notable CAGR, due to advancement in the automotive industry which drives the usage of microelectronics in the country and thus creates lucrative growth opportunities for the thermoelectric module market in Germany.   
In Asia-Pacific, China is expected to emerge as a significant market for the thermoelectric module industry, owing to a significant rise in investment by prime players and government institutions in semiconductor research and chip start-up development, to boost smart infrastructure across industrial and manufacturing sectors.   
In LAMEA region, the Latin America country garner significant market share in 2021 due to the adoption of new technologies, digital transformation and connectivity are reshaping the future of the automotive and the consumer electronics industry in Latin America. Moreover, the Middle East region is expected to grow at a significant CAGR from 2022 to 2031, owing to shifts in artificial intelligence, industry 4.0, and smart technological changes in recent years, which is expected to reshape the growth of compound the semiconductor market in the Middle East.  
TOP IMPACTING FACTORS  
Significant factors such as thermoelectric modules' ability to simultaneously heat and cool drive demand for a wide range of applications and increase demand for precise temperature control of medical devices, imaging, and diagnostic systems, which impact the growth of the thermoelectric modules market size globally. In addition, increased demand for luxury vehicles could trigger thermoelectric modules market growth. The world market is, however, severely constrained by the higher cost than traditional heating and cooling systems. Contrarily, it is projected that during the forecast period, the creation of thermoelectric modules for new application areas would present profitable opportunities for the thermoelectric modules industry. 
COMPETITIVE ANALYSIS   
II-VI Incorporated, Laird Thermal Systems, TE Technology Inc., TEC Microsystem GmbH, and Kryotherm are the top 5 companies holding a prime share in the thermoelectric module market. Top market players have adopted various strategies, such as acquisition, agreement, business development, business expansion, collaboration, product launch, innovation, and product expansion to expand their foothold in the thermoelectric module market.  
In July 2021, Laird Thermal Systems launched the enhanced OptoTEC OTX/HTX Series of miniature thermoelectric coolers, designed for high-temperature environments found in telecom, industrial, autonomous, and photonics applications. Featuring next-generation thermoelectric materials, the OptoTEC OTX/HTX Series offers a 10% boost in cooling capacity, greater temperature differential, and higher efficiency than standard thermoelectric coolers.  

In July 2020, TEC Microsystems developed the new 1MA10 Series of thermoelectric coolers, with aluminum plates instead of ceramics. All 1MA10 thermoelectric coolers have bare metal, aluminum plates instead of ceramics. Aluminum instead of ceramics is the key approach in TEC manufacturing.  
KEY BENEFITS FOR STAKEHOLDERS  
This study comprises analytical depiction of the thermoelectric module market size along with the current trends and future estimations to depict the imminent investment pockets.  

The overall thermoelectric module market analysis is determined to understand the profitable trends to gain a stronger foothold.  

The report presents information related to key drivers, restraints, and opportunities with a detailed impact analysis.  

The thermoelectric module market forecast is quantitatively analyzed from 2022 to 2031 to benchmark the financial competency.  

The Porter's five forces analysis illustrates the potency of the buyers and suppliers in the smart display.  

The report includes the share of key vendors and market trends. 
 Thermoelectric Modules Market Report Highlights
Aspects
Details
Market Size By 2031
USD 1.3 billion
Growth Rate
CAGR of 8.3%
Forecast period
2021 - 2031
Report Pages
227
By End-Use Application

Energy and Utility
Others
Aerospace and Defense
Automotive
Consumer Electronics
Healthcare
Food and Beverage

By Model
By Type

Bulk Thermoelectric Modules
Micro Thermoelectric Modules
Thin-Film Thermoelectric Modules

By Region

North America (U.S., Canada, Mexico)
Europe (UK, Germany, France, Rest of Europe)
Asia-Pacific (China, Japan, India, South Korea, Rest of Asia-Pacific)
LAMEA (Latin America, Middle East, Africa)

Key Market Players
Ferrotec Corporation, TE Technology Inc., Phononic Devices, Guangdong Fuxin Technology, KELK Ltd., Laird Thermal Systems, Crystal Ltd., kryotherm, II-VI Incorporated, TEC Microsystem GmbH
Analyst Review
The thermoelectric modules market is expected to grow at a significant rate as the usage of thermoelectric modules is increasing as a result of their many benefits, including highly precise temperature control, heating & cooling with a single module (including temperature cycling), low maintenance, small size, and lightweight. Smart gadgets, device downsizing, portable medical devices, smart wearable devices, autonomous vehicles, IoT ecosystems, and Industry 4.0 are key technologies for the creation of better thermoelectric modules and thermoelectric Peltier modules. As a result, it is predicted that throughout the course of the forecast period, a rise in demand for faster temperature sensing & regulating with improved sensitivity in consumer appliances, medicinal devices, and optical elements is expected to propel the thermoelectric modules market. 
The thermoelectric modules market has steadily gained traction owing to a rise in demand for enhanced technologies in different industrial applications, including automotive, consumer, electronics, aerospace & defense, medical & laboratory, oil & gas, power & energy, food & beverage, metals & mining, and telecommunications.