The global three-wheeler market size was valued at $14.3 billion in 2022, and is projected to reach $37.5 billion by 2032, growing at a CAGR of 11% from 2023 to 2032.
Report Key Highlighters:
The three-wheeler

market study covers 16 countries. The research includes regional and segment analysis of each country in terms of value ($million) for the projected period 2023-2032.

The study integrated high-quality data, professional opinions and analysis, and critical independent perspectives. The research approach is intended to provide a balanced view of global markets and to assist stakeholders in making educated decisions in order to achieve their most ambitious growth objectives.

Over 3,700 product literature, annual reports, industry statements, and other comparable materials from major industry participants were reviewed to gain a better understanding of the market.

The three-wheeler market share is highly fragmented,

into several players including Bajaj Auto Ltd, Piaggio & C. SpA, Atul Auto Limited, Baxy Limited, Terra Motors, Zuperia Auto Private Limited, Kinetic Green Energy & Power Solutions Ltd, Mahindra & Mahindra Ltd, Terra Motors Corporation and TVS Motor Company. The companies have adopted strategies such as product launches, contracts, expansions, agreements, and others to improve their market positioning.
A three-wheeler is a three-wheeled vehicle propelled by petrol/CNG, diesel, or electric motor. Three-wheelers are generally used as a commercial vehicle to transport passengers and goods. Three-wheeler mobility depends on the maneuverability, affordability, and door-to-door transport. Three-wheeler suites the requirement as many developing countries especially in Asia-Pacific and LAMEA require faster and significantly cheaper options for public and goods transport.
Continuously growing global carbon emission by combustion of fuel has been one of the foremost concerns for governments and environmentalists from the past few years, which is expected to drive the demand for electric three-wheeler across the globe; thereby, supplementing the growth of the market. Furthermore, increase in fuel prices at international level, surge in pollution, and traffic congestion especially in urban areas have further increased the acceptance of electric three-wheeler across the globe. In addition, relatively higher running and maintenance cost of petrol/CNG & diesel propelled three-wheeler leads to shift in preference for electric three-wheeler for the shorter transits, which, in turn, boost the market growth during the forecast period.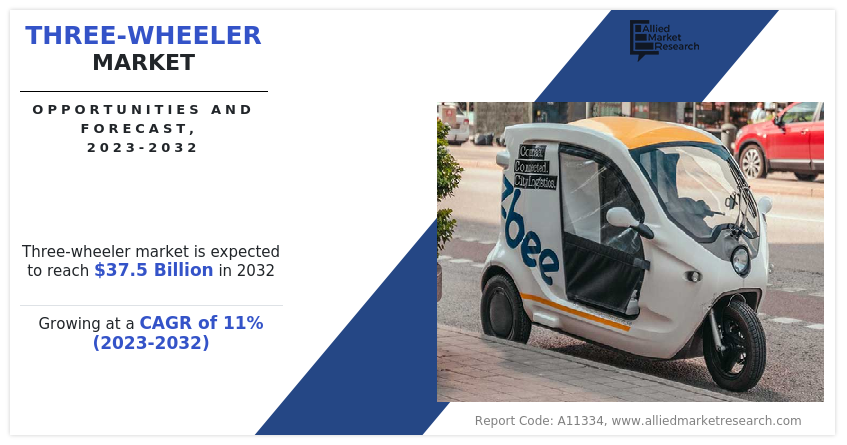 Factors such as increase in demand for affordable commercial vehicle, rise in requirement of electric passenger as well as load carriers, and low maintenance & manufacturing cost drive the demand for three-wheeler. However, ever-growing inclination toward the last mile delivery, shared mobility, and increase in fuel cost are expected to restrain the market growth. These factors are foreseen to have a definite impact on the three-wheeler market during the forecast period.
The three-wheeler market is segmented on the basis of fuel type, vehicle type, and region. Depending on fuel type, the market is divided into petrol/ CNG, diesel, and electric. On the basis of vehicle type, it is categorized into passenger carrier and load carriers. Region wise, the three-wheeler industry is analyzed across North America, Europe, Asia-Pacific, and LAMEA. Region-wise, the market is analyzed across North America, Europe, Asia-Pacific, and LAMEA.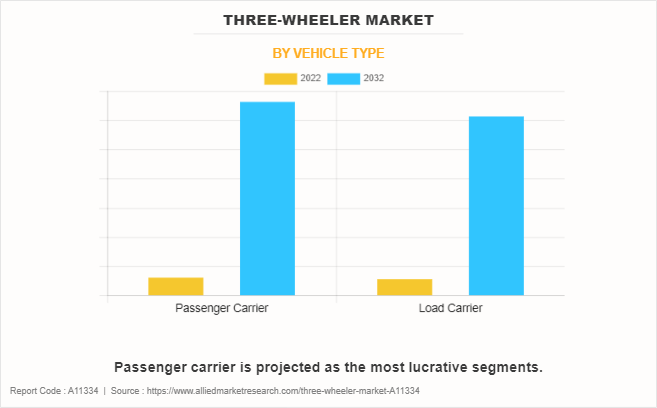 The three-wheeler market in Asian countries has witnessed significant growth and is poised to offer compelling opportunities in the coming years. In Asia- Pacific, increase in demand for affordable commercial vehicles with low production costs, rise in production capacity, and surge in demand for simple light vehicles are some of the factors that drive the growth of the market in this region. Automobile manufacturers are actively involved in the process of developing newer products to meet the consumer demands in this region. Increase in automobile sales and rapid industrialization are the key growth factors of the market. The Asia-Pacific region has witnessed a growing inclination towards electric three-wheelers over traditional counterparts. This shift is attributed to factors such as their lightweight design, eco-friendly characteristics, lower power requirements, and cost-effectiveness. Furthermore, the increasing initiatives by governments in the region, particularly in India, to promote environmentally -friendly vehicles and develop supporting infrastructure are expected to bolster the demand for electric three-wheeler market sales.
India is the market leader in the global three-wheeler industry. In addition, over the years, the overall exports in the global three-wheeler market have witnessed significant growth. The growth is mainly driven by increase in penetration in African and Asian markets. However, the market is exposed to fluctuations. Some of the major players operating in the India  market are Bajaj Auto and Piaggio. Owing to the growing demand for commercial vehicle with low upfront and operating cost, the India market is foreseen to witness significant growth during the forecast period. Further, various initiatives by government for the adoption of electric vehicle is also anticipated to bolster boost the electric three-wheeler demand significantly in India.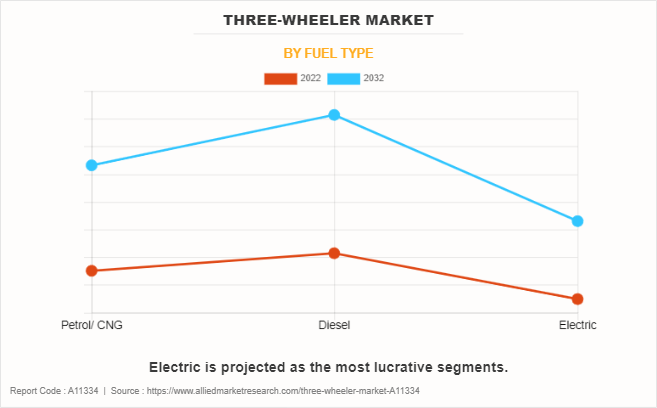 Key Developments
The leading companies are adopting strategies such as acquisition, agreement, expansion, partnership, contracts, and product launches to strengthen their market position.
In February 2021, Mahindra & Mahindra Limited partnered with amazon India. According to the partnership terms, it will deliver 10,000 electric three-wheeler delivery vehicles by 2025 to amazon India. Additionally, the Mahindra treo zor vehicles have been deployed in seven major cities of India with amazon India's network of delivery service partners.
In October 2020, Mahindra & Mahindra Limited launched New Treo Zor Electric 3-WHEELER CARGO Vehicle. The new Treo Zor is built in treo platform and it is available in 3 variants such as pickup, delivery van, and flat bed.
In October 2020, Mahindra & Mahindra Limited launched the BS6 variant of Alfa. Alfa is a flagship 3-wheeler brand and it is known as most fuel efficient in its category and offers a range of passenger & cargo variants with 4 offerings catering to varied customer segment.
In August 2020, Mahindra & Mahindra Limited signed an agreement with REE Automotive for development of electric commercial vehicles. The collaboration will leverage REE's corner module and modular platform technology with Mahindra's vehicle design, sourcing capability, engineering, and manufacturing assets.
Surge in adoption of electric three-wheeler as an eco-friendly mobility
The escalating global carbon emissions resulting from fuel combustion have become an important concern for governments and environmentalists in recent years. This has increased the demand for electric three-wheelers globally, contributing to market expansion. In addition, surge in international fuel prices, environmental pollution, and traffic congestion, particularly in urban regions, has further accelerated the adoption of electric three-wheelers.
The ride-hailing giant Ola strategically deployed a complete fleet of Bajaj and Piaggio autorickshaws in the Liverpool area, aiming to outpace competitors such as Uber. Moreover, the comparatively elevated operational and maintenance costs associated with petrol, CNG, and diesel-powered three-wheelers have prompted a shift in consumer preference toward electric three-wheelers for shorter transits, consequently propelling the market growth.
Rise in trend of last mile connectivity
Many companies in e-commerce, pharma, textiles, and retail, FMCG, and other utility segments such as dairy, poultry, and gas prefer three-wheelers as a last mile connectivity solution as they offer excellent maneuverability at an affordable price. For Instance, India-based company uses electric three-wheeler to provide first and last-mile delivery services to e-commerce and foodtech players such as Amazon, Swiggy, and Bigbasket. Furthermore, governments of many countries are very keen to convert their last-mile delivery fleet to electric due to their added benefits.
The growing adoption of electric vehicles is further reinforcing the demand for electric three-wheeler as they are efficient over conventional three-wheelers in terms of overall maintenance and operating cost. With effective integration of advance technology, design, and workflow, many leading players are trying to bring the upfront cost of electric three-wheelers, which further foresee the preference for three-wheeler as a last mile connectivity solution. For instance, in 2021, Amazon India partnered with Mahindra Electric to deploy EVs in its delivery fleet. Amazon India had announced that its fleet of delivery vehicles will include 10,000 electric vehicles by 2025, which is expected to bring down the overall transportation cost considerably.
High cost of battery
High cost of electric vehicle battery is one of the prime factors that hampers the growth of the electric three-wheelers in the global market. Moreover, the use of lithium–ion batteries or drive mechanism of motor incurs maximum cost; thereby, restraining the growth of the market. An electric three-wheeler uses a rechargeable Lithium-ion battery pack and battery packs are more expensive than to produce ICE engines. All these costs are further passed down to the buyer, which is currently the biggest barrier in electric vehicle ownership. This higher upfront cost is one of the potential factors hampering the adoption rate of electric vehicles in the global market.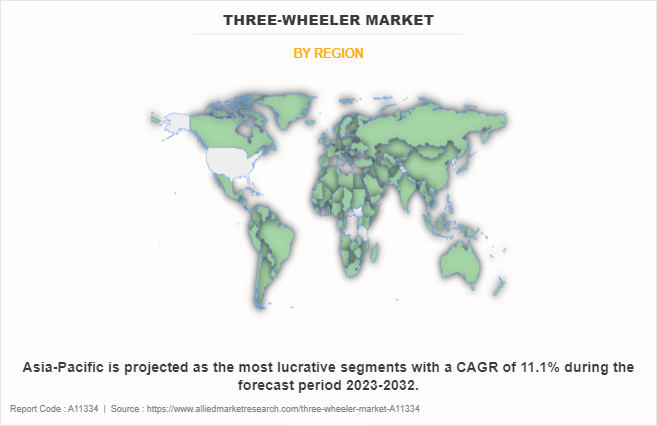 Growth in trend of shared mobility
Shared mobility services reduce city congestion and decrease overall vehicle emissions. Therefore, digitally enabled car sharing, and ride-hailing manage travel needs in the smartest way and also provide a hassle-free and environmentally sound alternative to private car ownership. This sharing & ride hailing activity that includes the entire process from travel planning till payments can be handled by a single mobile app. In the coming years, ride hailing services are projected to play a major role in this space by reducing the manual tasks and minimizing the overall time & cost.
This trend is further foreseen to strengthen the growth of the three-wheeler market. The number of users relying on ride-sharing applications has increased in recent years. For instance, Uber launched its ride hailing services in 30 cities for expanding its business across the globe. The key players offer discounts, free ride, and coupon facilities to customers to create awareness and promote new services.
Key Benefits For Stakeholders
This report provides a quantitative analysis of the market segments, current trends, estimations, and dynamics of the three-wheeler market analysis from 2022 to 2032 to identify the prevailing three-wheeler market opportunities.
The market research is offered along with information related to key drivers, restraints, and opportunities.
Porter's five forces analysis highlights the potency of buyers and suppliers to enable stakeholders make profit-oriented business decisions and strengthen their supplier-buyer network.
In-depth analysis of the three-wheeler market segmentation assists to determine the prevailing market opportunities.
Major countries in each region are mapped according to their revenue contribution to the global market.
Market player positioning facilitates benchmarking and provides a clear understanding of the present position of the market players.
The report includes the analysis of the regional as well as global three-wheeler market trends, key players, market segments, application areas, and market growth strategies.
 Three-Wheeler Market Report Highlights
Aspects
Details
Market Size By 2032
USD 37.5 billion
Growth Rate
CAGR of 11%
Forecast period
2022 - 2032
Report Pages
355
By VEHICLE TYPE

Passenger Carrier
Load Carrier

By FUEL TYPE

Petrol/ CNG
Diesel
Electric

By Region

North America (U.S., Canada, Rest Of North America)
Europe (Germany, UK, France, Italy, Rest of Europe)
Asia-Pacific (India, China, Japan, South Korea, Malaysia, Indonesia, Thailand, Rest of Asia-Pacific)
LAMEA (Latin America, Middle East, Africa)

Key Market Players
Baxy Limited, ZUPERIA AUTO PRIVATE LIMITED, Bajaj Auto Limited, Piaggio & C. S.p.A., Kinetic Green Energy & Power Solutions Ltd., Atul Auto Limited, TVS MOTOR COMPANY LIMITED, Mahindra & Mahindra Limited, Terra Motors, Speego Vehicles Co Pvt Limited