Throat Lozenges Market Statistics 2028 -
A throat lozenge, also known as troche, cachou cough drop, or cough sweet, is a small, medicated tablet that is intended to slowly dissolve in the mouth. It helps stop cough by lubricating and soothing irritated throat tissues. In addition, it helps soothe a sore throat or strep throat. Throat lozenges may contain eucalyptus oil or benzocaine, an anesthetic. However, non-menthol throat lozenges have either pectin or zinc gluconate glycine as an oral demulcent. Several brands of throat lozenges contain dextromethorphan. The key purpose of throat lozenges is to calm the throat irritating that occurs while breathing, swallowing, or drinking certain fluids.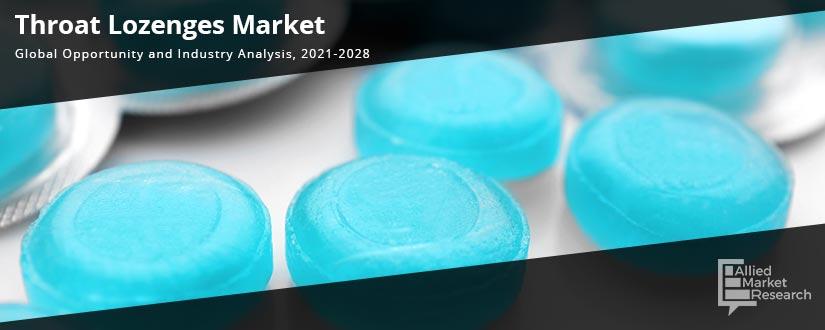 Market Scope and Structure Analysis
| | |
| --- | --- |
| Report Metric | Details |
| Market Size Available for Years |   2020–2028 |
|   Base Year Considered |   2020 |
|   Forecast Period |   2021–2028 |
|   Forecast Unit |   Value (USD) |
|   Segments Covered | Ingredient Type, Usage, Application, Distribution Channel, and Region |
|   Regions Covered | North America, Europe, Asia-Pacific, and LAMEA |
|   Companies Covered | GlaxoSmithKline Pharmaceuticals Limited, SSL International, Thornton & Ross, Pfizer, Inc. and Procter & Gamble (P&G), Reckitt Benckiser Group Plc, Prestige Consumer Healthcare Inc., Bliss GVS Pharma Ltd., Sanofi S.A, Ricola AG, Wm. Wrigley Jr. Company, and Thornton & Ross Ltd |
COVID-19 Impact Analysis
COVID-19 is an infectious disease that originated in the Hubei province of the Wuhan city in China in late December. The highly contagious disease, caused by a virus, severe acute respiratory syndrome coronavirus 2 (SARS-CoV-2), is transmitted from human to human. Since the outbreak in December 2019, the disease has spread to almost 213 countries around the globe with the World Health Organization declaring it a public health emergency on March 11, 2020.
Pharmaceutical and biotech companies together with governments around the globe are working to address the COVID-19 outbreak, from supporting the development of vaccines to planning for medicine supply chain challenges. Currently, around 115 vaccine candidates and 155 molecules are in the R&D pipeline. Moreover, commonly used drugs such as hydroxychloroquine have witnessed a dramatic surge in demand for the management of COVID-19. Such high demand for these drugs has presented huge opportunities for manufacturers of COVID-19 management drugs, as many developed countries are facing a shortage of these drugs. Thus, the pharmaceutical and biotechnology industries are expected to witness significant growth in the future, owing to the demand for vaccines and treatment drugs for COVID-19. This, in turn, is expected to have a significant impact on the throat lozenges market.
Top Impacting Factors
The growth of the throat lozenges market is expected to be driven by increase in the geriatric population. This population is always at a higher risk of developing infections due to low immunity. The most common types of infections can induce a cough or sore throat. Throat lozenges help relieve these symptoms.
In addition, cold and cough is a common disease across the world, and throat lozenges are often considered as the first-line treatment of cough and cold. Hence, this serves as one of the key factors that drive the growth of the throat lozenges market.
Increase in number of HIV patients leads to market growth, as HIV patients are always at a higher risk of throat infections. In addition, changes in dietary habits and a sedentary lifestyle fuel market growth, as they lead to a decreased immunity.
However, throat lozenges only offer short-term relief and need to be used several times of the day. This is one of the factors that can impede the throat lozenges market growth.
Key Market Trends
Asia Pacific market of throat lozenges is growing at a significant rate. This growth can be attributed to rise in pediatric and geriatric population, which are always at a risk of contracting a throat infection that might need throat lozenges.
However, North America commands the highest throat lozenges market share. This is attributed to better awareness programs in the region that are focused on infectious diseases. This region has the presence of a large number of throat lozenges manufacturers, which notably contributes toward the market growth.
Cold weather in countries such as the U.S. and Canada accentuates the growth of microorganisms that lead to throat infections. Hence, the market of throat lozenges grows at a significant rate in such nations.
A huge number of throat lozenges are present in the market and major key players are focusing on manufacturing cost-effective medications. These players are further focusing on adopting strategies such as mergers and acquisitions with other smaller and innovative players.
Key Segments Covered
Segment

Subsegment

  Ingredient Type

Menthol Throat Lozenges
Non-menthol Throat Lozenges

  Usage

Pharmaceutical Lozenges
Antibacterial Lozenges
Others

  Application

Cough and Cold
Throat Soreness
Throat Diseases

  Distribution Channel

Hospital Pharmacy
Retail Pharmacy
Online Pharmacy
Others

  Region

North America
Europe

Germany
France
UK
Italy
Spain
Rest of Europe

Asia-Pacific

China
Japan
India
South Korea
Australia
Rest of Asia-Pacific

LAMEA

Brazil
Saudi Arabia
South Africa
Rest of LAMEA
Key Benefits of the Report
This study presents the analytical depiction of the throat lozenges industry along with the current trends and future estimations to determine the imminent investment pockets.
The report presents information related to key drivers, restraints, and opportunities along with a detailed analysis of the throat lozenges market share.
The current market is quantitatively analyzed from 2020 to 2028 to highlight the throat lozenges market growth scenario.
Porter's five forces analysis illustrates the potency of buyers & suppliers in the market.
The report provides a detailed analysis depending on competitive intensity and how the competition will take shape in the coming years.
Questions Answered in the Throat Lozenges Report
Which are the leading players active in the throat lozenges market?
How is each segment of the market expected to grow during the forecast period?
What are the adoption trends for the throat lozenges market in emerging economies and established economies across the world?
What are the current trends that will influence the market in the next few years?
What are the driving factors, restraints, and opportunities of the market?
What future projections would help in taking further strategic steps?
What are the impacts of COVID-19 in the industry?
What are throat lozenges?
What is the throat lozenges market prediction in the future?
What are the current trends and predicted trends?
 Key Market Segments & Key Market Players
Segments
Sub-segments
By Ingredient Type

Menthol Throat Lozenges
Non-menthol Throat Lozenges

By Usage

Pharmaceutical Lozenges
Antibacterial Lozenges
Others

By Application

Cough and Cold
Throat Soreness
Throat Diseases

By Distribution Channel

Hospital Pharmacy
Retail Pharmacy
Online Pharmacy
Others

By Region

North America (U.S., Canada, Mexico)
Europe (France, Germany, Italy, Spain, UK, Rest of Europe)
Asia-Pacific (China, Japan, India, South Korea, Australia, Rest of Asia-Pacific)
LAMEA (Brazil, South Africa, Saudi Arabia, UAE, Rest of LAMEA)

Key Market Players
GlaxoSmithKline Pharmaceuticals Limited, SSL International, Thornton & Ross, Pfizer, Inc. and Procter & Gamble (P&G), Reckitt Benckiser Group Plc, Prestige Consumer Healthcare Inc., Bliss GVS Pharma Ltd., Sanofi S.A, Ricola AG, Wm. Wrigley Jr. Company, Thornton & Ross Ltd