Tire Recycling Market Research, 2031
The global tire recycling market size was valued at $5.12 billion in 2021, and is projected to reach $7.32 billion by 2031, growing at a CAGR of 3.5% from 2022 to 2031. Tire recycling is a process of converting the scrap tires that can no longer be used, into other products, such as tire pyrolysis oil, tire derived fuel and other rubber products. Tire recycling gives the tire a new use; therefore, reducing its carbon footprint.
The tire recycling market was hampered during the outbreak of COVID-19 pandemic, owing to restrictions on manufacturing activities. In addition, decreased demand for automobiles also negatively impacted the tire recycling market during the lockdown period.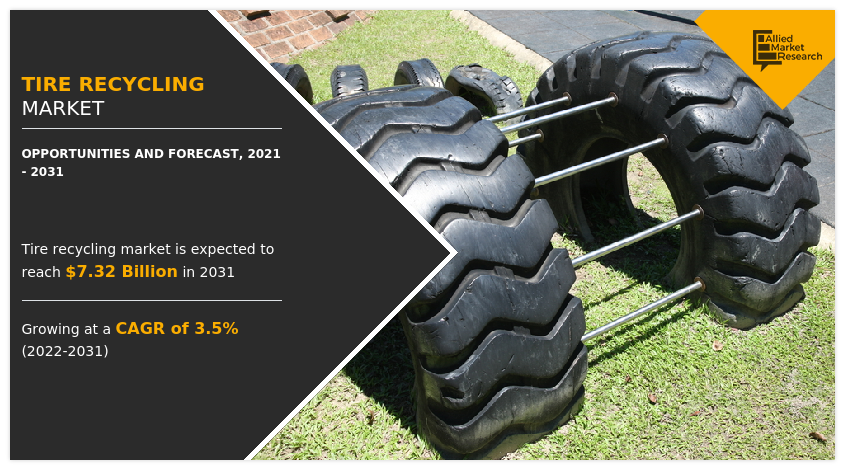 Get more information on this report : Request Sample Pages
Automobile industry is a major revenue and employment generating sector. Thus, automobile industry plays an essential role in the development of a country. However, production of more vehicles also leads to the production of more tires, which with time become scrap tires. This is a major factor driving the growth of the tire recycling market. Moreover, tires are non-biodegradable, thus discarding them in the landfills is not a viable solution, it can lead to more pollution of the land and water. Thus, in order to properly manage the scrap tires, recycling is an attractive method. Furthermore, countries across the world are moving towards a sustainable future by employing various eco-friendly industrial practices; thereby, driving tire recycling market growth. Moreover, the products produced by tire recycling such as, pyrolysis oil and tire derived fuel are in demand by various manufacturing facilities, owing to the high energy yield of these fuels.   
Major players in the tire recycling industry have focused on various strategies to sustain the competition in the market. For instance, in November 2021, Big Atom Limited, a leading tire recycling firm has received grant of $459,288 from Innovate UK. This grant will be used for the further development of its patented chemical reactor technology. This innovative technology will convert old waste tires into new materials. Moreover, Bridgestone a tire manufacturer and recycler has announced a joint venture with ENEOS Holdings, Inc., a business in the energy and nonferrous metals segments. This joint venture is aimed to perform research and develop project and implementation of chemical recycling technologies to enable pyrolysis of used tires. Along with this, both the companies are aiming to develop recycling business that will convert used tires to raw materials.
Tire Recycling Market

---
By Process
Shredding is expected to hold a majority share of the market throughout the study period.
COVID-19 had rapidly spread across various countries and regions, causing an enormous impact on the lives of people and the overall community. It began as a human health condition and later became a significant threat to global trade, economy, and finance. The COVID-19 pandemic had halted the business of many tires recycling firms due to lockdown. The economic slowdown initially resulted in reduced demand in automobile sector, and also resulted in reduced demand for recycled tire products. However, owing to the introduction of various vaccines, the severity of COVID-19 pandemic has significantly reduced. As of mid-2022 the number of COVID-19 cases have diminished significantly. This has led to the full-fledged reopening of tire recycling companies at their full-scale capacities. Furthermore, it has been more than two years since the outbreak of this pandemic, and many companies have already shown notable signs of recovery.
Furthermore, various countries such as India and U.S. have established regulations for using recycled tire products, especially in the road development projects. Moreover, development of new products derived from tires, such as railway ties, security products, and others are anticipated to provide lucrative opportunities for the market growth during the tire recycling market forecast period.
Tire Recycling Market

---
By Application
Manufacturing segment held a majority share of the market throughout the study period.
The tire recycling market report is segmented into Process, Product and Application. By process, the market is bifurcated into pyrolysis and Shredding. On the basis of product, it is categorized into crumb rubber, tire-derived fuel, and others. And on the basis of application, the market is categorized into manufacturing, construction, rubber products, and others. Region wise, the market is analyzed across North America, Europe, Asia-Pacific, and LAMEA. Asia-Pacific held the major tire recycling market share in 2021, accounting for the highest revenue share, and is anticipated to maintain this trend throughout the forecast period. This is attributed to high number of on-road vehicles in the region.
Tire Recycling Market

---
By Region
Asia-Pacific is the largest market throughout the study period.
Key Benefits For Stakeholders
This report provides a quantitative analysis of the market segments, current trends, estimations, and dynamics of the tire recycling market analysis from 2021 to 2031 to identify the prevailing tire recycling market opportunity.
The market research is offered along with information related to key drivers, restraints, and opportunities.
Porter's five forces analysis highlights the potency of buyers and suppliers to enable stakeholders make profit-oriented business decisions and strengthen their supplier-buyer network.
In-depth analysis of the tire recycling market segmentation assists to determine the prevailing market opportunities.
Major countries in each region are mapped according to their revenue contribution to the global market.
Market player positioning facilitates benchmarking and provides a clear understanding of the present position of the market players.
The report includes the analysis of the regional as well as global tire recycling market trends, key players, market segments, application areas, and market growth strategies.
 Key Market Segments
Process

Product

Tire Derived Fuel
Others
Crumbed Rubber



Application

Manufacturing
Construction
Rubber Products
Others



By Region

North America
Europe

Germany
France
Italy
U.K.
Rest of Europe

Asia-Pacific

China
Japan
India
South Korea
Rest of Asia-Pacific

LAMEA

Latin America
Middle East
Africa



 Key Market Players
APChemi
Big Atom Limited
Bridgestone Corporation
Champlin Tire Recycling
Continental AG
Emanuel Tire Co.
Entech Inc.
Genan Holding A/S
Green buddies
Green Distillation Technologies Corporation LTD
L&S Tire Co.
Lakin General
Liberty Tire Services LLC
Michelin
Pyrum Innovations AG
Tire Disposal & Recycling Inc.
Wastefront