The global tobacco market size was valued at $183.1 billion in 2019, and is estimated to reach $262.8 billion by 2027, registering a CAGR of 6.7% from 2021 to 2027. 
Tobacco is a plant native to the Americas and was historically one of the most important crops grown by American farmers. It is one of the most widely used addictive substances in the world. Tobacco refers to any of the plants in the genus Nicotiana (particularly Nicotiana tabacum), which are native to tropical America and widely cultivated for their leaves, which are dried and processed primarily for smoking in pipes, cigarettes, and cigars. It is also cut to form chewing tobacco or grind to make snuff or dipping tobacco as well as other less common preparations.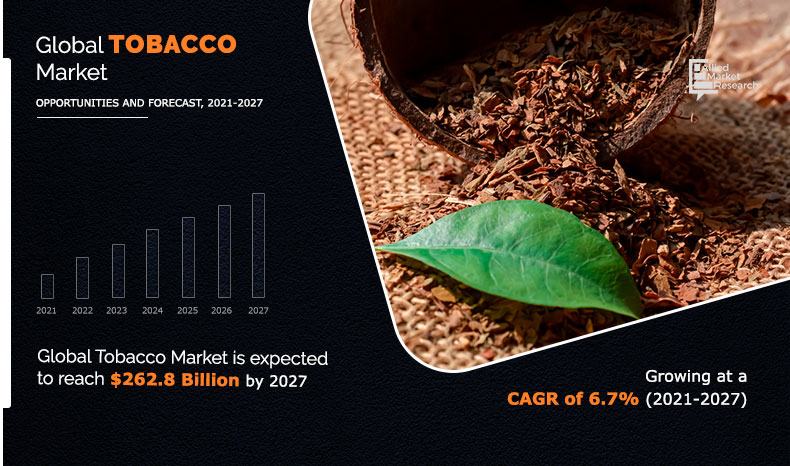 Nicotiana is the genus of herbs that includes many tobacco species. It is a member of the nightshade (Solanaceae) family, which is native to North and South America, Australia, South West Africa, and South Pacific. Majority of nightshades contain varying amounts of nicotine, a potent neurotoxin to insects. On the other hand, tobacco has a much higher concentration of nicotine than the others. It does not contain tropane alkaloids, which are often poisonous to humans and other animals, unlike many other Solanaceae species.
Tobacco comes in a variety of forms such as cigarettes, pipe tobacco, chewing tobacco, and snuff. Nicotine can also be found in non-tobacco products such as gum, patches, and other smoking cessation aids.
Tobacco contains harmala alkaloids as well as the highly addictive stimulant alkaloid nicotine. In recent years, the tobacco market growth has been driven by the availability of high-quality tobacco products, rising average disposable income among the general public, and critical marketing tactics employed by the key market players.
Large tobacco companies have entered the electronic cigarette market by either purchasing small e-cigarette companies or starting their own. All of the major multinational tobacco companies entered the e-cigarette market in 2014. They accomplished this by either purchasing existing e-cigarette companies or developing their own products. 
The demand for tobacco products is not as high as the demand for many other consumer products. Research has consistently shown that increase in a variety of tobacco products are followed by a moderate increase in both the percentage of people who smoke and the percentage of people who buy other types of products. The advertising strategy in a variety of interesting tactics has aided in significant advancements and proven to be a means of remaining competitive and maintaining the market share. People have generally perceived tobacco as an important part of their lives over the last decade.
Furthermore, increase in the average disposable income of majority of the population has resulted in an increase in tobacco sales. This is expected to surge the demand for tobacco and propel the market growth during the forecast period.
On the other hand, tobacco causes a large number of diseases and deaths each year. As a result, governments have taken steps to reduce tobacco sales and levied various taxes on tobacco products. Therefore, this is expected to impede the market growth during the forecast period.
Tobacco has become an essential part of the socio-cultural environment over the years, particularly in the world's eastern, northern, and north-eastern regions. This is one of the tobacco market opportunity which will help in growth and development of the market. A relatively higher rate of income growth compensates for rising cigarette prices, leading to increased consumption. Furthermore, societal influences, such as peer pressure, help to surge the demand for tobacco products. These are critical factors and tobacco market trends driving the market expansion.
Cigarette taxes are among the highest in the world. As a result, high tax rates make cigarettes unaffordable to a large segment of the population. Therefore, turn to other forms of smokeless tobacco. Thus, the global tobacco market is growing slowly.
Nicotine addiction is difficult to overcome. Teenagers who use nicotine frequently are expected to use other tobacco products. Young people are especially vulnerable to cigarette use. Various negative effects of nicotine have been researched all over the world. As a result, governments are imposing strict regulations on tobacco sales. Mexico, France, Turkey, South Korea, Brazil, South Africa, and the UAE have recently announced a ban on the online sale of tobacco products.
People who smoke heavily or have tobacco addiction have been identified as the most vulnerable group to illnesses such as Severe Acute Respiratory Syndrome (SARS), Middle East Respiratory Syndrome Coronavirus (MERS-CoV), cardiovascular disease, and other pulmonary diseases. Attributed to the nature of these diseases, the COVID-19 pandemic had a significant negative impact on the tobacco industry. It is a deadly viral infectious disease that attacks the lungs and severely impairs breathing. As a result of the health risks associated with smokeless and smoke products, the industry is receiving negative attention.
The global tobacco market is segmented on the basis of type, product, distribution channel, and region. On the basis of type, the tobacco market is categorized into virginia, burley, nicotiana rustica, oriental, and others. As per product, tobacco market is divided into cigar, cigarette, kretek, snuff, and others. According to distribution channel, tobacco market is fragmented into hypermarkets & supermarkets, convenience stores, specialty stores, and online sales channel. Region-wise, the tobacco market is analyzed across North America, Europe, Asia-Pacific, and LAMEA. By considering these segments, the tobacco market analysis is done effectively.  
The tobacco market forecast is accomplished by considering fastest growing and largest segments. By type, the burley segment garnered the highest tobacco market share in 2019, as burley tobacco is consumed by various countries such as Brazil, Malawi and Argentina. On the basis of product, the cigarette segment is anticipated to dominate the market with the highest share during the forecast period. This is attributed to product innovation of cigarette in terms of flavor and size. Depending on distribution channel, the specialty stores segment led the tobacco market in 2019. This is attributed to the fact that specialty stores provide options such as discounts as well as the convenience of immediate satisfaction. Region-wise, Asia-Pacific is expected to dominate the market. Tobacco-based products' sales are one of the most consistent sources of tax revenue for governments in tobacco market of Asia-Pacific.
The prominent participants in tobacco industry include Altria Group, British American Tobacco, Eastern Co. SAE, Imperial Brands, ITC Ltd., Japan Tobacco International, KT&G, PT Gudang Garam Tbk, Scandinavian Tobacco Group, and Swisher. 
Key Benefits For Stakeholders
This report provides a quantitative analysis of the current trends, estimations, and dynamics of the global tobacco market from 2021 to 2027 to identify the prevailing market opportunities.
Porter's five forces analysis highlights the potency of buyers and suppliers to enable stakeholders to make profit-oriented business decisions and strengthen their supplier–buyer network.
In-depth analysis of the market segmentation assists to determine the prevailing market opportunities.
Major countries in each region are mapped according to their revenue contribution to the global industry. 
The market player positioning segment facilitates benchmarking while providing a clear understanding of the present position of the key market players.
The report includes analyses of the regional as well as global market, key players, market segments, application areas, and growth strategies.
Key Market Segments
By Type
Virginia
Burley
Nicotiana Rustica
Oriental
Others
By Product
Cigar
Cigarette
Kretek
Snuff
Others
By Distribution Channel
Hypermarkets & Supermarkets
Convenience Stores
Specialty Stores
Online Sales Channel
By Region
North America
Europe 

UK
France
Netherlands
Germany
Turkey
Rest of Europe

Asia-Pacific

China
Japan
India
South Korea
Australia
Rest of Asia-Pacific

LAMEA

Brazil
South Africa
UAE
Rest of LAMEA