The global tooling market size was valued at $212,500.0 million in 2020, and is projected to reach $439,994.9 million by 2030, registering a CAGR of 7.5% from 2021 to 2030. 
The COVID 19 outbreak has affected the growth of the tooling industry owing to the lockdown measure in the countries and delay in manufacturing and production of dies & moulds, jigs & fixtures, machine tools, and gauges which are utilized in automotive, aerospace, marine & defence, electronics & electrical, and other industries
Tooling is the process of producing or acquiring the manufacturing components required for bulk production of parts used in bigger machines such as automobiles, trucks, heavy engineering components, and others. It includes production of molds and dies (presses), forging, gauging, jigs & fixtures, and cutting tools for the manufacturing of different components such as automotive parts, turbines, propellers, plastic components, and others.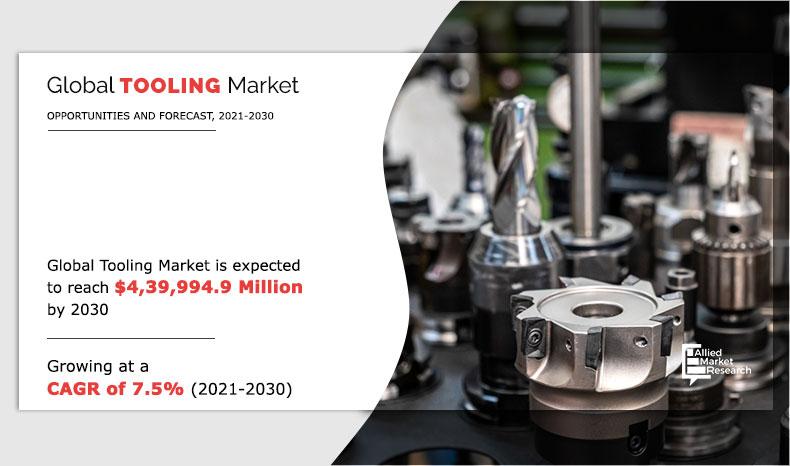 Get more information on this report : Request Sample Pages
The designing and manufacturing of these tools directly affects the production quality of the end-user industry. Moreover, every manufacturing company requires tooling to conduct the production process of parts manufactured for assembling the machine; therefore, the tooling industry is termed as the backbone of the manufacturing industry. The tooling  market is directly affected by fluctuations and developments occurring in the end-user industries. For instance, increase in consumption of consumer electronics and electrical devices drive the growth of the tooling market to sustain high production demand for the electronic and electrical device manufacturers. Furthermore, rise in focus on product customizations fuels the requirement of new molds and dies, which are specifically designed for the manufacturing of products such as automotive engines, fuel tanks, turbines, propellers, shafts, and others; thereby, driving the global tooling market growth. 
Moreover, growth of the renewable energy systems such as wind power energy generation plants, solar energy generation plants, hydro-electricity plants, and others require sophisticated and properly designed die molds, measuring devices, and machine tools to produce the parts and machines. Thus, growth in renewable sources industry is expected to drive the growth of the global tooling market.
On the contrary, fluctuation in raw materials prices is likely to hamper the demand for dies and molds to manufacture the detailed parts in the high-end manufacturing industries such as aerospace and automotive.
In addition, the current market scenarios such as the China and the U.S. trade war and production cuts in the automotive industry in India restrain the market growth. However, new advancements such as penetration of automation and artificial intelligence are expected to provide lucrative opportunities for growth of the market during the forecast period. Moreover, the plastic industry is anticipated to provide growth opportunities, owing to new developments in bio-degradable polymer material. 
The automotive segment of the market accounted for over half of the global tooling market share in 2020, owing to increase in production of light vehicles followed by growing focus of manufacturers to increase different varieties of tool production in automotive industry. The electronics & electrical industry is expected to be the fastest growing segment by 2030, owing to increased consumption of electronics in normal household activities.
The novel coronavirus has rapidly spread across various countries and regions, causing enormous impact on lives of people and overall community. Originating as a crisis to human health, it now poses significant threat to worldwide trade, economy, and finance. Attributed to continuous lockdown in major countries, the COVID-19 pandemic has halted production of many items in the tooling business. Market players can afford complete lockdown only for a limited period, after which they would have to alter their investment plans. Furthermore, number of COVID-19 cases is expected to reduce in the near term as vaccines for COVID-19 have been introduced in the market. This is further expected to lead to re-initiation of tooling companies at their full-scale capacities, which would aid the market to recover by the start of 2022. After COVID-19 infection instances start to decline, equipment and machinery producers must focus on protecting their staff, operations, and supply networks to respond to urgent emergencies and establish new methods of working.
Machine tools segment is projected to grow at a significant CAGR
Get more information on this report : Request Sample Pages
The tooling market is segmented on the basis of product type, end user industry, and region. By product type, the market is divided into dies & molds, forging, jigs & fixtures, machine tools, and gauges. The dies & molds segment is anticipated to dominate the market in the coming years, owing to its growing adoption in manufacturing of various automotive parts such as engines, clutch housings, gear box housings, cylinder barrels, steering components, and many others. By end-user industry, it is classified into automotive, electronics & electrical, aerospace, marine & defense, plastics industry, construction & mining, and others. Others include power generation, oil & gas, and medical. The automotive segment is projected to dominate the global tooling market during the forecast period. 
The global tooling market is analyzed across four geographical regions, which include North America (the U.S., Canada, and Mexico), Europe (Germany, France, the UK, Italy, and rest of Europe), Asia-Pacific (Japan, China, Thailand, India, and rest of Asia-Pacific), and LAMEA (Latin America, the Middle East, and Africa). Europe is expected to hold the largest market share throughout the study period and Asia-Pacific is expected to grow at the fastest rate.
Tooling Market

---
By End User Industry
Automotive segment holds dominant position in 2020
Get more information on this report : Request Sample Pages
Competition Analysis
Key companies profiled in the tooling market report include Bharat Forge, Carlson Tool & Manufacturing Corp., Doosan Machine Tools, Godrej & Boyce Manufacturing Co. Ltd., Omega Tool Corp, Parpas S.p.A (GRUPPO PARPAS), Samvardhana Motherson Group, Unique Tool & Gauge Inc., Sandvik AB, and Yamazaki Mazak Corporation.
Many competitors in the market adopted product launch as their key developmental strategy to expand their product portfolio. For instance, in April 2019, Doosan launched DVF6500/8000/8000T machining center with Ø650/800 mm rotary table. The new machine tool provides easy access to the operator and reduces the effort to give more productivity. It is equipped with multi-cover that enables automatic loading and unloading of the workpiece.
Europe has largest share in terms of revenue in 2020 and Asia-Pacific is expected to grow at a significant rate during the forecast period
Get more information on this report : Request Sample Pages
Key Benefits For Stakeholders
The report provides an extensive analysis of the current and emerging tooling market trends and dynamics.  
In-depth emerging tooling market analysis is conducted by constructing market estimations for key market segments between 2020 and 2030. 
Extensive analysis of the emerging tooling market is conducted by following key product positioning and monitoring of top competitors within the market framework.
A comprehensive analysis of all the regions is provided to determine the prevailing opportunities.
The global emerging tooling market forecast analysis from 2021 to 2030 is included in the report.
The key players within the tooling market are profiled in this report and their strategies are analyzed thoroughly, which help understand the competitive outlook of the emerging tooling industry. 
Global Tooling Market Segments
Key Segments
By Product Type
Dies & molds
Forging
Jigs & Fixtures
Machine Tools
Gauges
By End-user Industry
Automotive
Electronics & Electrical
Aerospace, Marine & Defense
Plastics Industry
Construction & Mining
Others
By Region
North America
Europe

Germany
UK
France
Italy
Rest of Europe

Asia-Pacific

China
India
Japan
Thailand
Rest of Asia-Pacific

LAMEA

Latin America
Middle East 
Africa
Key Players
Bharat Forge
Carlson Tool & Manufacturing Corp.
Doosan Machine Tools Co., Ltd.
Godrej & Boyce Manufacturing Co. Ltd.
Omega Tool Corp
Parpas S.p.A (GRUPPO PARPAS)
Samvardhana Motherson Group 
Unique Tool & Gauge Inc.
Sandvik AB
Yamazaki Mazak Corporation