The global sexually transmitted diseases (STDs) testing market size was valued at $107,024 million in 2015, and is projected to reach $190,010 million by 2022, registering a CAGR of 8.5% over the forecast period. High incidences of STDs and increased governmental support are the factors that drive the market growth. In addition, rise in awareness among people, and patient education are the other pivotal factors that fuel the growth of the market.

Sexually transmitted diseases (STDs) are infections that are transmitted from one person to another through sexual contact. STDs affect individuals of all ages, however, according to CDC, age group of 15–24 accounts for half of all new STDs infections. Currently, STDs are the most common diseases in U.S., and as per CDC, about 19 million men and women are diagnosed with STDs each year. The disease is caused due to transmission of microbes (bacteria, virus, yeast, and parasites) during sexual intercourse. The disease is diagnosed using laboratory and point-of-care tests such as differential light scattering, ELISA, micro fluidics, and immunochromatographic test (ICTs).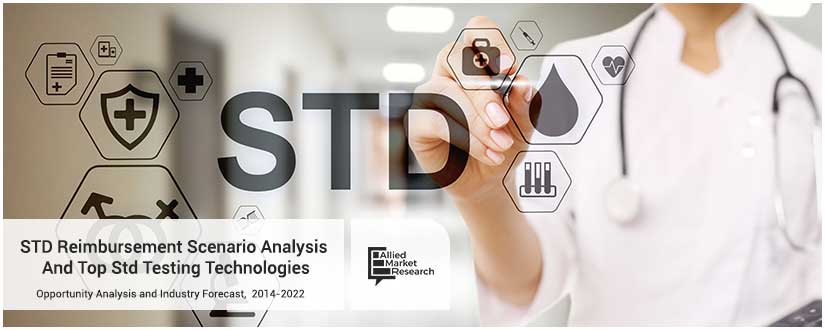 Favorable reimbursement scenario for STD tests in the U.S. market is set to further drive the market growth. This report provides deep understanding of the laboratory claims for STD tests in the U.S. Claims for laboratory services must include an ICD-10-CM codes, which are found in the "ICD-10-CM Diagnosis Code" column of the laboratory services grid. For several laboratory tests, only ICD-10-CM codes are required for reimbursement. Some of the laboratory tests also require an additional code for reimbursement, which provides the medical necessity to perform tests. Since 2011, CMS covers screening for chlamydia, gonorrhea, syphilis, HIV, and HPV with the appropriate FDA-approved lab tests used with FDA-approved labeling and in compliance with CLIA regulations when ordered by a primary care provider, and performed by an eligible Medicare provider for these services.

However, stigma related to voluntary testing and critical regulatory compliance forms are the restraints for the market. However, global initiatives along with development in healthcare infrastructure are projected to provide platform for the market growth.
 
GLOBAL SEXUALLY TRANSMITTED DISEASES (STDS) TESTING MARKET SEGMENTATION, BY TECHNOLOGY
Segment ReviewSTDs testing market
is segmented into laboratory and point-of-care testing devices. Based on laboratory testing devices, the market is divided into PCR, immunochromatographic capillary flow dipstick technology (assays), flow cytometry, differential light scattering, and enzyme-linked immunosorbent assay (ELISA). On the basis of point-of-care testing devices, the market is further segmented into rapid diagnostic kits, phone chips, microfluidics, and immunochromatographic tests. Currently, laboratories perform bulk of the tests, and are anticipated to continue to hold larger share of the market, both in terms of volume and revenue.
Flow cytometry is expected to grow fastest, owing to its cost-effectiveness and accuracy of these tests for the diagnosis of STDs in laboratories. However, trained personnel and expensive equipment are required for using this technology, which can be a prime cause of concern. 
Flow Cytometry: Sexually Transmitted Diseases (STDs) Testing Market Overview ($Million), 2016-2022
Get more information on this report :
Request Sample Pages
KEY BENEFITS FOR STAKEHOLDERS
The report provides an in-depth analysis of the market along with current trends and future estimations to elucidate the imminent investment pockets.
The report provides a quantitative analysis for the period of 2014–2022 to enable stakeholders to capitalize on the prevailing market opportunities.
Extensive analysis of the market based on technology helps to understand the type of devices used to treat STDs.
Extensive analysis of the market is conducted by following key technology positioning and by monitoring the top contenders within the market framework.
KEY MARKET SEGMENTS
 
By Technology
 
Laboratory Testing Devices
Polymerase chain reaction (PCR)
Immunochromatographic capillary flow dipstick technology (assay)
Flow cytometry
Differential light scattering
Enzyme-linked immunosorbent assay (ELISA)
Point-Of-Care (POC) Testing Devices
Phone chips
Microfluidics
Immunochromatographic tests (ICTs)
Rapid diagnostic kits