Topical Oxygen Therapy Market Research, 2031
The global topical oxygen therapy market size was $19,889.74 thousand in 2021, and is projected to reach $27,721.76 thousand by 2031, growing at a CAGR of 3.4% from 2022 to 2031. Topical oxygen therapy (TOT) is the administration of oxygen applied topically over injured tissue by either continuous diffusion or pressurized systems. There are dressings, gels, hemoglobin sprays, mechanical devices specifically indicated for topical oxygen therapy. Since oxygen is applied directly to the wound site and there is no additional inspiration of oxygen, there are no fatal effects in comparison to HBOT. Topical oxygen therapy is U.S. FDA approved for venous insufficiency, postsurgical infections, gangrenous lesions, skin grafts, burns, frostbite, and amputations.it is also used during the treatment of arterial ulcers, chronic wounds, diabetic neuropathic foot ulcers, pressure ulcers and stages 3 and 4 of venous ulcers. It is applied in the comfort of a patient's home and consists of a sterile, single-use, disposable, gas-impermeable chamber with adhesive edges applied as a boot or bag administered around the affected extremity or wound.
The advantage of this system is that it costs low and does not involve systemic oxygen, which can place a patient at risk for oxygen toxicity. Moreover, it is a non-invasive adjunctive multi-modality therapy that applies cyclical oxygen pressure to the wound site within a sealed humidified environment. Available in both reusable and single-patient use versions. Topically applied oxygen is applied either intermittently, following a treatment regimen similar to HBO (90 minutes a day, 3 to 5 days a week), or continuously (24 hours a day, 7 days a week).Intermittent topical oxygen therapy is used to treat an area directly surrounding a patient's wound using concentrated (~93%) oxygen at pressures slightly above atmospheric, typically less than 1.1 atm, which is supplied by a high-flow oxygen concentrator and applied using a bag or chamber sealed around the wound. Continuously applied topical oxygen therapy is applied directly to the wound, using pure (>99%), humidified oxygen supplied by a small, wearable electrochemical oxygen generator.  
Topically applied oxygen comes in various forms, ranging from large systems consisting of high flow oxygen concentrators bundled with hard-walled chambers to small, wearable oxygen generators with oxygen delivery systems. One of the advantages of all these systems is that they all can be placed/used in most environments, including at home.  These systems apply oxygen directly to the wound and can be used adjunctively to many other therapies, including but not limited to moist wound therapy dressings and grafting materials. There are basically three different classes of gaseous topical oxygen delivery including topical oxygen (TO), transcutaneous oxygen therapy (TCOT) and continuous diffusion of oxygen (CDO). .
Coronavirus (COVID-19) was discovered in December 2019 in Hubei province of Wuhan city in China. The disease is caused by a virus, severe acute respiratory syndrome coronavirus 2 (SARS-CoV-2), which is transmitted among humans. The disease rapidly spread to other parts of the globe post its discovery in Wuhan. Moreover, this virus causes various symptoms in patients, which range from common symptoms to serious symptoms. For instance, common symptoms include fever, dry cough, and fatigue. However, serious symptoms include difficulty in breathing or shortness of breath, chest pain, and loss of speech or movement. Furthermore, the virus has high potential of lethality in geriatric population. On March 11, 2020, the World Health Organization declared it as pandemic. In addition, there are only a few vaccines that received emergency approvals for COVID-19 prevention. Thus, social distancing is observed as the most important measure to limit the spread of this disease. Furthermore, to maintain social distancing, various countries across the globe have adopted nationwide lockdowns. The COVID-19 pandemic has positively impacted topical oxygen therapy device market. Owing to COVID-19 pandemic, wound care clinicians have an opportunity to change the wound treatment paradigm to favor home-based care solutions that reduce COVID-19 infection risk to the patient, provide essential wound care to prevent amputations, and provide relief to a hospital system in crisis. An in-home technology for the delivery of supplementary oxygen to wounds that fulfills these needs is highlighted here, with proven effectiveness in chronic and hard to heal wounds of several etiologies. However, upliftment of strict lockdown and COVID-19 restrictions in 2021 by the majority of the countries coupled with an increase in number of patients visits in hospitals and wound care centers fueled the demand and adoption of wound care devices. These factors are expected to propel the market growth during the forecast period.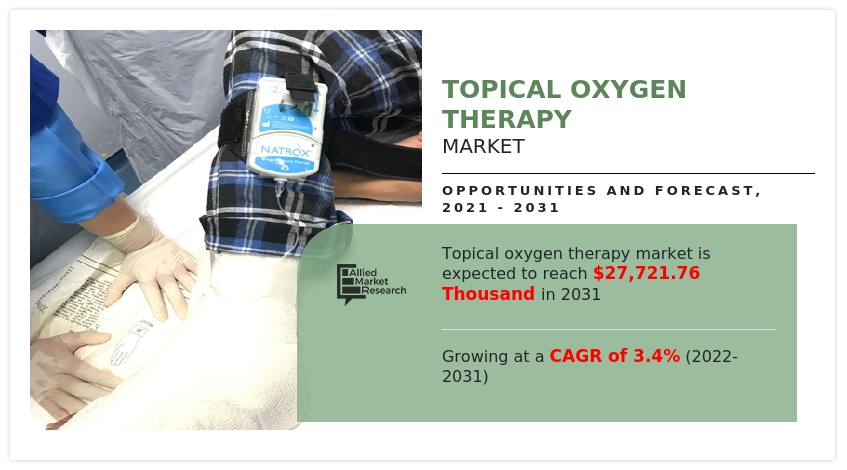 The demand for topical oxygen therapy is anticipated to increase globally during topical oxygen therapy market forecast, owing to increase in incidence of chronic wounds, surge in patient pool of diabetics, and high incidence of wound site infections. Moreover, patients are eager to know more about the topical oxygen therapy treatment process, the growth in global recognition of topical oxygen therapy, increased number of surgical procedures, and technological advancement in advanced wound care that further drive the growth of this market. However, lack of awareness in developing countries is anticipated to hamper the market growth. Conversely, introduction of topical oxygen therapy in emerging economies is expected to offer lucrative topical oxygen therapy market opportunity for the key players in the market.
The topical oxygen therapy market is segmented on the basis of application, end user, and region. On the basis of application, the market is classified into chronic wound and acute wound. On the basis of end user, market is divided into hospitals, clinics, homecare, and post-acute care settings.  By region, the market is analyzed across North America, Europe, Asia-Pacific, and LAMEA.
Segment Review
By application, the chronic wound segment had dominant topical oxygen therapy market share in 2021, and is anticipated to continue this trend during the forecast period, owing to growth in prevalence of chronic wound, specifically in geriatric population suffering from diabetes and wound site infection. On the other side, the demand for acute wound is projected to exhibit the fastest topical oxygen therapy market growth during the forecast period, owing to the rise in surgical wounds. In addition, R&D in acute wound care products, surge in funding in wound care research, and growth in awareness programs for wound care are anticipated to contribute toward the growth of the topical oxygen therapy industry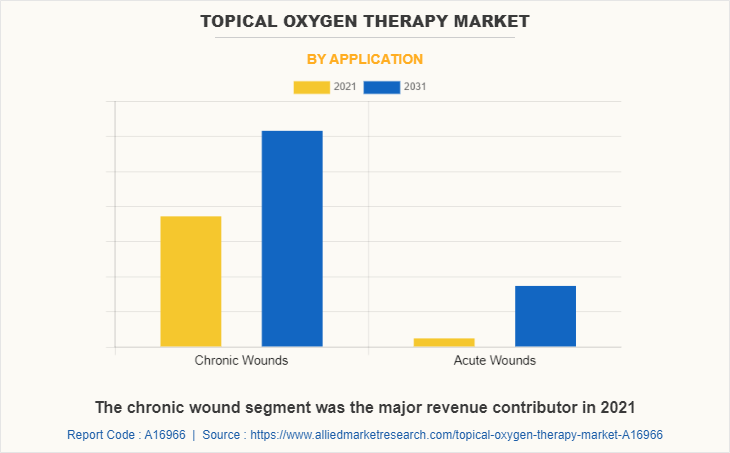 By end user, the homecare segment held largest topical oxygen therapy market share in 2021, and is anticipated to continue this trend during the forecast period, owing to increased costs of medicines & devices, rise in capital costs, and an increase in the numbers of people with chronic conditions require primary and secondary healthcare support.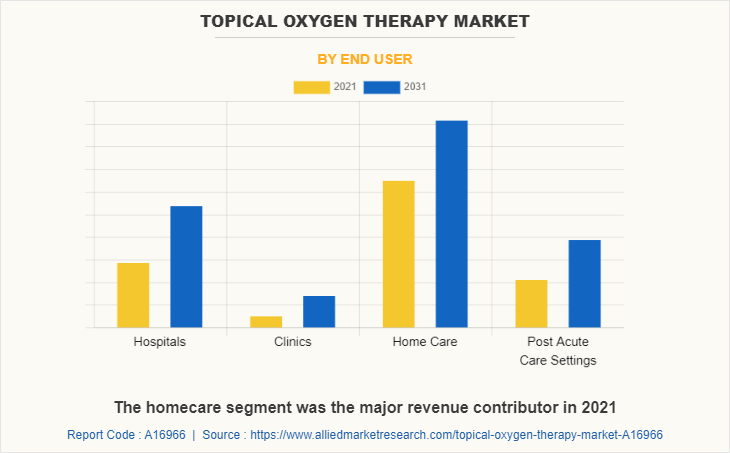 By region, North America dominated the market in 2021, accounting for the largest topical oxygen therapy market size, and is anticipated to maintain this trend during the forecast period. Well-established healthcare system, increase in number of geriatric patients, supportive reimbursement policies in healthcare system, and surge in number of healthcare facilities offering topical oxygen therapy propel the market growth.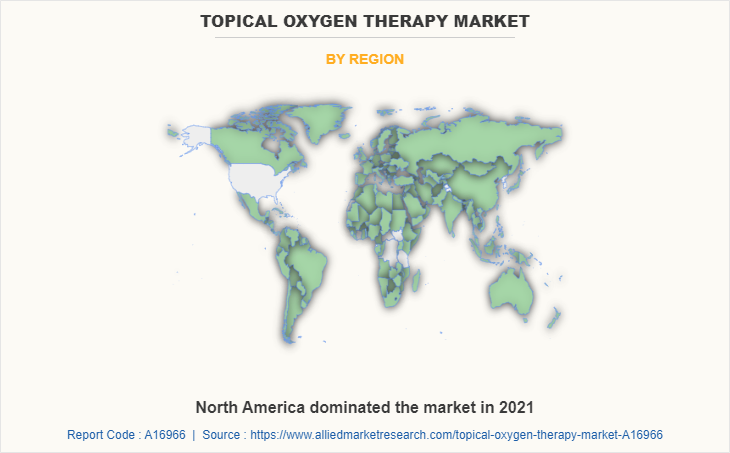 The major companies profiled in topical oxygen therapy industry include AOTI, Inc., Inotec AMD Ltd., GWR Inc, OxyBand Technologies, EO2 Concepts, Mölnlycke Health Care AB, OGENIX and RashEndZ Inc.
Key Benefits For Stakeholders
This report provides a quantitative analysis of the market segments, current trends, estimations, and dynamics of the topical oxygen therapy market analysis from 2021 to 2031 to identify the prevailing topical oxygen therapy market opportunities.
The market research is offered along with information related to key drivers, restraints, and opportunities.
Porter's five forces analysis highlights the potency of buyers and suppliers to enable stakeholders make profit-oriented business decisions and strengthen their supplier-buyer network.
In-depth analysis of the topical oxygen therapy market segmentation assists to determine the prevailing market opportunities.
Major countries in each region are mapped according to their revenue contribution to the global market.
Market player positioning facilitates benchmarking and provides a clear understanding of the present position of the market players.
The report includes the analysis of the regional as well as global topical oxygen therapy market trends, key players, market segments, application areas, and market growth strategies.
 Topical Oxygen Therapy Market Report Highlights
Aspects
Details
By Application

Chronic Wounds
Acute Wounds

By End User

Hospitals
Clinics
Home Care
Post Acute Care Settings

By Region

North America (U.S., Canada, Mexico)
Europe (Germany, France, U.K., Italy, Spain, Rest of Europe)
Asia-Pacific (Japan, China, India, Australia, South Korea, Rest of Asia-Pacific)
LAMEA (Brazil, Saudi Arabia, South Africa, Rest of LAMEA)

Key Market Players
AOTI, INC., OXYBAND TECHNOLOGIES, INOTEC AMD LTD., RASHENDZ INC., GWR INC., OGENIX, MöLNLYCKE HEALTH CARE AB, EO2 CONCEPTS