Global Tower Crane Market Outlook-2028
The global tower crane market size is expected to reach $9,907.1 million in 2028, from $6,683.2 million in 2020, growing at a CAGR of 4.8% from 2021 to 2028.  Tower cranes are utilized for lifting and handling goods and materials. They are powerful equipment and can easily surpass lifting capabilities of any other type of crane. In addition, it offers extremely high lifting capability and offers peak efficiency, stability, and precision. 
The COVID-19 pandemic has hindered the demand for tower cranes in North America and Europe, however, China exhibited significant growth in demand during the outbreak of COVID-19 pandemic.
Moreover, tower cranes are widely utilized in the construction industry owing to the high demand for material handling on elevated levels. However, they also find applications in construction of structures such as dams, bridges, industries, power generation plants, and others. Further, tower cranes were first introduced by the company Liebherr-International Deutschland GmbH, headquartered in Germany in 1949, and witness a high demand in the global tower crane construction industry.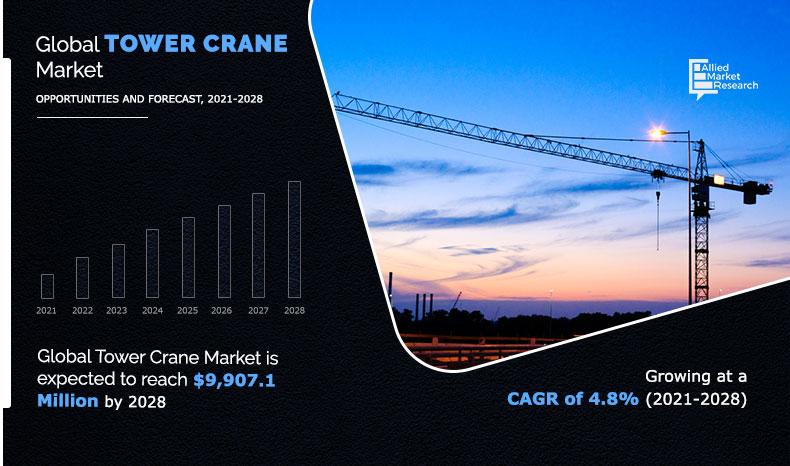 The surge in urbanization is a major factor influencing the demand for tower cranes in developing nations such as India, Vietnam, Brazil, and others. The surge in necessity for housing especially in urban areas has influenced the construction of high-rise structures which require lifting and handling of building materials and components at elevated heights. Tower cranes are mostly static in nature and thus, offer a stable and safe operating platform for lifting of heavy material. In addition, this also improves the efficiency of lifting in congested urban areas where the movement of lifting equipment is restrained due to the closely spaced building. Thus, surge in urbanization drives the growth of the tower crane market. 
Moreover, tower cranes are efficient for operations in rough and uneven terrains owing to the fixed foundation of these cranes. The fixed nature of tower cranes improves the stability offered by the equipment thereby, making them efficient in construction of bridges, railway lines, dams, and others. In addition, tower cranes are also helpful in lifting prefabricated components of bridges and other infrastructural structures, which is expected to drive the growth of the tower crane market.   
However, the high cost of tower cranes is one the influential restraining factor for the growth of the tower crane market. The fixed nature of tower cranes makes it expensive for operating and assembling, which surges the overall costs incurred while using tower cranes. Further, the growing popularity of mobile cranes and mobile crane rentals is expected to hinder the demand for tower cranes. In addition, the COVID-19 pandemic has shut-down the production and sales of various products in the tower cranes, mainly owing to the prolonged lockdown in major global countries including the U.S., Italy, the UK, and others. This has hampered the growth of the tower crane market significantly within the last few months, and is likely to continue during 2020. Moreover, the lockdowns have also led to a halt in construction activities, thereby hampering the demand for tower cranes during 2020.
On the contrary, autonomous and automated crane systems allow remote access to the machines that operate without human drivers. The rise in adoption of remotely operated equipment also reduces the risk of accidents and fatalities, which is anticipated to drive the growth of the tower crane market in near future.
The tower crane market is segmented on the basis of type, lifting capacity, application, and region. By type, it is classified into self-erecting, luffing jib, hammer head, and flat top. By lifting capacity, it is categorized into less than 5 ton, 6 to 10 ton, and more than 10 ton. By end user industry, it is divided into building construction, infrastructural construction, energy, and others. By region, it is analyzed across North America (the U.S., Canada, and Mexico), Europe (the UK, Germany, France, Italy, and rest of Europe), Asia-Pacific (China, India, Japan, and rest of Asia-Pacific), and LAMEA (Latin America, the Middle East, and Africa). Asia-Pacific is expected to hold the largest market share throughout the study period, and LAMEA is expected to grow at the fastest rate.
Competition Analysis
The key market players profiled in the report include Action Construction Equipment Ltd., ENG CRANES Srl, JASO Tower Cranes, Liebherr-International AG, Manitowoc Company, Inc., SANY Global, Sarens n.v./s.a., Terex Corporation, WOLFFKRAN International AG, and Zoomlion Heavy Industry Science & Technology Co., Ltd.   
Many competitors in the tower crane market adopted business expansion as their key developmental strategy to expand their production capacities and upgrade their product technologies. For instance, in January 2019, Zoomlion Heavy Industry Science & Technology Co., Ltd. based in China, opened an intelligent production plant for tower cranes in Changde, China. The production plant is claimed to be the world's largest intelligent factory which required three years for construction and represented an investment of $115.4 million. It features Industry 4.0 standards and includes 12 automatic production lines, 100 industrial robots, more than 1,000 sensors, and other advanced equipment. The establishment of the manufacturing unit has enabled Zoomlion to garner an impressive global tower crane market share. Similarly, players in the global tower crane market are also adopting product launch as their key development strategies to offer a wide range of tower crane products. For instance, in February 2020, the U.S. based company Manitowoc, through its brand Potain, launched the MHR 175 tower crane at the CONEXPO 2020 trade show held in the U.S. The MRH 175 has hydraulic luffing technology, which eliminates the need of wire rope installation. 
Key Benefits For Stakeholders
The report provides an extensive analysis of the current and emerging global tower crane market trends and dynamics.  
In-depth tower crane market analysis is conducted by constructing market estimations for the key market segments between 2019 and 2027. 
Extensive analysis of the market is conducted by following key product positioning and monitoring of the top competitors within the market framework.
A comprehensive tower crane market opportunity analysis of all the countries is also provided in the report.
The global tower crane market forecast analysis from 2020 to 2027 is included in the report.
The key players within the market are profiled in this report and their strategies are analyzed thoroughly, which help understand the competitive outlook of the industry. 
Global Tower Crane Market Segments
By Type
Self-erecting
Luffing Jib
Hammer Head
Flat Top
By Lifting Capacity
Less than 5 ton
6 to 10 ton
More than 10 ton
By End User Industry
Building Construction
Infrastructural Construction
Energy
Others
By Region
North America
Europe

Germany
UK
France
Italy
Rest of Europe

Asia-Pacific

China
India
Japan
Rest of Asia-Pacific

LAMEA

Latin America
Middle East 
Africa
Key Players
Action Construction Equipment Ltd.
ENG CRANES Srl
JASO Tower Cranes
Liebherr-International AG
Manitowoc Company, Inc.
SANY Global
Sarens n.v./s.a.
Terex Corporation
XCMG
Zoomlion Heavy Industry Science & Technology Co., Ltd.